Fill the season with an epic assortment of memorable adventures using this big list of summer activities in Knoxville TN.
The options below are totally kid-friendly and include ideas for both outdoor and indoor fun. This means you can keep the party alive, no matter the weather.
Towards the bottom of the page, you'll also have the option to get a free summer bucket list printable. It's a great way to help you keep track of all your Knoxville adventures.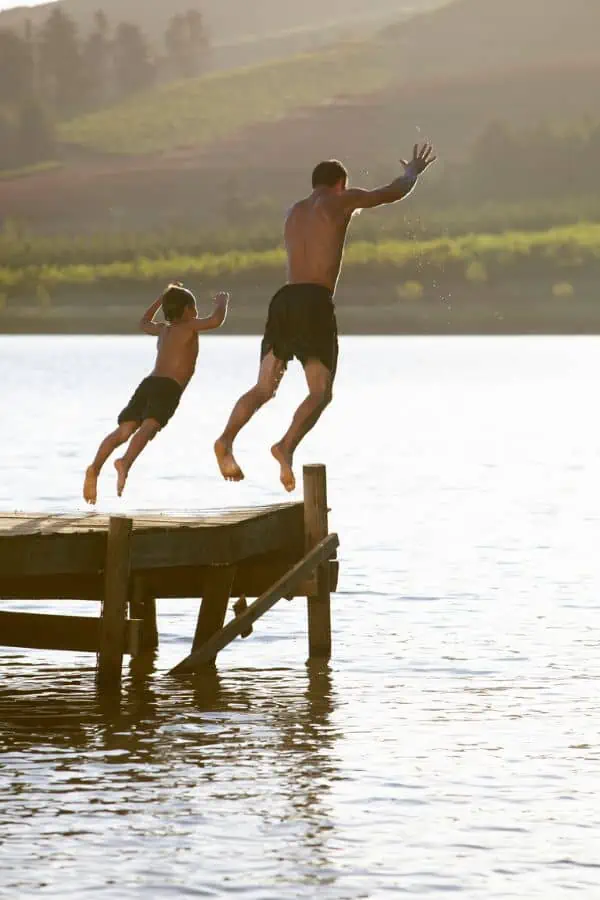 For your convenience, this post may contain various affiliate links. As an affiliate, and as an Amazon Associate, I earn from qualifying purchases. View the disclosure page for more information.
Summer Activities in Knoxville TN
1. Local Swimming Holes and Sandy Beaches
From The Cove to Meade's Quarry, Knoxville is bursting at the seams with fun swimming holes and man-made sandy beaches.
For a quieter location, try splashing in the stream at one of our local state parks. They offer tons of grassy shores that are tucked away from the crowds.
Of course, these types of swim spots don't have lifeguards, so swimming is at your own risk.
2. Free Outdoor Concerts
The city hosts a free weeknight concert series throughout the summer. Many of the nights focus on popular jazz, while others take on a more eclectic vibe.
3. Splash Pads
The splash pads in Knoxville are filled with fun water features and fantastic extras like picnic areas and playgrounds. They are great spots to spend the day.
To beat the heat, visit earlier in the day. And of course, don't forget your camp chairs.
4. Indoor Activities
Another great way to beat the summer heat is by heading inside for one of these fantastic indoor activities.
5. Blueberry Picking
Fruit picking is a popular pastime throughout East Tennessee. Each season brings its own unique crop to help keep things interesting.
In summer, blueberry farms are overrun with delicious berries just waiting to be picked.
6. Ocean Beach Vacations Near Knoxville
Is the ocean calling your name? Check out this list of the most fantastic beach vacation destinations near Knoxville.
7. Public Pools
If you prefer your summer swim with a side order of water slides, our local public pools will be calling your name. They typically open around Memorial Day and close around Labor Day.
8. Amazing Summer Camps for Kids
Help your kids create lifelong summer memories with a trip to one of these popular summer camps near Knoxville.
9. Cheap Summer Movie Deals
Check out the $2 daytime movie ticket deals at Regal and AMC.
10. Sunflower Fields
The Forks of the River Wildlife Preserve is home to the largest sunflower field in Knoxville. The location also hosts a huge sunflower festival each year.
11. Lavender Farms
We have several adorable u-pick lavender farms in the area. Most also have quaint farm stores with lavender products and decor.
Lavender can be used for a variety of edible and medicinal purposes. So, be sure to pick a little extra for cooking and crafting.
12. Kayaking
Rentals are available in too many places to list including IJAMS, Outdoor Knoxville, and most of our local state parks.
13. Camping
You can extend the outdoor fun even further by planning an overnight camping trip at one of our local campgrounds.
Many of the campgrounds offer fun extras like ropes courses, educational programming, animal encounters, and more!
Falls Creek Falls is the most activity-packed campground in the state. It's also the most popular.
14. U-Pick Flower Farms
Southern Oak is just outside of downtown Knoxville and offers a wide variety of u-pick flowers all season long.
15. Fireworks & July 4th Events
Would it even be summer without funnel cakes and fireworks?
16. Market Square
During the warm weather months, Market Square is a great place for people-watching, grabbing a nice lunch, or enjoying a quirky street performance.
17. Zoo Knoxville
This is our largest local zoo and it truly has a lot to offer. In addition to animal viewing, you can feed giraffes, design an electronic snake, hop on lily pads, and get wet and wild at the splash pad.
You can even get discount zoo tickets at your local library.
18. Petting Zoos
Want to kick your animal experience up a notch? Why not pet a zebra at Briarwood Ranch?
19. Safety City
This tiny town is a completely kid-sized replica of downtown Knoxville. It features iconic buildings, like the Sunsphere and Neyland Stadium, and life-like streets with working traffic lights.
The goal of the city is to help kids learn crucial skills like street crossing procedures and bike safety. As the kids ride around on their bikes, they are supposed to follow the traffic signals.
This attraction is free and open to the public several days a week. But, if the miniature city gets too full, they will start turning people away.
20. Water Parks
While Dollywood and Soaky Mountain Waterpark tend to take all the fame, families wanting a less crowded experience should check out Kentucky Splash.
21. Visit The Smokies
With so many free things to do in Great Smoky Mountains National Park, there's never a bad time to visit.
22. Explore a State Park
Our local state parks have so much to offer including swimming holes, waterfalls, animal programs, educational classes, historic buildings, reenactments, and so much more!
Big Ridge State Park has a nice swim beach, a playground, paddle boat rentals, kayak rentals, hiking trails, and tons of ranger-led programs.
They often host kayak night floats where you can catch the sunset over the water.
23. History Reenactments
Fort Loudon is a colonial-era fort just outside of Knoxville that hosts period reenactments each month. It also has hiking trails, a picnic area, and a small indoor museum.
24. Date Night
Summer isn't just for the kids. You deserve to have a little fun too! Check out these awesome date ideas in and around Knoxville.
25. Glow Worm Encounter
Can you imagine anything more magical than a forest cave shimmering with the faint light of thousands of glow worms? This actually exists right here in East TN.
This unique animal encounter is actually only visible in a few places across the world, so we are definitely blessed to have them here.
The glow worms can be seen at Pickett Memorial State Park, but they only glow at night. This means it's best to plan a camping trip around your visit.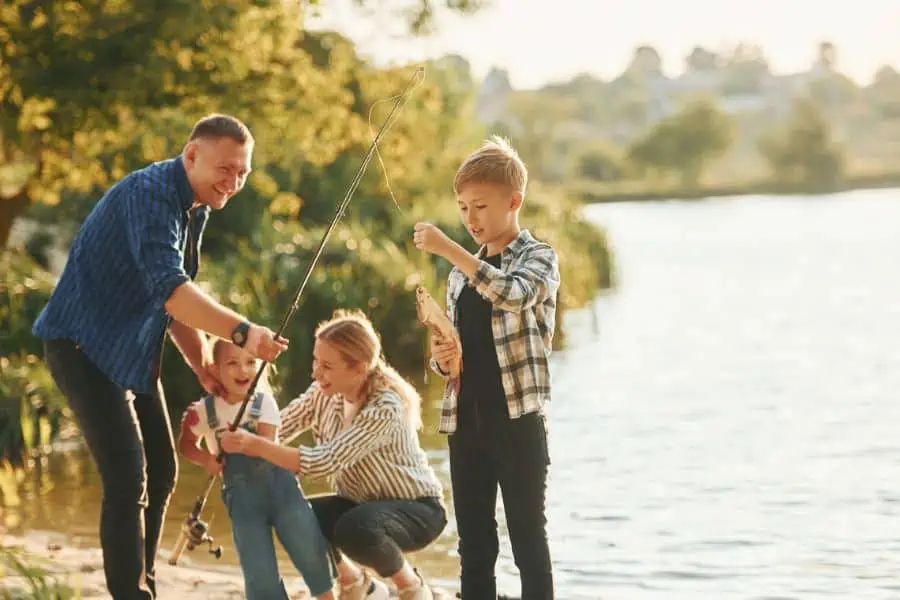 More Things to Do in Knoxville This Summer
27. Free Fishing Day
While you can fish any time of year with a license. You can fish without a license on the Saturday of the first full week in June. This is a great opportunity for people who are new to fishing or don't like to go that often.
The TWRA even has a free printable "first fish" award that you can print for your littles.
26. Check out the Tennessee Ice Cream Trail
Try some tasty treats from our area's best ice cream shops.
28. Summer Reading Programs
Of all the free summer activities in Knoxville, this one is probably the most loved. That's because it involves fun prizes.
Sign up for your local library's summer reading program and your kids can win cool stuff after reading a certain amount of books.
29. Search For Nocturnal Creatures
Most of our local state parks offer fun night hikes throughout the summer where you can look for bats, owls, and other nocturnal animals.
30. Synchronous Fireflies
Just a short drive away in Great Smoky Mountains National Park the Synchronous Firefly event is a spectacular natural light show that attracts visitors from across the world.
At the event, many thousands of fireflies all light in unison as they try to attract a mate. It's truly an unforgettable experience.
31. Parent-and-Me Cooking Classes
Check out the Cutting Edge Classroom's family cooking classes in fun summer themes. Past classes have included summer sugar cookies, donuts, and more!
32. Summer Nights at Dollywood
Dollywood stays open late in the summer so you can pack in even more fun! There will also be summer-themed shows and events to help you celebrate the season.
33. Picnic
Grab your lunchbox and hit any local park for a leisurely lunch under a blissfully shady tree.
34. Summer Make-and-Takes
Try your hand at a summer-themed painting project at Painting with a Twist. They even have easy options designed specifically for kids.
35. Lake Day
For more sophisticated fun, head to one of our local lakes to rent a jet ski or pontoon boat.
36. Mini Golf
Head to Sir Goony's or any place in the Smokies for an easy outdoor adventure.
37. Rock Climbing
If you are looking for an outdoor climb, check out the Crag at IJAMS Nature Center. For an indoor option on a hot day, Onsight Rock Gym is a better choice.
38. Discover a New Board Game
For your next family game night, why not try a brand-new game? You may just find your next favorite.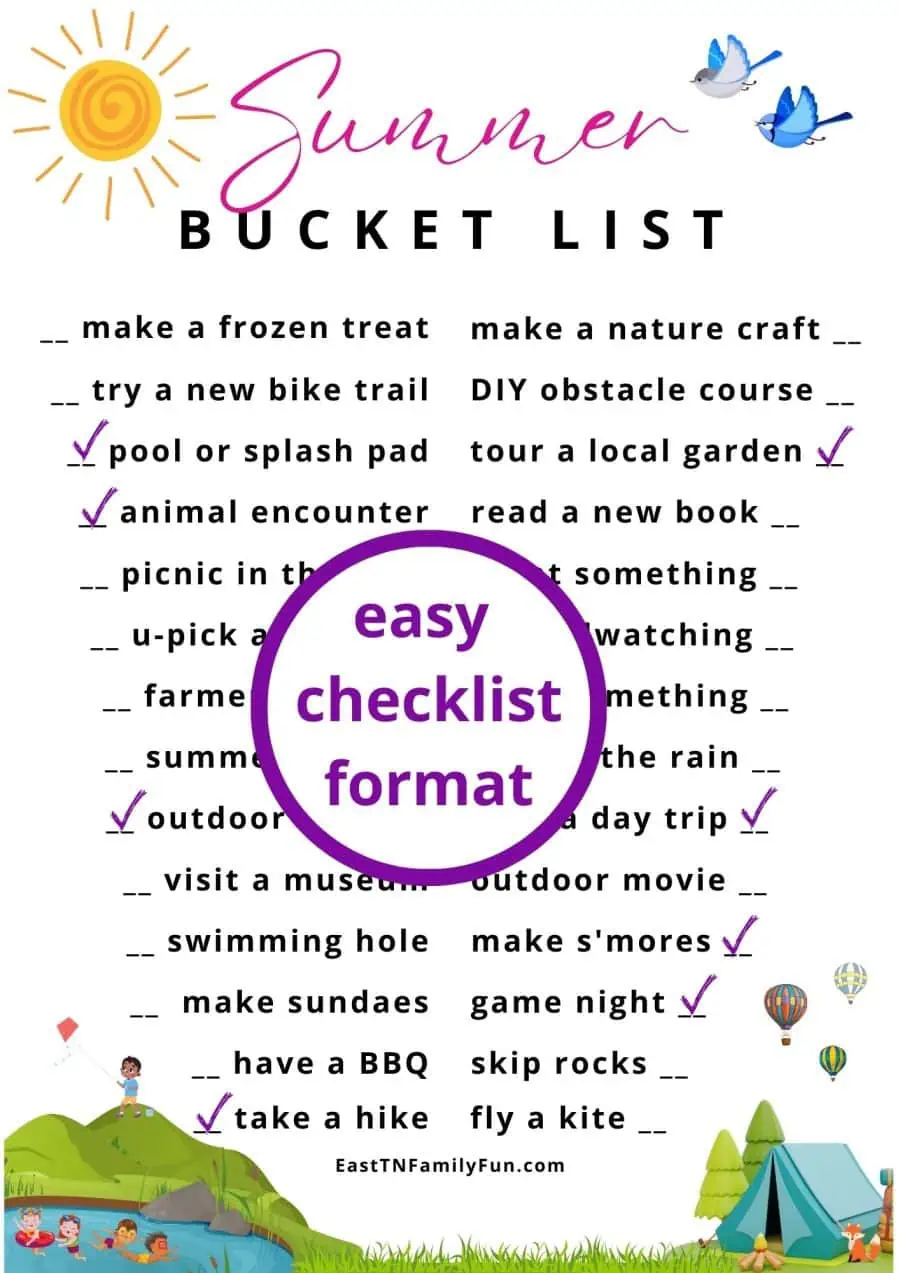 39. Story Thyme
Preschoolers can enjoy a delightful storytime in the gardens at Knoxville Botanical Garden. There is a suggested donation of $5 per child.
40. Where's Waldo Scavenger Hunt
This downtown scavenger hunt takes place each July. It's free to enter and you can win fun prizes for participating.
41. Epic Backyard Fun
Sometimes, you just don't want to leave the house. Thankfully, we've got you covered with tons of ideas for family fun in your own backyard.
42. Discgolf
If you've never played Disc Golf, there's no better time to give it a try. There are tons of courses peppered throughout the region. Check out a video of how to play here.
43. Back-to-School Events
Score some free school supplies at these awesome back-to-school events. Your kiddos can get backpacks, haircuts, basic supplies, and more.
If you don't need the freebies, please consider donating to one of these events.
44. Skate Park
Knoxville has several skate parks that are completely free. Whether your kiddo is brand new to skating or has years of experience, these attractions have a lot to offer.
45. Pump Tracks
Take a walk on the wild side at Baker Creek's pump tracks and mountain biking trails. Have no idea what a pump track is? Check it out here.
46. Fly a Kite
Head to one of our local parks with a large open field, like Victor Ashe, to fly a kite this season. If you don't have your own, they sell cheapies at local dollar stores.
47. Second Sunday Art Activities
The Knoxville Museum of Art hosts free interactive art activities for kids on the second Sunday of each month. The activities are led by a certified art teacher and aim to foster creativity and build basic art skills.
48. Take a Day Trip
There are so many great day trip destinations near Knoxville. For a close pick, check out these fun things to do in Chattanooga.
49. River Tubing
Head on up to Townsend for a fun day of river tubing. There are several different companies to choose from.
When you are finished on the river, you can grab a quick lunch from the iconic Burger Master drive-in. This popular restaurant is only open seasonally.
50. Kids Bowl Free
Guess what? Knoxville has several locations where Kids can bowl 2 free games every day throughout the summer. Shoe rental is not included.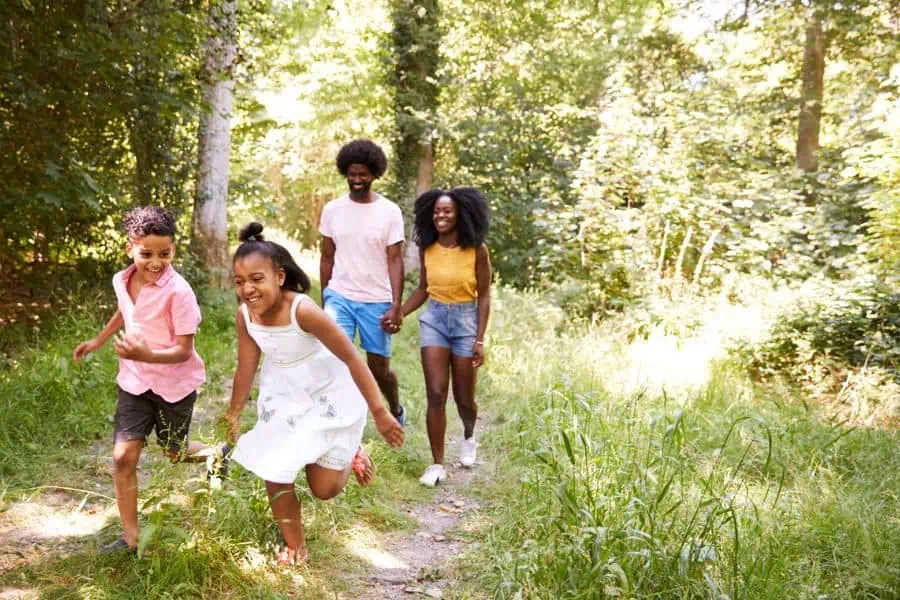 More Cheap and Free Summer Activities in Knoxville
51. Hiking
Hiking is one of the most classic summer activities in Knoxville, but that doesn't mean it's old hat.
With an expansive urban wilderness and many surrounding state and national parks, you'll never run out of fun new hiking trails to try.
52. Tennis
Tennis rackets are pretty cheap, so buy your own and have fun all summer long.
53. Underground Movies in the Cave
Have you ever watched a movie underground? Cherokee Caverns lets you do just that with its monthly summer movie series.
54. DIY Nature Crafts
Take simple finds collected on your latest nature walk and turn them into something awesome.
55. Bike the Greenway Trail
Our local greenway trails meander throughout Knoxville's downtown and suburban areas. They are completely free to access, which makes for a cheap change of scenery for your next family bike ride.
56. Roller Skating
Skatetown has extended summer hours and hosts a variety of fun events throughout the season like late skates, a school's-out event, a back-to-school event, and more.
57. Indoor Movement Activities
Has the heat got you down? Keep your kids active indoors with these free indoor movement activities you can stream right at home.
58. Star Party
The Smoky Mountain Astronomical Society hosts fun, FREE, and educational astronomy events throughout the greater Knoxville area.
At the events, SMAS will bring telescopes and help guests locate a variety of celestial bodies. They will also teach you a variety of fun ways to explore the sky at home.
59. Movies Under the Stars
IJAMS Movies Under the Stars events are totally family-friendly and offer fun extras like food trucks, a beer garden, and more.
60. Junior Ranger Program
Our Tennessee State Parks offer awesome Junior Ranger programs throughout the summer. At these ranger-led events, kids can learn about a variety of topics including outdoor safety, astronomy, animal tracking, reptiles, and so much more!
61. Guided Snorkeling
Just a short drive away in the Cherokee National Forest, visitors can enjoy an awesome guided snorkeling excursion. Snorkels, masks, and wetsuits are provided.
It's typical to see 15-20 different types of fish during your adventure. Other aquatic life like salamanders may also be present.
62. Free Days at the Muse
If your budget is tight, you can still treat your kids to a fun night at our local children's museum. Once every month, Muse admission is free during evening hours.
63. Garden Tours
Spring may be gone, but plenty of flowers are still in bloom. Our local botanical gardens are a great place to have fun this season.
64. First Fridays
On the first Friday of every month, you can enjoy an art-centered night on the town. Downtown Knoxville's art galleries and shops will stay open late and there will be live music to enjoy.
65. Festivals
If you are looking for fun summer festivals, you can view monthly events in the articles below:
Did we miss one of your favorite summer activities in Knoxville TN? Please send us the info so we can add it to the list.