While we are fortunate to have so many fabulous things to do in Knoxville, with kids it can be more of a challenge. Thankfully with this comprehensive resource, you can take the guesswork out of finding kid-friendly fun.
From indoor attractions and children's theater to outdoor splash pads and hiking trails, all the best ideas are right here!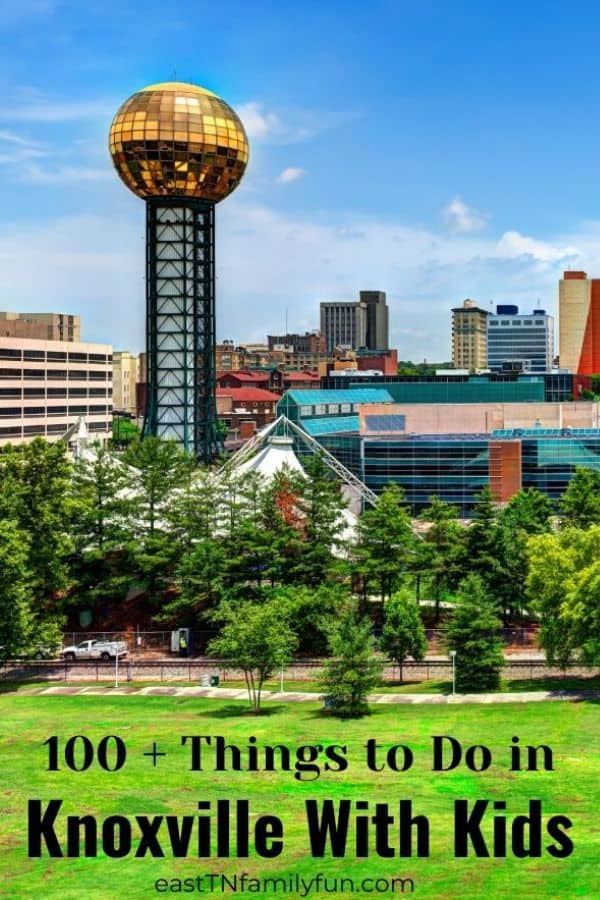 For your convenience, this post may contain various affiliate links. As an affiliate, and as an Amazon Associate, I earn from qualifying purchases. View the disclosure page for more information.
Things to Do in Knoxville with Kids
Below you'll find the content separated into the following categories: arts and crafts, storytimes, indoor fun, water play, gardens and nature centers, outdoor attractions, hiking, farm fun, festivals and events, interactive history museums, and sporting events.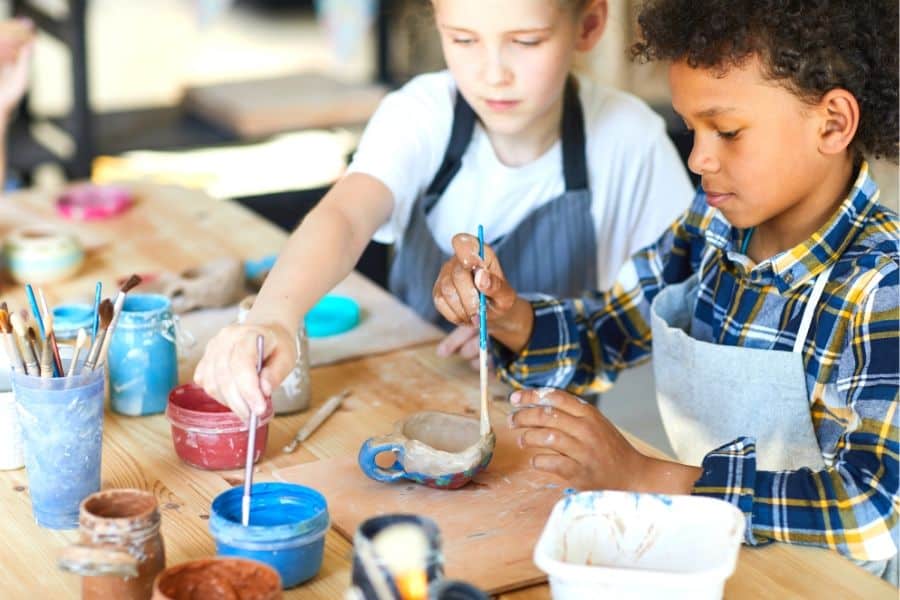 Arts and Crafts
1. Knoxville Museum of Art
In addition to their regular exhibits, the Knoxville Museum of Art hosts family-fun days throughout the year. These events include music, face painting, and tons of arts and crafts stations for kids.
2. Home Depot Kids Workshops
Kids can take free hands-on woodworking workshops on the first Saturday of each month. All of the needed supplies are provided.
3. Knoxville Children's Theatre
This children's theatre company puts on 9 different shows per year. All shows are geared towards young audience members and are also performed by local children.
4. Michaels
This craft store offers a variety of seasonal and themed crafting classes for children. They are typically held on Saturdays.
5. Liza Moz
Get creative at this paint-your-own pottery studio. Cost varies per piece. Pieces starting at $15. Birthday parties are also available.
6. Williams-Sonoma Junior Chef Classes
Located in West Town Mall, WS hosts hands-on cooking activities for kids periodically throughout the year. Some classes are designed to teach basic cooking skills, while others, like egg/cookie decorating, are just for fun.
7. Kindermusik
Interactive music classes for a variety of age ranges.
8. Mighty Mud
Kids will enjoy fun pottery classes that allow them to craft their own items by hand or on the wheel.
9. Creative Arts with Miss Shelly
Miss Shelly teaches fun 1/2 hour art classes designed specifically for little learners. Projects are available in a variety of age ranges, including preschool.
10. Imagination Series at the Bijou Theatre
This series presents fun and educational children's plays designed to captivate the attention of children in grades K-3 or 5-12.
11. Jo-Ann Fabric
Jo-Ann's offers a variety of kids' crafting classes in-store and online.
12. Knoxville Arts and Fine Crafts Center
This art center offers a variety of 1-day and multi-day art classes for kids.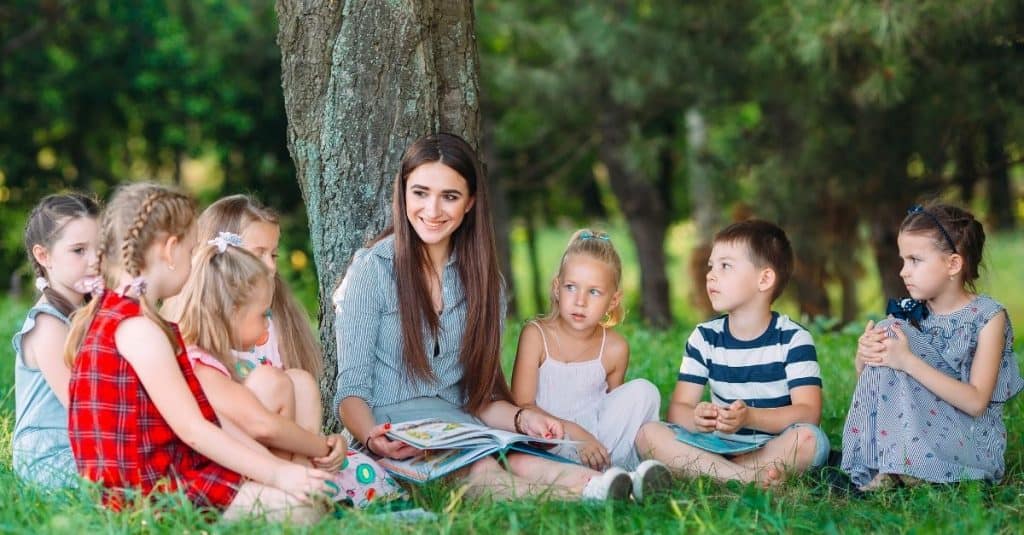 Knoxville Storytime Events for Kids
13. Story Thyme at Knoxville Botanical Garden
Enjoy a scenic outdoor storytime in the garden.
14. Storytime at The Muse
Story hours are offered at both their main location and their smaller satellite location in West Town Mall.
15. Knoxville Symphony Orchestra
The orchestra works with the Knox County public library system to provide free musical storytimes at various branches throughout the year.
16. Barnes & Noble
Enjoy a fun storytime every Saturday at 11 AM.
17. Knox County Public Library
The library provides fun storytime events for kids ages 0-5 and afterschool clubs and events for kids in elementary school.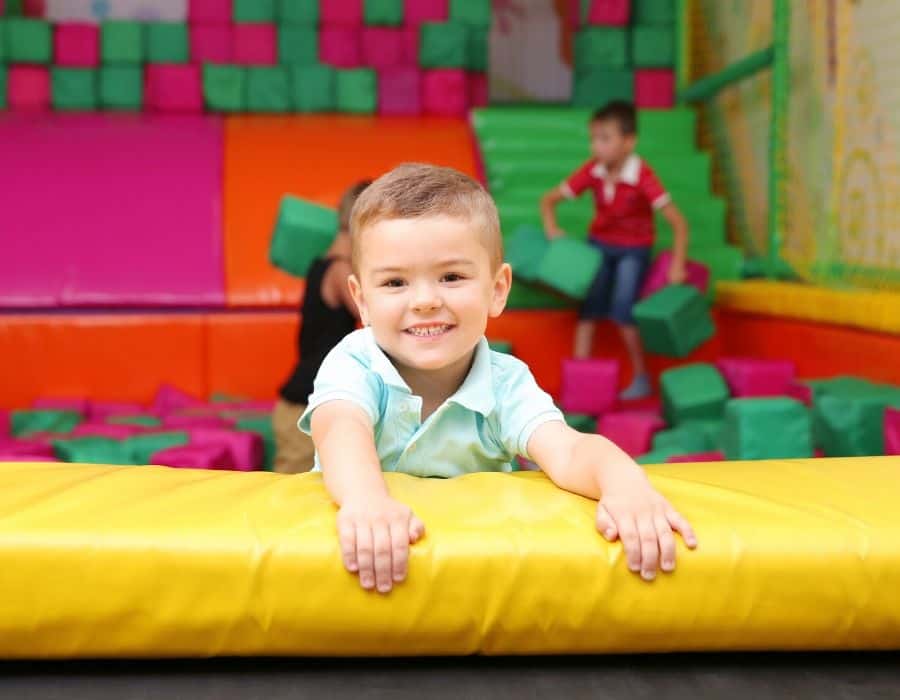 Indoor Fun for Knoxville Kids
18. Smart Toys and Books
The best part of this store is its huge interactive playground, complete with a pirate ship, slides tunnels and more! They also host storytime and crafting events throughout the year.
19. West Town Mall Indoor Soft Play Area
A variety of classes offered, including parent/child options.
20. All Bounce Events
This bounce house playground has open play hours several days a week. Birthday parties are also available.
21. The Little Gym
This facility hosts interactive gymnastics and tumbling classes for toddlers and preschoolers, including mommy-and-me sessions.
22. The Muse Knoxville
This is a hands-on children's discovery museum, is one of the best Knoxville attractions for kids. It provides tons of space for kids to play, explore, and create.
23. American Museum of Science and Energy
This is an interactive children's museum focused on science and engineering concepts.
24. Children's Museum of Oak Ridge
A hands-on children's museum with themed rooms including birds, waterworks, nature, trains, and more!
25. Gym Bugs
Open gym time includes trampolines, a mini roller coaster, a ball pit, slides, tunnels, balance beams, mats, and preschool gymnastics equipment. This play area is geared towards kids ages 3-6.
26. Defy Knoxville
This expansive indoor trampoline park is a great choice for Knoxville family fun. In addition to trampolines, it also boasts a ninja obstacle course which means even parents will have a great time!
27. Chuck E. Cheese
At this fun center, kids can enjoy a large indoor playground, a variety of arcade games, and small rides. It's not just for birthday parties. You can go anytime!
28. Skatetown
Kids can release all their extra energy with a few laps around this indoor rollerskating rink.
29.Three Rivers Rambler
Enjoy scenic train rides throughout the city including themed children's events for various holidays.
30. Star of Knoxville Riverboat
These scenic boast tours may include a meal depending on the package you choose.
31. The Ice Chalet
This public ice skating rink has open skate hours throughout the week.
32. Onsight Rock Gym
This is Tennessee's largest indoor rock climbing facility. It boasts a separate children's climbing area and mommy-and-me toddler hours.
33. Blooming Youth Wellness
These children's yoga classes are held at a variety of locations throughout Knoxville. The classes aim to help kids to grow in expression, awareness, and peace.
34. Aerial Arts Lessons
This is one of the most unique things for kids to do in Knoxville. From circus silks to trapeze, this aerial arts studio has it all!
35. Strike and Spare Family Fun Center
A regional chain for bowling, leagues, and parties.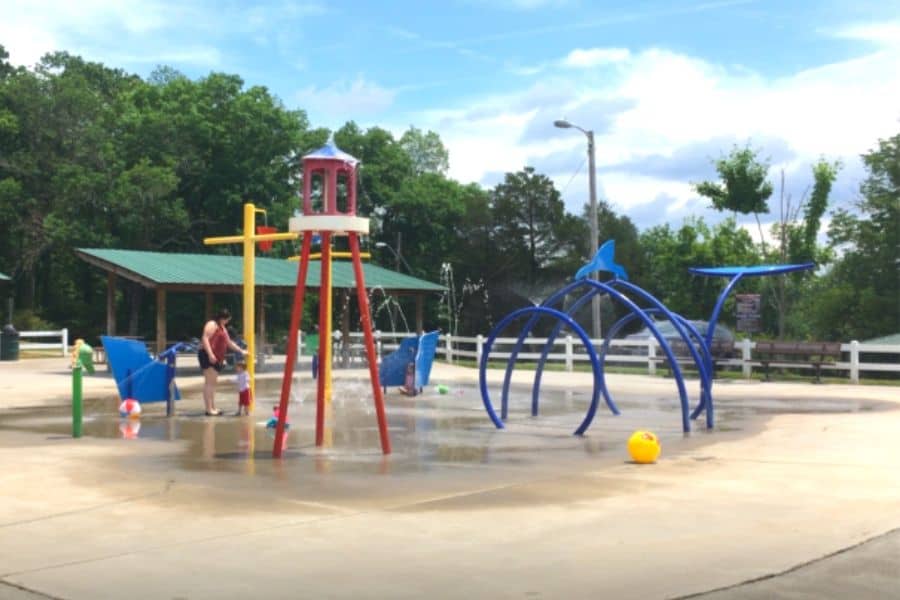 Water Play
Knoxville Splash Pads
These amazing splash pads boast a variety of sprayers and water features. These attractions are geared towards small children. Some of the most popular are the ones located in
36. McFee Park
37. Carl Cowan Park
38. World's Fair Park
39. Knoxville Community Pools
When the kids need a place to cool off this summer, these fun public pools really fit the bill.
Swimming Holes and Swim Beaches
Some of the most popular natural swimming spots are
40. The Cove at Concord Park
41. Norris Dam
42. Indian Boundry Recreation Area
Gardens and Nature Centers
43. IJAMS Nature Center
This nature center boasts natural hiking trails, an indoor nature center with reptiles and fish, and an injured bird aviary. A variety of educational programs are offered throughout the year.
44. Knoxville Botanical Garden and Arboretum
Pack a picnic and take a leisurely stroll through the scenic gardens or participate in one of the many educational programs.
45. UT Gardens
These gorgeous gardens are free to visit. Educational programs also offered.
46. Sunflower Fields
The Knoxville area is blessed to have several gorgeous sunflower fields. The largest sunflower field stretches as far as the eye can see!
47. Crescent Bend House and Gardens
Children will enjoy meandering through Crescent Bend's stunning gardens in springtime, especially the popular tulip beds. This stunning home also hosts a variety of special events throughout the year.
Outdoor Knoxville Attractions for Families
48. Zoo Knoxville
Zoo Knoxville is open year-round. In addition to viewing the animals, the zoo also offers a wonderful opportunity to feed the giraffes and educational classes for a variety of ages.
Knoxville City Parks and Playgrounds
Knoxville has a vast system of parks that offers a variety of playgrounds, walking and hiking trails, picnic areas, ball courts/fields, fishing, and water sports. Some of the most popular parks are
49. Carl Cowan Park and Playground
51. Fountain City park
52. Storybook Trails
These adorable storybook trails are cropping up all throughout the region. As families walk along the trail they stop at visual stations to read the next page of the book.
53. Knoxville Disc Golf Courses
Disc golf, which is a mix between frisbee and golf, is the hottest outdoor game you've probably never played. There's no time like the present to give it a try.
54. Knoxville's Safety City
This self-guided miniature city aims to teach children safe vehicular, bicycle and pedestrian skills.
55. Little Ponderosa Zoo and Rescue
A local animal rescue for large and exotic animals.
56. Knoxville's Holidays on Ice
Treat the kids to a few laps at this open-air ice skating rink in the center of Market Square that is open from late-November to mid-January.
57. Fun Center Putt Putt
Take the kids out for a rousing game of mini-golf.
58. Sir Goonie's Fun Center
This facility features miniature golf, go-karts, paintball, and water slides. The Fun Center is open year-round.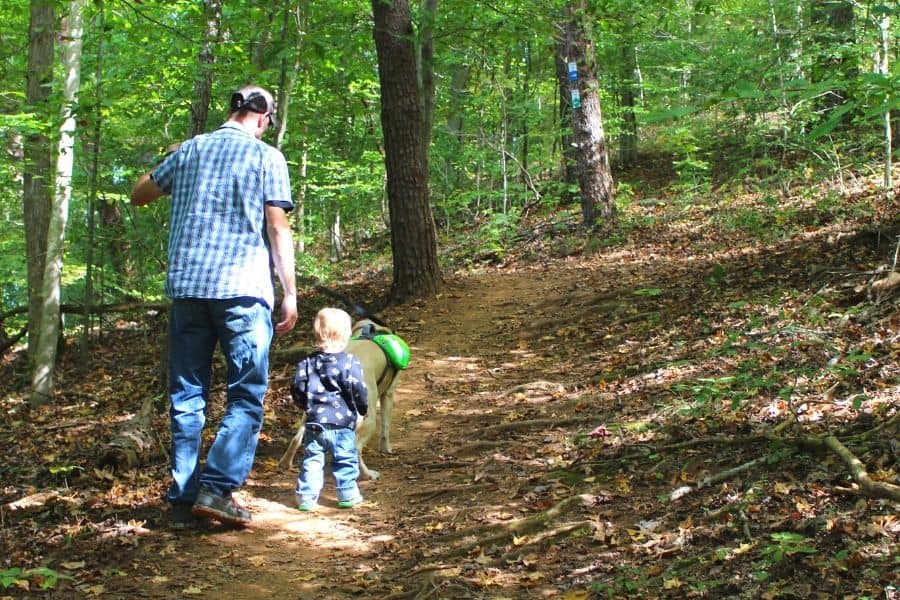 Hiking Trails and Natural Areas
59. Seven Islands Birding Park
This outdoor wonderland is known for its large population of wild birds. It's a great place for kids to test out their binoculars.
60. Hawridge Park
A trail system for hiking and mountain biking.
61. Fort Loudon
This popular lake-side attraction boasts hiking trails, a picnic area, a fishing pier, an indoor museum, and a large historic fort that hosts living history demonstrations throughout the year.
62. Krutch Park
Here you can marvel at the large scale outdoor art sculptures and eat a picnic lunch next to the stream.
63. House Mountain State Natural Area
This natural area boasts hiking trails with spectacular views.
64. Knox County Greenways and Trails
Enjoy the fresh air and foster a healthy lifestyle by walking, jogging or biking along one of Knoxville's many greenways and paved trails.
65. Knoxville City Blueways
These waterways are perfect for fishing, kayaking, and other water sports.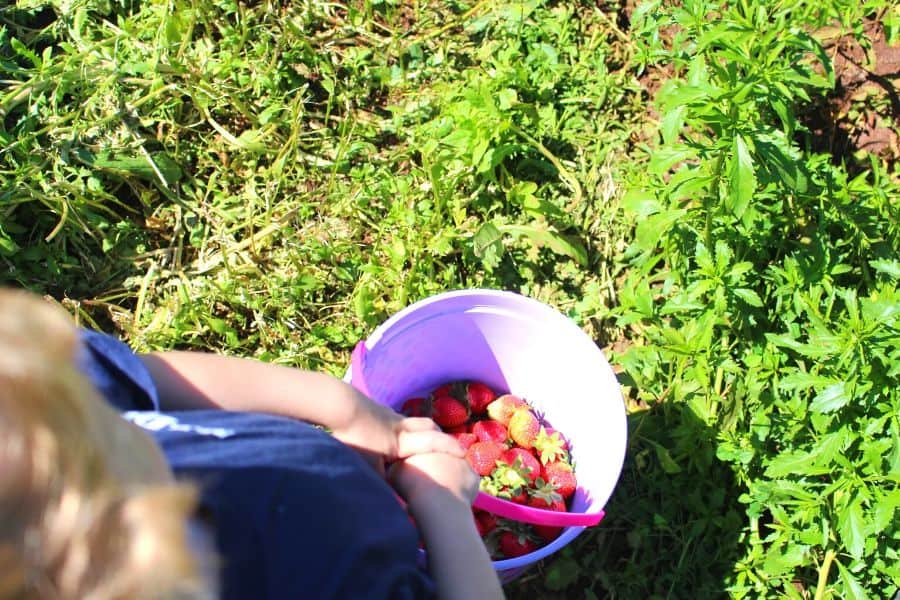 Farm Fun
Pumpkin Farms
Some of the most popular pumpkin farms are
66. Deep Well Farms
67. Oakes Farm
68. Narramore Farms
Pick Your Own Berry Farms
Some of the most popular berry farms are
69. Still Water Farms
70. Beauchene Berry Farm
71. Rutherford Farm
72. Apple Orchards
A trip to the apple orchard is one of the most popular fall activities.
Educational Farm Tours
Teach your kids about farming, raising animals, and growing food at one of the farms below.
73. Erin's Meadow Herb Farm
74. Beardsley Community Farm
75. King's Hydrofarm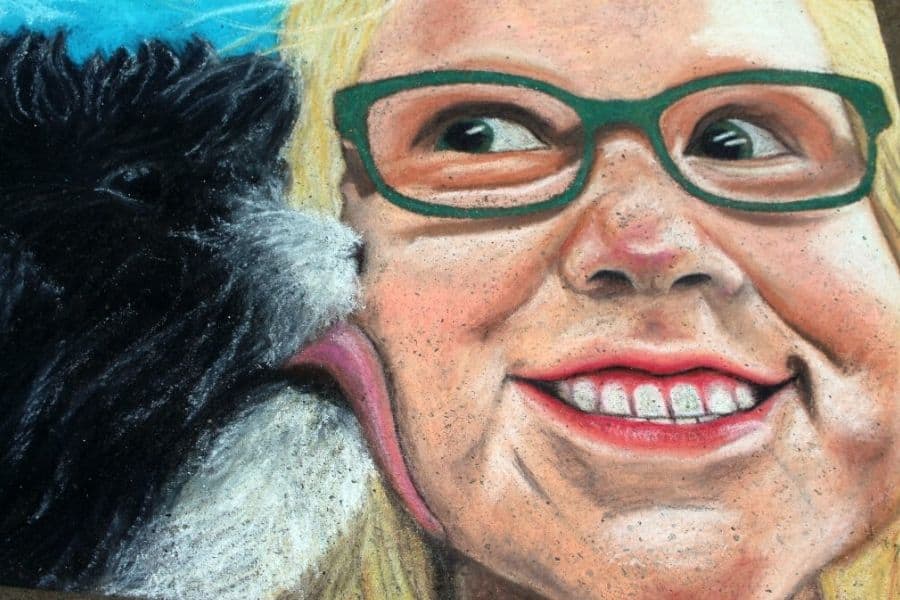 Concerts, Festivals, and Events
76. Children's Festival of Reading
This fun annual literacy festival is packed full of fun activities for kids, including arts and crafts, train rides, face painting, character appearances, free and cheap books, and more!
77. Market Square Farmers' Market
Enjoy live music as you help your kids cultivate a love of shopping small. The farmers' market will be filled with a variety of farm-fresh offerings including meats, produce, flowers, herbs, and baked goods. A variety of artisan crafts are also available.
78. Chalk Walk
Adults and kids of all ages are invited to participate in this beloved chalk drawing competition. Whether you just want to show up and peruse the artwork or you want to join in the contest yourself, it's completely free!
79. Mardi Growl
This fundraiser for the local shelter brings hundreds of costumed dogs into the streets of downtown Knoxville for a huge pup parade that your kids will love!
80. Morristown Fly-in
This annual airplane festival allows kids to see and even sit in a variety of airplanes and service vehicles. A variety of kids crafts and aviation science activities are also located throughout the festival.
81. Touch-a-Truck Events
At these popular events kids can sit in firetrucks, helicopters, police cars, construction trucks, and more!
82. Free Fishing Day
Held annually on the Saturday of the first full week in June, this special day allows all people, of any age, to fish without a license.
During the week that immediately follows free fishing day, all kids 15 and under can continue to fish for free on public waters. Children under 12 can always fish for free.
83. Kids' Fishing Derbies
Throughout the warmer months, our region offers many fishing derbies for kids. These events are typically for kids 15 and under and do not require a fishing license. Of course, there are a variety of prizes up for grabs!
84. Soap Box Derbies
Our regional soap box derby is held annually in Athens, TN.
85. Free Outdoor Movies
Throughout the warm weather months, you can enjoy a variety of family-friendly outdoor movies for free on Market Square. Visit a local restaurant or bring your own snacks to complete the experience.
86. Free Outdoor Concerts
Warm weather marks the beginning of multiple free concert series throughout the region.
87. AMC Movies 7
Save big bucks at this discount movie theater. It shows new movies that have already left the traditional theaters but haven't yet made it to DVD.
88. Blue Plate Special
Enjoy free concerts at the Knoxville Visitors Center 5 days a week!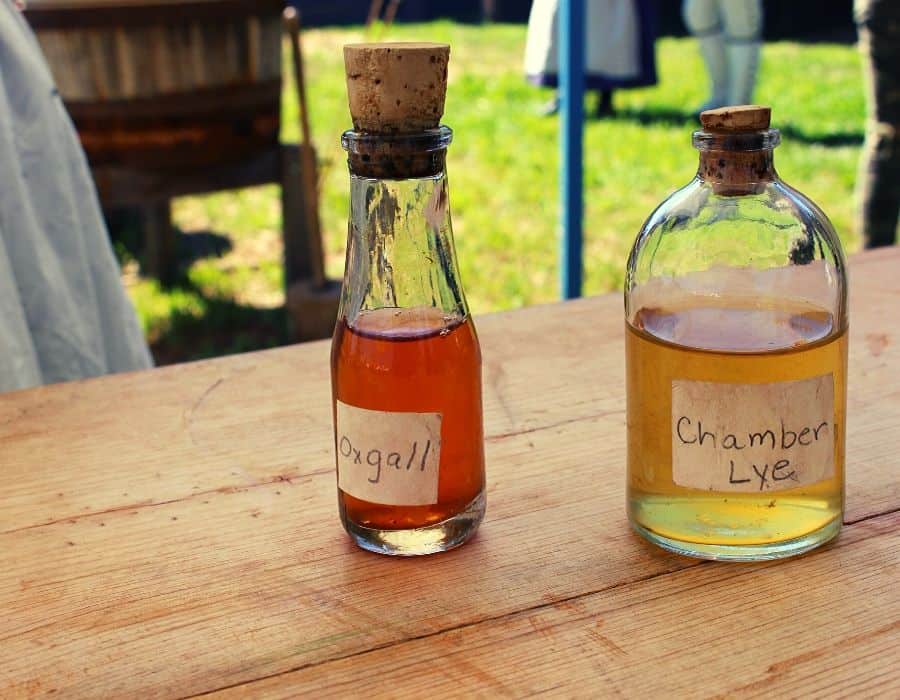 Museums and History
Though they often get overlooked, history museums are some of the best kid-friendly things to do in Knoxville. Many of our local museums and historic sites even host family-fun days throughout the year.
89. McClung Museum of Natural History & Culture
This history museum features a variety of permanent and rotating exhibits, including dinosaurs! They also host family fun activities throughout the year including stroller tours, hands-on kids' activity days and more.
90. Beck Cultural Exchange Center
The museum centers around African-American history and features a variety of permanent and rotating exhibits.
91. Sunsphere
Your kids will love taking the elevator to the top of this towering sphere. At the top of the Sunsphere, you will enjoy spectacular 360° aerial views of Knoxville from inside the Sunsphere.
You can also expand your Knoxville knowledge with the informative plaques and photos that depict the past and present of K-Town.
92. Lenoir Museum
Discover a historic grist mill and a collection of artifacts that span over 60 years of life in historical Appalachia.
93. Museum of East Tennessee History
This TN history museum offers a variety of hands-on experiences for kids. In addition to educational programs, the museum also hosts events throughout the year with kids' activities, like crafts and interactive history demonstrations.
94. Women's Basketball Hall of Fame
Celebrate women in sports!
95. Mabry Hazen House
This historic home housed both Union and Confederate soldiers during the civil war. In addition to mansion tours, they also hold living history events throughout the year, complete with actors, firing demonstrations, and more.
96. Blount Mansion
Blount Mansion offers a variety of educational programs and events throughout the year with fun living history demonstrations and activities for kids, such as writing with ink and quill pens.
97. James White Fort
One of their most fun events of the year is Jr. Docent day where local kids act as living history actors and give tours of the James White Fort.
98. Museum of Appalachia
One of the most popular museums in the area, the Museum of Appalachia is filled with living history demonstrations and hands-on activities for kids.
Sporting Events
99. Knoxville Ice Bears
Enjoy the fast-paced thrill of a professional minor-league hockey game.
100. TN Smokies
Our local minor-league baseball team hosts a variety of family nights with fun themes throughout the season.
101. Knoxville Holstons Vintage Baseball
Step back in time at these vintage baseball games.