Get out and make awesome family memories this fall with a trip to one of these festive pumpkin patches near Johnson City TN, Kingsport, Bristol, and more!
There are a variety of farms to help meet your heart's desire, including u-pick and pre-picked options. Most farms also boast additional attractions like hayrides, corn mazes, playgrounds, petting zoos, and much more!
At these farms, you'll find everything you need for a full day of family fall fun!
For your convenience, this post may contain various affiliate links. As an affiliate, and as an Amazon Associate, I earn from qualifying purchases. View the disclosure page for more information.
You May Also Like
Pumpkin Patches Near Johnson City TN and Washington County
Due to current events, please check with the farm on the morning of your planned visit to be sure they will be open that day.
254 Highway 107, Jonesborough, TN
Guest will enjoy a jump pad, traditional corn maze, haunted corn maze, ziplining, pick-you own pumpkins, a large farm store with pre-picked pumpkins, gourdes, produce, and much more!
303 Laurels Rd, Johnson City TN
This low-key pumpkin patch offers a nice u-pick field and a large farm store with a wide variety of pre-picked pumpkins in many different colors. They also offer a variety of gourds and seasonal decor.
Bristol, Kingsport and Sullivan County
Timber Mill Private Dr, Bluff City, TN
This festive farm boasts pick-your-own pumpkins, a petting zoo, inflatables, a playground, hayrides, corn mazes, after-dark haunted attractions, and more!
2233 Cleek Road, Kingsport, TN
This pumpkin farm in tri-cities offers field trips for school classes and homeschool groups throughout the week. On the weekends, it transforms into a wedding venue and the pumpkin farm is closed.
19372 Brumley Gap Rd, Abingdon, VA
In addition to pre-picked pumpkins, this farm offers a barrel train ride, hayride, traditional corn maze, after-dark haunted corn maze, and more!
The farm is located 30 minutes outside of Bristol and an hour from Kingsport.
209 Pungo Drive, Nickelsville , VA
Due to the poor health of the owner, this farm will not be opening for the 2021 season. Please check back next year.
This farm is just 40 minutes outside of Kingsport and 50 minutes from Bristol.
5175 W Lee Hwy, Wytheville, VA
This farm and orchard, located 1 hour outside of Bristol, boasts u-pick pumpkins, hayrides, apple and pumpkin launchers, and a wide variety of kids' activities! There is also a large farm store with many of your seasonal favorites.
This farm opens every weekend in October.
Carter County
110 Corn Maze Lane, Elizabethton, TN
Due to recent events, this farm will only be open on Fridays and Saturdays in October from 7 PM to 11 PM.
Guest will enjoy a traditional maze, haunted maze, hayrides, and pre-picked pumpkins.
Greene County
3415 Gap Creek Rd, Bulls Gap TN
This farm allows guests to pick their own pumpkins, gourds, and more! It also boasts a traditional corn maze, haunted corn maze, and large farm store.
1890 Dodd Branch Rd, Greeneville, TN
This fall you can enjoy a less commercialized experience with pick-your-own pumpkins and apples, and a fun hayride across the farm! There is also a farm store with seasonal decor, produce, canned goods, and more!
7941 Blue Springs Parkway, Mosheim, TN
At their large farm store, visitors can choose from a variety of pre-picked pumpkins in various colors and seasonal gift items. There is also a traditional corn maze, daytime zombie paintball, hayrides, and haunted after-dark attractions.
Hancock County
1104 Rebel Hollow Rd, Tazewell, TN
For 2020, this farm will be open every weekend in October.
Enjoy pumpkin picking, a large petting zoo, barrel train rides, and more! The farm is located just 20 minutes outside of Sneedville.
Hawkins County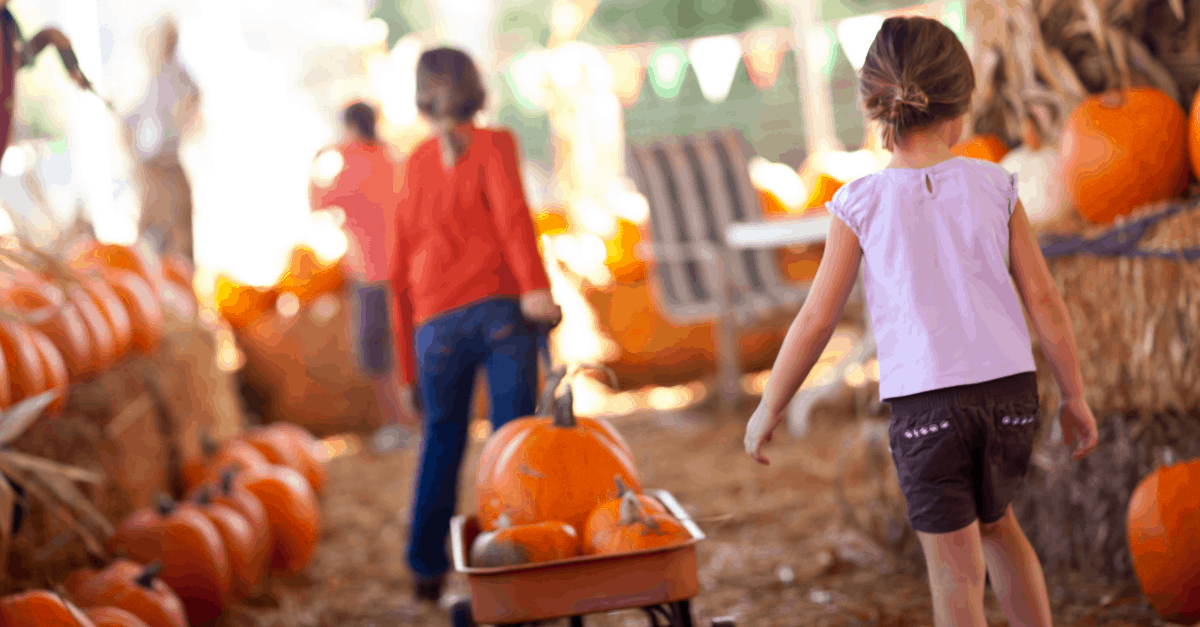 Location: 993 Carters Valley Road, Rogersville, TN
Opening day is October 9, 2020. Masks required.
In addition to pick-your-own pumpkins, this farm boasts a hayride, corn maze, playground, petting zoo, and more!
Johnson County
The closest pumpkin farms to you are in Carter and Sullivan counties. See above. There is also a fun North Carolina farm, that's not too far. See below.
2152 Beaver Creek School Rd, West Jefferson, NC
This pumpkin farm will be closed in 2020.
This fun farm offers a variety of pre-picked pumpkins and gourds, corn maze, paintball, yard games, pumpkin cannon, and much more! This farm is just 55 minutes from Mountain City.
Books to Share
The Fierce Yellow Pumpkin – In this book about patience, a tiny yellow pumpkin aspires to be as big and fierce as the garden scarecrow. Finally in October, after months of waiting, all of his wishes come true.
Pumpkin Jack – This fun book teaches the pumpkin life cycle through an engaging story. A young boy who throws his rotten jack-o-lantern outside in the garden makes a surprising discovery the following spring.
The Roll Away Pumpkin – Mary Little's giant pumpkin has a mind of its own, as it rolls throughout the town. How will she catch it? This repeating sentence book is perfect for young readers.
More East TN Family Fun