Get your fill of scrumptious fall flavors with an exciting apple orchard adventure right here in Tennessee! There are tons of places for apple picking near Johnson City and throughout the Tri-Cities area. There are also several great spots just over the mountains.
In addition to apples, these fantastic farms offer a variety of delicious apple baked goods, hayrides, kids' activities, and much more. We are also lucky to have many orchards offering pre-picked apples. One even has close to 100 different varieties. Wow!
At the very bottom, you'll also find a special addition. This popular apple store is an iconic landmark in the region. Can you guess what it is?
When it comes to things to do this fall, a fun-filled day of picking apples is a great way to make memories and build fun traditions you and your kids will remember for a lifetime!
You May Also Like:
Apple Picking Near Johnson City TN and Tri-Cities
1. Apple Hill Orchard
(423) 733-2017
Treadway TN
The farm's u-pick is over for 2021.
Apple Hill Orchard is a small mom-and-pop orchard offering a wide variety of apples, all available for pick-your-own. The orchard is open Tuesday through Saturday. Call before going if you want to confirm availability.
Apple Varieties
Golden Delicious, Mutzu, McIntoch, Courtlands, and many more!
2. Red Dog Ridge Farms
(423) 742-6399
Rogersville, TN

This chemical and pesticide-free farm offers such a wide variety of apples and fruit, you won't be able to resist a visit! This farm doesn't have a website or Facebook page, so you need to call to confirm availability before going.
3. Buffalo Trail Orchard
(423) 639-2297
Greeneville, TN
Due to a late frost, this farm is only offering pre-picked apples for 2021. Apple picking will resume next year.
Throughout the summer and fall, Buffalo Trail Orchard offers a wide selection of pick-your-own apple varieties. They also have pumpkins and winter squash. Visitors can also enjoy a scenic hayride out to the orchards.
Apple Varieties
July – William's Pride, Zestar
August – Gala, Honey Cris
September – Fuji, Sweet 16, Wolf River, Jonagold, Yellow Delicious, Cameo, Mutsu, Red Staymen, Northern Spy, Winter Banana, Enterprise,
and Braeburn
October – Fuji, Pink Lady, and Gold Rush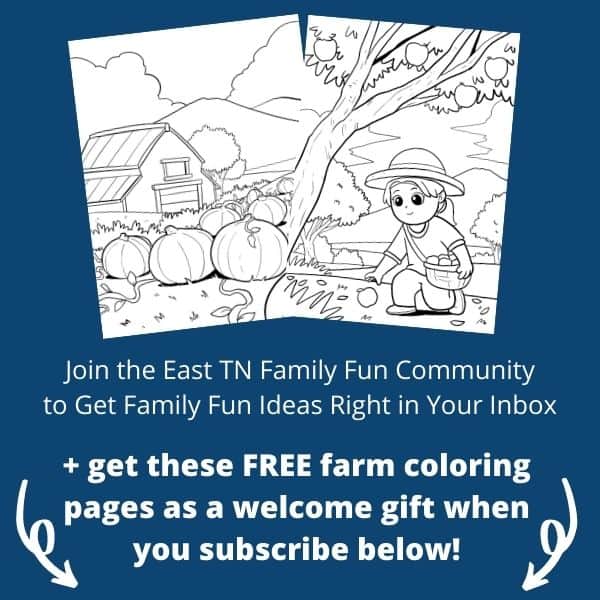 4. A Different Chick Farm and Orchard
(423) 534-0353
Johnson City, TN
This new-ish orchard is still growing. While the farm does currently sell apples, there won't be enough to start offering pick-your-own apples until 2023. So, that gives you something to look forward to!
They have planted over 300 varieties of apples, so you'll have plenty to choose from when the time comes!
5. The Orchard at Altapass
(828) 765-9531
Spruce Pine, NC
This farm is offering u-pick for 2021. They ask that you please call in advance about specific varieties available.
The Orchard at Altapass is a family fun wonderland surrounded by scenic mountain views. In addition to pick-your-own apples, this orchard offers hayrides, birdwatching, hiking trails, live music, and a variety of seasonal events.
This farm also has several educational farm experiences including a butterfly garden, a transparent beehive. They also hatch and release monarch butteries as part of a large-scale conservation effort.
There is also a large farm store with fresh baked goods, jams, jellies, canned goods, crafts, and more!
Apple Varieties
July: June, Lodi, Early Blaze, William's Favorite
August: Aunt Rachel, Ginger Gold, McIntoch, Summer Rambo,
September/October: Florina, Gala, Golden Delicious, Grimes Golden, Jonagold, Mother, Razor Russet, Roxbury Russet, Sheep Nose, Stayman Winesap, Virginia Beauty, Wolf River, York
October: Limbertwig, King Lucious,
6. Apple Hill Orchard and Cider Mill
(828) 437-1224
Morganton, NC
This farm is offering apple picking in 2021. You can view the large list of safety precautions they are taking on their website.
Not only does Apple Hill Orchard and Cider Mill offer a wide variety of u-pick apples, but they also boast delicious and award-winning fresh-pressed cider.
Their farm store is stocked with a large variety of homemade apple baked goods including donuts, fried pies, apple bread, apple cakes, and much more. Yum! You'll also find a variety of canned goods and gift items.
On Saturdays, guests can enjoy wagon ride farms tours.
Apple Varieties
July: Ginger Gold, Premier Honeycrisp,
August: Gala, Arlet, Honeycrisp, Jonagold, Early Fuji, Golden Delicious, Empire, Mutsu, Red Delicious,
September: Cameo, Stayman Winesap, Red Rome
October: Fuji, Granny Smith, Gold Rush, Pink Lady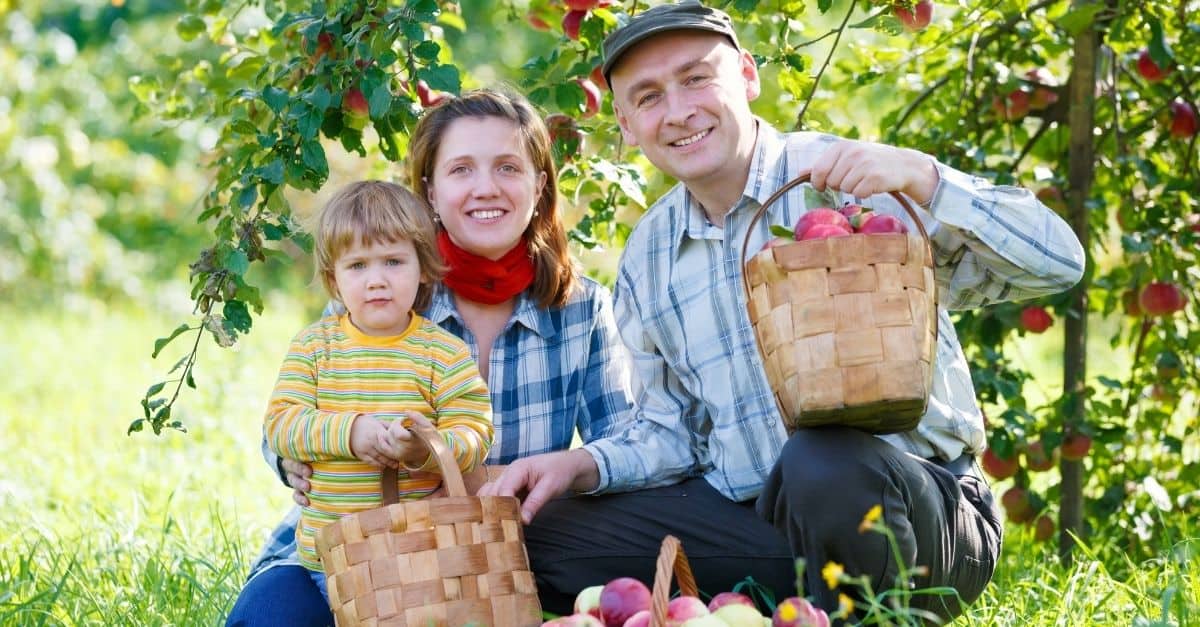 Orchards With Pre-Picked Apples Only
7. Hump Mountain Apple House
(828) 733-0262
Elk Park, NC
This popular farm store boasts over 30 different apple varieties, many of which are grown in their own orchard. They also sell a variety of jams, jellies, and farm-fresh canned goods. They do not have a website or Facebook page.
8. Big Horse Creek Farm
(336) 384-1134
Lansing, NC
Located just 1 hour from Mountain City, Big Horse Creek Farm boasts a huge selection of heirloom and antique apple varieties. They also sell the seedlings if you'd like to start growing your own apple trees.
Apple Varieties
Some of their more unique varieties include Granniwinkle, Gragg, Tedofsky, Rusty Coat, Coffey Seedling, Pumpkin Sweet, and Red Rebel, and many, many more! In fact, the list is way too long to include here, so check their website for all the details.
9. Moretz Mountain Orchard
(828) 264-3424
2820 Big Hill Road Boone, NC
This 3rd generation family farm boasts over 90 different apple varieties to choose from, as well as a variety of other farm-fresh produce. This farm doesn't have a website or a Facebook page.
10. The Big Red Apple Shed
(423) 963-8019
Bristol, TN
While this is not actually an apple orchard, The Big Red Apple Shed does make the list because it just may be the most popular apple store in all of the tri-cities area. This huge farm store offers a huge variety of fresh produce and canned goods, as well as 15 different apple varieties, grown at neighboring North Carolina Farms.
More East TN Family Fun