When you want all the deliciousness of a hot Thanksgiving meal without the stress of cooking, these prepared Thanksgiving dinners near Knoxville have got you covered!
With best part is, with these Thanksgiving dinners to-go, you still get to enjoy your holiday in the comfort of your own home.
Even if you don't want to purchase a full meal, you can still save time and stress by ordering a la carte items.
Pre-Cooked Thanksgiving Dinners Near Knoxville
1. Firebirds Woodfire Grill
At Firebirds, you can choose a ham dinner, turkey dinner, or combo meal. Side include parmesan mashed potatoes, cornbread dressing, cranberry sauce, garlic asparagus, broccoli cheddar casserole, apple cinnamon bread pudding, and more.
Meals are priced at $160 and feed 6 people. Pick-up days are November 21st and 22nd.
2. Archers BBQ
At Archers, you can order a smoked or fried whole turkey, ribs, wings, smoked ham, BBQ, and more. There are also several sides and pies to choose from.
3. Calhoun's
Your delicious Thanksgiving meal will come with turkey, stuffing, mashed potatoes, gravy, peas, cranberry sauce, bread, and a yummy seasonal cheesecake. Feed 5 for around $80 and 10 for around $150.
4. Carrabbas Italian Grill
Through the catering, you can order Carrabbas' Perfect Bundle. This meal serves between 5 and 10 people and comes with either a pasta or chicken entree. Plus, you'll also get a salad, side, and dessert.
Prices start at $68 for a 5-person bundle.
5. Corner 16
Their holiday feed packs come with turkey, smokehouse potatoes, gravy, dressing, peas, cranberry sauce, and seasonal cheesecake. You can feed 5 people for $80 or feed 10 people for $150.
You can also upgrade to brisket for $85/$165.
6. Costco
This pre-cooked Thanksgiving dinner includes roasted turkey breast, mashed potatoes, gravy, green beans, brussels sprouts, stuffing, cranberry relish, apple pie, & pumpkin pie. This large selection of food only costs around $130 and serves 8.
7. Cracker Barrel
Cracker Barrel offers Heat N' Serve Feasts that serve 4-10 people. All dinners include either turkey or ham, gravy, sweet potatoes, cornbread stuffing, cranberry relish, rolls, and 2 sides of your choosing.
You also get pecan and pumpkin pie for dessert. Prices start at $149.
8. Dead End BBQ
If you don't need a complete pre-cooked Thanksgiving dinner, you can order a delicious smoked turkey or ham for your main course. If you want the whole shebang, a variety of delicious sides are also available a la carte.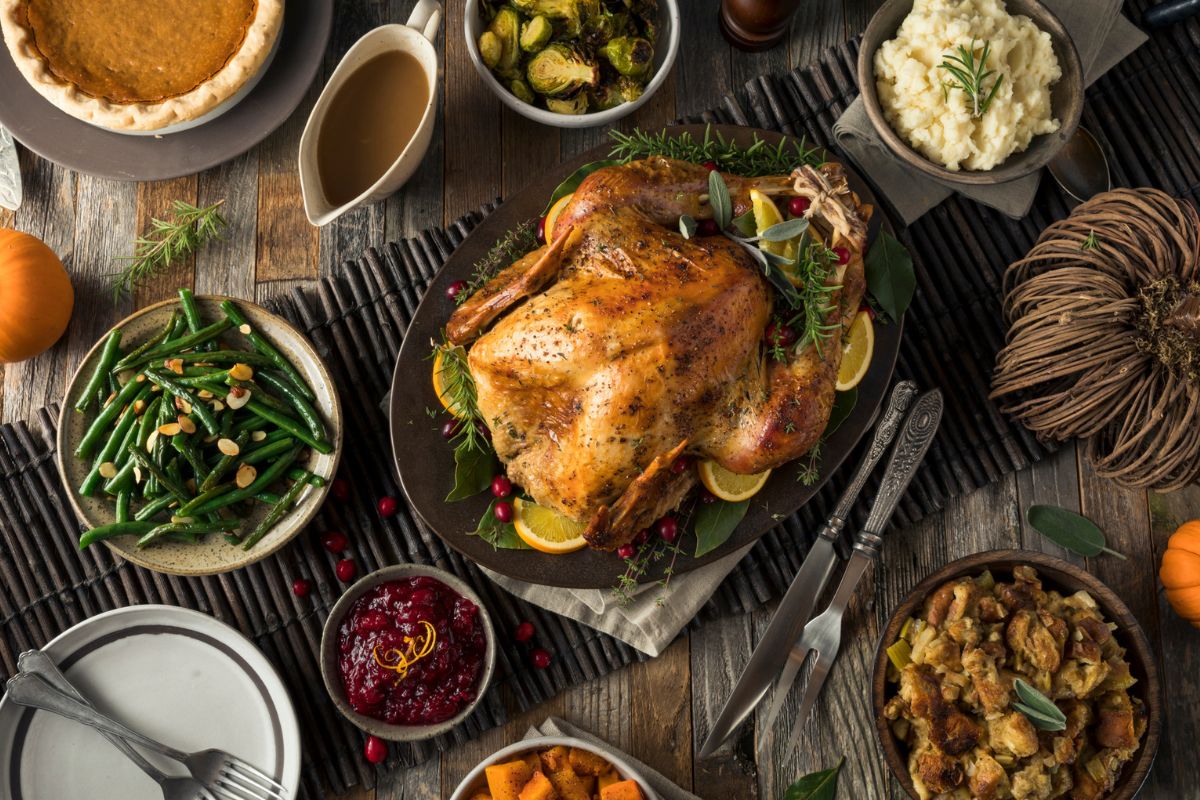 9. Food City
Enjoy a scrumptious dinner including turkey, ham or prime rib, green beans, gravy, mashed potatoes, dinner rolls, and cornbread dressing. There are a variety of packages to choose from that feed between 4 -14 people.
10. The Fresh Market
Tantalize your taste buds with scrumptious spiral ham, roast turkey, mashed potatoes, stuffing, gravy, cranberry relish, and rolls. The dinner pack serves 8-10 people and costs around $99.
11. Holly's Gourmet Market
If you want your prepared Thanksgiving dinner to be a little more unique, Holly's is where it's at. Choose from a variety of traditional and non-traditional Thanksgiving menu items to complete your take-and-bake meal package.
12. The Honey Baked Ham Company
At the Honey Baked Ham Company, you can choose from a delicious spiral-cut ham, whole-roasted turkey, or turkey breast. Add on delicious prepared sides like green bean casserole and sweet potato souffle to make it a complete meal.
13. Kroger
Kroger is offering a pre-made Thanksgiving dinner with turkey, ham, or prime rib. Each meal comes with a variety of sides including green bean casserole, mashed potatoes, stuffing, and gray.
Meals feed 6-8 people and start at $80. A la carte items are also available.
14. Publix
Pick up a delicious spread with turkey, mashed potatoes, stuffing, gravy, marshmallow delight, and cranberry-orange relish. A meal for 7-10 people is priced around $70.
15. Whole Foods
The classic Thanksgiving dinner comes with turkey, cranberry sauce, traditional herb stuffing, green beans, mashed potatoes, and gravy. It feeds 4 for $99. Larger package options are also available
Did we miss a location for prepared Thanksgiving dinners near Knoxville? Comment with the details below.
More East TN Family Fun