These stunning sunflowers fields in East Tennessee attract photographers and sightseers both far and wide.
When Will the Sunflower Fields in East TN Bloom?
In East Tennessee, sunflowers can bloom throughout the summer and into early fall. The peak of the season is usually in mid-summer, around late June through early August. The length of the in-bloom season for each individual field will depend on which variety of sunflower is planted.
Why Are Sunflower Fields Important?
Planting sunflowers is a great way to attract pollinators, like bees, butterflies, and moths, to the area. Once the pollinators come to an area, they are able to pollinate nearby fruit and veggie plants on local farms, which helps them to grow.
Pollinators are responsible for producing approximately 1/3 of the foods we eat every day.
If you'd like to attract pollinators to your own vegetable garden, the website Native Plant Finder is an excellent resource. Type in your zip code and it will tell you exactly which types of plants will attract local butterflies, everyone's favorite pollinators!
Best East Tennessee Sunflower Fields
Location: 3140 McClure Ln, Knoxville,
This fantastic sunflower field is absolutely gigantic. The field is maintained by TWRA and is open to the public. See photos and read our review at the link above. This field hosts a fun Sunflower Festival each year the field is planted.
Location: Intersection of Sevierville Rd. and Nina Delozier Rd.
This field is planted at a private residence, but they put up a sign saying that courteous photographers and sightseers are welcomed. There is no designated parking, so you will have to find a safe location to park along the shoulder of Nina Delozier Rd.
Location: 8240 Corryton Rd, Corryton
While primarily a pick-your-own pumpkin farm, this location also offers a beautiful pick-your-own sunflower field that is the perfect place for summer photos!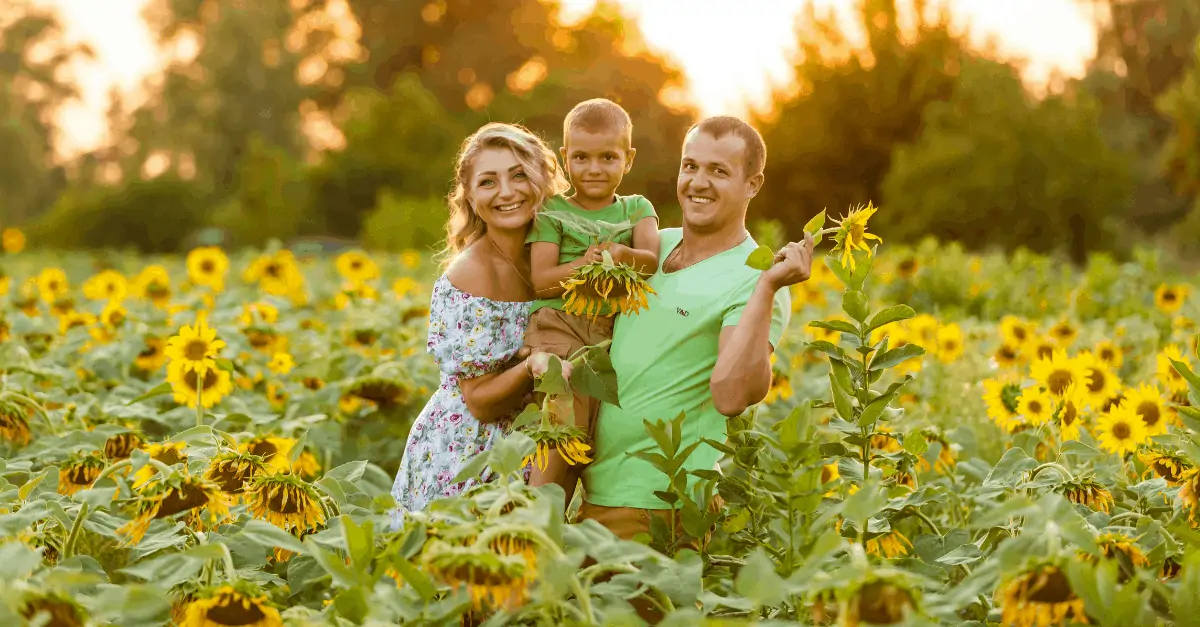 For your convenience, this post may contain various affiliate links. As an affiliate, and as an Amazon Associate, I earn from qualifying purchases. View the disclosure page for more information.
More Sunflower Fields in Tennessee
Location: Smith-Perry Berries Farm, 9626 Ooltewah Georgetown Rd, Ooltewah
In addition to pick-your-own strawberries, this fantastic farm also has a gigantic sunflower field that is perfect for photography. You can also pick the sunflowers by the bucket full for a small fee!
Location: 257 TN-307, Athens
This fun East TN farm usually has a stunning sunflower field as well as a corn maze, and pumpkin patch.
Location: 915 Mill Springs Rd, Jonesborough
This stunning farm offers both summer-blooming and fall-blooming sunflower fields. Individuals are free to come to view the sunflowers without an appointment. Photographers must make an appointment and pay the $25/hr fee.
Do's and Dont's for Your Farm Visit
Don't
Don't pick the sunflowers unless you are at one of the pick-your-own farms. Picking the flowers damages the habitat for pollinators.
Don't leave any trash behind, especially because many of these fields are hosted by gracious private residents.
Do
Enjoy the view.
Take photographs.
Respect the wildlife.
Enjoy the time with your family and make wonderful memories!
Did we miss one of your favorite sunflower fields in East Tennessee? Please send us the details so we can add it to the list.