A visit to one of these amazing u-pick farms is just what you need to liven up your summer. Not only will you make great family memories picking fresh-off-the-vine produce, but you will also be supporting a local farmer!
Pick-your-own farms also help kids make the connection between farming and the food on their table. When you're buying berries at the grocery store, the farm is a distant thought. When you pick berries at a patch, kids can really see the true meaning of farm-fresh produce!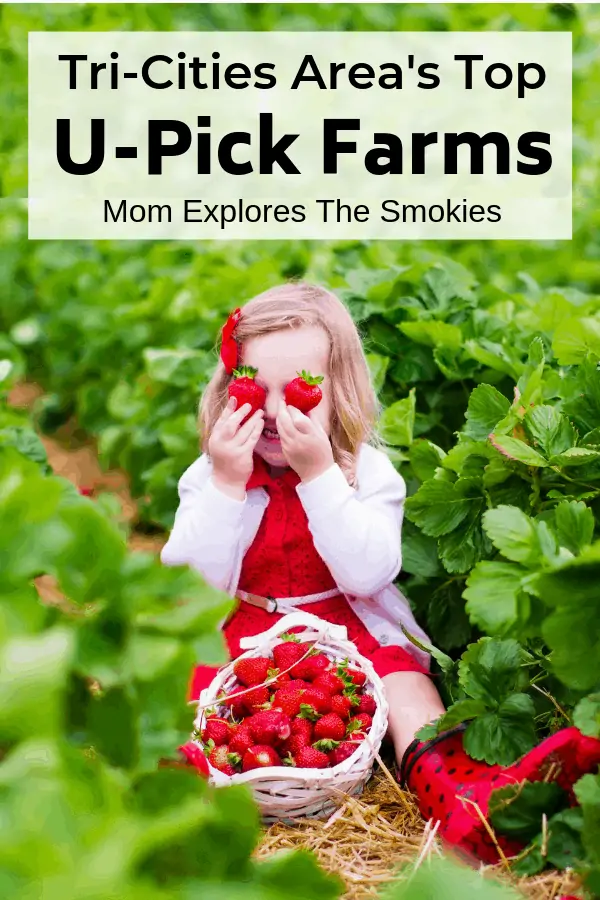 For your convenience, this post may contain various affiliate links. As an affiliate, and as an Amazon Associate, I earn from qualifying purchases. View the disclosure page for more information.
Best U-Pick Farms in Tri-Cities TN
Apple Hill Orchard
600 Eskola Lane, Treadway, TN 
423-733-2017
Apple Hill Orchard offers a wide variety of apples, all available for pick-your-own.
Buffalo Trail Orchard
910 Ottway Rd, Greeneville, TN
(423) 639-2297
Buffalo Trail Orchard offers a variety of apples, blueberries, blackberries, raspberries, and peaches for picking. They also offer pick-your-own pumpkins in the fall. Don't forget a stylish basket to help transport your fruit back home.
The Davidson Farm
933 Carters Valley Road, Rogersville, TN
(423) 345-2704
U-Pick crops at this farm include strawberries and pumpkins.
In addition to u-pick strawberries, The Davidson Farm also offers pre-picked peaches and a pumpkin patch in the fall. Know before you go: teach the kids all about growing strawberries with this fun book From Seed to Strawberry.
Friendly Farm
1104 Rebel Hollow Rd, Tazewell, TN 
(865) 247-1874
Friendly Farm's website primarily advertises for their animal festivals, but they do actually offer a variety of pick-your-own crops.
Past crops have included strawberries, blackberries, and miscellaneous produce. Since they don't have the info listed on their website, you will have to call for availability.
Gibson Berry Farm
375 Kelley Gap Rd, Greeneville, TN
(423) 620-9032
This blueberry farm is one of the few that is certified organic. In addition to blueberries, the farm offers flowers, herbs, elderberries, and prepared elderberry syrup,
Glenmary Gardens
224 Old Abingdon Hwy, Bristol, VA
(276) 644-4999
In addition to u-pick and pre-picked strawberries, Glenmary's Garden offers a variety of fresh vegetables throughout the growing season.
Henley Mountain Farm
879 Matney Flats Road, Wytheville, VA
(276) 782-5184
This u-pick farm specializes in blueberries.
Morley Farm and Orchard
611 Sluder Road, Shady Valley, TN
(423) 739-3647
This popular blueberry farm is an area favorite! They provide picnic tables so you can pack a lunch and make a day of it!
Red Dog Ridge Farms
1267 Burem Road, Rogersville, TN
(423) 742-6399
This chemical and pesticide-free farm offers such a wide variety of fruit, you won't be able to resist a visit! This farm has u-pick apples, blackberries, blueberries, peaches, and raspberries.
This farm has the same owners as the Red Dog on Main restaurant in downtown Rogersville. If you can't get ahold of anyone about the farm, call the restaurant instead.
Villa Nove Vineyards
1877 Dry Hill Road, Butler, TN
(423) 768- 3633
While primarily a wedding venue, this farm offers pick-your-own blackberries at the end of July. Call to confirm that the berries are ripe, prior to coming.
More Family-Fun Activities For You