With breathtaking mountain views and an abundance of majestic wildlife, it's no wonder that Cades Cove is the most visited section of Great Smoky Mountains National Park. In Cades Cove, activities and fun are hidden around every corner.
From bike rentals and picnicking to horseback riding and stargazing parties, this list has all the ideas you need to take your visit to the next level.
Cades Cove Activities: How Long will it take to do them all?
If you truly want to experience everything Cades Cove has to offer, it will take you multiple days. But, one action-packed day is really all you need to have a fun and fulfilling experience.
To make the most of your visit, plan to arrive in the early morning and return just in time for dinner. Pack a hearty lunch and plenty of snacks and drinks to tide you over during your visit.
Pick and choose from the activities below to craft your perfect day of fun!
1. Narrated Driving Loop Tours
Although Cades Cove offers some amazing guided tours (see below), sometimes you just want to go at your own pace and stop where you want to stop. Thankfully, this downloadable self-guided tour allows you to do just that.
This fun digital option will give you a full history of Cades Cove including an overview of the various historic landmarks you will see during your drive. You can pause the narration at any time to create a more personalized experience.
The best part is, it's also the most affordable tour option.
2. Wildlife Viewing
The most popular activity at Cades Cove is wildlife viewing. As you drive along the loop, you can spot many different animals including black bears, deer, wild turkeys, bobcats, wild hogs, coyotes, and much more!
You can encounter these animals anywhere along the loop, so be sure to have your camera ready at all times.
Of course, the open fields that line the loop offer unique unobstructed viewing areas. This makes animal spotting easier when compared to the more forested sections of the drive. It's also easier to find animals at dusk and dawn when they are actively out looking for food.
3. Living History Demonstrations
Attending a living history demonstration is another top choice on the list of Cades Cove activities. Though they don't take place every day, you can often catch reenactors doing blacksmithing, and sorghum milling. These demonstrations primarily take place during the warm weather months.
The most enchanting living history attraction is the working grist mill, which is nestled into a scenic forest backdrop. Not only is this an excellent spot for photos, but visitors can actually tour the mill to see it in action. You can even purchase the flour produced by the mill, in the on-site gift shop.
If you love living history adventures, the Oconatuflee Visitors Center and Mountain Farm Museum is another great spot to visit. Here, you'll find a historic Appalachian farm and homestead, including live animals and reenactors on select dates.
4. Ranger-Led Programs
Visitors can immerse themselves in nature and learning by signing up for one of the park's ranger-led educational programs. There are a variety of options to choose from including classes just for kids!
The Junior Ranger Program aims to teach kids about local wildlife and conservation through hands-on experiences and demonstrations. Topics may include searching for wildflowers, salamander spotting, identifying dangerous plants, and much more.
The Not-So-Junior Ranger Program, for adults, goes more in-depth with those same types of concepts. Both programs offer the opportunity to earn badges after completing so many classes.
7. Picnicking
To help keep stray trash to a minimum inside the scenic loop, the picnic area is located just outside of it. This popular lunch spot boasts ample parking, restrooms with running water, and over 80 picnic tables with grills to help you cook up a tasty southern meal.
As an added bonus, the picnic area is straddled by 2 babbling creeks which add to the ambiance and stunning scenic beauty. If you forget anything, there is a fairly expansive camp store with snacks, drinks, ice cream, and more. The camp store is located just past the picnic area at the entrance to the campground.
8. Making a Splash
After enjoying your lunch or dinner in the picnic area, you and your kids won't be able to resist dipping your feet into the cool and refreshing waters nearby.
For kids, these creeks are fun places to splash and cool off. For adults, they are great spots to relax and wind down after an action-packed day of hiking or sightseeing.
Another popular spot for water play is the creek that crosses Sparks Road. This secret shortcut is hidden away from the hustle and bustle of the main loop and offers a quiet refuge for weary sightseers. The water here is very shallow, but it's another great place for splashing and relaxing.
One place we do not recommend swimming is in the natural pool at the base of Abrams Falls. This popular Cades Cove waterfall hike attracts many adventurous swimmers each year. Unfortunately, numerous drownings have made this location one of the deadliest spots in all of Great Smoky Mountains National Park.
5. Biking Cades cove
While bikes are welcome anytime, the safest time to bicycle around the loop is on Wednesdays when the loop is closed to motor vehicle traffic. These motorist-free days happen every week from late June through late September.
If you don't have your own bikes or don't want to travel with all that extra baggage, you can rent bikes for under $10 apiece from the on-site camp store.
6. Star Gazing Parties
Some of the most anticipated events at Cades Cove are the after-dark star parties hosted by the Smoky Mountains Astronomical Society.
Since Cades Cove is minimally affected by light pollution, you will be able to identify many constellations and stars with your naked eye. As a bonus, the SMAS will set up several communal telescopes that are pointed towards special points of interest.
Throughout the event, knowledgeable night sky enthusiasts will be on-site to help guide you and answer any questions you may have.
The best part is, these events are totally free! Be sure to bring camp chairs and plenty of snacks to complete the experience.
9. Exploring Historic Appalachian Buildings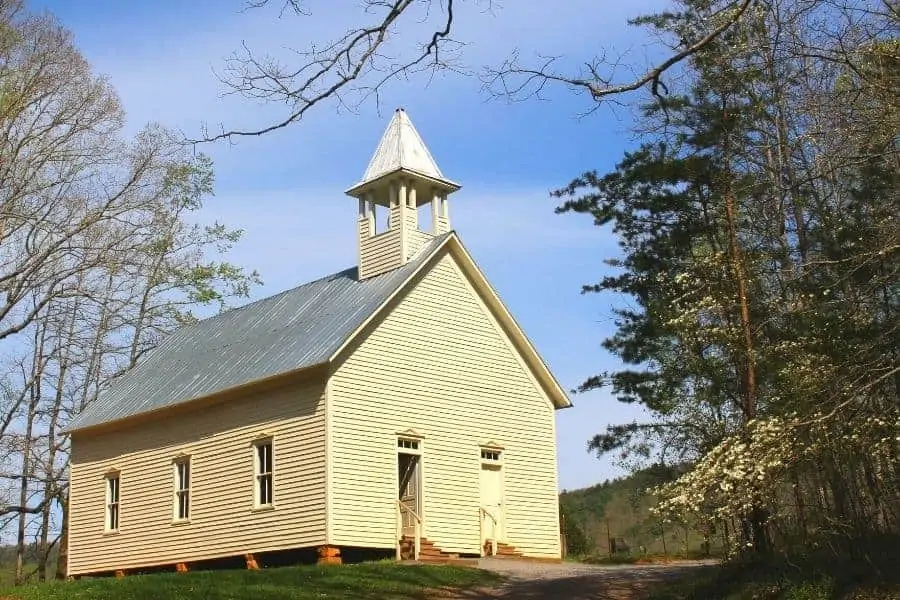 As you drive around the loop, you will encounter many buildings from early Appalachia. All of these buildings are authentic but have been moved to their current locations from other parts of the national park.
There are a variety of churches, cabins, barns, homesteads, an old general store, and of course, the grist mill. All of the cabins were constructed using traditional Appalachian building methods.
10. Horseback Riding
Cades Cove Riding Stables is a private company that has an operating agreement with Great Smoky Mountains National Park. This is the only company offering guided horse adventures in Cades Cove.
For the adventurous crowd, you'll travel on horseback along a wooded trail with a knowledgeable guide. The guide will share fun facts about the rich history of Cades Cove and point out historic landmarks as you ride along.
For those who prefer to sit back and relax, this company also offers horse-drawn carriage rides. On these low-key adventures, you still get to travel along a picturesque forested trail with a knowledgeable guide to complete the experience.
11. Guided Hay Rides
Cades Cove Riding Stables also offers guided tours for people who prefer to skip the horses but don't want to miss all that in-depth information. These tractor-drawn excursions accommodate larger groups and come with a smaller price tag. Score!
12. Camping
Of all the exciting Cades Cove activities, camping may just be the most functional. With so much to see and do along the loop, extending the experience with an overnight stay is a smart choice.
While some campsites are reserved for tents only, most RV sites accommodate tents as well. For your convenience, each site comes equipped with a fire ring and picnic table.
While there are restrooms with running water, there are no showers and no electric or water hookups at this location. There is a dump and water-filling station on-site that offers potable water.
If you forget something, there is also a large camp store that sells basic necessities, hot food, ice cream, and much more.
13. Hiking in Cades Cove
No matter your skill level, there are many scenic hiking trails to choose from along the driving loop. If you need a nice easy trek, the Elijah Oliver Trail is a great pick. This easy hike is just 1/2 mile each way and leads to the gorgeous historic Elijah Oliver homestead.
The most popular trail in Cades Cove is Abrams Falls. Not only does it lead to a small but stunning waterfall, but its moderate difficulty offers a good challenge for more adventurous hikers. This trail is just over 5 miles long roundtrip.
14. Photography
The idyllic scenery and abundant wildlife draw millions of photographers to Cades Cove each year. Throughout the loop, there are designated pull-off locations specifically suited to capturing the view.
When it comes to opportunities for photographing wildlife, parking may not always be so convenient. Instead of blocking the road while trying to get that perfect shot, the national park service requests that you pull off onto the shoulder and of course remain a safe distance away.
More East TN Family Fun
Did we miss one of your favorite Cades Cove activities? Comment below to tell us what it is.
Map of Cades Cove