While pumpkin may be the reigning king of seasonal flavor, nothing screams fall quite like a warm and crispy fried apple pie, especially when it's made from freshly picked fruit.
With so many farms for apple picking near Knoxville TN, you'll be able to enjoy all your favorite apple treats all season long.
While some apple varieties do begin to ripen in summer, most of the apple orchards near Knoxville really come to life in the fall. Regional apple varieties include Honey Crisp, Mutsu, Red Delicious, Golden Delicious, and many more! Some variety will be available even into early November.
Whether you are looking for pre-picked apples or apple picking fun, the perfect orchard for fabulous fall memories is only a click away!
For your convenience, this post may contain various affiliate links. As an affiliate, and as an Amazon Associate, I earn from qualifying purchases. View the disclosure page for more information.
You May Also Like
Quick Tips For Visiting Knoxville Apple Orchards
Each apple variety will ripen in its own time and may not be available the entire month.
Bring cash, because several of the orchards and stores do not accept credit cards.
These are working farms. Protect your feet by wearing closed-toe shoes.
Go early in the morning or late in the day to beat the crowds.
Go later in the season to beat the heat.
Best Farms For Apple Picking Near Knoxville
1. Buffalo Trail Orchard
(423) 639-2297
Greenveville, TN
Green County
Throughout the fall, Buffalo Trail Orchard offers a wide selection of pick-your-own apple varieties. They also have pumpkins and winter squash. Visitors will also enjoy a scenic hayride out to the orchards.
For the 2022 season, PYO apples will be available on weekends starting in late September.
Apple Varieties
July – William's Pride, Zestar
August – Gala, Honey Crisp
September – Fuji, Sweet 16, Wolf River, Jonagold, Yellow Delicious, Cameo, Mutsu, Red Staymen, Northern Spy, Winter Banana, Enterprise, and Braeburn
October – Fuji, Pink Lady, and Gold Rush
2. Wheeler's Orchard
(423) 949-4255
Dunlap, TN
Sequatchie County
The Wheeler's Orchard boasts several fall attractions that delight visitors from throughout the state. The most popular is their fresh-pressed apple cider. They also offer a variety of u-pick apples and grapes.
In addition to you-pick, they sell pre-picked apples, apple products, baked goods, canned goods, and gifts in their large and totally adorable farm store.
For the 2022 season, u-pick apples will be available every Saturday in September. For group and school tours, u-pick experiences can be scheduled during the week. Contact the farm for more details.
Apple Varieties
July – Red Free, Mollies Delicious
August – Gala, Ginger Gold
September – Golden Delicious, Jonagold, Empire, Mutzu, Blushing Golden, Truly Winesap, Tennessee Red, Liberty, Courtland, and red Rome Beauty
October – Fuji, Braeburn, Granny Smith, Arkansas Black, Hardy Cumberland
Fall Grape Varieties
Niagara, Boco Noir, Concord, Delaware, Marquis, Glenora, Steuben, Vanessa, Venus, Moore's Diamond, Mare's Seedless, Buffalo, Van Buren, Fredonia, Reliance, Sheridan, Brighton, Alden, Ontario, Seibel
3. Apple Hill Orchard
(423) 733-2017
Treadway, TN
Apple Hill Orchards is a smaller home farm that offers several apple varieties. All varieties are available for pick-your-own.
As long as there are ripe apples, the orchard will be open Tuesday through Saturday, beginning in August. Visit the farm's website or call to confirm availability.
Apple Varieties
McIntosh, Golden Delicious, Mutzu, Courtlands, and more!
4. Mercier Orchards
(800) 361-7731
Blue Ridge, Georgia
The 2022 u-pick season will begin in early September.
Located just 20 minutes from Ducktown and 1 hour from Cleveland, Mercier Orchards offers a huge variety of pick-your-own apple varieties Throughout the picking season, visitors can also take tractor tours across the farm property.
In addition to the u-pick experience, there is also a farm store with a large variety of pre-picked produce, fresh baked goods, canned goods, and more!
There is also a delicious cafe on-site serving up seasonal favorites for breakfast and lunch, including their famous apple cinnamon bread.
Apple Varieties
July – Ginger Gold, June, and Zestar
August – Blondee, Detroit Red, Gala, Golden Supreme, and Johnathon
September – Ambrosia, Cameo, Crimson Crisp, Empire, Golden Delicious, Jonagold, Jona Prince, Mcintosh, Mutzu, Red Delicious, Rome Beauty, September Wonder, and Smokehouse
October – Arkansas Black, Braeburn, Candy Crisp, Fuji, Granny Smith, Gold Rush, Hampshire, Pink Lady, Splendor, Stayman Winesap, Topaz, and Yates
5. Mountain Mist Farms
(865) 258-3276
Pigeon Forge, TN
Sevier County
Mountain Mist Farms planted a gorgeous orchard a few years ago and is patiently waiting for its apple trees to reach full maturity. In September 2022, as the apples ripen the farm will decide whether or not the crop is large enough for u-pick this year.
If not, please be patient. The trees are still growing and there will be pick-your-own apples available in the coming seasons. Pre-picked apples will always be available in their farm store.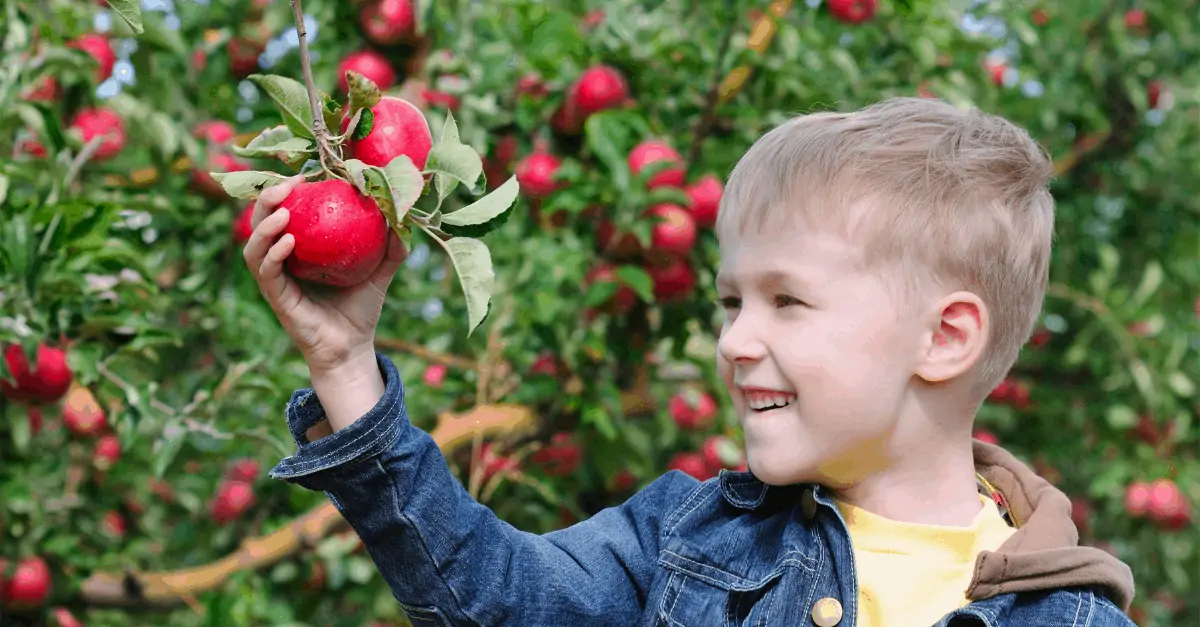 Apple Orchards Near Knoxville With Pre-Picked Apples Only
While the orchards below do not allow apple picking, they still have a lot to offer, including baked goods, restaurants, hayrides, and more!
6. Oren Wooden's Apple House
(423) 447 – 6376
Pikeville, TN
Bledsoe County
Oren's wooden Apple House oozes nostalgic fall fun. It boasts a farm store, gift shop, pie shop, and cafe with a wide variety of southern favorites. Their apple-themed treats, including apple dumplings, fried pies, and apple cider donuts, really seem to draw a crowd. Yum!
7. Fairmount Orchard
(423) 886-1226
Signal Mountain, TN
Hamilton County

Fairmount Orchard is famed for its awesome homemade apple cider, this orchard sells a wide variety of apples and apple products at its farm store. While they do grow most of their own apples, they also sell apples they purchase from other farms.
Apple Varieties
Ginger Gold, Sansa, Gala, Honeycrisp, and more
8. Apple Barn Cider Mill
1 (800) 421-4606
Sevierville, TN
Sevier County

In addition to a variety of apples and homemade apple cider, the Apple Barn boasts a delicious assortment of homemade fried pies in a variety of fall flavors. They also have a winery, country restaurant, general store, and more!
You and your family can watch the cider-making process all throughout the fall, starting just after Labor Day. On Thursdays, the apples are juiced. On Fridays, the juice is placed into jugs.
9. Carver's Orchard and Apple House Restaurant
(423) 487-2710
Cosby, TN
Cocke County
Carver's Orchard and Apple House sells its apples at its restaurant and farm store. The restaurant features fresh-pressed apple cider, traditional country cookin', and a variety of apple baked goods, including their famous fried pies. Yum!
10. Apple Valley Orchards
(423) 472-3044
Cleveland, TN
Bradley County

Apple Valley Orchards features a large farm store with a variety of apples, canned goods, baked goods, and more. Although this is not a u-pick farm, the orchard does offer seasonal tractor tours.
Apple Varieties
August: Lodi, Pristine, Ginger Gold, Red Free, Caitlin Gala, Gala, and Detroit Red
September: Honey Crisp, Jonathan, Senshu, Red Delicious, Jonagold, Golden Delicious, Rome Beauty, Mutsu, and Charlie Gold
October: Stayman, Fuji, York, Arkansas Black, Goldrush, Yates, Granny Smith, Pink Lady, and Cameo
11. Rowell's Orchard and Apple House
(931) 484-5035
Crossville, TN
Cumberland County
Rowell's Orchard sells a variety of apples and apple products in its farm store. According to their website, they grow all their own apples on-site.
Apple Varieties
August – Fuji, Gala, Ginger Gold, and Jonathan
September – Early Stayman, Winesap, Honey Crisp, Macintosh, Shizuka, Red Delicious, Cortland, Golden Delicious, Stark Ultragold, Jonagold, and Rome Beauty,
October – Mutsu, Cameo, Truly Winesap, Arkansas Black, Red Staymen, Pink Lady, Granny Smith, and Gold Rush
12. Baxter's Orchards
(865) 217-2281
Cosby, TN
Cocke County
Baxter's Orchard sells apples and a variety of apple products, including cider, at its farm store. Since they don't have a website, I called to be sure they are still open for 2022.
Apple Farms Worth the Drive
If you are interested in a long day trip, The Carolinas also offer some great u-pick options. Check them out at Kidding Around Greenville.
Did we miss your favorite farm for apple picking near Knoxville? Please share the details so we can add it to the list.
More East TN Family Fun