Whether you live locally or are planning the vacation of your dreams, chances are you're on a budget. From Annakeesta to Ripley's Aquarium, many of our area's most popular attractions can be pretty pricey. Thankfully, with tons of totally free things to do in the Smoky Mountains, you can maximize your family fun without going broke.
These awesome attractions go way beyond hiking and include fun options like museums, concerts, light shows, living history, and much more!
You can even find more free things to do in the Smokies by clicking through to our comprehensive city guides linked below. To view our entire collection of fun things to do in the area, view our free Smoky Mountain Travel Guide here.
For your convenience, this post may contain various affiliate links. As an affiliate, and as an Amazon Associate, I earn from qualifying purchases. View the disclosure page for more information.
Free Things to do in the Smoky Mountains
Below you'll find all of our top picks for free things to do in the Great Smoky Mountains organized by city. At the end of each section, you'll find a link to our complete city guide, which will help you discover even more fun!
Top Picks in Gatlinburg
Gatlinburg is the most popular city in all of the Smoky Mountains. Nestled into the majestic mountains and jam-packed with tons of family-friendly fun, it's easy to see why it attracts millions of visitors every year. While you can spend a pretty penny visiting some of Gatlinburg's most popular attractions, this gateway to the Smokies also offers a variety of free fun to help you keep your budget in check.
Free Outdoor Concerts
Throughout the year, Gatlinburg visitors can enjoy free bluegrass concerts at the Ole' Smoky Moonshine outdoor stage. There is a variety of rocking chairs so you can get comfy and settle in for some sweet southern tunes.
Live Arts and Crafts Demonstrations
Gatlinburg's arts and crafts loop is lined with the shops of local artisans including painters, sculptors, leather workers, glass blowers, old-fashioned craft makers, and more. Throughout the day the artists provide free demonstrations that are absolutely mesmerizing. There are also quirky gift shops and delicious eateries along the route.
The Gatlinburg Trail
This easy and totally kid-friendly hiking trail starts right on the edge of downtown Gatlinburg. The Gatlinburg Trail is fairly short and takes you to the very popular Sugarlands Visitors Center in the heart of Great Smoky Mountains National Park. Here, you'll be treated to a fun indoor museum, informational park video, and more!
Top Picks in Pigeon Forge
Pigeon Forge is the entertainment capital of the Smoky Mountains. It's filled with interactive museums, dinner shows, variety shows, amusement parks, and more! With so many premium attractions, you'll be pleasantly surprised to know there are over 25 amazing choices for free fun!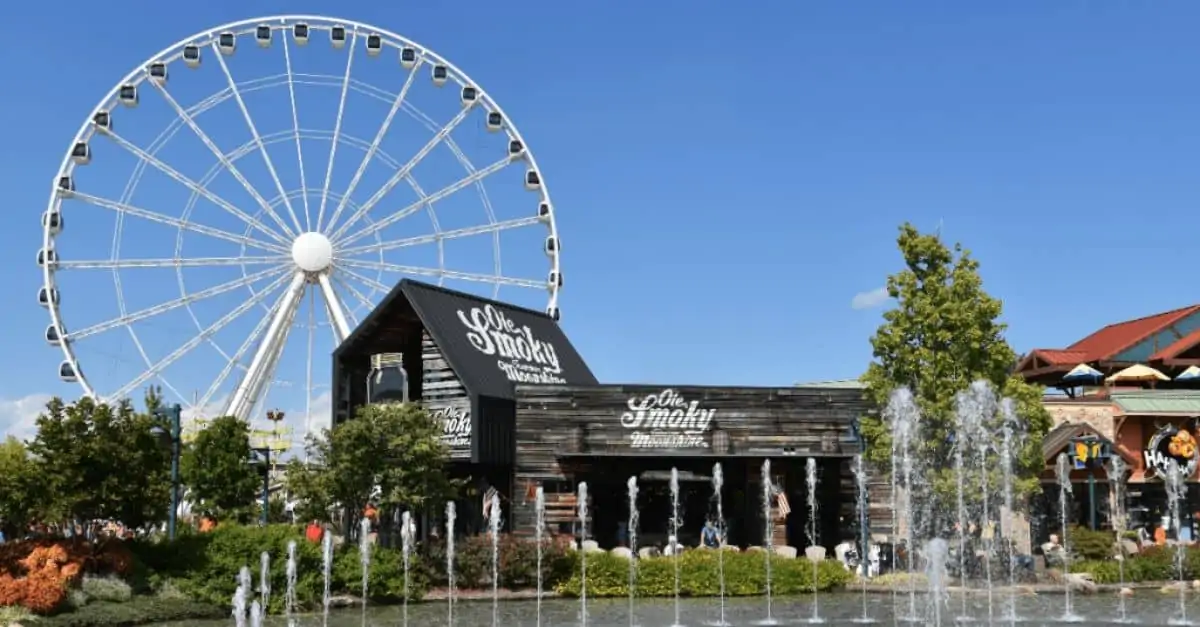 Enjoy an After Dark Light Show
When it comes to free things to do in the Smoky Mountains, strolling around The Island after dark should definitely be on your bucket list. The most popular attraction here is the free outdoor light show featuring colored water sprayers synchronized to music. You can relax in an oversized southern rocking chair while you enjoy the show.
Wear Farm City Park
When your kids need to release all their pent-up energy, this expansive park and playground is the best freebie around. This park boasts 2 different playgrounds with a variety of climbing structures, swings, slides, and more!
The Old Mill Historic District
Immerse yourself in southern charm at this quaint historic district, which is always dripping in gorgeous seasonal decor. Meandering through the historic streets and snapping a few photos of the grist mill is a great way to pass the time on a lazy vacation day. If you have it in the budget you can grab some southern grub or shop for souvenirs in various themed shops.
Top Picks in Great Smoky Mountains National park
Unlike other United States national parks, admission, parking, and attractions in Great Smoky Mountains National Park are all completely free! Of course, we've listed our top 3 favorites below.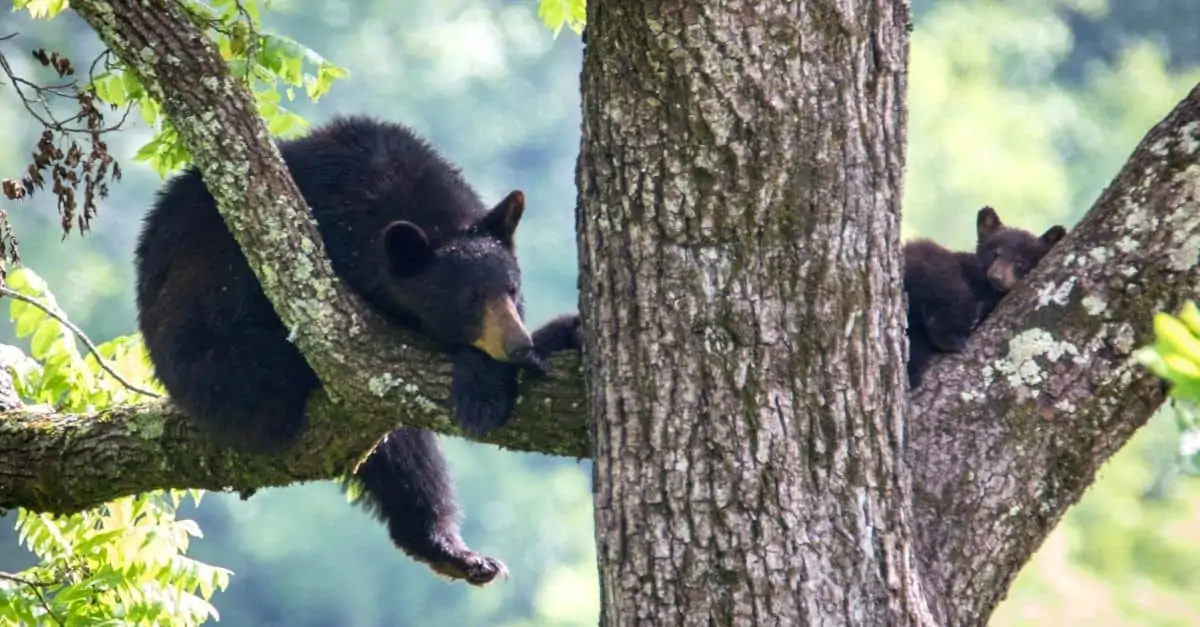 Cades Coves
Cades Cove is the single most popular destination in the entire national park. This scenic driving loop is lined with historic Appalachian buildings and family-friendly hiking trails. It is also the absolute best place to spot a famed Smoky Mountain black bear. Towards the entrance, there is also a nice picnic area with a neighboring stream for splashing and wading.
Oconaluftee
Another popular animal in the park is the wild elk. The fields beside the Oconaluftee Visitors Center are one of the best places to sneak a peek and snap some awesome wildlife photos. At this same location, you can also visit 2 free museums. The outdoor Mountain Farm Museum depicts farm life in historic Appalachia and has periodic living history demonstrations throughout the year.
Star Parties
Stay at the park after dark and discover all the wonders of our galaxy at a fun star party hosted by the Smoky Mountain Astronomical Society. The SMAS sets up several telescopes and has staff available to answer questions and help you find various constellations.
More Free Things to Do in the Smokies
While the areas listed above may be the most popular spots for family fun, you shouldn't overlook the quieter locations below. These areas still offer plenty of options for making free and amazing family memories, all without the hustle and bustle of the more densely packed tourist zones.
Top Picks in Sevierville
Though this quaint town often gets overlooked, Sevierville has a lot to offer visitors who want to escape the hustle and bustle of Gatlinburg and Pigeon Forge. In addition to family-friendly hotels, delicious restaurants, and world-class shopping opportunities, there are also a whopping 20 free things to do in Sevierville!
Mt. Ton of Fun Playground
Mt. Ton of Fun is a large, inclusive playground, which makes it the perfect outdoor adventure for kids of all ages and abilities. In addition to traditional play equipment, this outdoor wonderland also boasts large-scale musical instruments like drums and xylophones. There are also exercise stations for adults.
Watch a Move in the Park
Throughout the spring and summer, Sevierville periodically hosts free movies at the Bruce Street Commons in historic downtown. In addition to the free movie, there will be concessions available for purchase.
Take a Picture With Dolly Parton
Dolly Parton, a country music legend and Sevierville native, is beloved throughout the state. Downtown you can snap a photo with her bronze statue which depicts Dolly with her iconic guitar.
Top Picks For Townsend
Known as the peaceful side of the Smokies, this low-key mountain town has a lot to offer in the way of free fun. If you like to avoid the crowds, Towsend is another great alternative to the constant bustle of Gatlinburg and Pigeon Forge. The traffic is much better too!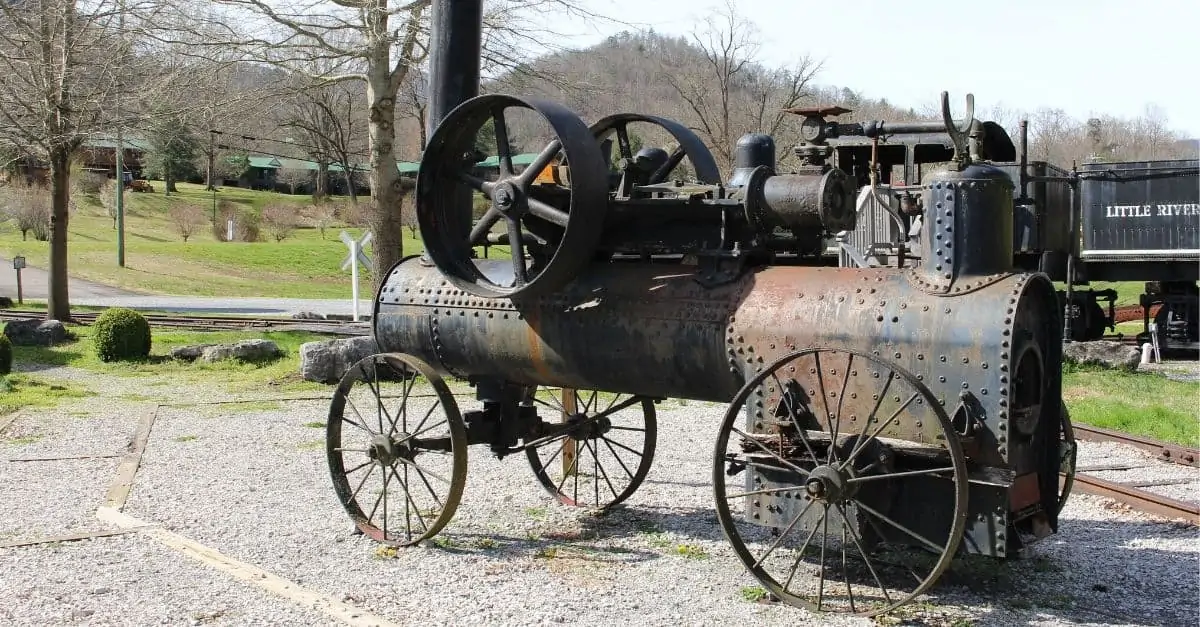 Little River Railroad Museum
Your kids can get up close and personal with historic steam engines at this popular area attraction. In addition to the outdoor trains, there is also a small indoor museum about the history of trains and logging in the Smoky Mountains.
Visit the Covered Bridge
This is one of the newest free things to do in the Smoky Mountains. Though not historic, this bridge is super cute and is a great place to snap a few cute photos.
Take a Dip at the Townsend Wye
The Townsend Wye is a fun swim beach managed by the national park service. It offers both rocky and grassy shorelines with gradual entry into the water. You do need to watch your kids closely at this location because the water eventually gets to be very deep.
Did we miss one of your favorite free things to do in the Smoky Mountains? Tell us about it in the comments below, so we can add it to the list.