Fall is just around the corner and the apple pie spice is already adrift in the air. From the crispy fried pies to the warm cinnamon apple bread, there may be no tastier fall flavor than apple. Move over pumpkin!
Not only are apples delicious, but apple picking is a great fall tradition you can start right now. You can support your local farmer and give your kids a memory to look forward to year after year.
The list of apple orchards below offers great options for apple picking near Chttanooga. It also offers a comprehensive guide to orchards offering pre-picked fruit, for those of you that just want to pick up a bag and be on your way.
No matter which experince you choose, it's sure to be one of the best things you do this fall!
For your convenience, this post may contain various affiliate links. As an affiliate, and as an Amazon Associate, I earn from qualifying purchases. View the disclosure page for more information.
You May Also Like:
Best Orchards For Apple Picking Near Chattanooga
All the orchards below offer incredible u-pick experiences that go beyond apples. The farms boast a variety of kid-friendly games and attractions to add to the fall farm fun!
1. Wheeler's Orchard
(423) 949-4255
Dunlap, TN
This farm is open for pick-your-own in 2020.
Due to current events, the farm is requiring advance registration for all pickers. They are also requiring that masks be worn if you are within 6 feet of an employee or another customer.
Wheeler's Orchard is known far and wide for their delicious fresh-pressed apple cider, which is made from their very own apples. They also offer apple and grape picking throughout the growing season.
In their farm store, you'll find a variety of delicious farm-fresh apple products, baked goods, canned goods, and of course, pre-picked apples.
Apple Varieties
July – Red Free, Mollies Delicious
August: Gala, Ginger Gold
September: Golden Delicious, Jonagold, Empire, Mutzu, Blushing Golden, Truly Winesap, Tennessee Red, Liberty, Courtland, and red Rome Beauty
October: Fuji, Braeburn, Granny Smith, Arkansas Black, Hardy Cumberland
Fall Grape Varieties
Niagara, Boco Noir, Concord, Delaware, Marquis, Glenora, Steuben, Vanessa, Venus, Moore's Diamond, Mare's Seedless, Buffalo, Van Buren, Fredonia, Reliance, Sheridan, Brighton, Alden, Ontario, Seibel
2. Red Apple Barn
(706) 635-5898
Ellijay, GA
This farm is open for u-pick in 2020.
This year, masks are required indoors and on wagon rides. Masks are not required for other outdoor activities where you can maintain the recommended amount of personal space.
While visiting the Red Apple Barn, guests can enjoy a variety of yard games, kids' playground, hayrides, and more! There is also an adorable farm store with apple cider, apple bread, apple fritters, and all the other apple delights you can dream of!
Apple Varieties
August: Detroit Red, Gala, Honeycrisp, Red Delicious
September: Honeycrisp, Red Delicious, Golden Delicious, September Wonder, Rome Beauty, Sun Crisp, Mutzu, Jonagold, Cameo, Pritchett Golden, Stayman Winesap, Granny Smith, Arkansas Black
October: Pritchett Golden, Stayman Winesap, Granny Smith, Arkansas Black, Yates, Fuji, Pink Lady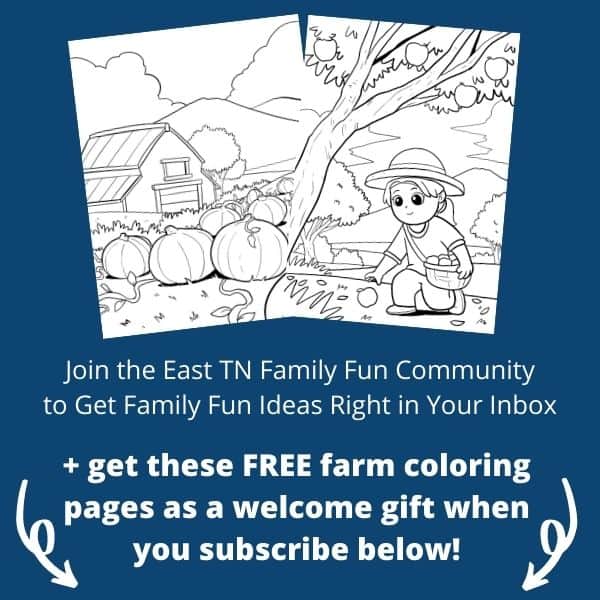 3. Mercier Orchards
(800) 361-7731
Blue Ridge, Georgia
In 2020, this farm is temporarily limiting it's apples to pre-picked only. The cafe is also closed this year.
Just a hop, skip, and a jump from Ducktown, Mercier Orchards offers all your favorite pick-your-own apple varieties. To complete the experience, they also offer tractor farm tours throughout the growing season.
When you are done picking apples, you can head over to the farm store where you'll discover a delicious variety of farm-fresh baked goods, pre-picked produce, canned goods, and more!
You can also head to the cafe for some of their famous apple cinnamon bread.
Apple Varieties
September: Ambrosia, Cameo, Crimson Crisp, Empire, Jona Prince, Mcintosh, Mutzu
4. Hillcrest Orchards
(706) 273-3838
Ellijay, GA
This farm is offering pick-your-own apples for 2020 with masks and temperature checks required for indoor activities only.
Hillcrest Orchards boasts tons of fun activities that many of the other farms don't offer including a petting zoo, apple tree maze, cow milking, and much more! They also host apple-themed festivals throughout the growing season.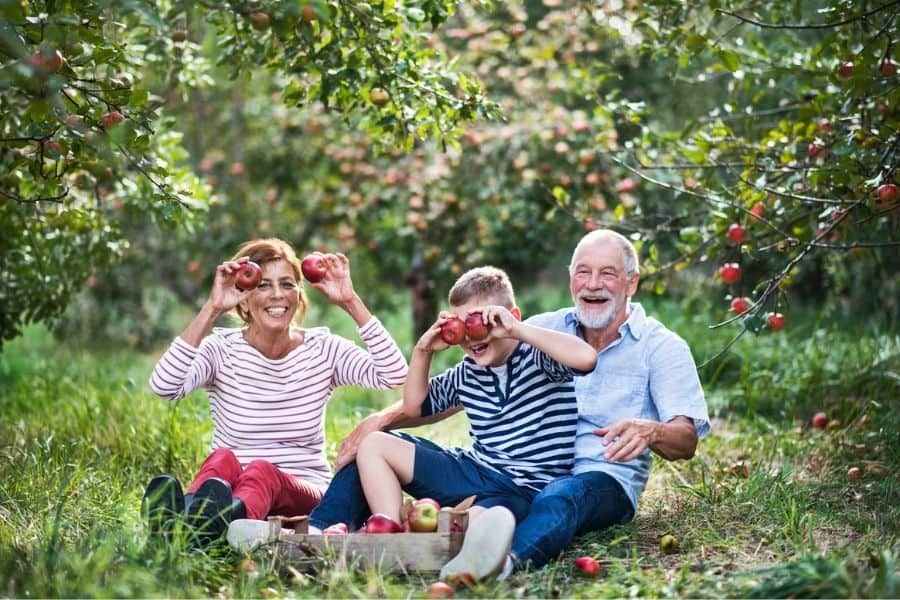 Orchards With Pre-Picked Apples Only
While many families enjoy picking their own apples, there's still a ton of fun to be had at these delightful pre-picked apple attractions. In addition to apples, below you'll find spots for delicious baked goods, fall country crafts, cafes, and more!
5. Oren Wooden's Apple House
(423) 447 – 6376
Pikeville, TN
At Oren's wooden Apple House, you can treat yourself to a day of fall fun, country crafts, fresh-baked pies, and a quaint cafe serving all of your southern favorites.
Their apple-themed treats include fried pies, appe cider donuts, apple dumplings, and more!
6. Fairmount Orchard
(423) 886-1226
Signal Mountain, TN

The Fairmount Orchard farm store boasts a wide variety of apples and apple products, including their famed apple cider.
7. Apple Valley Orchards
(423) 472-3044
Cleveland, TN

At Apple Valley Orchards, you can get your fill of delicious baked goods, many of which are made with farm-fresh apples. This orchard also offers scenic tractor farm tours.
Apple Varieties
August: Lodi, Pristine, Ginger Gold, Red Free, Caitlin Gala, Gala, and Detroit Red
September: Honey Crisp, Jonathan, Senshu, Red Delicious, Jonagold, Golden Delicious, Rome Beauty, Mutsu, and Charlie Gold
October: Stayman, Fuji, York, Arkansas Black, Goldrush, Yates, Granny Smith, Pink Lady, and Cameo
8. Rowell's Orchard & Apple House
(931) 484-5035
Crossville, TN
Rowell's Orchard grows all of the most popular apple varieties, which they sell in their popular farm store.
Apple Varieties
August: Fuji, Gala, Ginger Gold, and Jonathan
September: Early Stayman, Winesap, Honey Crisp, Macintosh, Shizuka, Red Delicious, Cortland, Golden Delicious, Stark Ultragold, Jonagold, and Rome Beauty
October: Mutsu, Cameo, Truly Winesap, Arkansas Black, Red Staymen, Pink Lady, Granny Smith, and Gold Rush
9. Bains Orchard
(931) 596-2492
Hillsboro, TN
Bains Orchard is a traditional country farm store that offers a wide variety of canned goods, produce, and of course, tons of homegrown apples.
10. Crow Mountain Orchard
(256) 437-9254
Frackler, AL
Visit Crow Mountain Orchard for farm-fresh apples in the following varities:
August: Early Gold, Ginger Gold, Gala, McIntosh, Honeycrisp, Ozark Gold, Jonathan
September: Pippin, Red Delicious, Golden Delicious, Jonagold, Rome Beauty, King Lusk
October: Fuji, Braeburn, Winesap, Arkansas Black, Granny Smith, Pink Landy
More East TN Family Fun