Nothing screams fall like a festive trip to one of these awesome pumpkin patches near Chattanooga TN. Enjoy a bumpy hayride, pet a friendly goat, and pick the perfect pumpkins for your Halloween masterpieces. Most importantly, make wonderful family memories that will last a lifetime!
This list features a variety of low-key and tricked-out options to match your personal family-fun style. The fancier farms feature bonus attractions like inflatables, petting zoos, playgrounds, corn mazes, corn cribs, tasty treats, and much more!
For your convenience, this post may contain various affiliate links. As an affiliate, and as an Amazon Associate, I earn from qualifying purchases. View the disclosure page for more information.
You May Also Like:
Pumpkin Patches Near Chattanooga TN
Some farms are pick-your-own, while others offer only pre-picked pumpkins. The farms are ordered based on their distance from downtown.
As always, you can click any blue link to get more information or verify the details of each specific farm.
1. Weaver Tree Farms
5 minutes from downtown Chattanooga
308 Signal Mountain Rd, Chattanooga, TN
Hamilton County
This local favorite is a no-frills patch, where the pumpkins have been pre-picked and moved to a lot. Weaver Tree Farms also has an adorable farm store on-site that sells seasonal decor, gourds, yummy treats, and more!
This same lot is used as a tree farm in the winter.
2. Flat Top Farm
25 minutes from downtown Chattanooga
Jones Gap Rd, Soddy-Daisy, TN
Hamilton County
Flat Top Farms has everything you could want from a pumpkin farm, including u-pick pumpkins, hayrides, a corn maze, and more. There is also an expansive farm store with fresh produce, canned goods, and fall decor.
3. Smith Perry Pumpkin Patch
31 minutes from downtown Chattanooga
9626 Ooltewah Georgetown Rd, Ooltewah, TN
Hamilton County
This fantastic farm offers fall pumpkin picking. In addition to the pumpkin field, guests can enjoy hayrides, slides, train rides, duck races, and more.
4. Guthrie Farms
45 minutes from downtown Chattanooga
490 County Road 67, Riceville, TN
McMinn County
In addition to pick-your-own pumpkins, Guthrie Farms offers hayrides, a corn maze, a petting zoo, a playground, a tractor dig, an obstacle course, and more!
5. Ocoee Valley Farms
46 minutes from downtown Chattanooga
1371 US-64, Benton, TN
Polk County
This popular farm has a gorgeous sunflower field that blooms throughout the summer and fall. In the fall, they also open their large pumpkin patch and corn maze. Visitors can also enjoy train rides, playground equipment, yard games, a petting zoo, a fairy tale forest, and for-sale pumpkins.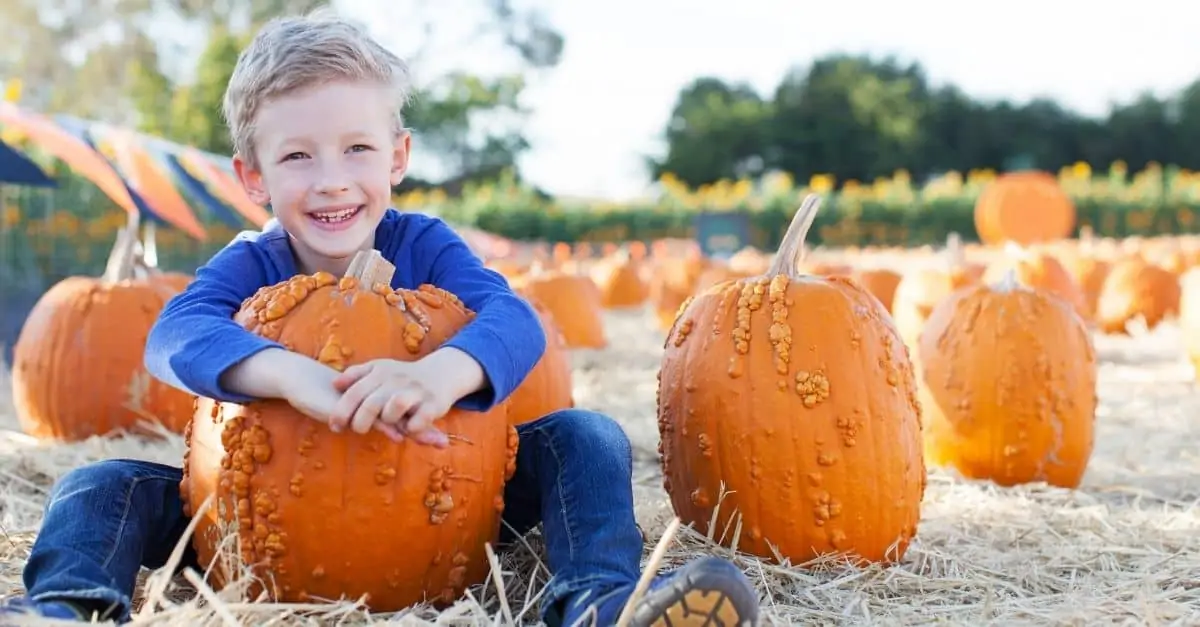 More Pumpkin Farms Near Chattanooga
6. R&R Kuntry Pumpkin Center
49 minutes from downtown Chattanooga
46901 Sr 30, Pikeville, TN
Bledsoe County
R&R Kuntry Pumpkin Center is a simple no-frills pumpkin stand, with a wide variety of pre-picked pumpkins and gourds.
This pre-picked patch is part of a local farm store that boasts a variety of cute seasonal decor, jams, fresh produce, soaps, and more!
7. Mayfield Farm Park
1 hour from downtown Chattanooga
257 TN-307, Athens, TN
McMinn County
Mayfield Farm Park is back and better than ever. Here, guests will enjoy a u-pick pumpkin patch, corn maze, playground, yard games, corn box, a sunflower field, and much more!
8. Copper Creek Farm
1 hour from downtown Chattanooga
1514 Reeves Station Rd, Calhoun, GA
Located just 1 hour outside of Chattanooga, Copper Creek Farm makes an excellent day trip.
Admission includes almost 20 attractions including a petting zoo, bee barn, pig races, duck races, slides, corn maze, and more! There is also a pre-picked pumpkin patch.
Pumpkin Patches Worth the Drive
9. Morrison Acres
1 hour and 20 minutes from downtown Chattanooga
1075 Pocahontas Rd, Morrison, TN
Marion County
This farm may be permanently closed. I left a message and am waiting for a callback.
In addition to a hayride for pick-your-own pumpkins, guests at Morrison Acres will enjoy a barrel train, corn mazes, a playground, inflatables, a petting zoo, and more!
This cute farm is just a 30-minute drive from Monteagle and 1 hour outside of South Pittsburg.
10. Cedarwood Farms
1 hour and 22 minutes from downtown Chattanooga
2900 Old Nashville Hwy, McMinnville, TN
Sequatchie County
At Cedarwood Farms, guests will enjoy a pumpkin train, super slides, jump pad, petting zoo, playground, hayride, pumpkins, and more. There is also a large farm store with seasonal decor and tasty seasonal treats!
This awesome farm is just a short 50-minute drive from Dunlap.
11. Grandaddy's Farm
1 hour and 26 minutes from downtown Chattanooga
454 Highland Ridge Rd, Estill Springs, TN
Marion County
Grandaddy's Farm boasts a playground, corn maze, hayride, duck races, pig races, straw maze, pick-your-own pumpkins, concessions, and more!
This farm is located just 40 short minutes outside of Monteagle and an hour from South Pittsburg. Admission includes all activities, but pumpkins are sold separately. Season passes are also available.
12. Tate Farm
1 hour and 45 minutes from Downtown Chattanooga
8414-A, Moores Mill Rd, Meridianville, AL
This gigantic farm has so much to offer. In addition to pick-your-own pumpkins, there is also a petting zoo, hayrides, concessions, a jump pad, corn cribs, train rides, and a huge playground with 2-story slides.
Though this farm is a little further away, it is just outside of Huntsville, which makes it an excellent day trip.
13. Burt's Pumpkin Farm
1 hour and 45 minutes hours from downtown Chattanooga
5 Burts Pumpkin Farm Rd, Dawsonville, GA
At this scenic fall farm, guests will enjoy a tractor-pulled hayride through stunning sunflower fields. There is also a large country store with tasty sweet treats, gourdes, fall decor, and more. Of course, the main attraction is the huge field of pre-cut pumpkins.
This fun farm is just 1 hour outside of Ducktown, which makes it a great choice for people on the eastern edge of our region.
Did we miss one of your favorite pumpkin patches near Chattanooga TN? Please send us the details so we can add it to the list!
Books to Share
Pumpkin Jack – This fun book explores the life cycle of a pumpkin through storytelling. A boy throws his Halloween jack-o-lantern into the garden, as it begins to rot. He observes how it transforms throughout the year until he gets a wonderful surprise in spring!
Bubba Gus and the Pumpkin Patch Fuss – A curious farm dog delights in the buses of school children who come to visit his pumpkin patch. When a friend gets lost in the patch, it's Bubba Gus to the rescue!
Big Pumpkin – In this delightful story of friendship, a witch teams up with some unlikely pals to bake a delicious pie from the largest pumpkin in the patch. But first, they have to find a way to pick it!
More East TN Family Fun