Whether you live locally or are only in town for a spell, finding things to do in Pigeon Forge with toddlers can be a little bit of a challenge.
Though toddlers may seem like endless balls of cuteness and energy, they also have short attention spans. This means they need a ton of variety and lots of opportunities for movement.
Thankfully the Smoky Mountains are bursting at the seams with tons of fun activities that parents and toddlers can enjoy together. And yes, I really do mean that you will enjoy these things too, Mom and Dad. There's no room for sitting on the sidelines here!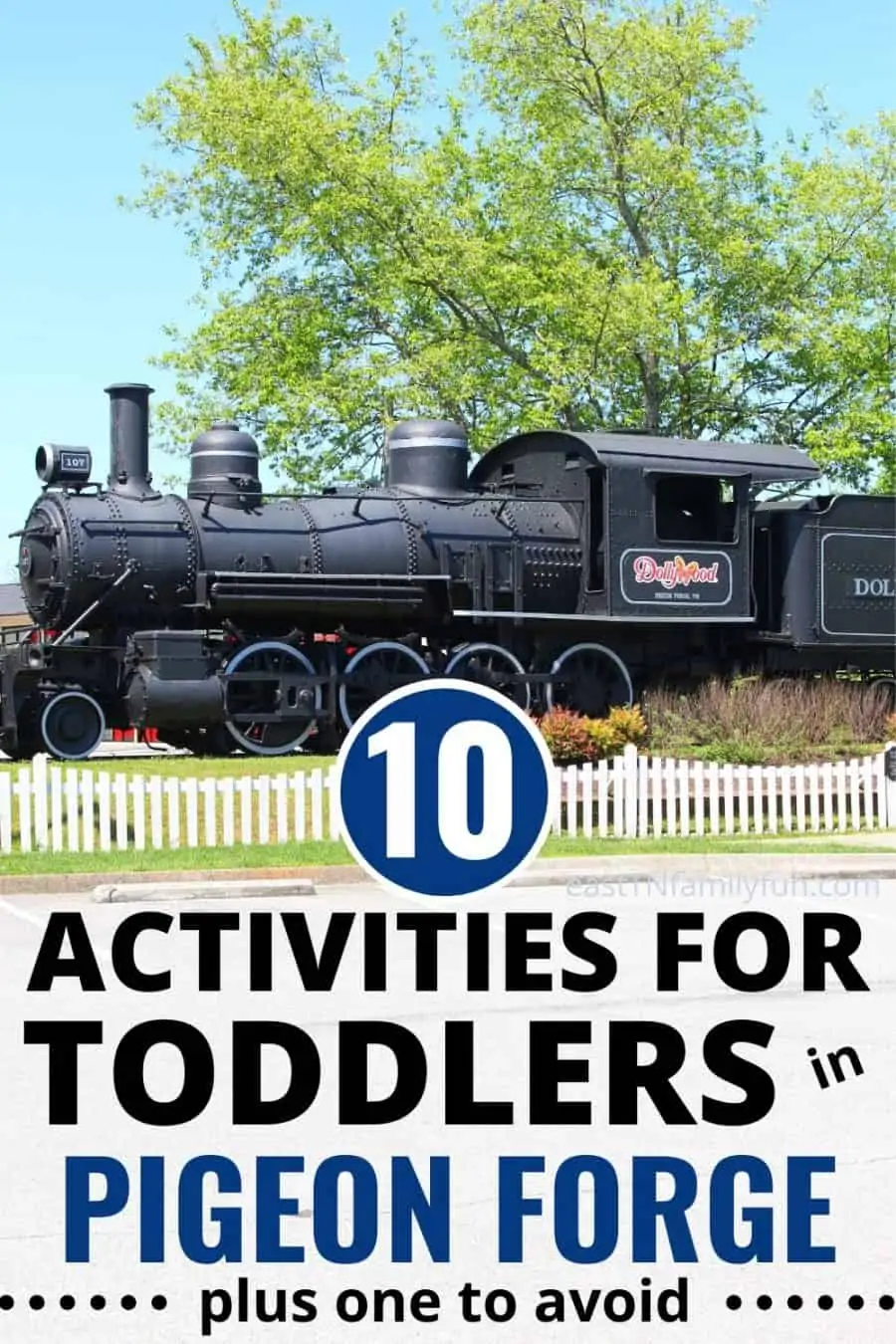 For your convenience, this post may contain various affiliate links. As an affiliate, and as an Amazon Associate, I earn from qualifying purchases. View the disclosure page for more information.
Things to Do in Pigeon Forge with Toddlers
1. WearFarm City Park
This huge community park boasts two different playgrounds and it's totally free to visit.
The woodland-themed playground is geared more towards toddlers and early elementary-aged kids. This playground features "baby swings," multiple slides, climbing structures, and some modern equipment like a seated merry-go-round.
There is also a large open field area in case your kids just need to run!
2. Dollywood
Though Dollywood offers its fair share of thrill rides, it is a family park at heart. For this reason, it's is filled with tons of rides geared towards toddlers and little kids.
One of the most popular attractions is the all-ages steam train that gives you a scenic tour of the park.
The County Fair section also boasts a variety of toddler rides, all of which your favorite littles will be able to ride completely on their own.
The Wildwood Grove section features a variety of rides that small kids and adults can ride together. It's not a requirement that you ride, but I'm telling you y'all, these rides are fun! My 2 -year-old was tall enough to ride almost all the rides in this section of the park. It was glorious!
Of course, you'll want to ride some of the adult rides too, and Dollywood gives parents a special opportunity to "parent swap". This is where one parent enjoys the ride while the other parent watches the kids, then you swap. This way you don't have to wait in line twice. Amazing!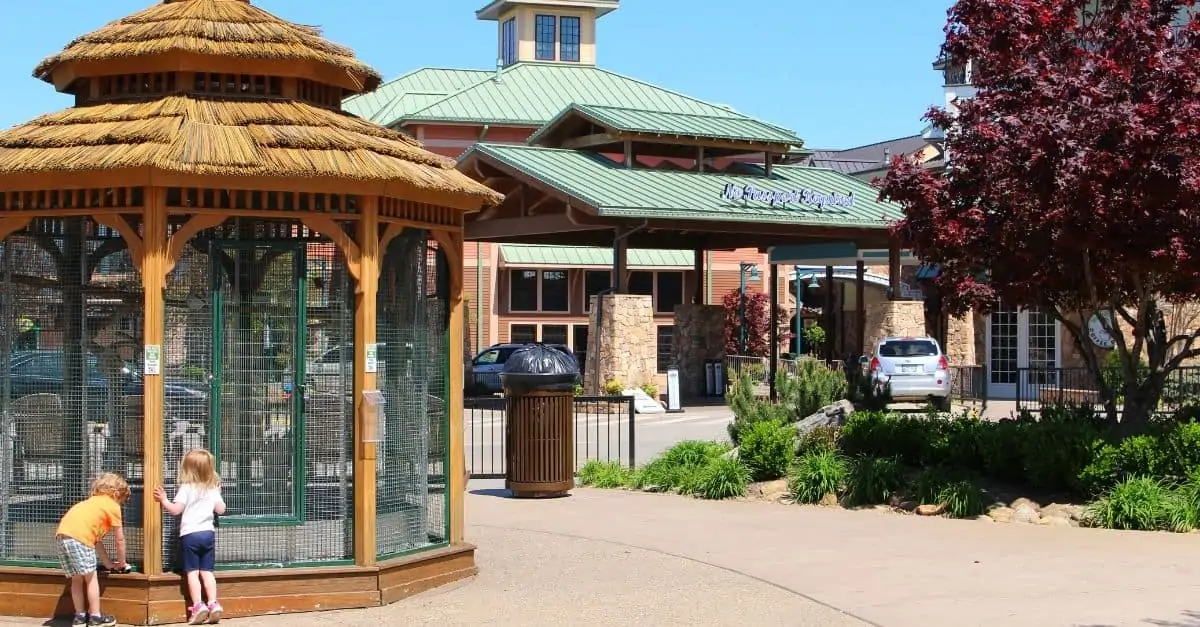 3. The Island
Not only does the Island have tons of shopping and family-dining options, but it also has a variety of fun toddler rides towards the back of the complex.
In addition to the rides, There are also parrot cages scattered along the walkways with talking birds that will delight the kiddos. You can also go into the Parrot Mountain satellite location to see talking parrots up close.
4. Smoky Mountain Deer Farm and Petting Zoo
This fun petting zoo boats several exotic animals that you've probably never had the opportunity to see up close before, including a zebra, kangaroos, reindeer, and more!
It's no surprise this is one of the most popular toddler activities in Pigeon Forge.
5. Wilderness at the Smokies
This fantastic resort is home to the Wild Water Dome, an indoor water park that will really save the day when it's cold, rainy, or too hot to be outside.
Washout Mountain is the Dome's "splashdown" area. It has 2 small slides, water sprayers, and plenty of shallow water for splashing. Doesn't this sound like every toddler's dream?
There is also indoor boogie boarding, a wave pool, and several large slides for adults.
The resort also has an outdoor water park with another kids' play area, additional water slides, a lazy river, and more! During slow times of the year, you can even buy day passes to the 2 water parks without staying at the resort.
Even More Fun Pigeon Forge Toddler Activities
6. Hiking
Though it may sound surprising, hiking is one of the easiest activities to do in Pigeon Forge with a 2-year-old, or even 1-year-old.
As long as you are willing to take your time, meandering down the trail can give your little adventurers space to explore nature and release some of that pent-up energy. Of course, if you have a carrier, you'll be able to continue on after the kiddos get tired.
While there are plenty of amazing Smoky Mountain Hikes for families with kids, one of the easiest to access from Pigeon Forge is Metcalf Bottoms.
The GPS will say that some other trails are closer if you drive through Gatlinburg, but the insane traffic tends to tack on tons of extra time. By going to Metcalf Bottoms, you can avoid traveling through Gatlinburg altogether.
Metcalf Bottoms is a great trail for toddlers because it's nice and wide with a gradual incline. At just a 1.5 miles round trip, it is also very short.
At the end of the trail, you'll find an adorable old one-room schoolhouse. The schoolhouse is open for visitors and you are free to take photos inside.
Just off the parking lot for this trail, there is a large picnic area with tables and grills. It's the perfect spot for a picnic lunch. While you're hanging out, you can also dip your toes into the nearby river.
7. Parrot Mountain
Meander through the gorgeously landscaped gardens while you visit with a variety of tropical birds. There are tons of opportunities for taking photos with the birds, feeding the birds, and even having them on your shoulder.
8. Dinner Shows
One of the most entertaining things to do in Pigeon Forge with toddlers is attending one of the many dinner shows where kids under 3 eat free. This even includes popular shows like the Hatfield and Mccoy Dinner Feud, Dolly Parton's Stampede, Pirates Voyage Dinner and Show, and Country Tonight.
9. Riverwalk
When you want to get away from the crowds, you can meander down the scenic Riverwalk and look for ducks or fish splashing in the water. There are plenty of benches along the route for resting and taking in the view. There's an entrance with plenty of parking next to the Leconte Center.
10. Splash Country
This fun outdoor water park has tons of activities for both kids and adults, including an entire kids zone with fun water sprayers, slides, dump buckets, shallow wadding areas, and more!
For older kids and adults there are a variety of thrill slides. Visiting at non-peak hours will mean smaller crowds, which will make it easier to keep an eye on your little one.
This is definitely one of the most fun things to do with toddlers in Pigeon Forge if you and your cutie love the water!
One Attraction to Avoid
Wonderworks
I see many people suggesting Wonderworks as a great place for young kids. I'm here to tell you, those people have probably never actually been to Wonderworks.
Wonderworks is amazing, fantastic, and all the things, for kids in kindergarten and older. Perhaps some preschoolers may even enjoy Wonderworks, mine did not.
This attraction is bright, colorful, interactive, and VERY LOUD. We visited with a 2-year-old and a 4 year who spent the majority of the time holding their ears. And while there were a few activities they could do, most were geared towards older kids.
Wonderworks is absolutely a must-visit attraction. Just wait until your kids are a little bit older.
More East TN Family Fun