The excitement of swinging monkeys and the surprise of a lion's booming roar are all par for the course with an adventure at Zoo Knoxville. In addition to all your favorite animals, this zoo boasts a variety of non-animal zoo attractions to make the kiddos smile, including an amazing safari splash pad, train ride, and much more!
All of this fun needn't break the bank because you can get free and discount Knoxville zoo tickets all throughout the year. Keep reading to get all the details plus discover the most kid-loved attractions the zoo has to offer!
For your convenience, this post may contain various affiliate links. As an affiliate, and as an Amazon Associate, I earn from qualifying purchases. View the disclosure page for more information.
How to Score Free and Discount Knoxville Zoo Tickets
Throughout the year, Zoo Knoxville offers several opportunities to purchase cheap tickets. Sometimes you can even get in for FREE! New promotions and details are announced periodically. Follow the zoo's Facebook page to see when new dates are announced or join the East TN Moms Community Group to stay in the loop.
Though promotions are subject to change, the zoo's typical annual promotions include:
Free Tickets
Library Passes – The Knoxville public library system offers free day passes to Zoo Knoxville! Contact your library for more details.
Mother's Day – Moms get in for free.
Senior Day – Seniors 65 + get in for free. This annual event is typically held in late September or early October. The exact date varies.
Zoo Membership + 1 – If you have a friend with a + 1 zoo membership, they are allowed to bring a free guest each time they visit. You never know when they might extend an invitation.
Discount Tickets
Annual Pass – Depending on the option you choose, a zoo membership costs less than 2 or 3 single-day visits. It allows you to come as often as you want for an entire year. Now that's a great deal!
Affordable Access Program – Families receiving certain types of government assistance can sign up for significantly discounted yearly zoo memberships.
AZA Discounts – If you have a membership at another participating AZA-accredited zoo or aquarium, you will receive 50% off your admission to Zoo Knoxville.
Regular Ticket Prices
Adults – $26.95
Seniors – $21.95
Children 3 and up – $21.95
Children 2 and under – FREE
Zoo Knoxville Hours
The zoo is open daily from 9 AM – 4 PM. The zoo is closed on Christmas Eve and Christmas Day. Admission stops 1 hour before closing.
Most Popular Animals
While the zoo boasts over 800 animals, we know you're probably most interested in the biggest and baddest of the bunch. The most popular animals at Zoo Knoxville are:
Malayan Tigers
African Lions
African Elephants
Giraffes (which you can hand-feed!)
Chimpanzees
Hamadryas Baboons
Western Lowland Gorillas
White-Handed Gibbons
Red Pandas
South African Penguins
Best Non-Animal Attractions

The Safari Splash Pad
This fantastic splash pad has a variety of spray features to delight kids of all ages. There is a nice section to the left, that is filled with smaller sprayers perfect for young toddlers. The rest of the splash pad is filled with more adventurous water sprayers including water tunnels and high-shooting spouts.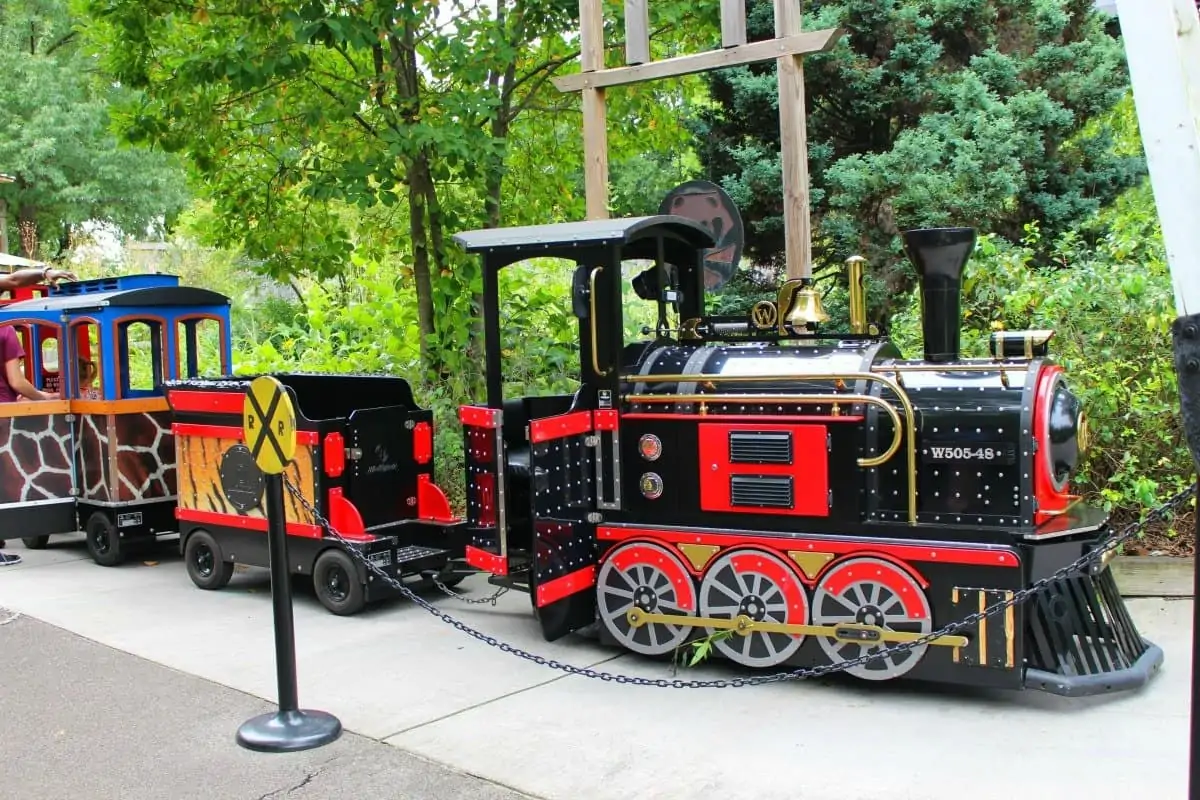 The Zoo Choo Train
This adorable little train ride, located just across from the meercats, is for elementary-aged kids and younger. The train, featuring a real conductor, follows a simple loop track giving kids a short but delightful ride. The cost is $3 per rider.
Indoor Jungle Gym
Although I don't think this was the intention, this play structure reminds me of a giant dinosaur tail. Kids can climb through a dark tunnel to reach the top of a large tunnel slide. There are also additional stairs and another tunnel for climbing. This is the perfect place to bring kids when rain is threatening to ruin your visit. It is located in the Wee Play Adventure Area.
The Research Lab
Zoo Knoxville's kid-friendly research lab is also indoors, directly across from the jungle gym. This area features a variety of scientific samples and tools to examine them including magnifying glasses and a microscope. There are also a variety of stuffed zoo animals for pretend play. This is located in the Wee Play Adventure Area.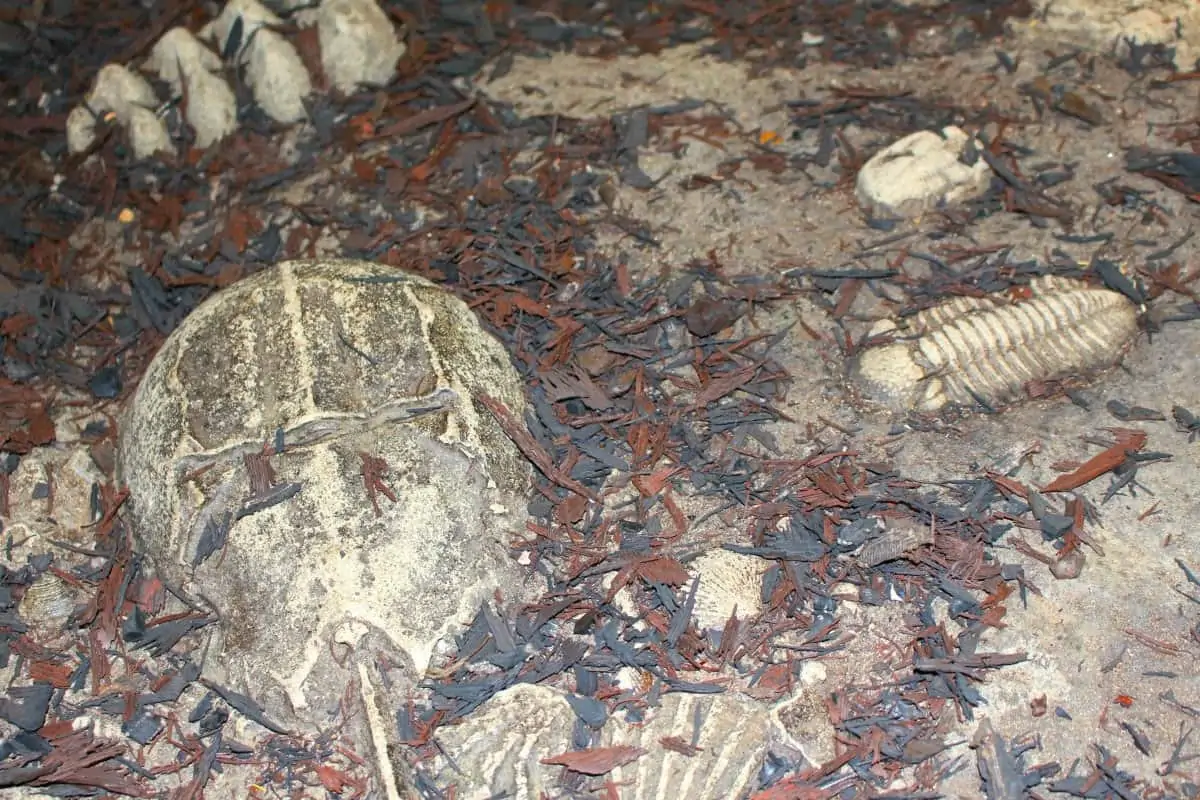 The Fossil Dig
Located indoors between the research lab and jungle gym, this simple but fun attraction features a variety of cast fossils in a mulch and sand table. Using the provided brushes, your kids can unearth the world's next great discovery! This is located in the Wee Play Adventure Area.
The Sand Pit
Located in the kids' zone, this awesomely huge sandpit comes complete with all the fun digging supplies a kid could dream of! The kids' zone also features a variety of kid-friendly animal attractions including a petting zoo where they can pet and brush goats, and an aviary where kids can walk among the budgies.
The Carousel
There may be nothing more nostalgic than a good carousel ride. This one is made even more special by its adorable assortment of zoo animals.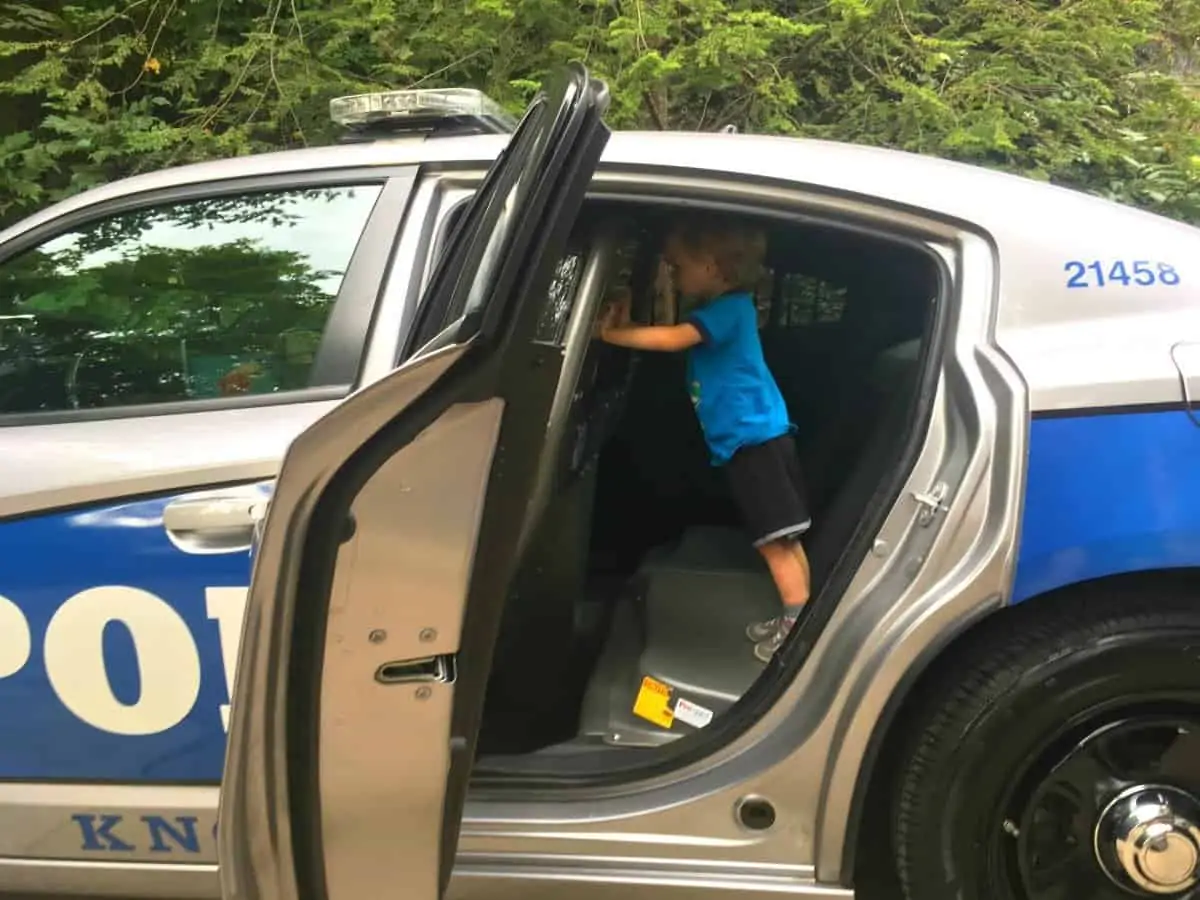 Special Events
Knoxville Zoo hosts a variety of special events throughout the year, many of which are free with paid admission. The Touch-a-Truck event is one of our family's favorites.
They also offer various events that aren't included with the cost of your daytime zoo admission. The annual after-hours Boo at the Zoo, which features a variety of Halloween activities and trick-or-treating, is a popular pick!
Annual pass holders typically receive a discount on tickets to paid events. All events can be found on the zoo calendar.
Eats and Treats
Can I bring food? Their website asks that you refrain from bringing straws and glass into the zoo, but doesn't specify whether outside food and drink are allowed. This being said, we have always brought snacks and bottled water without any problems.
Is there food for purchase? There are a variety of food options at the zoo including burgers, hotdogs, pulled pork, and more! There are also several sweet treats like ice cream and cookies. As typical for zoos, the prices are pretty steep so budget accordingly.
Happy exploring y'all!