From costumes and candy to pumpkins and decor, there's a smile waiting around every corner at these Halloween events near Chattanooga TN!
There's no better way to celebrate the fall season than with safe trick-or-treating, pumpkin festivals, costume parades, themed train rides, and more!
Make this Halloween in Chattanooga the best one yet!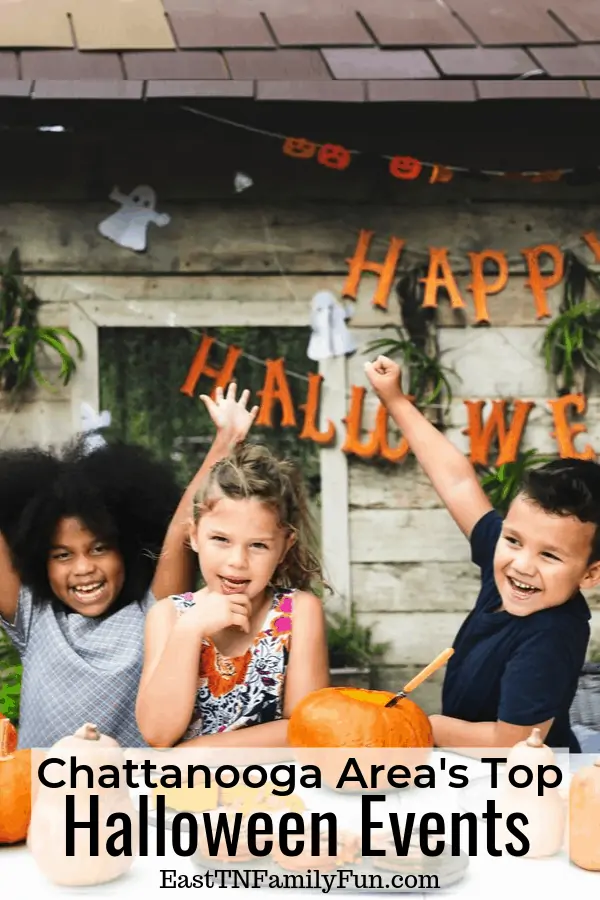 For your convenience, this post may contain various affiliate links. As an affiliate, and as an Amazon Associate, I earn from qualifying purchases. View the disclosure page for more information.
You May Also Like
Halloween Events Chattanooga
1. Lake WinnepeSPOOKah
Friday and Saturday nights in October 2023
Lake Winnepesaukah Amusement Park, Rossville, GA
$32 Per Person (Group Discounts Available)
In addition to enjoying all your favorite rides after dark, you can also get a good scare from a variety of costumed characters and a fun Halloween parade. This is listed as an all-ages event.
2. Halloween Eerie Express Train Ride
Fridays and Saturdays in October 2023
Tennessee Valley Railroad, Chattanooga
$25 Per Ticket
Enjoy a festive Halloween train ride complete with a funhouse, games, and spooky treats.
3. Painting Parties
Throughout October 2023
Painting with a Twist, Chattanooga
Cost Varies Based on the Chosen Project
Choose from a variety of fall and Halloween-themed painting projects, many of which are kid-friendly.
4. Halloween Make and Take
Weekends in October 2023
Board and Brush, Ooltewah
Cost Varies Based on the Chosen Project
Create fun Halloween woodcrafts on pick-your-project days, including outdoor/indoor signs, decorative serving trays, and more! There are also family-friendly workshop options.
5. Drive-Thru Trick-or-Treat + Pumpkin Painting Contest
Multiple Dates in October 2023
East Ridge City Library
FREE
Throughout October, the East Ridge City Library is hosting multiple events like a pumpkin painting contest, a teen craft night, and a quick and easy drive-thru trick-or-treat event.
6. Boo in the Zoo
October 13,14, 20, 21, 27, & 28, 2023
Chattanooga Zoo
$15 non-members
At this exciting Halloween event, entry times will be assigned and staggered. Enjoy games, characters, trick-or-treating, and more! Don't forget to wear your costumes, but please leave any real or fake weapons at home.
7. Paws and Pumpkins for the NGAA
October 14, 2023
Willow Tree Farms, Ringgold, GA
Donation Based Admission
Treat your kids to a unique night of trick-or-treating and costumes. All proceeds from this event will go to benefit the North Georgia Animal Alliance.
For admission, you can bring a physical or monetary donation for the Animal Alliance. Leashed pets, of course, are also welcomed.
8. Monster Bash Halloween and Harvest Festival
October 21, 2023
Creative Discovery Museum, Chattanooga
Come in costume to this festive event and enjoy games, dancing, treats, and more! Admission also includes access to regular museum exhibits.
9. Meet For Treats
October 21, 2023
Walker County Agricultural Center, Rock Springs, GA
FREE Admission
Come in costume to enjoy trick-or-treating, live music, and craft vendors.
10. Indoor Trunk-or-Treat
October 26, 2023
Ice Ninja's Blaster Zone, Dayton
FREE
Forget about the weather at this indoor Halloween event.
11. AquaScarium
October 27, 2023
TN Aquarium, Chattanooga
$38 Per Person
AquaScarium guests will enjoy lights, costumed divers, candy, games, and more!
12. Bass Pro Shops Halloween Events
October 27-31, 2023
Bass Pro Shops, Chattanooga, TN
FREE
Enjoy a FREE kids' Halloween photo and in-store trick-or-treating.
More Chattanooga Halloween Events
13. Kids Halloween 5k and Candy Dash
October 28, 2023
Collegedale Imagination Station
$35/Adults, $12/Kids, $65/Family Pass
At this fun race event, guests will enjoy a costume contest and fun candy races for kids.
14. Halloween Free Roam
October 28, 2023
Old South Pittsburg Hospital
$55 – $75 Per Person
Hunt for ghosts at the famously haunted South Pittsburg Hospital, which has been featured on multiple TV shows.
This event is for ages 14 and up. Minors must be accompanied by an adult.
15. Jack-o-Lantern Jamboree
October 28, 2023
Courthouse Square, Jasper
FREE
Enjoy tons of family-friendly games, trick-or-treating, food vendors, entertainment, and more!
16. Eekstravaganza
October 28, 2023
Soddy Ball Park, Soddy Daisy
FREE
This is a fun community Halloween festival and trunk-or-treat event.
17. Phil's Primetime Truck-or-Treat
October 28, 2023
Phil's Primetime Pizza, Chickamauga, GA
FREE
Grab a delicious pizza and collect a ton of candy at the on-site trunk-or-treat featuring a variety of classic cars decked out in their Halloween finest.
18. Halloween Trunk-or-Treat
October 29, 2023
First Baptist Church of Chickamauga
FREE
Enjoy games, food, a bouncy house, and plenty of trick-or-treating at this community Halloween event.
19. Haunted Market
October 29, 2023
Chattanooga Market @ First Horizon Pavillion
FREE
Bring the kiddos out to the farmers' market for a little daytime trick-or-treating and a fun costume parade.
20. C.A.R.S. Club Trunk-or-Treat
October 30, 2023
Cambridge Square, Ooltewah, TN
FREE
Enjoy safe trick-or-treating and family fun!
21. Halloween Block Party
October 31, 2023
Mainstreet Cleveland
FREE
Enjoy a variety of family-friendly entertainment, games, trick-or-treating, vendors, and more!
More East TN Family Fun