While Knoxville is filled with tons of kid-friendly activities, every parent knows that toddlers are a completely different beast. These rambunctious angels have attention spans the size of a pea and a seemingly endless supply of energy.
Although their tiny toddler bodies aren't quite coordinated enough to handle the "big kid" adventures. they deserve a little fun too!
This is your ultimate resource for things to do in Knoxville with toddlers. Every item on this list is specifically geared toward kids between the ages of 1 and 4.
No matter the weather there is tons of fun to be had because there are plenty of both indoor and outdoor options to choose from.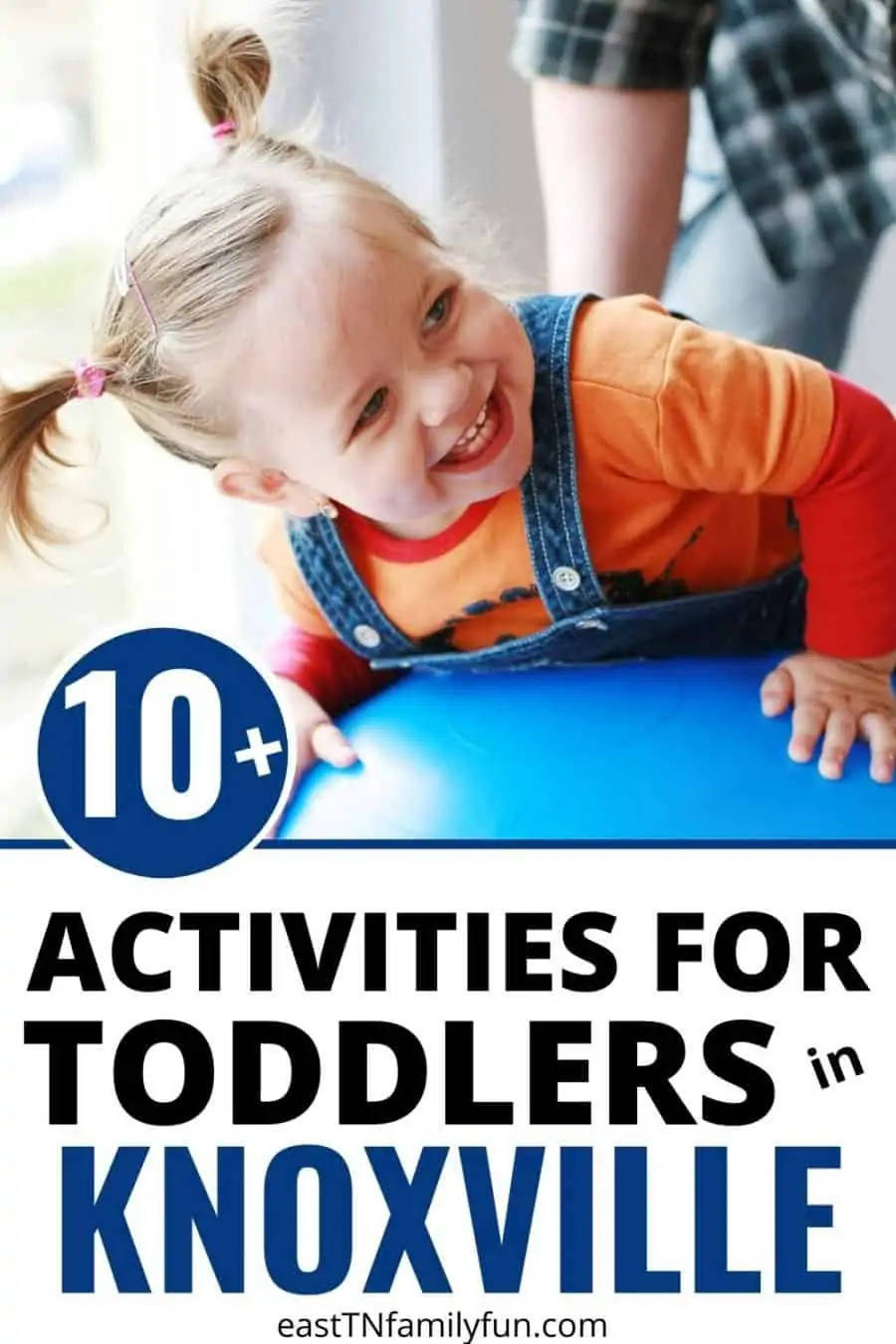 Things to Do in Knoxville with Toddlers
1. Zoo Knoxville
In addition to adorable animals, Zoo Knoxville has tons of fun activities that are perfect for toddlers, including toddler-friendly touch-a-truck events and more!
Outdoors there is a gigantic splash pad and a fun nature playground with lots of natural climbing structures to explore.
When it rains, the zoo has an indoor play area specifically dedicated to toddlers. There is also an indoor slide and a variety of hands-on learning actives that are easy enough for toddlers to explore.
2. Baker Creek Natural Playground
This natural wonderland boasts tons of low-to-the-ground climbing structuress made out of natural materials like logs and rocks. The also have a run-through bamboo windchime, rockwall, slides, and more!
3. The Little Gym
These fun Little Gym classes are specifically geared towards young kids. The classes allow kids to strengthen their gross motor skills by pairing simple gymnastics concepts with music and movement.
The classes are separated by age and there are even Mommy and Me events.
4. Story Book Trails
These storybook trails are cropping up all throughout the region. Most of the trails are based on books that are offered through Dolly Parton's Imagination Library.
To use the trails you simple stroll down the path until you come to one of the book pages. Then, you read the page to your child and head off to find the next one. By the end of this short kid-length trail, you will have read an entire book! How awesome is that?
5. Splash Pads
In the warmer months, our local splash pads are a great option for toddlers. The fun sprayers and water features are perfect for young kids who may not be ready for a trip to the pool.
Though they can get busy on the weekends, visiting during early morning hours is a great way to beat the crowd and give your toddler more freedom to roam and explore.
6. The Muse
This popular children's museum has an entire section dedicated to younger kids. They also have daytime hours during the week, when most older kids are at school, which means the little guys are free to explore without a lot of competition.
The Muse boasts an indoor playground and tons of learning activities that allow kids to explore basic science concepts through hands-on play.
7. Trampoline Park
Each Saturday, Defy Knoxville hosts a special KidJump exclusively for kids 6 and under. It's a great way for parents with young kids to have a more carefree experience without worrying about their littles being trampled by older kids.
Due to the age restrictions, the KidJump sessions are also less crowded.
8. Children's Museum of Oak Ridge
The Muse isn't the only children's museum in town. The Children's Museum of Oak Ridge is filled with tons of unique hands-on exhibits including an entire room dedicated to trains. There's also a rainforest room, artic room, water-play room, and so much more!
9. Ijams Nature Center
One of the most exciting things for toddlers to do in Knoxville is visiting the rehabilitation animals at IJAMS nature center. There are several large birds of prey that cannot be released and a variety of fish and aquatic reptiles.
When you are finished viewing the animals, you can head on over to one of the 2 natural playgrounds which feature a variety of play structures made from logs and other natural materials.
You can even take learning to the next level by attending a Nature Nuggets class. These VERY affordable classes are geared towards kids 4 and under and provide kids with hands-on opportunities for learning about nature.
10. Smart Toys and Book
This book and toy store has an adorable indoor playground, which is the perfect place to take your toddler on a rainy day. They also host storytimes, easy craft sessions, and meet and greets with popular book characters throughout the year.
11. Knox County Publc Library
Knox County Public Library offers storytime hours that are specifically geared towards babies and toddlers. In addition to read alouds, these programs incorporate lots of opportunities for music and movement.
12. West Town Mall Indoor Play Area
This fun soft play area has been specifically designed with young kids in mind. There are tunnels, a slide, and a variety of climbing structure all made from soft foam. The floor is also a soft foam material.
13. Indoor Rock Climbing
This local rock climbing gym has a great mommy and me program where moms with toddlers can meet for climbing while the kids play together on the ground.
The kids are supervised by staff members, while the parents are climbing so you can enjoy a little carefree me time, without actually having to leave your child.
14. All Bounce Events
This is an awesome indoor bounce house wonderland. They have a variety of inflatables to choose from, with the simpler ones being best for toddlers. Try to stick to early morning or weekday hours to avoid competing for playspace with older kids.
More East TN Family Fun