When wind, snow, rain, or sweltering heat loom on the horizon, these easy indoor movement activities are here to save the day! They're the perfect way to help kids release their pent up energy and get a little heart-healthy exercise.
Even better, all of these virtual movement activities are free to stream online.
You can use these activities to help your kids increase essential fine and gross motor skills. Movement exercises are also a fun and exciting way to help develop balance and coordination in "clumsy" kids.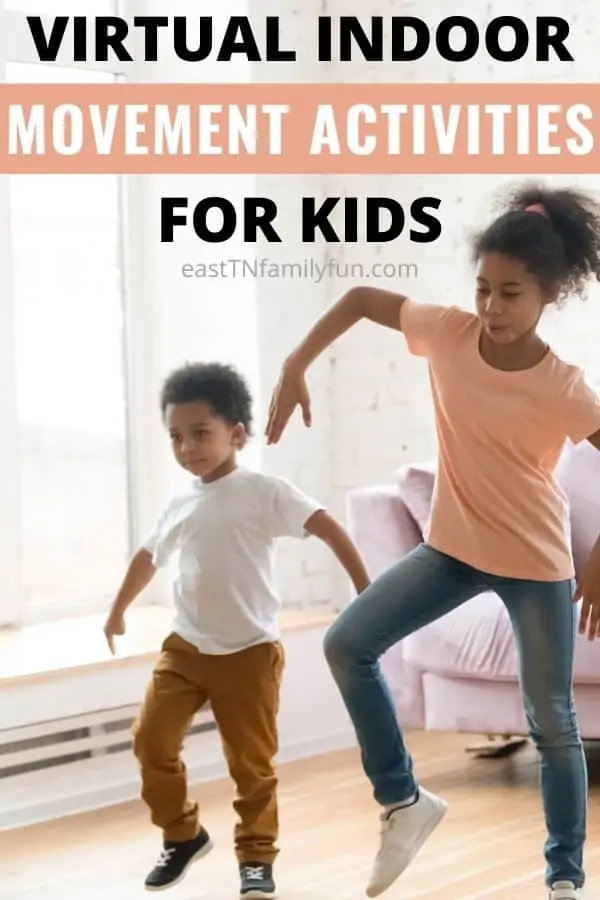 1. Move-To-Learn
When I was teaching, Move-to-Learn was a school-wide favorite. In these easy videos, kids follow along with a whole classroom full of students as they clap and stomp to the beat of educational songs.
They have a variety of videos geared towards different age ranges. Move-to-Learn's high-quality videos are available for kids ages 3 – 17.
2. Go Noodle
Go Noodle offers a great collection of movement activities that will appeal to a wide variety of interests. Each collection features a different set of characters.
Some of the videos have fun or silly themes, while others take a more educational approach with songs about letters and math facts. All of the videos are geared towards kids in pre-k through elementary.
3. The Learning Station
The Learning Station offers a variety of brain break and movement songs lead by teens and young adults. The videos are geared towards preschoolers and elementary-aged kids and often feature fun or silly themes.
4. Koo Koo Kangaroo
While they have some videos available on Go Noodle, you'll find the largest selection of Koo Koo Kangaroo videos on their YouTube channel. To the delight of children everywhere, all of these dance-along songs are super silly and playful.
These videos were another favorite of my students when I was teaching, especially the No Crust song, AKA Peanut Butter Jelly song.
5. Zumba With Dovydos
Zumba With Dovydas offers a variety of short, one-song Zumba videos for kids. All of the videos feature groups of kids dancing along.
6. Patty Shukla Kids TV
In addition to tons of fun dances, Mrs. Patty Shukla also offers a variety of learning videos that teacher letters, numbers, shapes, and more!
7. Jack Hartman Kids Music Channel
In addition to music and movement videos, Jack Hartman also has many "sing and sign" songs that teach the basics of American Sign Language.
8. Cosmic Kids Yoga
The Cosmic Kids YouTube channel has been around forever and boasts over 7 years' worth of instructional Yoga videos for kids.
9. Kids Workouts with Paul Eugene
Paul Eugene is a certified fitness instructor with videos geared towards both kids and adults. His kid-friendly content is exercise-based and aimed at older kids.
These videos will be best for kids in late elementary school through high school.
10. KIDZ BOP Dance Alongs
KIDZ BOP takes popular music and cleans up the lyrics to make them appropriate for kids. Most of their dance videos use hip-hop music and are good for elementary age kids.
The movements will likely be too fast and complicated for preschoolers.
11. Animal Exercise for Kids
Kids will jump, claw, and growl their way through this fun animal-themed movement video.
12. The Curious George Dance Along
If your kids love Curious George, this is the video for them. This dance-along was filmed by a public library for preschool-aged kids. The video features a variety of young children and George himself.
More East TN Family Fun