When rainy, freezing, or sweltering weather threatens your fun, we've got you covered! This huge list of indoor activities in Knoxville TN is here to save the day.
Here you'll discover exciting options for indoor family-friendly fun, including indoor playgrounds, trampoline parks, art studios, musical storytimes, and much more!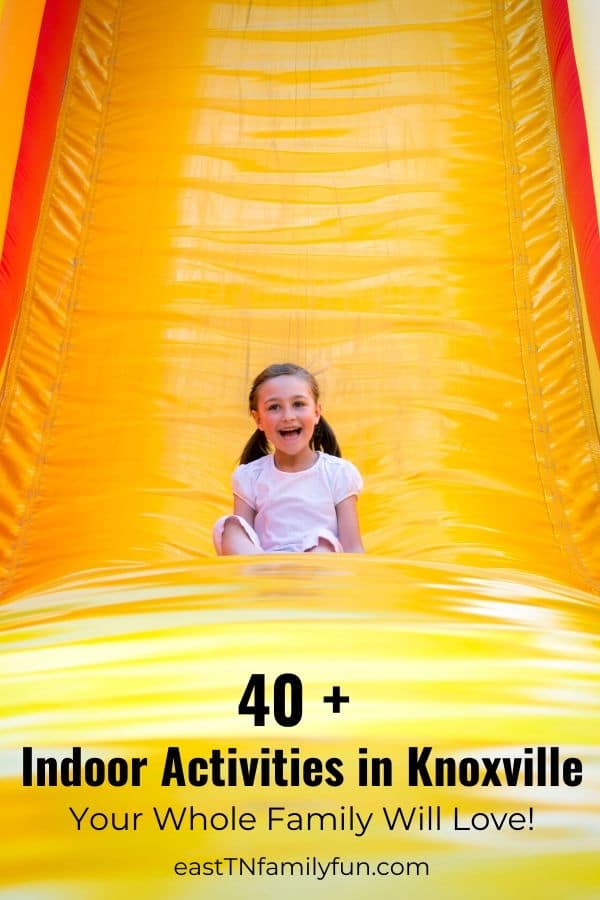 You May Also Like:
Indoor Activities in Knoxville TN
Adventure Park
Adventure Action Park boasts a ninja warrior obstacle course, indoor go-karts, trampoline playground, indoor rock climbing, ziplining, and more!
Aerial Arts
At this performing arts studio, kids can test out unique activities like trapeze arts, stilt walking, silks classes, and more.
All Bounce Events
You can't beat a fun bounce house playground!
American Museum of Science and Energy
Kids will get hands-on with science and engineering at this awesome children's museum.
Barnes and Noble Story Time
Free storytime hours every Saturday.
Breakout Games Knoxville
Discover is your family has what it takes to beat one of these challenging escape rooms!
Bricks for Kidz
Kids can dabble in engineering at this fantastic LEGO wonderland.
Children's Museum of Oak Ridge
A hands-on children's museum with themed rooms included birds, waterworks, nature, trains, and more!
Chuck E Cheese
Enjoy arcade games, rides, a large indoor playground, and concessions.
Dragonfly Aerial Arts
Kids can learn all the cool circus acrobatics their hearts desire!
The Climbing Center
An indoor rock climbing gym the whole family will love.
Coolsports
This popular ice skating rink has open skate hours throughout the week.
Defy Knoxville
This amazing trampoline park also boasts a ninja obstacle course.
Escape Game Knoxville
An escape room you're sure to remember!
Family Bowl Strike and Spare
Good old fashioned family fun, including cosmic bowling in the evening.
Gym Bugs
Littles can enjoy open playtime at this gymnastics studio. Equipment includes slides, a mini roller coaster, trampolines, a ball pit, tunnels, balance beams, and more!
Home Depot Kids Workshops
Kids will learn basic woodworking and handtool skills at these free interactive workshops.
The Ice Chalet
This indoor ice skating rink offer plenty of public skate times.
IJAMS Nature Center
While this nature center offers many outdoor activities, they have a small exhibit hall showcasing a variety of live aquatic animals. They also offer a variety of indoor nature classes.
Kindermusik
Your kids will be grooving to the music at one of these hands-on music classes designed specifically for little learners.
Knox County Library
The library offers weekday and weekend storytimes, afterschool kids' clubs, and more. It's all free!
Knoxville Children's Theatre
This children's theatre company specialize in shows performed by kids, for kids.
Knoxville Museum of Art
In addition to its permanent exhibits, the Knoxville Museum of Art hosts several family-fun events throughout the year. These events include hands-on art stations where kids can explore a variety of different media.
The Little Gym
Knoxville's youngest residents can climb, jump, and crawl their way to a fun-filled day in these beginning gymnastics classes for kids.
Liza Moz
This paint-your-own pottery studio also offers canvas painting, wood sign painting, and glass painting.
Main Event
The larger than life family-fun center boasts bowling lanes, an arcade, a ropes course, laser tag, and more!
Max Air Trampoline Park
In addition to jumping, this trampoline park offers indoor mini-golf,
Michaels Craft Classes
Every weekend Michaels offers a variety of crafting classes for kids and adults, many of which are free.
Mighty Mud
This pottery studio offers a variety of pottery skills classes for kids including wheel throwing and hand-shaped pieces.
The Muse Knoxville
As the only children's museum in Knoxville's city limits, this fun land boasts a playground, makers space, and tons of hands-on activities for exploring science and engineering concepts.
Onsight Rock Gym
Claiming to be Tennessee's largest indoor rock climbing facility, this gym has a kids' course for young climbers. It even has a slide!
Painting with a Twist
This paint studio hosts a variety of teacher-led painting projects, with many specifically designed for kids. You sign up for individual classes without any long-term commitment.
Pump It Up
A bounce house playground for preschool and elementary-aged kids.
Skatetown
This traditional rollerskating rink also offers late skate events on the weekends and themed parties throughout the year.
Smart Toys and Books
Their popular interactive playground boasts several slides, tunnels, a large pirate ship, and more! They also host several kids' events per month, like storytimes and crafting events.
Symphony Story Time
These musical story hours feature children's book reading set to live orchestra music.
Tataru's Gymnastics
This gymnastics studio offers fun open gym sessions 6 days a week.
West Town Mall Indoor Soft Play Area
This indoor playground boasts tons of play structures for young kids including a slide, tunnels, and more!
Whole Foods Kids Club
Simple cooking classes for young chefs.
Williams-Sonoma Junior Chef Classes
The West Town Mall location hosts several free kids' classes throughout the year. Some are designed to teach cooking basic while others are just for fun like egg dying or cookie decorating.
Imagination Series at the Bijou Theatre
A fun series of children's plays specifically designed for kids 12 and younger.
Fountain City Art Center
This art center hosts a variety of art shows throughout the year, including student shows. In their studio, kids can take classes in drawing, painting, and clay.
Knoxville Arts and Fine Crafts Center
This arts and crafts center offers a variety of single-session and multi-session craft classes for kids.
More East TN Family Fun