When it comes to outdoor adventure, you can't find a better place than East Tennessee. There are so many wonderful options for outdoor activities in Knoxville TN and the surrounding towns that your biggest problem will be choosing the next one!
From scenic garden strolls to fast-paced kayaking adventures, you'll find all the best ideas right here! Of course, outdoor adventure is just one of the many wonderful things about Knoxville Tennessee.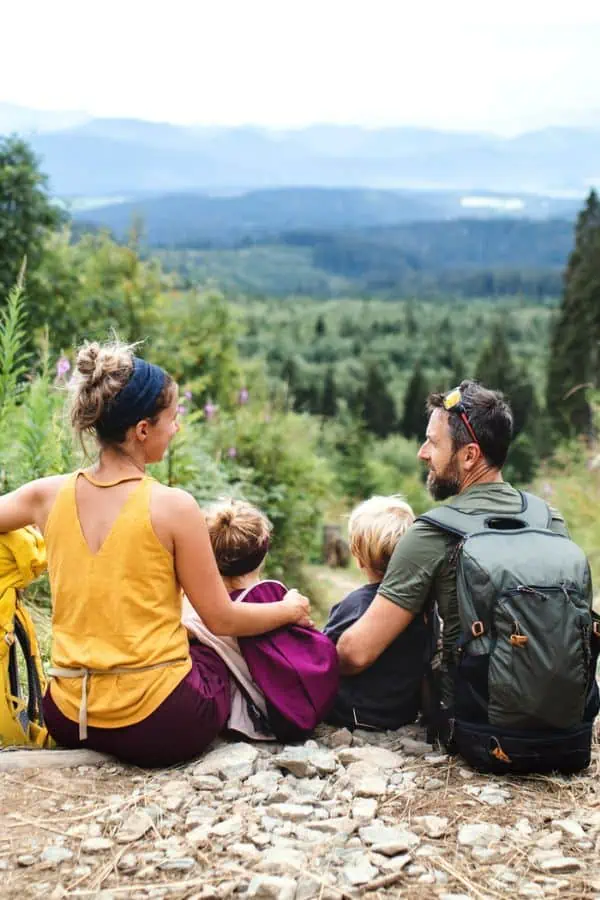 For your convenience, this post may contain various affiliate links. As an affiliate, and as an Amazon Associate, I earn from qualifying purchases. View the disclosure page for more information.
Outdoor Activities in Knoxville TN
Hiking
Knoxville is brimming with wonderful hiking trails for all ages and abilities. From keyhole tunnels and boardwalks to secret swimming holes and historical ruins, the variety of hiking attractions is seemingly endless.
For local families with kids, our guide to family-friendly hikes near Knoxville is the perfect place to plan your next excursion.
Zoo Knoxville!
One of the most popular places to get outside is Zoo Knoxville. In addition to animal viewing, the zoo offers a variety of amusement rides, a splash pad, interactive animal experiences, and more! Check out the zoo guide here.
Flower Fields
Spring and summer are the perfect seasons to soak in the colorful tapestry of mother nature. Our local sunflower fields are one of the hottest attractions around.
They are popular spots for photography, picnics, and simply enjoying nature. Of course, the u-pick lavender fields are quickly gaining popularity.
State Parks
There are 20 state parks within a 2-hour drive of Knoxville. These parks offer tons of educational programs, hiking and biking trails, campgrounds, playgrounds, history reenactments, festivals, and much more!
Fall Creek Falls is the most visited state park in TN. It has also served as the backdrop for several feature films.
Fruit Picking
Throughout the warm weather months, you'll find a variety of fruit-picking farms to choose from including
Many of the farms offer more than 1 type of fruit and some even have veggies to pick as well. For added selection, pre-picked produce and fresh canned goods are often available in adjoining farm stores.
Public Pools
When the sweltering heat of a southern summer sets in, there's no better place to cool off than a cool and refreshing swimming pool. If you don't have your own, you'll be relieved to know that Knoxville has tons of local public pools to choose from.
Although some require memberships, many have pay-as-you-go options too.
Splash Pads
If you have little kids, our local splash pads are the perfect alternative to public pools. They feature a variety of different water sprayers, dump buckets, spray tunnels, and much more,
Most are located next to picnic areas, playgrounds, and walking trails to help you extend the fun. The best part is most of them are totally free.
Swimming Holes
If you prefer a more natural way to cool off, our local wilderness has a variety of fun swimming holes to choose from. Many are gradual entries which means that adults and kids can both have fun.
For newbies, Mead's Quarry is a great option. In addition to a scenic swimming area, there are also paddle board and kayak rentals available.
Biking
Many of our paved greenway trails are multi-use which means bike riders and pedestrians can share the space. These trails tend to be close to town and are popular with riders who want easier routes.
For more adventurous riders, there are also a variety of options for mountain biking in our surrounding urban wilderness. Baker Creek Preserve is one of the most popular.
Paved Walking and Greenway Trails
For a scenic stroll or safe running location, our local greenway trails can't be beat. They are interwoven throughout local neighborhoods and paved for easy access. Most of the paved walkways allow bicycles too.
Many sections of these greenway trails run near local shopping districts. This makes it easy to meet friends for a leisurely stroll and delicious lunch.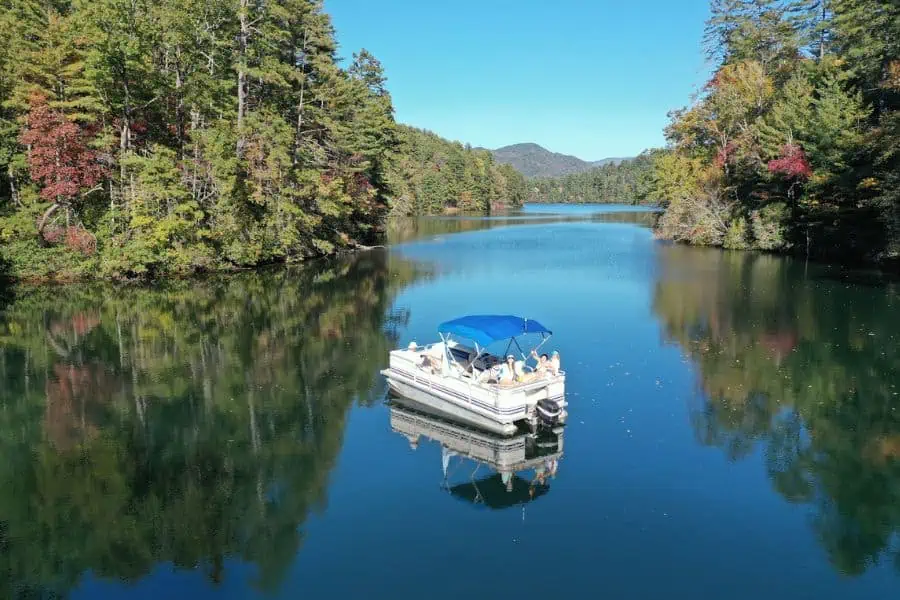 More Outdoor Things To Do In Knoxville
Boating
With so many surrounding lakes, motorboating is a popular pastime. If you don't have your own boat, there are several rental locations nearby.
There are also a variety of boat-friendly bar-and-grills to help you make the most of your time on the water.
Kayaking and Canoeing
If you'd rather get some exercise, kayaking and canoeing are also popular boating options. And again, if you don't have your own, our local rivers and lakes have plenty of rental options to choose from.
Knoxville Adventure Collective has great rental options right downtown at Volunteer Landing.
History Excursions
From Native American history to Colonial Era history and beyond, history buffs will love all the outdoor history attractions. Cherokee villages, old Appalachian farmsteads, and a colonial-era fort are just a few of the attractions you'll find.
Parks and Playgrounds
If you've got kids, Knoxville has over 40 different parks and playgrounds to help keep them entertained. Most have restrooms and picnic areas to help make the trip more comfortable.
You'll find amenities like disc golf courses, tennis courts, splash pads, hiking trails, and more!
Outdoor Dining
Whether you are planning a special brunch, date night, or mom's night out, Knoxville has many adorable eateries with outdoor seating. Nothing beats a view of the lake or mountains while you enjoy a delicious meal.
Ropes Courses
While all ropes courses are great ways to adventure, our local course stays open late to treat guests to a glittering canopy tour of lights. Talk about a fun twist on an old favorite!
Outdoor Amusement Park
Whether you are looking for go-karts, mini golf, or twisting coasters, you'll find all the amusement parks you could ever desire just a short drive from Knoxville.
Of course, Dollywood is the most popular spot for large-scale thrills. In addition to coasters and rides, the park hosts a variety of popular festivals and events throughout the year.
Disc Golf Courses
If you've never played disc golf, it's like playing frisbee with a goal net. It's a great all-ages game and the courses are never too crowded. This means you can take your time to practice and learn the game.
Best of all these courses are free to use at local parks. All you have to do is bring your disc.
Picnic Spots
Picnics are a great way to spend a lazy weekend day. Of course, the best spots have more to offer than just a flat patch of grass.
The guide features all the best picnic locations with playgrounds, lake views, swim beaches, and more!
Rock Climbing
Though not for the faint of heart, rock climbing is one of the most thrilling outdoor activities in Knoxville. Ijams Nature Center offers some great spots and sometimes offers guided climbs.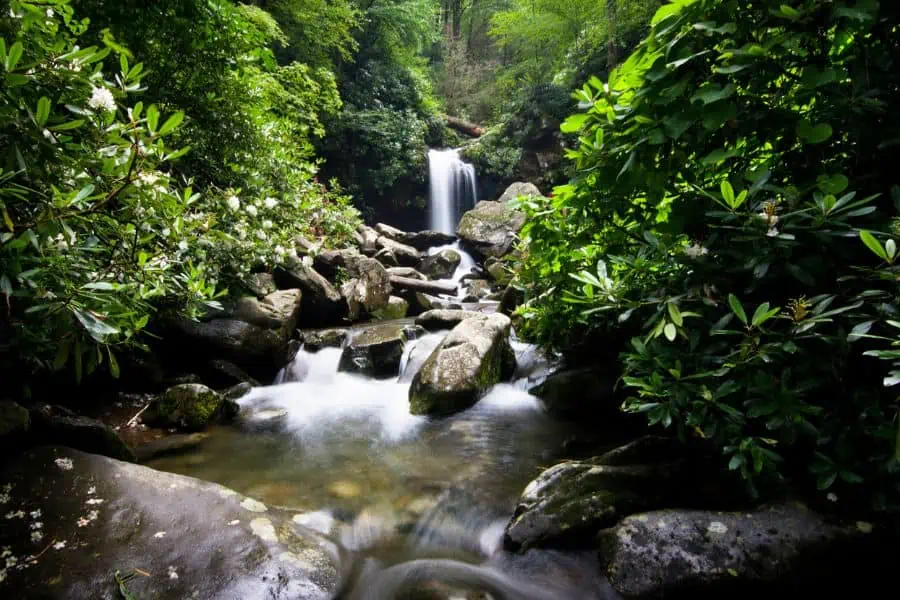 Even More Outdoor Attractions in Knoxville
Waterfalls
Whether you are looking for an easy waterfall hike or one transformed by a magical winter freeze, the Knoxville metro area has got you covered.
Some of the most popular waterfalls are in Great Smoky Mountain National Park.
Skate Parks
Knoxville has 5 different skate parks in town where you and your kids can practice skateboarding, rollerblading, and BMX riding.
Golf Courses
Golf lovers can take their pick between 12 local courses in Knoxville. Of course, if you are willing to drive just a little bit further, there are several premium courses just a short drive away.
Horseback Riding
Knoxville has great equestrian outings for all skill levels. In and around town you'll find options for guided trail rides, riding lessons, rodeo lessons, and more!
Camping
Gather 'round the fire for some tasty s'mores and spooky stories are one of these amazing campgrounds near Knoxville.
Lakes
With calm waters and scenic mountain views, our local lakes are great spots to spend the day fishing, swimming, picnicking, and more. Many even have waterfront restaurants for an extra special meal.
Rivers
Our local rivers are great spots for fishing, swimming, rafting, kayaking, tubing, and more.
There are even a few fly fishing schools along the rivers that will teach you the art of fly fishing for free!
Rafting
While you won't find any options directly in the city. There are several great spots for guided whitewater rafting tours near Knoxville.
The closest and most popular rivers for white river rafting include the Nolichucky River, French Broad River, and Ocoee River.
River Tubing
For more low-key river adventures, you can opt to go tubing instead. In fact, it's one of the best outdoor activities in Knoxville for families with kids.
Compared to rafting, tubing is a much cheaper and calmer activity. Many tubing locations even allow you to tie the tubes together to keep your kids close by.
In addition to the rafting rivers listed above, the Little River in Townsend is a fantastic tubing spot. Located just outside of Great Smoky Mountains National Park, these locations are close to many hiking and restaurant options for added enjoyment.
Petting Zoos & Safaris
Some of our most unique adventures in Knoxville are the extraordinary petting zoos. With options for petting zebras and feeding giraffes, you are sure to have the time of your life!
Zoo Knoxville has several interactive exhibits including giraffe feeding, turtle brushing, and goat brushing.
Briarwood Ranch Safari Park is a drive-through petting zoo filled with wild animals you can actually touch. Animals include elk, zebras, buffalo, and much more.
Garden Tours
We have many public gardens in and around the city that are free for public viewing. There are also several historic mansions with stunningly manicured beds that offer paid tours.
Knoxville Botanical Gardens is the most popular garden with locals. It is open year-round and admission if free. The gardens do host a wide variety of paid educational programs throughout the year.
Fishing
Fishing is one of the most popular sports in the region. Many local streams, rivers, and public ponds are kept stocked with trout. For a complete guide to fishing in the state, check out the TWRA fishing page.
Did we miss one of your favorite outdoor activities in Knoxville? Please send us the details so we can add it to the list.