Grotto Falls trail in Gatlinburg is a family-friendly hike in Great Smoky Mountains National Park that is under 3 miles round trip. Located just outside of Gatlinburg, views are gorgeous, with at least 3 stream crossings along the way. The endpoint of the trail is the fabulous Grotto Falls which has the unique distinction of being the only waterfall in the Smokies that you are able to walk behind. It really doesn't get cooler than that!
Of course, each family has its own unique needs. You know your family best and are ultimately responsible for discerning the safety and appropriateness of this hike. Please read our full disclaimer here.
Grotto Falls Parking
The Grotto Falls trail has it's own parking lot, which is located on the Roaring Fork Motor Nature Trail. The lot is listed in Google Maps for easy directions and identification. There are also directional signs for Grotto Falls after you enter the loop.
The one downside is the lot is extremely small. If you want to get a close spot, you will have to arrive early in the morning. If you don't. you'll have to park further down the street, which can add up to a half-mile or more of additional walking distance.
If you have kids, you know that even the slightest increase in length means you may not reach your final destination. Trust me when I say, you'll regret it if you have to turn back before you reach the falls.
Taking the Roaring Fork Motor Nature Trail to Grotto Falls
The very scenic Roaring Fork Motor Nature Trail is located just outside of Gatlinburg. This driving loop is a popular spot to look for bears and other wild animals, so if you keep your eyes peeled, you may see a fun surprise!
This area of the national park does not have a picnic area, but it is close enough to Gatlinburg that you could grab some lunch after your adventure! Alternatively, you could eat on the trail or near your car, just remember to pack out your trash.
Periodically around the loop, you will find public restrooms, equipped with hand sanitizer. There is a restroom right in the Grotto Falls parking lot.
Grotto Falls Trail Review
For the majority of the trail, the ground is fairly level which makes the hike pleasant for both kids and adults. When there is an incline, it tends to be gradual and relatively brief. If you do get tired, there are plenty of fallen trees along the path for resting. With a baby in a carrier, we only stopped a couple of times.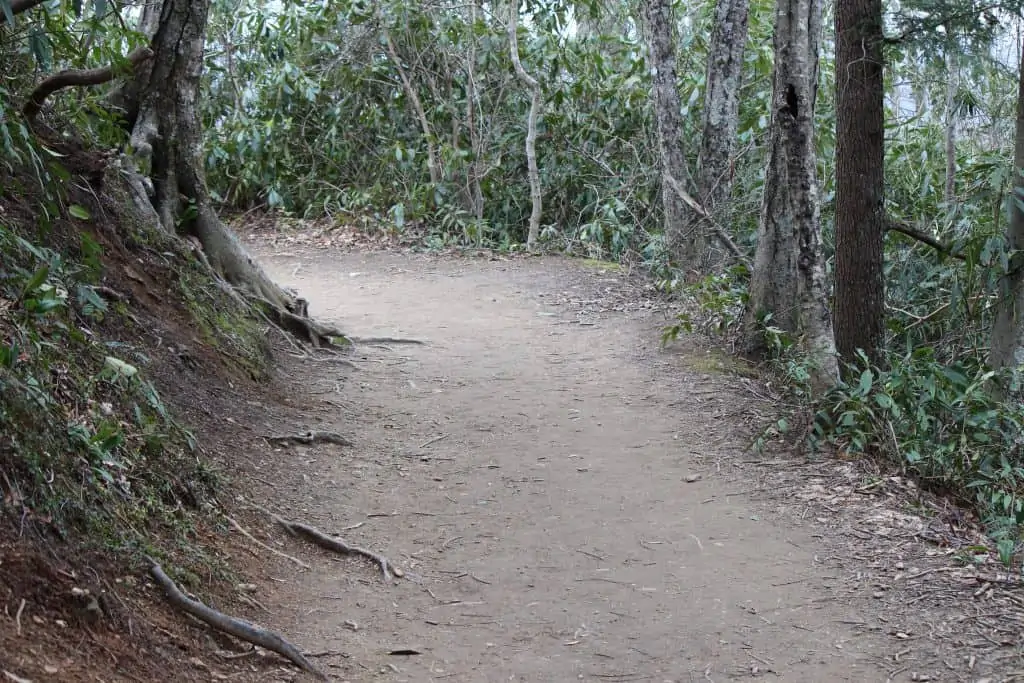 Related Read: 20 Family Friendly Hikes In The Smoky Mountains
Throughout the trail, you will need to tread carefully, due to these really awesome blocks of tree roots that appear often. To date, I have never seen such large groupings of roots anywhere else, even in other states. They were truly visually stunning.
3 times during your travels, you will cross over a small stream. The level of difficulty varies at each location due to the variation in size and steadiness of the rocks available for you to step on. You will need to closely supervise your younger kids during these crossings and perhaps lend a helping hand.
As you approach the grand waterfall, you will pass a couple of smaller cascades on the left. At this point, it starts to get a little rocky and the wet rocks are pretty slippery. Once you make it up to the main waterfall, you will notice that you can follow the rocky path all the way behind the falls. This is an awesome photo spot!
It's a popular trail, so there will always be someone around to take a family shot for you! We didn't take the baby behind the falls, because it was cold and the waterfall splashes.
Related Read: Discover Clingman's Dome