From pies and jams to juicy fresh fruit, strawberries reign king of the spring. When you're hankering for a shortcake, check out one of these awesome farms for strawberry picking near Chattanooga TN.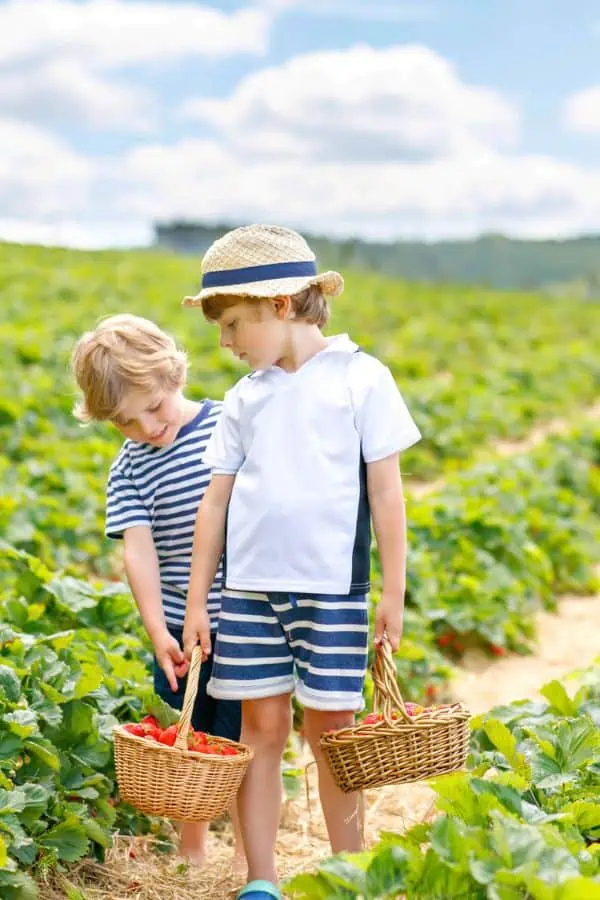 For your convenience, this post may contain various affiliate links. As an affiliate, and as an Amazon Associate, I earn from qualifying purchases. View the disclosure page for more information.
U-Pick Strawberry Farms in Chattanooga TN
Crabtree Farms of Chattanooga
1000 E 30th St, Chattanooga, TN 
(423) 493-9155
This is currently the only pick-your-own strawberry farm in Chattanooga, but it's a popular one. While this farm offers pre-picked berries all season long, u-pick is only available on specific dates.
Keep an eye on Crabtree's social media where they will be announcing u-pick days as they become available. This farm also hosts a variety of other fun events throughout the year.
Strawberry Picking Near Chattanooga TN
Lazy Creek Farms
29 Yarbrough Bend Rd NE, Rome
(706) 591-0507
Though this farm is located about 1.5 hours away from Chattanooga, Lazy Creek Farms offers more than just strawberries. After you pick your berries, the kiddos can enjoy a jump pad, wooden train, wooden tractor, yard games, and more.
The strawberries typically ripen anywhere from mid-April to the beginning of May, depending on the weather.
In addition to the strawberry farm, Rome, GA also has an adorable downtown area filled with cute shops, restaurants, and attractions to help you extend the fun. With so much to do in one area, this would make an excellent day trip.
LCCL Strawberry Farm
29 Yarbrough Bend Rd NE, Rome
(706) 591-0507
LCCL is another fantastic u-pick strawberry farm in Rome, GA with a lot to offer. Visitors can purchase a wide variety of strawberry products at thier farm store, including delicious strawberry ice cream. Yum!
There are also barrel train rides for the kiddos.
Mercier Orchards
8660 Blue Ridge Dr. Blue Ridge GA
(706) 632-3411
At 1 hour and 45 minutes from Chattanooga, Mercier Orchards is a little further away but totally worth the drive. In addition to u-pick strawberries, the farm offers tractor rides, farm-fresh baked goods, a delicious cafe, and an adorable farm store.
The strawberries here typically ripen in early May.
Like Rome, Blue Ridge also has a gorgeous downtown with quaint gift shops, restaurants, and art galleries. Meandering down these historic streets will be a great way to explore the area a little more before you head home.
Despite the distance, this is Mercier is probably the most popular spot for strawberry picking near Chattanooga.
---
Related Read: 40 Totally FREE Things to do in Chattanooga
---
Pre-Picked Strawberry Farms Near Chattanooga TN
Smith Perry's Berries
9626 Ooltewah Georgetown Road, Ooltewah
(423) 802-4773
In addition to traditional strawberries and pumpkins, Smith Perry's Berries also offers a stunning field of pick-your-own sunflowers! They also have pre-picked corn and other produce.
This farm used to offer u-pick strawberries, but that option is temporarily suspended. They may resume u-pick in the future.
Gary Swafford Farms
489 Summer City Rd, Pikeville
(423) 447-7480
Garry Swafford Farms offers a wide variety of homegrown produce including fresh strawberries in early spring.
Jones Fruit Farm
Main Street Market, 1804 Chestnut St, Chattanooga
(256) 630-2200
Jones Fruit Farm grows strawberries in early spring and a wide variety of other produce throughout the growing season. They pride themselves on using sustainable growing practices.
The farm is located in AL, but you can find thier produce and delicious fried pies at Chattanooga's Main Street Market.
Did we miss your favorite spot for strawberry picking near Chattanooga TN? Please send us the details so we can add it to the list.
More East TN Family Fun
Scrumptious Blueberry Farms in Chattanooga