When you are looking for fun adventures on a tight budget, this huge list of free things to do in Knoxville TN is here to save the day.
Below you'll find a variety of fun museums, classes, and attractions that are all completely free, even the parking.
As a city, Knoxville TN has so much to offer visitors and residents alike.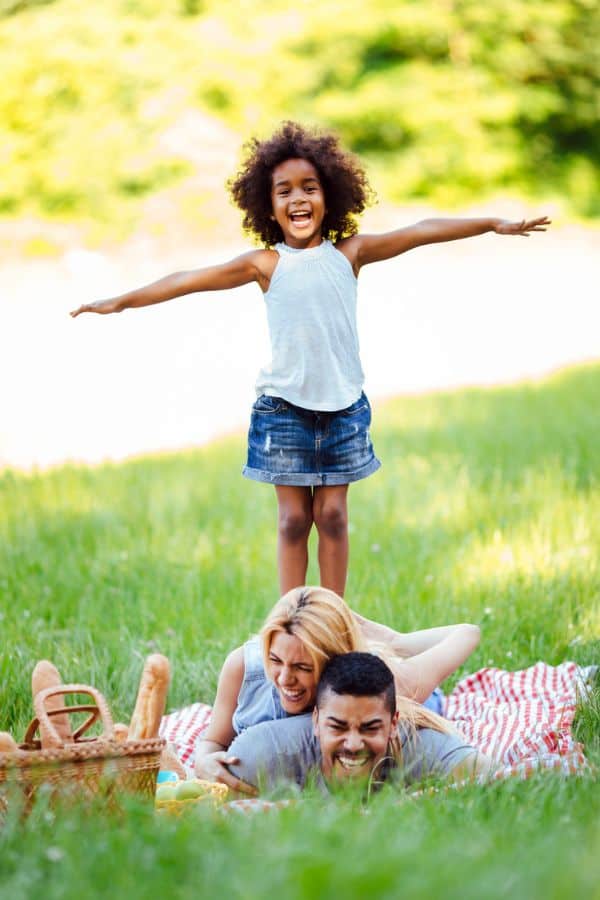 Top Free Things to Do in Knoxville TN
1. IJAMS Nature Center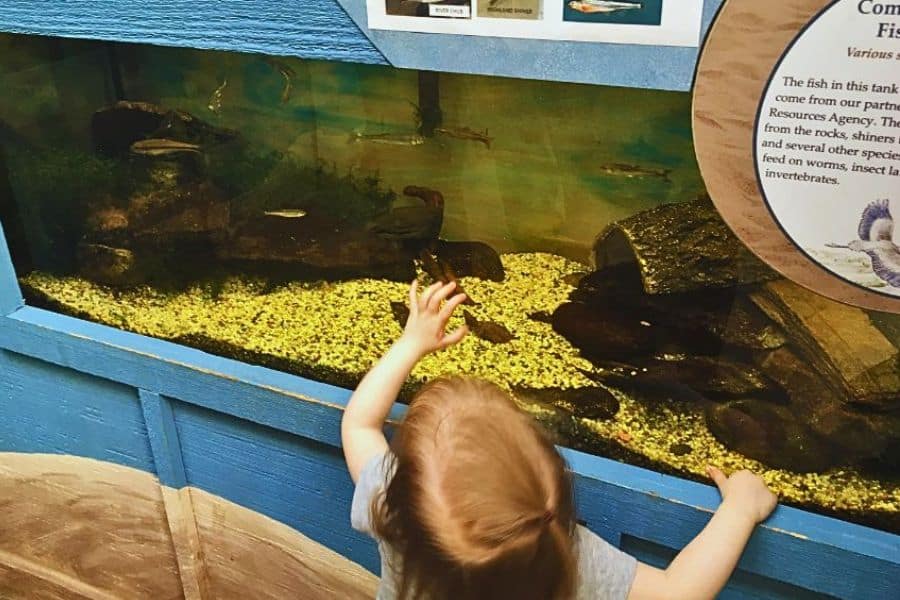 IJAMS is a gigantic nature center complete with live animals, hiking trails, educational programs, and more. Parking, hiking trails, swimming at Mead's Quarry, the children's play areas, and animal exhibits are all free.
Most of the educational programs do require a small admission fee, but occasionally they have some for free as well. Mead's Quarry also has boat rentals for an additional charge.
2. Knoxville Botanical Gardens and Arboretum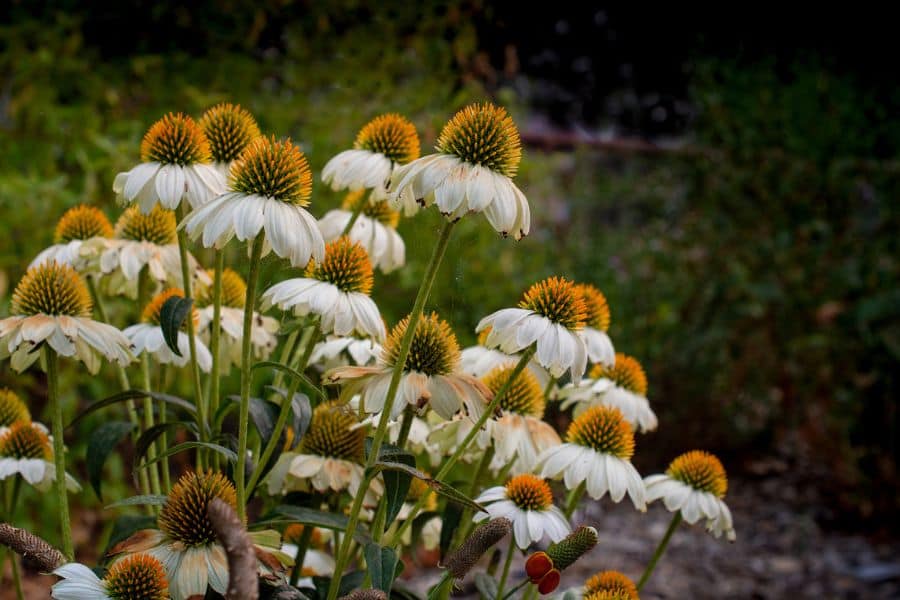 In addition to gorgeous gardens, this Knoxville staple is chock full of fun photo props that your entire family will love. So grab your phone and head on out to capture some memories.
The gardens are always free to visit, but there are also paid bonus programs too. During warm weather months, they have preschool Story Thyme in the garden with a suggested donation of $5 per child.
For a full listing of Knoxville botanical gardens click here.
3. Festivals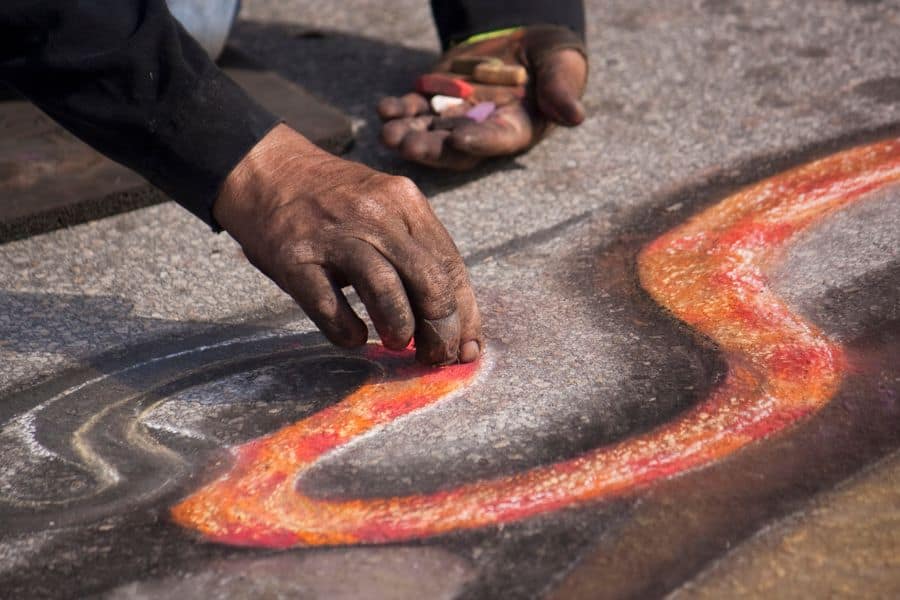 Throughout the year Knoxville has various festivals with free admission and parking. Most of these festivals even offer free outdoor games and activities for the kids.
Some of the most popular free festivals include:
MardiGrowl Dog Parade (March)
The Chalk Walk (April)
Dogwood Arts Festival (April)
The Children's Festival of Reading (May)
Bike, Boat, Brew, and Bark (June)
Tour De Lights Bike Parade (December)
4. Swim Beaches and Swimming Holes
In the Knoxville area, there are several sandy swim beaches to choose from. They are all manmade beaches constructed along local lakes and waterways.
The Cove is one of the most popular local swim beaches because it has nice shade trees for watchful parents. There's also a great playground where you can continue the fun after the kids are sufficiently waterlogged.
If you have a little cash to spend, there are also kayak rentals and snacks available on-site.
Free Things to Do in Downtown Knoxville TN
In most cities, even if an attraction is free, you still have to pay for parking. Thankfully in downtown Knoxville, parking is free in city-owned garages on nights and weekends.
That means these free activities can actually be 100% free. No hidden fees are required.
Please keep in mind, if you visit most of these attractions during the week in the daytime, you will have to pay for parking. So, time your trip correctly for maximum savings.
Some of these attractions do have dedicated parking spots which are always free.
5. UT Gardens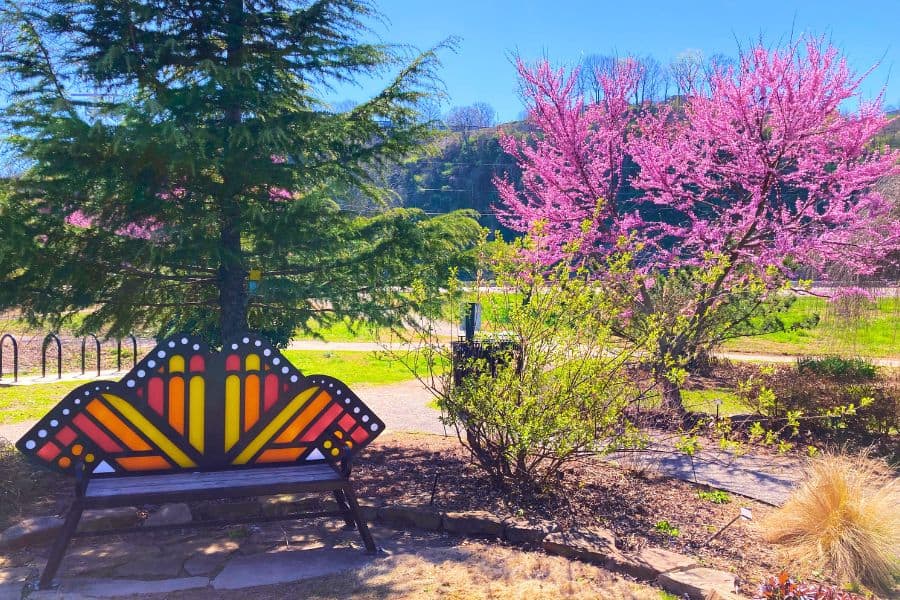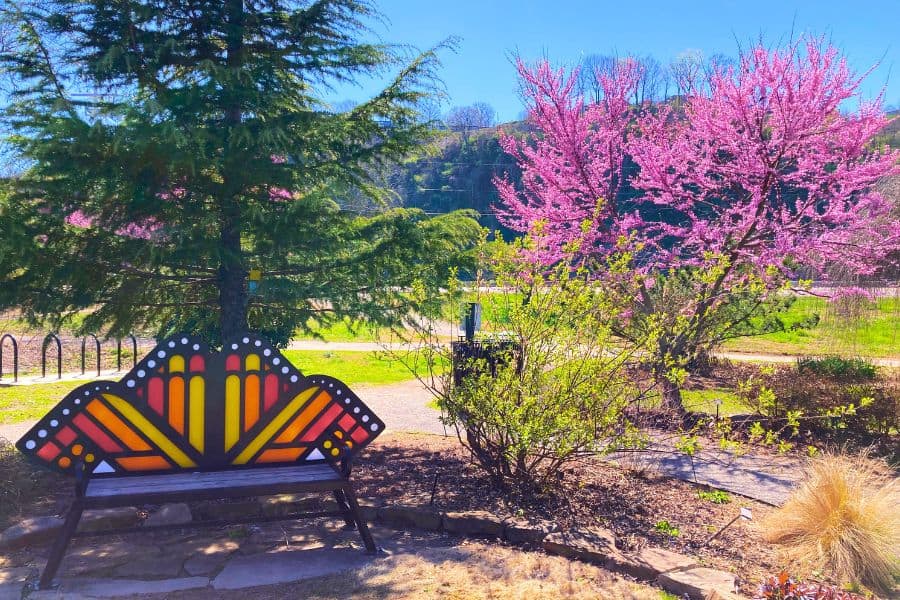 This bright and cheerful botanical garden is located on the UT campus. In addition to a variety of flowers, flowering trees, and shrubs, the garden also has a variety of sculptures throughout.
There is also an adorable children's garden with climbing structures, large-scale musical chimes, slides, tunnels, a playhouse, and more.
The gardens host many educational programs throughout the year. Some of the programs cost money, while others are free.
Parking at this attraction is always free but is limited to designated visitor spots only.
6. Safety City
This is a fantastic place to take the kids. It's a miniature downtown Knoxville with iconic buildings including the Sunsphere and Neyland Stadium. There are also real working traffic lights.
The goal of this pint-sized city is to teach kids street and bicycle safety. This attraction has a designated parking lot, which is free to use during your visit.
7. Krutch Park Sculpture Garden
Adjacent to Market Square, Krutch Park is an open-air art exhibit featuring large-scale sculptures, most of which are metalwork.
8. Art Galleries
Knoxville has many art galleries that are free to explore. Of course, if you find something you love, they are hoping you'll buy it.
Some popular picks include Art Market Gallery and the UT Downtown Gallery.
9. Buskers in Market Square
Throughout the week you can catch a variety of buskers, AKA street musicians, in downtown Market Square. On random days, lunchtime is your best bet.
Of course, you'll get the biggest bang for your buck if you visit on Saturday during the farmer's market. On those days, street performers of all kinds will be out in droves.
10. World's Fair Park
This lovely park is home to many free festivals and concerts, but the main draw is the gigantic fountain. The fountain is made for playing and is sized for both kids and adults to enjoy.
There is plenty of lawn space nearby to pack a picnic lunch. Restrooms are also available.
When you are finished enjoying the fountain, you can hop across the street to a nice fenced playground the kiddos will definitely love.
11. DIY Mural Tour
The streets and alleys around Gay Street and Market Square are filled with fun art, including an iconic mural of Dolly Parton. Bring your camera along and see just how many you can find.
Get a free printable tour guide here.
12. Concerts on the Square
Tuesday nights in May and June you can frequently catch free outdoor jazz concerts in Market Square. On the 3rd Thursday of each month from May through September, there will be free concerts in a variety of genres.
These concerts are kid-friendly but also make a great mid-week date night.
13. FREE Outdoor Movies
During the summer, when kids are out of school, you can see free outdoor movies on the stage on Market Square. Bring your blankets and camp chairs out to enjoy the show.
You can also bring your own snacks and drinks or grab some from the local candy store. These events are hosted by the Knox County Public Library. Keep an eye on the library's Facebook events page to see upcoming dates.
14. Knoxville Visitor'Center
Not only is this a great place to learn about Knoxville and grab some brochures about local things to do, but this visitor's center also hosts a free concert called the Blue Plate Special.
The Blue Plate Special is a live musical performance that takes place each Monday, Tuesday, Wednesday, Thursday, and Saturday day at noon. To avoid any parking costs, you'll have to catch the Saturday show.
15. Volunteer Landing
This is a great place to enjoy a nice walk or a scenic picnic lunch with stunning views of the Tennessee River. There is also a splash pad area where you can bring the kids to play in the riverside fountains.
16. Fork of the River Sunflower Field
Located in South Knoxville, this stunning sunflower garden blooms in the summer and is completely free to view. They even kick off the viewing season with a fun Sunflower Festival each year.
The field is an effort to help support local pollinators.
17. Cradle of Country Music Walking Tour
This self-guided walking tour takes about 1 hour to complete and details Knoxville's connection to iconic country stars like Elvis, Dolly, The Everly Brothers, and more. You can pick up your free printable tour route at the Knoxville Visitor's Center. Or, you can view it on your phone here.
18. First Friday Artist Walks
On the first Friday of each month, Downtown Knoxville fills with live music and street performances. Downtown shops will stay open late and local galleries will host open houses.
This is a great time to head downtown for dinner, a nice stroll, and some people-watching.
19. Astronomy Programs
On the 1st and 3rd Friday of each month, the UT Astronomy Department hosts free public telescope viewing events. These events are held on the roof of the Alvin H. Neilsen Physics and Astronomy Building on the UT campus.
20. FREE Historic Driving Tours
Knoxville History Project has created 5 completely free printable driving tours that explore the history and architecture of downtown Knoxville. You can choose from routes in North Knoxville, South Knoxville, East Knoxville, Near-West Knoxville, and Fountain City.
Free Museums Knoxville TN
21. McClung Museum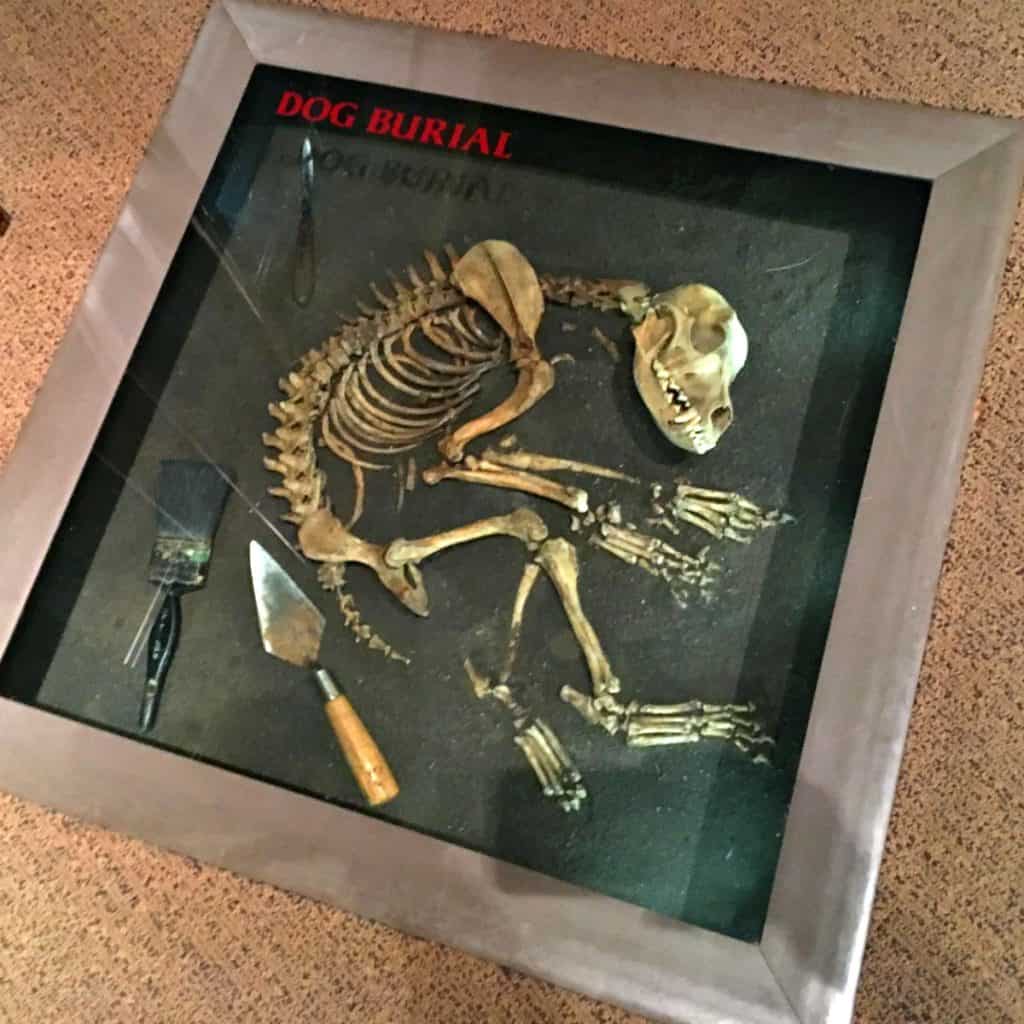 This natural history museum has tons of great artifacts including dinosaur bones and a variety of fossils. It's located on the UT campus but there are dedicated free parking spaces for the museum.
22. The Muse Children's Museum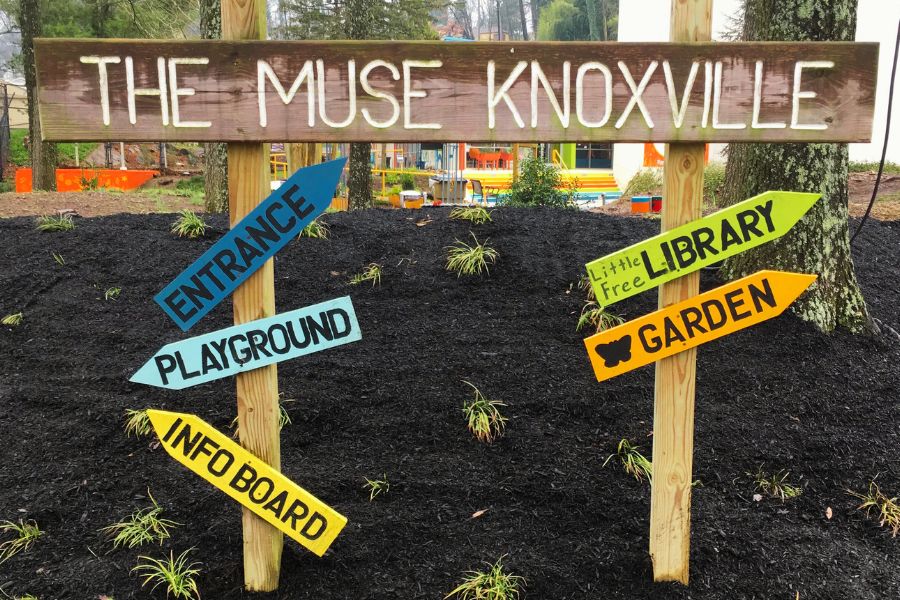 This popular children's museum offers a once-monthly after-hours session that is entirely free for the whole family. As you can imagine, this is a very popular activity, so arrive early to minimize your wait time.
23. Knoxville Museum of Art
This museum places a special focus on local and regional artists. While general admission is always free, they host additional free hands-on art activities for kids once a month.
The activities are different each month and expose kids to a wide variety of art techniques including painting, collaging, drawing, stamping, and so much more. The classes are always guided by museum staff.
24. Beck Museum
This African American history museum explores a wide variety of arts and culture. There are featured artworks from local black artists, civil rights exhibits, historical artifacts, and more.
25. East TN Historical Society
This awesome local history museum places a special focus on East TN history. The museum typically charges admission, but it's totally free to visit on Sundays.
26. Marple Springs State Historic Site
Marble Springs is the historic home of John Sevier, Tennessee's first governor. The grounds feature a variety of historic structures including a small log cabin, loom house, kitchen, tavern, and spring house.
There are also scenic walking trails to help extend the fun. To complete the day, be sure to bring a packed lunch. You can enjoy it in the shade of the covered pavilion or on the expansive grounds.
Self-guided tours are always free, but guided tours are available at select times throughout the week.
27. Emporium Center For Arts and Culture
The exhibits at this museum-style art gallery rotate at least monthly. Though it has daytime hours throughout the week, it stays open late on the first Friday of each month as part of Knoxville's First Friday events.
28. Fort Loudon
If you love reenactments or colonial-era history, this is the place for you. With free year-round admission, the park has a small indoor museum and a large replica of a 1750s fort.
One weekend each month, the fort hosts a garrison weekend, which is essentially a living history experience.
The reenactors depict different aspects of life in the fort including cooking, medical care, fabric dying, training drills, blacksmithing, and so much more.
Everyone will be dressed in full-period clothing and cannons will be fired, so you know it's going to be a great time!
You can also catch smaller living history demonstrations periodically throughout the year. This fort is actually located just outside of Knoxville in Vonore.
More Free Activities Knoxville TN
29. Parks and Playgrounds
Knoxville has tons of great playgrounds to help you keep your rowdy kids entertained all year long. For teens and older kids, there are also several skate parks and bike trails.
30. Baker Creek Pump Tracks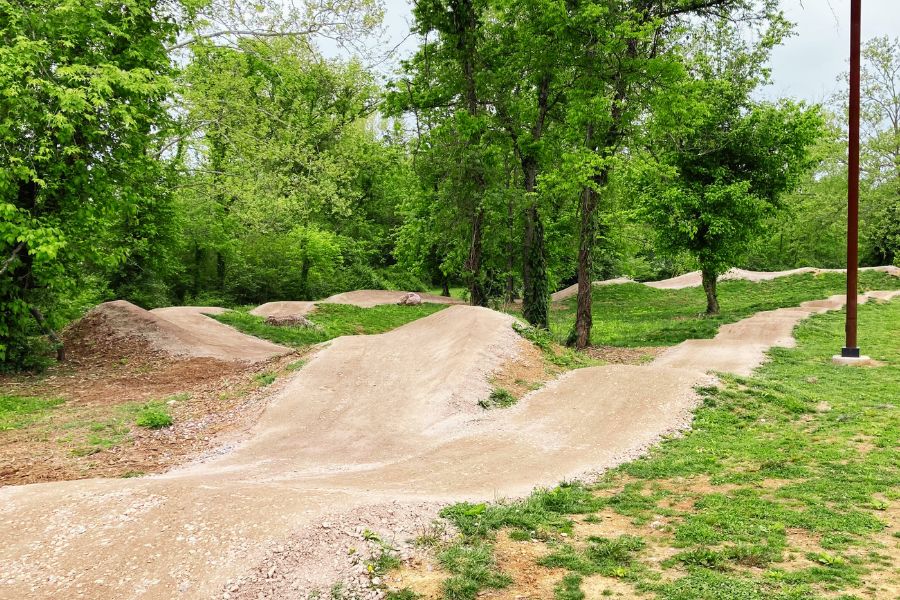 Popular with kids, mountain bikers, and BMX riders, Baker Creek has multiple pump tracks, which offer a variety of man-made hills to help you hone your riding skills.
In addition to this dirt track, there is also a large paved one with steeper inclines.
31. Splash Pads
Splash pads are great places for kids to cool off in the summer. They feature a variety of fun water sprayers, dump buckets, and interactive water features. They typically open each year around Memorial Day and close around Labor Day.
32. Knoxville Symphony Orchestra
The Orchestra frequently plays free concerts as part of its Community Concert Series. These shorter performances usually take place outdoors, so be sure to bring your camp chairs. Typically, you are also allowed to bring your own food and drinks to enjoy during the show.
The concert locations vary each year to help spread the love throughout the greater Knoxville area.
33. Zoo Knoxville
Though a visit to the zoo typically costs money, we have some great news for local residents.
If you have a library card, you can actually check out FREE zoo tickets at your local library. Tickets are limited. See your local librarian for more details.
34. Library Classes
Our local libraries host all kinds of free programs and classes including concert series, kids' literacy programs, after-school clubs, seasonal gardening classes, topical workshops, and of course the always-popular Children's Festival of Reading.
35. FREE Fishing Day
If you're an adult that loves fishing, but can't stand the thought of paying for a license, you can take advantage of FREE Fishing Day. It's always the Saturday of the first full week in June.
36. Urban Wilderness
The urban wilderness is comprised of 9 different wilderness areas that have a combined 60 miles of trails and greenways. These areas are great places to immerse yourself in nature in the heart of the city.
Depending on the trail, it may offer hiking, mountain biking, scenic views, historical attractions, or a combination of great attractions.
37. Home Depot Make-and-Take Kids' Workshops
Home Depot offers free monthly building workshops for kids and ALL the supplies are included. You have to pre-register for the events but they are completely free.
Kids can make fun projects like birdhouses, mini-yard games, and so much more!
38. West Town Mall Indoor Playground
If it's a rainy day and you need to get your kids out, West Town Mall has a nice indoor playground for young children. It has a variety of foam climbing structures to keep your visit as safe as possible.
39. Michael's Makebreak Activities
Throughout the year Michael's hosts a variety of free crafting classes for kids. For these events, all the supplies are included.
They also offer many classes that aren't free, so be sure to carefully read the description of each class to make sure it includes free admission AND supplies.
40. FREE Admission on Statehood Day
Most of our paid history attractions offer free admission for Statehood Day, which takes place in early June every year. This includes James White Fort, Blount Mansion, and many more.
Plan to visit a new attraction each year until you've seen them all!
Surprisingly NOT Free in Knoxville
Sunsphere
This attraction appears on so many "free to do" lists it could make your head turn, especially since it's not actually free.
In the past, this was a free attraction. There is now a small admission charge for visitors over 12 years old. Children 12 and under are still free, which still makes this an affordable activity.
The Sunsphere, which was built specifically for the 1982 World's Fair, is Knoxville's most iconic building.
Visitors can take an elevator to the top of the Sunsphere to enjoy a circular observation area. The viewing deck offers stunning 360-degree views of the city and the surrounding mountains. There is also a small museum about the history of Knoxville.
Did we miss one of your favorite free things to do in Knoxville TN? Please send us the details and we'll add it to the list.