Make your summer extra special with a fun trip to one of these hot spots for blueberry picking in Tri-Cities TN.
From juicy fresh berries to all the blueberry baked goods you can imagine, it all tastes better straight from the farm.
Below you'll find u-pick blueberry farms near Johnson City TN, Kingsport, Bristol, and beyond.
For your convenience, this post may contain various affiliate links. As an affiliate, and as an Amazon Associate, I earn from qualifying purchases. View the disclosure page for more information.
Blueberry Picking in Tri-Cities TN
Blueberry Hill Farm
245 Summit Dr, Jonesborough
(575) 405-4524
Bring your own bucket to Blueberry Hill Farm and pick jumbo berries with a scenic view.
Buffalo Trail Orchard
910 Ottway Rd, Greeneville, TN
(423) 639-2297
In addition to scrumptious u-pick blueberries, Buffalo Trail Orchard offers a variety of other pick-your-own crops throughout the summer and fall. Crops include apples, blackberries, raspberries, peaches, and pumpkins.
Gibson Berry Farm
375 Kelley Gap Rd, Greeneville, TN
(423) 620-9032
This blueberry farm is one of the few that is certified organic. In addition to blueberries, the farm offers flowers, herbs, elderberries, and prepared elderberry syrup.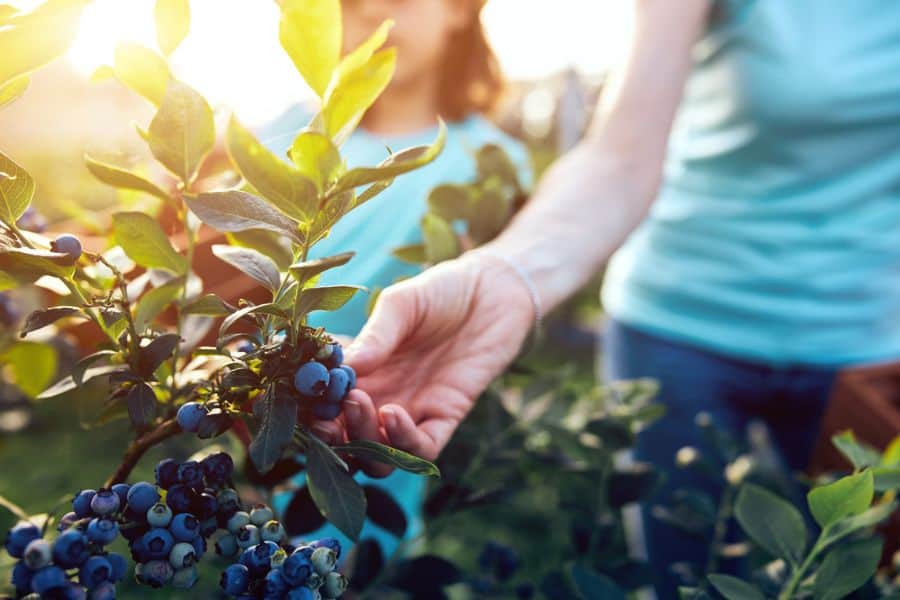 Henley Mountain Farm
879 Matney Flats Road, Wytheville, VA
(276) 782-5184
This u-pick farm specializes in blueberries.
Red Dog Ridge Farms
1267 Burem Road, Rogersville, TN
(423) 742-6399
In addition to u-pick blueberries, this chemical and pesticide-free farm has u-pick apples, blackberries, blueberries, peaches, and raspberries throughout the growing season.
Call ahead for availability.
The farm doesn't keep its website up to date, but it has the same owners as the Red Dog on Main restaurant in downtown Rogersville. If you can't get ahold of anyone at the farm number, call the restaurant instead.
Morley Farm and Orchard
611 Sluder Road, Shady Valley, TN
(423) 739-3647
This popular blueberry farm is an area favorite! They provide picnic tables so you can pack a lunch and make a day of it!
Blueberry Picking Tips
Call ahead before visiting the farm to make sure they have ripe berries. Even mid-season availability can vary based on how many berries have already been picked.
The blueberry season typically runs from mid-June through early August. to stay cool during your adventure, visit the farm early in the morning when it first opens.
Ripe blueberries can sometimes be mixed in with lots of unripe berries. Be prepared to do a little searching for the best ones.
If you have a spare basket or bag, be sure to bring it. Some farms charge extra if you have to take their baskets home.
Did we miss your favorite farm for blueberry picking in Tri-Cities TN? Please send us the details and we'll add it to the list.