See the faces of your family and friends light up when they receive gifts wrapped in this adorable kid-made gift wrap.
Your kids will also have a blast creating this adorable Christmas paper craft. Easy to make and fun for all ages, this project is perfect for family craft night. This technique can be used to make a variety of gift bags or wrapping paper.
For your convenience, this post may contain various affiliate links. As an affiliate, and as an Amazon Associate, I earn from qualifying purchases. View the disclosure page for more information.
You May Also Like
Christmas Paper Craft: Easy Kid-Made Gift Wrap
Materials
Note: We tried both washable and acrylic paints to see what would show up the best on brown paper. Acrylic was the clear winner; however it does stain clothes. Be sure to have your kids wear smocks for this art project.
Process
My 4 year old and 2 year old both had such a great time with this craft. Let's be honest. It got a little messy, the stamps weren't always perfectly formed, and a few hand prints snuck their way into the mix.
But in the end, the gift bags and wrapping paper were still adorable, our wrapped gifts looked amazing, and fun was had by all! Total win!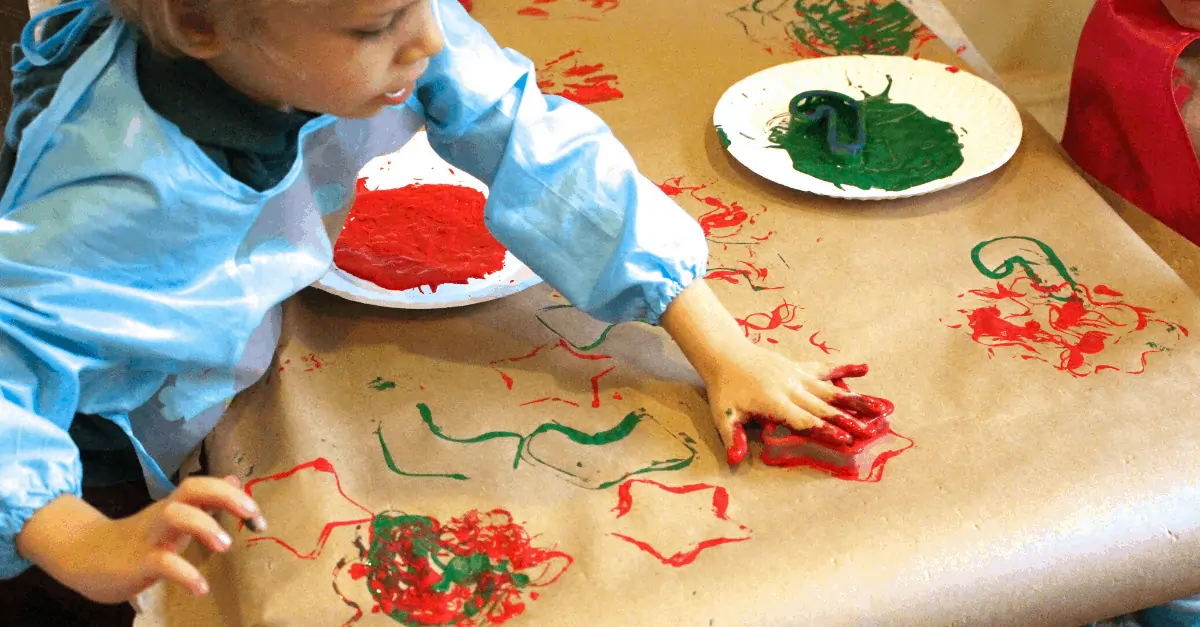 We did learn a few tips to help this project go smoothly. For starters, in order to coat the entire cookie cutter, the paint needs to be spread out pretty far. We found it best to use one paper plate for each paint color.
When red and green paint mix, it transforms into a fairly blah brown, which isn't very pretty on butcher paper. For this reason I recommend sticking to one paint color per cutter.
Thankfully, you can overlap your stamps without the colors mixing too much, which means kids can get extra creative with their stamp placement.
Finally, using this wrapping paper to wrap every gift in a set might look a little busy. Thankfully this paper pairs nicely with plain brown paper to help break up the pattern.
Books to Share
Read alouds help boost your kids' grades in all academic areas, not just reading and language arts. Check out the fun Christmas books below this year.
More East TN Family Fun