These wonderful outdoor winter activities, perfect for preschoolers and elementary aged kids, are a fabulous way to make use of the snow and ice Mother Nature provides throughout the season. When the weather gets dreary, getting rid of that dreaded cabin fever can be as simple as bundling up and heading outside for a fun and educational play session. The activities below include snow and ice play ideas for art, literacy, math, science, and general fun. Dig in and make the most of what winter has to offer!
For your convenience, this post may contain various affiliate links. As an affiliate, and as an Amazon Associate, I earn from qualifying purchases. View the disclosure page for more information.
Fabulous Winter Activities for Preschoolers and Kids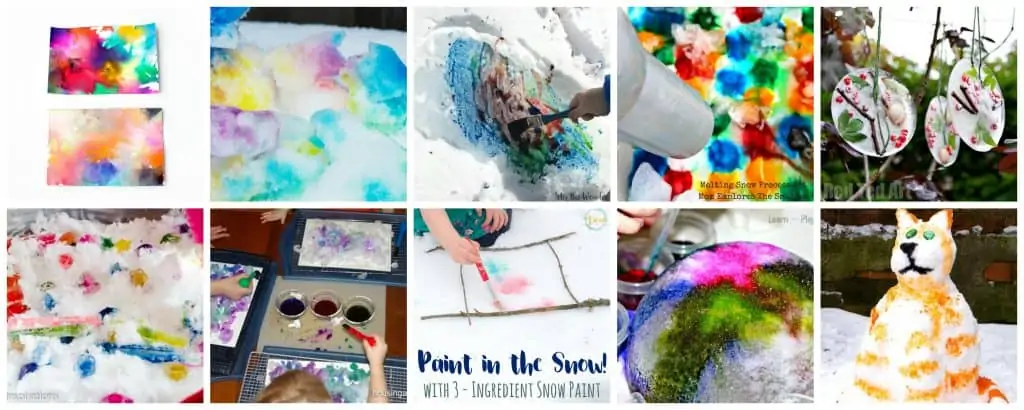 Snow and Ice Art Projects
These snow and ice art projects all use simple easy to find supplies like food coloring, paint, paint brushes, paper and more. All of these projects use real snow and/or ice. While most of the activities are perfect for outside fun, many can be taken inside, when the temperatures are too low for extended time outdoors.
Snowy Day Tissue Paper Art, by Fireflies and Mudpies
Painting Snow, by Projects with Kids
Painting Icicles, by Stir the Wonder
Melting Snow Process Art, by Mom Explores The Smokies
Ice Ornaments, by Red Ted Art
Colored Ice Shapes Snow Pictures, by Preschool Inspirations
Colored Snow Melting Art, by Housing a Forest
Three Ingredient Snow Paint, Views From a Step Stool
Ice Art with Salt, by Learn-Play-Imagine
Painting Snow sculptures, by Kids' Craft Room

Learning Letters, Words, and Math Concepts with Snow and Ice
These fun learning activities all use real ice and/or snow and most can be done either outdoors or in. The games address a variety of skills including letter and number identification, shape identification, sight words, spelling, measurement, and subtraction. With so many fun ideas, you may want to try a few!
Ice Alphabet Play, by Still Playing School
Letters and Numbers Snowball Toss, by Mom Explores The Smokies
Snow Sight Word Hunt, by Lemon Lime Adventures
Snowman Snow Measurer, by Play Dr. Mom
Spelling in the Snow, by There's Just One Mommy
Colorful Snow Shapes, by a Little Pinch of Perfect
Letters in Ice, by Wildflower Ramblings
Snow Shapes with Penguin Printable, by Life Over C's
Letter Recognition Snow Search, by Parenting Chaos
Subtraction Snowball Crush, by Green Kids' Crafts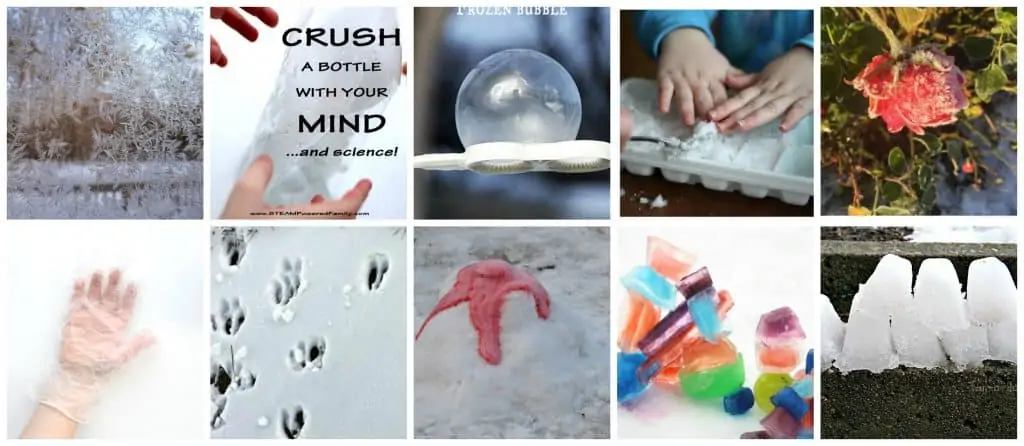 Snow and Ice Science and STEM
Science is perhaps one of the best subjects for winter learning. With the winter activities below, preschoolers and young kids will be able to explore and observe a variety of topics including snowflakes, ice crystals, color mixing, gardening, engineering, animal science, and more! Again, while most of these activities are designed to be done outdoors, many can be taken indoors as well.
The Science of Ice Crystals, by Share it Science
Crush a Bottle With Your Mind, Steam Powered Family
Frozen Bubbles, by Housing a Forest
Snow Paint Color Mixing Activity, by The Science Kiddo
Winter Gardening with Kids, by Megan Zeni
How Arctic Animals Stay Warm, by I Can Teach My Child
Exploring Animals Tracks in Winter, by KCE Adventures
Snow Volcanoes, by Science Sparks
Building Colored Ice Sculptures in the Snow, by Happy Hooligans
Snow Building Blocks, by Fun-a-Day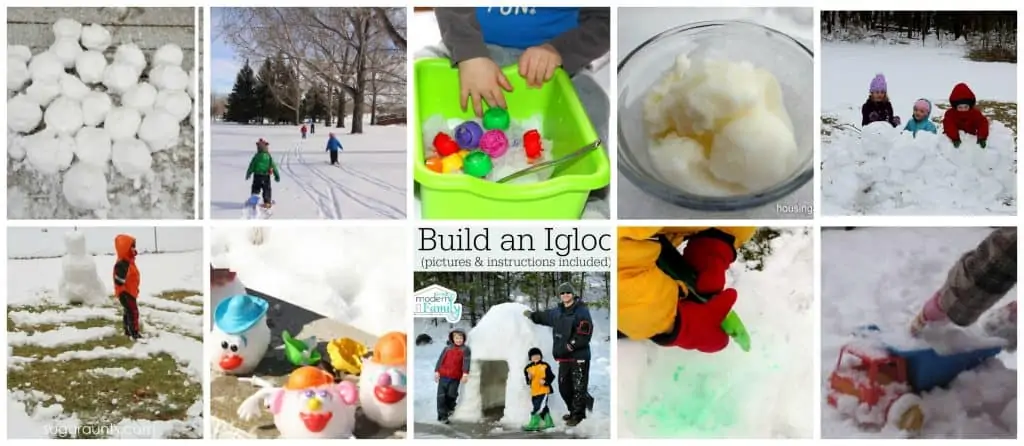 Snow and Ice Movement, Play, and Sensory Activities
The games and activities below are expressly designed to get your kids outside and having fun this winter! The activities include a variety of movement games like maze walking and snowshoeing. There is also a variety of play ideas like building snow forts and igloos, and much more. Try one or try them all!
Best Ways to Have Fun with Snowballs, by Preschool Tool Kit
Family Snowshoeing, by Outdoor Families Online
Digging for Colors Snow Sensory Bin, by East TN Family Fun
Snow Ice Cream Recipe, by Housing a Forest
How to Build a Snow Fort, by Mama Smiles
Outdoor Snow Maze, by OT Tool box
Potato Heads in the Snow, by Happy Hooligans
How to Build an Igloo Out of Snow, by Your Modern Family
Spray Bottle Snow Coloring, by Hands on as we Grow
Snow Construction Site, by Nurture Store