These fabulous Smoky Mountain Lakes are picture perfect vacation destinations located right outside of Great Smoky Mountains National Park. In additional to world renowned hiking, these lakes all offer stunning lakeside mountain views, swimming, boating, entertainment, and more!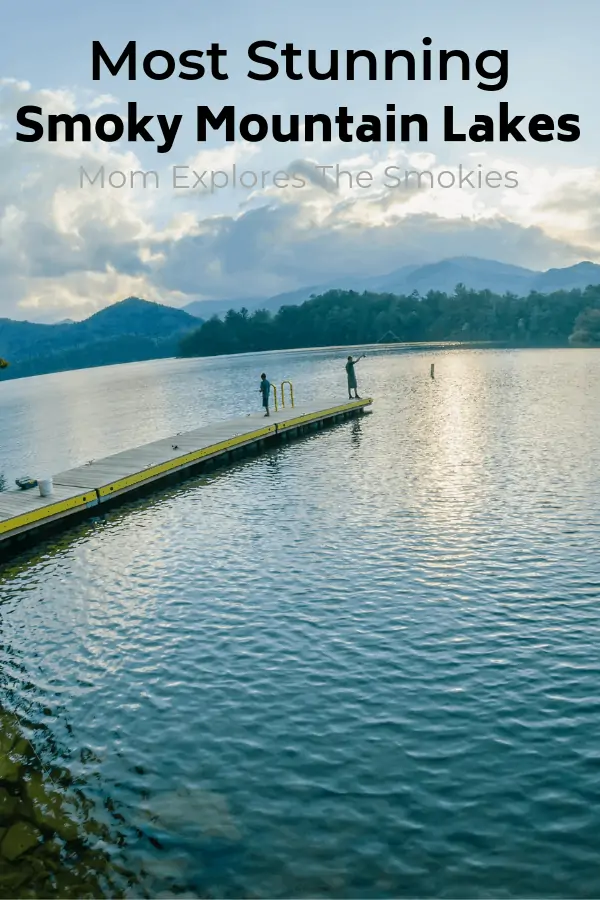 For your convenience, this post may contain various affiliate links. As an affiliate, and as an Amazon Associate, I earn from qualifying purchases. View the disclosure page for more information.
Smoky Mountain Lakes
---
Douglas Lake
With water front homes right in Sevierville, this expansive lake with stunning mountain views is only 30 minutes from Pigeon Forge and just 40 minutes from Gatlinburg and the Cosby section of Great Smoky Mountains National Park.
Rental Options
The lake offers a wide variety of cabins, bed and breakfasts, and resort style rentals in both Sevierville and Dandridge. While Sevierville, is closer to Smoky Mountain attractions, Dandridge offers the quaint and quiet charm of small-town southern living.
Things to Do
Douglas Lake water sports include boating, kayaking, and fishing. Of course swimming is also a popular activity whether enjoyed at Sevierville's public beach or right off your boat.
Smoky Mountains
The nearby Cosby section offers a campground, and scenic picnic area. Starting from the picnic area, you can explore several of the park's most popular hiking trails including Hen Wallow Falls and Sutton Ridge Overlook, which is an excellent spot to practice your photography skills.
Surrounding Area
While Dandridge is pretty quiet, Sevierville and Pigeon Forge both feature world class shopping, dinning, and entertainment options including dinner shows, museums, outlet malls, amusement parks and more!
---
Fontana Lake
Located along the southwestern boundary of the park, this Smoky Mountain lake is mere minutes from historic Bryson City and the Deep Creek section of Great Smoky Mountains National Park.
Rental Options
Rustic cabins and a variety of hotels and inns are scattered throughout the shoreline including the award winning Lakeview at Fontana, which offers luxurious spa packages with sweeping lake and mountain views.
Things to Do
Water sports include boating, kayaking, fishing and swimming. Along Hwy. 28, you will find several recreation areas with restrooms and picnic tables.
Smoky Mountains
The closest Smoky Mountain hiking trail is the East Lakeshore Trail, which follows the shoreline and features a rustic stone tunnel at the entrance to the famous "Road to Nowhere." A short 30 minutes away, Deep Creek is another popular spot for swimming, river tubing and fly fishing. It also features a campground, waterfalls, and various hiking trails.
Surrounding Area
In nearby Bryson City, you can enjoy a variety of shopping, dining, and entertainment options including the famed Smoky Mountain Railroad. The railroad's steam train offers a variety of scenic excursions throughout the year including seasonal adventures and kid-friendly themes.
---

Lake Junaluska
This 200 acre man-made lake, is named after famous Cherokee leader Chief Junaluska. Located just outside of Maggie Valley, NC and surrounded by the gorgeous Smoky Mountains, Lake Junaluska is a scenic retreat perfect for vacationers of all ages.
Rental Options
Lodging options include rustic cabins, luxurious hotels, quaint inns, and a fabulous private campground for RVs. Of course most rentals offer stunning lake and/or mountain views!
Things to Do
Water sports include boating, kayaking, fishing and swimming. At the local aquatic center, you can also enjoy a swimming pool, mini golf, shuffle board, and kayak/boat rentals
Smoky Mountains
The lake is just a short 30 minute drive from the Cataloochee area of Great Smoky Mountains National Park. Cataloochee is one of the best viewing locations for wild elk, which were reintroduced into the park in 2001 and are currently thriving. This area also offers hiking trails, including the Little Cataloochee Trail, featuring a variety of restored historic structures from the original town.
Surrounding Area
Just 12 minutes away, Maggie Valley offers a variety of hiking trails, horseback riding, skiing, snow tubing, and popular dining, shopping, and entertainment options.
---
Tellico Lake
This stunning Tennessee lake is surrounded Cherokee National Forest, but is only a short drive from both the Great Smoky Mountains and Natahala National Forest ,
Rental Options
A variety of residential rentals are available along the shoreline, but for the most amenities, you will want to rent in Tellico Village.
Things to Do
Activities include boating, fishing, and kayaking. There are no designated public swim areas at this lake, but if you rent inside Tellico Village, you will have access to a members-only swim beach, swimming pools, sports courts, and golf course.
Smoky Mountains
The closest way to access the park from Tellico lake is via the Foothills Parkway. The parkway is a popular scenic driving route with several overlooks perfect for photographing sweeping mountain views.
Along the parkway, you will find the Look Rock Tower trail, which is one of the easiest and most scenic trails in Great Smoky Mountains National Park. At the end of the trail you can climb the fire tower, which overlooks the Mountains to the east and the Tennessee Valley to the West.
An alternate scenic drive down the Cherohala Skyway will take you to the infamous Tail of The Dragon, which follows the southern border of GSMNP. This road attracts thousands of motorcyclists every year with its 318 deathly twists and turns, in a short 11 miles.
Cherokee National Forest, which surrounds this lake, also offers a variety of hiking options including the gorgeous Bald River Falls.
Surrounding Areas
This lake is straddled by Maryville, and Vonore Tennessee, both of which are small southern towns nestled within the foothills of the mountains. Each town offers a variety of shopping and dining options, but Maryville has more to offer in the way of entertainment including a movie theater, roller skating rink, and more!
The lake is also about an hour drive from Knoxville and Pigeon Forge which both offer an expansive variety of museums, entertainment options, and eateries.
---

Lake Santeetlah
With 76 miles of shoreline, this popular mountain lake is surrounded by the Nantahala National forest and is only 15 miles away from Great Smoky Mountains National Park.
Rental Options
This lake offers primarily residential rentals, but it does also have a lakeside campground at Cheoah Point. The campground is run by the national park service and offers sites for both tents and RVs.
Things to Do
In addition to fishing, kayaking, and boating, Lake Santeetlah had a designated swimming area at Cheoah Point Beach.
Smoky Mountains
Though close to the Great Smoky Mountains, the hikes in this section of the park are all rated difficult including Lost Cove Trail and a less traveled section of the Appalachian Trail.
Thankfully, the lake is primarily surrounded by the Nantahala National Forest with offers several easy and moderate trails like Yellow Creek Falls, and the Joyce Kilmer Memorial Nature Trail.
The lake is also bordered by the Tail of the Dragon, featuring 318 switchback curves in only 11 miles, which is popular with motorcyclists.
Surrounding Areas
Lake Santeetlah is just outside the quaint town of Robbinsville, which offers a variety of small-town shopping, and restaurant options dripping with southern charm. There aren't any commercial entertainment options here, so outdoor activities and relaxation are the name of the game!
Robbinsville is also the burial place of honored Cherokee leader Chief Junaluska.
Happy exploring, y'all!