(updated for 2019)
These free concerts near Chattanooga are a great way to make awesome family memories this season! Just break out the camp chairs and head on out for a fantastic night of family-friendly fun!
No matter your musical taste, you'll be able to find the right concert for you! The bands include bluegrass, jazz, rock, country, folk, tribute bands and more!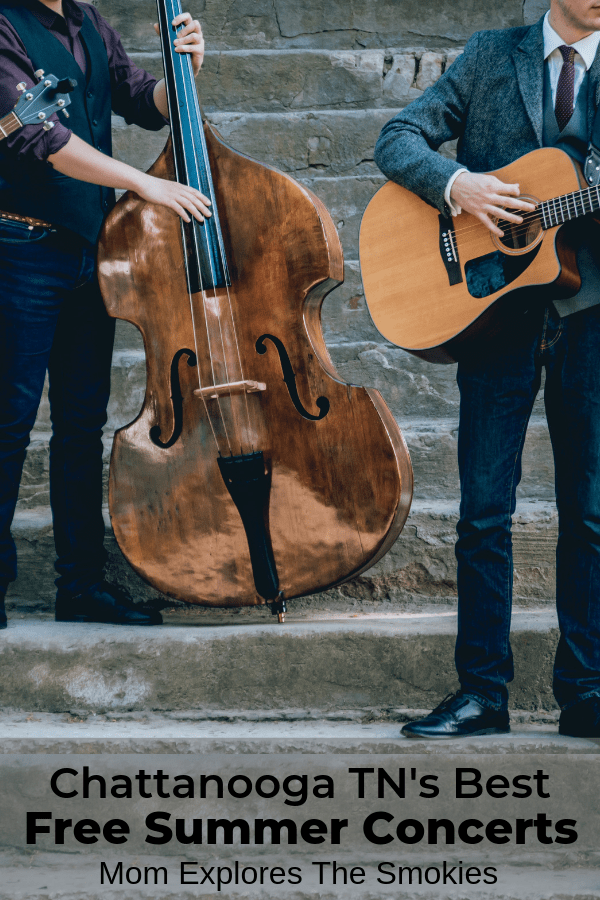 For your convenience, Hamilton County is listed first with all remaining counties following in alphabetical order. Click on any blue concert name to verify information or see additional details.
Chattanooga & Hamilton County
Location: Tatum Park, 1606 Bailey Ave, Chattanooga, TN
Dates: Every Thursday in April, 2019 at 7 p.m.
Cost: FREE
Enjoy a variety of Latino bands and musicians at this fun and FREE spring concert series!
Location: Miller Plaza, 850 Market St, Chattanooga, TN
When: Every Friday from May 3 – Aug 30, at 7 p.m.
Cost: FREE
This series will host a wide variety of musical acts throughout the spring and summer. Food, drink, and alcohol will be available for purchase. Well behaved dogs are also welcome.
Location: Miller Plaza, 910 Market St, Chattanooga, TN
Date: May 18, 2019 at 12 p.m.
Cost: FREE
Enjoy a great lineup of bluegrass vendors at this exciting spring festival! Food trucks and vendors will also be onsite. Be sure to being you own instruments so you can join in on the 3 p.m. jam session!
Location: Renaissance Park, Chattanooga, TN
Date: June 21, 2019 at 8 p.m.
Cost: FREE
This is a collaborative jam session. Community members are welcome to come out an enjoy the fun either as a musician or music lover. All instruments and genres of music are welcome.
Location: Bessie Smith Cultural Center, Chattanooga, TN
Dates: Aug 22 – Oct 24, 2019
Cost: FREE
This free concert series aims to foster community revitalization by celebrating the rich African American heritage within the local area.
Bledsoe County
Location: Pikeville Farmers' Market, 3150 Main Street, Pikeville, TN
Dates: June 1, July 6, and August 3, 2019 at 4 PM
Cost: FREE
Enjoy fantastic live music, car show, and farm market.
Bradley County
Location: 155 N. Ocoee St., Cleveland, TN
Dates: TBD
Cost: FREE
Fun music and food for purchase.
McMinn County
Location: Market Park, 106 South Jackson Street, Athens, TN
Dates: Saturdays from June 16 – August 25, 2019 at 7 p.m.
Cost: FREE
Enjoy a variety of FREE music throughout the season including Jazz, Bluegrass, Rock, and Folk.
Meigs County
Location: 116 North Main Street, Decatur, Tennessee
Dates: June 15, 21, 22, 23, 29 and July 4th, 2019 at 6 p.m.
Cost: FREE
This amazing FREE concert series features a variety of musicians and bands throughout June and into July. In addition to music, there will be arts, crafts, food, and drink for purchase. Note: on Sunday, June 23, the concert begins at 12:30 p.m, all other concerts begin at 6.
Polk County
Location: Camp McCroy, 1058 Hwy 30, Reliance, TN
Dates: April 26 – 27, 2019
This is a fun, FREE festival celebrating ramps (wild onions)! There will be free live music provided throughout the day! A variety of ramp themed food will also be available for purchase.
Rhea County
Location: Rhea County Courthouse lawn, 1475 Market St, Dayton, TN
Dates: Every Friday night in July
Cost: FREE
Enjoy a variety of different musical artists throughout the month of July, all for FREE!
What If My County Isn't Listed?
If you live in Marion, or Sequatchie, your county currently doesn't have plans for a free concert series. If you'd like to see free concerts offered in your local area, be sure to contact your county officials and let them know. If you don't ask, you will never receive!
In the meantime, you can enjoy a concert in one of the neighboring counties or host a community jam session at a local park.
Books to Share
Shared reading as a family is a great way to bond and help your kids improve their academic scores. Here are some great music-themed books to read before your concert.
More East TN Family Fun