With fall activities in full swing, you'll find plenty of fun things to do in Knoxville in October.
From pumpkins and apples to craft fairs and fall festivals, there'll be enough to keep you entertained all month long.
But of course, there's still room for non-fall-themed events and activities, so you'll find plenty of those on this list too.
The choices are almost endless in Knoxville TN.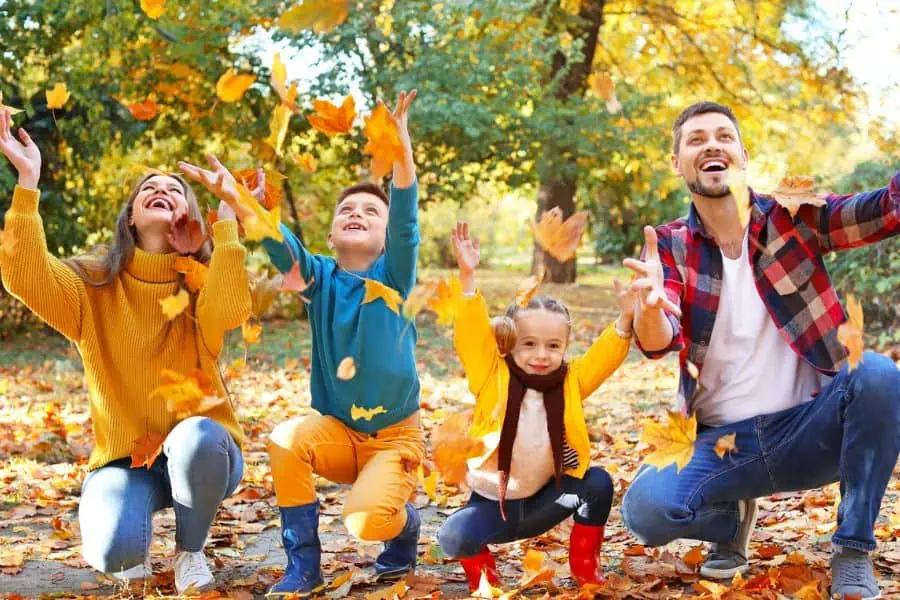 For your convenience, this post may contain various affiliate links. As an affiliate, and as an Amazon Associate, I earn from qualifying purchases. View the disclosure page for more information.
Things to Do in Knoxville in October
Visit a Pumpkin Patch
If you are looking for a fun-filled day of outdoor adventure, Knoxville's pumpkin farms have got you covered.
From hayrides and playgrounds to jump pillows and corn mazes, you'll be able to entertain the kids for hours.
Go Apple Picking
October is the last month of apple season in TN and the surrounding states. Whether you want to pick your own or enjoy the pre-picked options, our neighboring orchards have a lot to offer.
Plan an Awesome Halloween
In our big guide to Halloween in Knoxville, you'll discover tons of fun trick-or-treat events, haunted houses, costume ideas, and more!
Fall Festivals
If you are looking for events dripping with fall foods and festivities, you can find them all right here.
October Events in Knoxville TN
Monarch Butterfly Tagging
Various Dates in October 2023
Seven Islands State Birding Park, Kodak
$8 Per Person
Help monarch conservation efforts by tagging the butterflies to track their migration patterns. This experience will be led by park rangers and all needed equipment will be provided.
Make Break Art Activities
Weekends in October 2023
Michael's Craft Stores (All Locations)
FREE
This month kids can make a variety of crafts, including a friendship bracelet, a ghost box, a witch painting, and a pumpkin art painting. These activities are free and all supplies are included.
Nourish Kids
Various Dates in October 2023
Multiple Knoxville Locations
FREE
During farmers' market season, kids can participate in a free educational activity and sample locally-grown produce. They will also receive $5 in produce bucks to spend at the market.
You can find all the participating locations on the Nourish Knoxville website.
Knox Makers Market
October 1, 2023
Knox Makers
Support local artists by shopping from artisan craft vendors. There will also be artist demonstrations and food trucks.
Fall Craftsmen's Fair
October 5-22, 2023
Gatlinburg Convention Center, Gatlinburg, TN
This highly anticipated annual event features artisans from all across the United States. There will be live demonstrations and many items for sale including metal art, fiber arts, paintings, wood crafts, homemade brooms, and more.
Jurassic Quest Knoxville
October 6-8, 2023
Knoxville Convention Center
Immerse your kids in prehistoric times with this fun event featuring gigantic animatronic dinosaurs.
DIY Rescue Float Plane
October 7, 2023
Home Depot (All Locations)
Kids will use real tools to build a rescue plane toy they get to take home. This activity is free and all supplies are included.
Rhythm of the Springs
Weekends from October 7, 2023
Marble Springs State Historic Site, Knoxville
This family-friendly Appalachian music festival will have kids' activities, food trucks, and a variety of traditional music styles. Admission is free.
Second Sunday Art Activity
October 8, 2023
Knoxville Museum of Art
Kids can participate in a free teacher-led art project. All supplies are included.
Tennessee Medieval Fair
Weekends from October 8-22, 2023
Harriman, TN
This traditional medieval fair will have music, entertainment, food, historical reenactors, and more. Feel free to come dressed in character.
Genealogy Jamboree and Pioneer Days
October 13-14, 2023
Cumberland Gap, TN
FREE Admission
Enjoy living history reenactments, arts and crafts vendors, food vendors, live music, speakers, kids' activities, and more!
DIY Fire Truck
October 14, 2023
Lowes (All Locations)
Kids will use real tools to build their very own firetruck toy that they can take home. This event is free and all supplies are included. Pre-registration is required.
Family Paint Night: My Little Fall Wagon
October 14, 2023
Painting With a Twist, Knoxville
This canvas art project is designed to be easy enough for kids. Come out together for a fun parent-and-me adventure.
Pickin' on Nature
October 19, 2023
IJAMS Nature Center, Knoxville, TN
Enjoy a fun outdoor bluegrass concert.
Greek Festival
October 20-22, 2023
St. George Greek Orthodox Church, Knoxville
Explore traditional Greek culture while enjoying traditional Greek food, music, dancing, craft vendors, and more!
Fall Gnome Family Baking Class
October 21, 2023
Cutting Edge Classroom, Knoxville
$115 Per Parent-Child Pair + Discounts for Multiple Children
Work together to make from-scratch sugar cookies decorated like adorable gnomes.
Appalachian Heritage Day
October 26, 2023 + November 2-3, 2023
Museum of Appalachia, Clinton
At this fun fall event, museum visitors can enjoy a variety of living history reenactments on beekeeping, sawmilling, farming, blacksmithing, leatherworking, traditional Appalachian music, and much more!
FREE Family Night
October 27, 2023
Muse Knoxville
FREE Admission
Enjoy free after-hours admission to our local Children's museum.
Cherohala Skyway Festival
October 28, 2023
Charles Hall Museum, Tellico Plains
This fall heritage day and bluegrass festival features a variety of live music, fall decor, arts and crafts vendors, kids' activities, and more. All of this is offered with sweeping scenic views, dripping with fall color. Admission is FREE.
Lakeside of the Smokies Hot Air Balloon Festival
October 28-29, 2023
295 W. Dumplin Valley Rd., Dandridge
This is one of the 2 largest hot air balloon festivals of the year and features both in-flight balloons and a gorgeous after-dark balloon glow. In addition to the balloons, this event boasts food trucks, live music, kids' activities, wine tastings, and more!
Mountain Makins Festival
October 28-29, 2023
Rose Center, Morristown, TN
This award-winning arts and crafts festival showcases all kinds of art, with a special focus on traditional Appalachian crafting techniques. Visitors will enjoy live demonstrations, live music, dancing, kids' activities, and more!
Do you have another event for this list of things to do in Knoxville in October? Please send us the details, and we'll add it in.