Fall in East Tennessee is bursting at the seams with themed events just perfect for making magical autumn memories. Each one offers a unique brand of seasonal fun, colorful views, and scrumptious food options. With so many fall festivals near Knoxville TN, you're sure to find one that will please the entire family!
For your convenience, this post may contain various affiliate links. As an affiliate, and as an Amazon Associate, I earn from qualifying purchases. View the disclosure page for more information.
September Fall Festivals Near Knoxville TN
1. Harvest Festival and Pumpkin Luminights
September 20 – October 30, 2023
Dollywood, Pigeon Forge
By day, Dollywood will be dripping in stunning fall decor and photo props. The park will also be offering a wide variety of special autumn meals and treats like apple cinnamon bread, pumpkin bread, and pumpkin praline funnel cakes. Yum!
At night the park will transform into a Halloween wonderland with tons of lighted displays and Halloween-themed entertainment.
2. Smoky Mountain Harvest Festival
Mid-September – Late November 2023
Gatlinburg, Pigeon Forge, and Sevierville
The Smoky Mountains kicks off its annual harvest festival, which boasts gorgeous fall decor throughout the area. New decorations are added each year!
3. Bear-Varian Fall Festival
September 9 – October 31, 2023
Anakeesta, Gatlinburg
Anakeesta will be decked out in stunning fall decor, including tons of nature-inspired pumpkin carvings and fall/Halloween photo props. There will also be a beer-tasting experience and delicious snacks and treats in popular fall flavors.
4. Smoky Mountain Fall Festival at Ober
September 29 – October 28, 2023
Ober Mountain
Throughout the fall, Ober Gatlinburg will up the ante by covering the park in fabulous fall decor. There will also be several adorable hay attractions including Hay Mountain, a hay bike track, and a hay maze.
Each Friday, there will be Halloween movie screenings with Hocus Pocus, Hotel Transylvania, and more.
The season will also include a special focus on foods and beers in popular fall flavors.
All regular park attractions will also be open for your enjoyment, including ice skating, bumper cars, rock climbing, rides, and all your everyday favorites.
5. Fall Heritage and Bluegrass Festival
September 29-30, 2023
Townsend Visitors Center
Nestled into the scenic backdrop of the Smoky Mountains, this festival places a special emphasis on traditional Appalachian bluegrass music as well as live clogging and square dancing performances.
Visitors will also enjoy fall craft vendors, an antique tractor show, apple butter-making demonstrations, kids' activities, and delicious fall flavors.
6. Lenoir City Fall Craft and Car Festival
September 23, 2023
Downtown Lenoir City
Ring in the season at this highly anticipated fall street festival. Attractions include a fun car show, fall-themed arts and crafts vendors, live music, and yummy food trucks.
7. Harvest on the Farm
September 23 and October 7, 2023
Evaleeka Pumpkin Farm, Philadelphia
Come on down to the farm and get everything you need to celebrate the fall season. There will be a huge selection of pre-picked pumpkins for sale in a variety of colors and styles.
There will also be cute family photo props, concessions, and more!
8. Fall Festival at Hillside Barn
September 24, 2023
4621 Markwood Road, Loudon
At Hillside Barn guests will enjoy pumpkin painting, hay rides, bounce houses, fall-themed games, themed photo props, and delicious treats. Yum!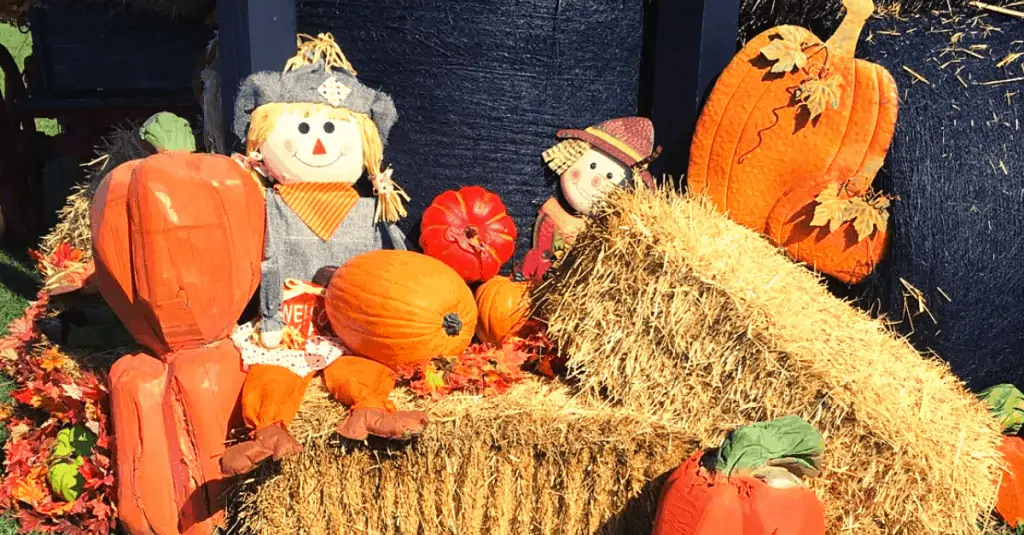 Knoxville Fall Festivals in October
9. Fall Craftsmen's Fair
October 5 – 22, 2023
Gatlinburg Convention Center, Gatlinburg, TN
This highly anticipated annual event features artisans from all across the United States. There will be tons of fall-themed items and artwork including metal art, fiber arts, paintings, wood crafts, homemade brooms, and more.
10. Fall Antique Festival 
October 6-7, 2023
Downtown Clinton
This is downtown Clinton's biggest event of the year. It boasts a wide variety of musical acts, antique vendors, fall craft vendors, food trucks, and more!
11. Union County Heritage Festival
October 7, 2023
Historic Downtown Maynardville, TN
Downtown businesses will be decked out in their finest decor for this fun fall festival. There will also be a variety of live music, food vendors, arts and crafts vendors, a fiddling contest, a pie-eating contest, a kids' zone, and more.
12. Zoorific Fall Festival
October 7, 2023
Little Ponderosa Zoo, Clinton
In addition to tons of cute animals, you can feed and pet, guests at this unique fall event will enjoy music, inflatables, face painting, games, food, and more!
13. Fall Harvest Festival & Craft Fair
October 7, 2023
Horse Haven of Tennessee, Lenoir City
This is truly one of the most festive fall events near Knoxville. In addition to fall craft vendors and yummy food, there will also be a pumpkin patch, pony rides, kids' activities, and more. Proceeds go to benefit the Horse Haven equine rescue.
14. Newport Harvest Street Festival
October 7-8, 2023
Newport, TN
Take in the stunning fall decor while you enjoy live music, fall craft and food vendors, kids' activities, and much more.
15. Wears Valley Fall Fest
October 20 – 22, 2023
3179 Wears Valley Road, Sevierville
This popular fall festival will feature tons of food trucks, kids' activities, live entertainment, and various arts and crafts vendors with fall-themed projects and decor.
16. Children's Fall Fest
October 21, 2023
Cook N Craft Academy, Loudon
This kid-centered fall festival will be packed full of fun seasonal activities including, pumpkin painting, games, contests, face painting, fall photo props, and delicious food. There will also be an open-air fall market.
17. October Sky Festival
October 21, 2023
Downtown Oliver Springs, TN
At the October Sky Festival, guests will enjoy live music, food and craft vendors, a car show, kids' activities, farm animals, and more!
18. Harvest Festival
October 21, 2023
Main Street Bean Station, TN
Bean Station's Harvest Festival typically has a jack-o-lantern forest, a tractor show, live wood carving demonstrations, arts and crafts vendors, food vendors, kids' activities, live music, and more!
19. Harvest Craft Fair
October 21, 2023
Maryville College, Maryville
The college has a whole weekend of homecoming events planned, but the craft fair is open to the public.
20. Marble Springs Fall Frolic
October 28, 2023
Marble Springs State Historic Site, Knoxville
FREE Admission
Tour the historic farm and shop for a variety of fall crafts from local artisan vendors. Kids in costume will even be able to trick-or-treat from cabin to cabin. Food will also be available for purchase.
21. Cherohala Skyway Festival
October 28, 2023
Charles Hall Museum, Tellico Plains, TN
Paint a pumpkin and test your axe-throwing skills at this scenic festival nestled into the foothills of the Cherokee National Forest. As a bonus, fall leaves should be close to peak color during this time.
In addition to beauty, the Cherohala Skyway Festival features a variety of live music, fall decor, arts and crafts vendors, kids' activities, and more.
22. Del Rio Days Festival
October 28-29, 2023
Del Rio, TN
This fall festival boasts a car show, arts and crafts vendors, food vendors, a kids' zone, a cornhole tournament, and more!
23. Arboretum Fall Festival
October 29, 2023
Knoxville Botanical Gardens and Arboretum
Enjoy arts and crafts vendors, food vendors, kids' activities, live music, and more, all with a gorgeously scenic garden backdrop.
November Fall Events Knoxville TN and Beyond
In November, there is a good mix of both fall and holiday events. Holiday events will not be listed here. Instead, you can find them on our holiday events page.
24. Fall Heritage Day
November 2 – 3, 2023
Museum of Appalachia, Clinton
At this living history event, visitors will enjoy live demonstrations of old Appalachian fall activities, chores, and traditions. Presentations will include sheep shearing, herding, broom making, beekeeping, sawmilling, and much more.
There will also be a variety of fun kids' activities, concessions, and live entertainment.
25. Regal Turkey Trot
November 23, 2023
Knoxville, TN
26. Scarecrows in the Park
TBA 2023
Fred Miller Park, Morristown
FREE
Come celebrate the fall season and build your very own scarecrow. After the festival, the scarecrows will stay on display through November 4th.
27. Kingston Fall Street Fest
TBA 2023
Roane County Courthouse, Kingston
FREE
The weather should finally be cool for this late-October festival, which boasts pumpkin decorating, a costume contest, trick-or-treating, live music, food vendors, arts and crafts vendors, kids' activities, and more!
Did we miss one of your favorite fall festivals near Knoxville TN? Send us the details so we can add it to the list.
Fall Books to Share
More East TN Family Fun