This comprehensive list of free things to do in Pigeon Forge will save the day when you're running low on cash, but the kids are still begging to do something fun!
While there are tons of amazing things to do in the Smoky Mountains, these free options compete with the best of them. From outdoor concerts to chatting with parrots, you'll find everything you need for a low-cost day of family adventure.
Don't forget to check out our complete guide to Free things in the Smoky Mountains, which includes a guide to Gatlinburg, Sevierville, the national park, and more!
For your convenience, this post may contain various affiliate links. As an affiliate, and as an Amazon Associate, I earn from qualifying purchases. View the disclosure page for more information.
Free Things to Do In Pigeon Forge
Throughout the first half of this list, you will find tons of no-cost attractions you can visit year-round. Towards the bottom, you will find all the seasonal freebies like admission-free festivals, parades, and holiday events.
You May Also Like
1. Free Bluegrass Concerts
Throughout the year, and every single night in the summer, you can enjoy free bluegrass concerts outside of Ole Smoky Mountain Moonshine's Pigeon Forge location, at The Island.
Chairs are provided so you can settle in to enjoy the show. Or, you can peruse the nearby shops with some upbeat background music.
2. Meander Through the Old Mill District
Like a quaint small town hidden just outside the hustle and bustle of the main parkway, the Old Mill District drips with festive seasonal decor no matter the occasion.
From bright spring flower arrangements to adorable fall jack-o-lanterns, there are plenty of photo ops around every corner. The most popular photography spot it at the historic grist mill, which still grinds flour to this day.
If you have the funds, you can also grab a coffee or ice cream, check out one of the quaint eateries, or purchase hand-made souvenirs.
4. Meet the Horses at Dixie Stampede
Even if you aren't going for the show, you can still meet the equine stars in their outdoor stables. The public viewing area is just outside of the parking lot and all are welcomed to take a look.
3. Enjoy a Light Show on the Water
In addition to the bluegrass concerts, The Island also boasts another free show that everyone's sure to love. Their show fountain, located towards the center of the courtyard, lights up the night with colorful dancing water effects that are set to music.
The fountain area is lined with tons of comfortable rocking chairs so you can get comfortable and enjoy the show with your loved ones.
5. Kids Eat FREE
If you're going out to eat anyway, why not try one of the delicious restaurants where kids eat free in Pigeon Forge?
6. Sample the Goods at Pepper Palace
This is one of the best places to get free samples for 2 reasons. First, there are tons of different salsas and hot sauces to try. Second, the employees don't follow you around while you're doing it.
The experience is completely self-guided, with tongs to help keep it sanitary. If you fall in love with one of the products you can go ahead a make a purchase.
7. Talk with a Parrot
You can meet some of Parrot Mountain's most prized birds for free at their Pigeon Forge satellite location. They have a small shop featuring a variety of birds and also have outdoor cages set up throughout The Island.
8. Wear Farm City Park
This state of the art park and playground is a great place for active kids to release their pent up energy. With tons of modern equipment spread across 2 large playgrounds, kids can climb, bounce, and roll their way to a calm and stress-free evening.
There is also plenty of space to run, play some catch, or toss the Frisbee.
9. Free Kids' Admission to Theater Shows
If you are planning to see a musical variety show, you may want to consider County Tonight. Not only was it voted the number one show in town, but kids under 12 get in FREE with a paying adult.
10. Picnic in Patriot Park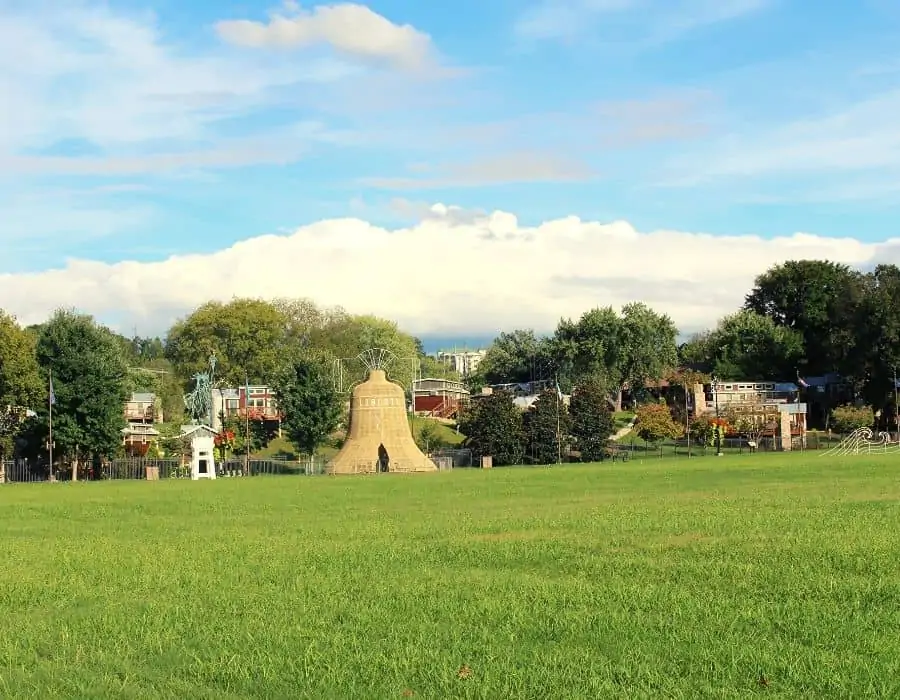 This picturesque lawn-style park, just across from Old Mill Square is the perfect spot for a relaxing picnic or game of catch. You can also see a replica of the Liberty Bell and view a veteran's memorial.
There is no playground at this location.
11. Free Magic Lesson
Every Saturday Doc's Magic Shop offers a free all-ages magic lesson. Most tricks are for beginners and are perfect for newbies or kids interested in learning (or just watching) magic.
12. Riverwalk Greenway Trail
These perfectly manicured (and paved) trails are a great place to get some fresh air without having to go into the mountains. Listen to the soothing sounds of the neighboring river as you enjoy a sunset walk with the kids or some peaceful time to yourself.
13. Celebrate the Christmas Spirit Year-Round
Throughout the courtyard at Christmas Place, they have adorable face-in-hole photo ops with fun Christmas themes. If that's not enough, the old-world architecture and festive Christmas decor are sure to put a smile on your face any time of year.
If you decide to venture inside they have tons of goodies available for purchase, including delicious holiday treats, Christmas ornaments, souvenirs, and more! Of course, they also have all the collectible Santas, nutcrackers, and snowmen you could ever wish for!
14. New Year's Party
The Island hosts a spectacular New Year's Eve party every year, complete with a variety of live entertainment and midnight fireworks!
15. Easter in the Park
This massive egg hunt for kids 12 and under is held in Patriot Park the Saturday before Easter.
16. Music in the Mountains Spring Parade
This themed parade pays homage to the rich musical culture of historic Appalachia. Musical performances are the star of this show and many floats will feature song and dance numbers from the areas most popular theaters and dinner shows.
This event is typically held in late April to early May.
17. Wilderness Wildlife Week
This week-long celebration of the Great Smoky Mountains allows you to immerse yourself in all things wilderness with tons of free kids activities, educational classes, guided hikes, and more!
This highly anticipated event is beloved by locals and tourists alike! Many people purposefully plan their vacations around this event, which typically takes place in early May.
18. Patriot Festival
Celebrate our wonderful nation with free fireworks and entertainment in Patriot Park. This event is typically held on July 4th.
19. Veterans Homecoming Parade
This fun and traditional parade honoring veterans from across the nation is usually held in early August.
20. Old Mill Heritage Day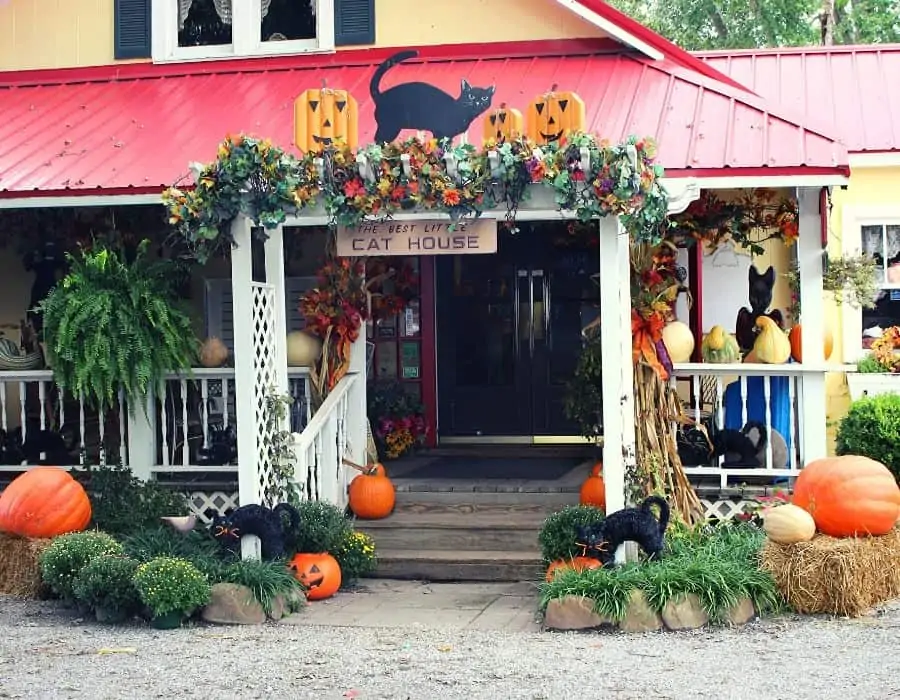 This fantastic fall festival is decked out with tons of pumpkins, scarecrows, and more. While here, you can enjoy a variety of kids' activities, craft demonstrations, live entertainment, petting zoo, and more.
This event is typically held in late September or early October.
21. Chalk Fest
This fun chalk art competition that is free to enter and free to view. If you are entering the contest, all your chalk is provided free of charge. This event is usually held in early October.
22. Spooktacular
This not-so-spooky trick-or-treat event is hosted by local businesses and is held at the Pigeon Forge Community Center. This event usually takes place the Thursday before Halloween.
23. Winterfest
Beginning in late November and running all the way through January, this massive event features hundreds of shimmering seasonal light displays throughout the area, including Pigeon Forge, Gatlinburg, and Sevierville.
24. Tree Lighting at The Island
At this event, you'll enjoy live entertainment, the lighting of a 40 foot Christmas tree, and a celebrity guest appearance. The tree lighting kicks off Winterfest and is typically held in mid to late November.
25. Thanksgiving Night Fireworks at the Titanic Museum
If you are planning to visit the museum before or after the show, they recommend making advance reservations, due to the popularity of this event.
More East TN Family Fun