Tennessee may be landlocked but that doesn't mean you have to miss out on all the fun memories made with a family beach vacation. In fact, the closest beach to Chattanooga TN is only a short drive away, with tons of others not far behind.
Below you'll find lots of great beaches near Chattanooga that are filled with glorious sunsets, white sandy beaches, and warm ocean waves. Many of the locations also offer a variety of family-fun activities, like animal tours, museums, historical landmarks, amusement parks, aquariums, and so much more!
To help make your planning easier, you'll also find restaurant and hotel ideas. At the bottom of the page, you can also grab a free beach vacation packing list.
Of course, a beach trip is just one of our many ideas for fun activities near Chattanooga.
For your convenience, this post may contain various affiliate links. As an affiliate, and as an Amazon Associate, I earn from qualifying purchases. View the disclosure page for more information.
What is the Closest Beach to Chattanooga TN?
With a driving distance of just 6 hours, the closest beach to Chattanooga Tennessee is Tybee Island, GA. Choosing this location for your next getaway means that you can make the most of your valuable vacation days by minimizing your drive and maximizing your fun!
Atlantic Ocean Beaches Near Chattanooga TN
Throughout the first half of this article, the focus will be on fantastic Atlantic beaches, since they are the closest. Towards the middle of the page, you'll find great ideas for beach locations on the Gulf of Mexico.
When compared to the gulf beaches, the Atlantic beaches tend to have cooler waters, which can be a real relief in the hot southern summer. The Atlantic ocean also offers the best waves around.
1. Tybee Island, GA
Distance from Chattanooga: 6 hours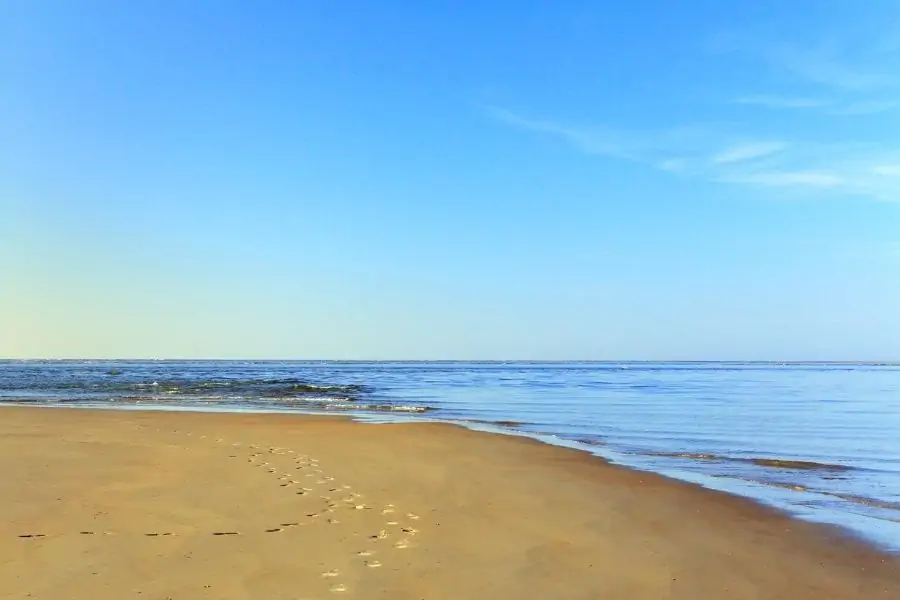 What to do
Tybee Island is pleasantly uncrowded and offers all your favorite low-key beach adventures like kayaking and bike riding. There is also a wonderful birding trail where you can spot a wide variety of local and migrating species year-round.
If you are a history lover, you won't want to miss the historic lighthouse and the Civil War-era fort. You can continue your history tour by heading inland to Savanah, which is just 30 minutes away. Here you'll be treated to an eye-catching tapestry of historic architectural styles, including Georgian, Federal, Regency, Gothic Revival, and many more.
Of course Savanah also offers a wide variety of world-class shopping, dining, entertainment options. What's not to love?
Where to Eat
AJ's Dockside is a popular waterfront restaurant offering all your favorite American food and local specialties like seafood pasta, crab burgers, fried shrimp, fried flounder, fried oysters, gumbo, and more.
For an off-beat local favorite, try Chamaco's Tacos. These authentic tacos are the real deal and come with a choice of pork, beef, chicken, shrimp, or fish. This restaurant is also known for its tasty margaritas.
Where to Stay
Enjoy sweeping ocean views from your private balcony at this pristine condo that sleeps 6.
2. Hilton Head, South Carolina
Distance from Chattanooga: 6 hours, 6, minutes
What to do
Hilton Head Island's top attractions include golf, water sports, and sightseeing. Pinckney Island National Wild Life Refuge is a great place to enjoy the beauty of nature and look for marsh animals in their natural habitat, including alligators, deer, and a variety of birds.
The free Coastal Discovery Museum offers tons of guided educational tours, including animal scouting excursions, kayaking, educational ecology programs, and hands-on classes for kids. Some of the programs are held indoors, which can help keep the fun alive on a rainy day.
Of course, there are also a variety of quirky boutiques and scrumptious restaurants throughout the downtown Hilton Head area.
Where to Eat
The Low Country Backyard Restaurant boasts live music, delicious low country boils, crab cakes, burgers, sandwiches, and scrumptious shrimp and grits. Yum!
Where to Stay
Plan a huge vacation with extended family or friends at this 6 bedroom stunner with a private pool and 2 master suites. This island paradise is located just a few blocks from the beach.
3. Saint simons island, Georgia
Distance from Chattanooga: 6 hours, 40 minutes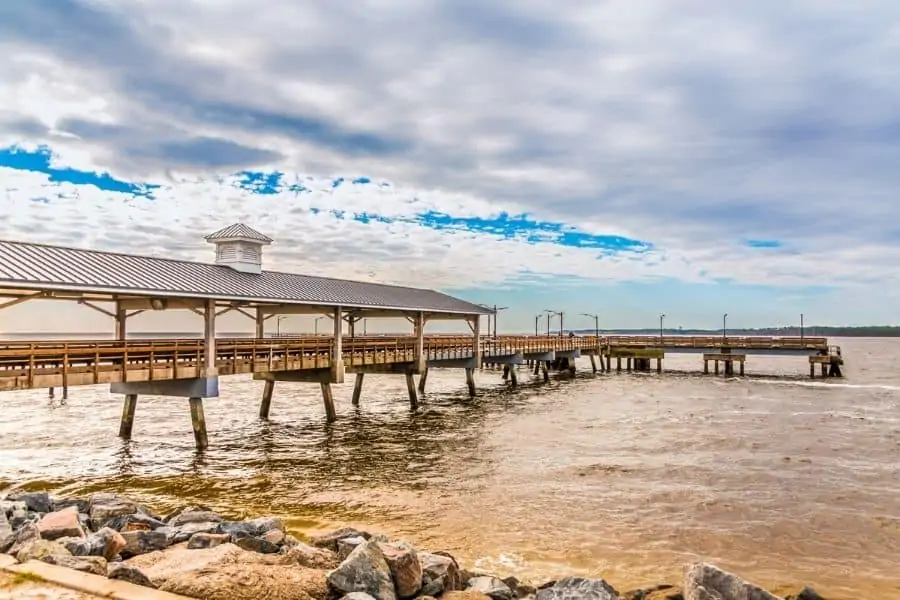 What to do
Of all the beaches near Chattanooga, this is one of the most peaceful.
In addition to all the traditional beach and water fun, St. Simmons Island has several historical sites, including the World War II Home Front Museum and a 19th-century church. Of course, the most popular historical attraction is the stunning St. Simons Lighthouse Museum.
Right behind the lighthouse, you'll find Neptune's Fun Zone, which is a mini water park with a large swimming area. Your children can get all their extra energy out in the dedicated kids' zone that boasts tons of water sprayers and several small slides.
The island also has a couple different playgrounds to add to the kid-friendly fun.
Where to Eat
Make all your seafood dreams come true at The Half Shell. Some popular menu items at this oceanview restaurant include oysters, crab bisque, crab cakes, fish tacos, fish filets, burgers, and fried chicken tenders.
Get your fill of tasty brunch and lunch food and Cafe Frederica, including blueberry pancakes, crab cake benedict, shrimp salad, Reubens, fish sandwiches, and much more!
Where to Stay
The Sea gate Inn is one of the most popular complexes on the island. It's just a short walk to the beach and boasts an on-site pool. Check the current price on booking.com.
4. Edisto Island Beach, South Carolina
Distance from Chattanooga: 6 hours, 47 minutes
What to do
On Edisto Island, you'll enjoy pristine, un-commercialized beaches and low-key activities, like fishing, kayaking, swimming, shelling, and biking.
Photographers and nature enthusiasts will love the famous Boneyard Beach Beach on Botany Bay. The shores here are lined with hauntingly gorgeous beach trees.
The Serpentarium is a hot spot for kids of all ages. Here you can get up close and personal with snakes, lizards, alligators, and all kinds of reptiles.
Visiting the island's quaint gift shops is another great way to spend a lazy afternoon.
Where to Eat
The quirky SeaCOW Eartey has a great mix of all your American favorites and traditional low-country classics. The menu includes items like po'boys, fried shrimp, fried fish, salads, chicken tenders, crab cake sandwiches, and Philly cheesesteaks.
Where to Stay
Check out the stunning views from this spacious 4 bedroom.
5. Folly Beach, South Carolina
Distance from Chattanooga: 6 hours, 53 minutes
What to do
Folly Beach is a pristine coastal wonderland and one of 3 main beaches in the Charleston area. In addition to traditional beach activities like swimming, shelling, kayaking, and boating, they also offer a few unique treats.
The Lighthouse Inlet Heritage Preserve is a fabulous attraction for young and old. Not only is it a great spot for viewing wildlife, but you can also walk along the oceanside Morris Island Lighthouse Trail to see a gorgeous lighthouse in the sea.
The kiddos will love the island's 2 playgrounds, while Rex will enjoy the dog park.
With a short 18 minute drive, you can be in downtown Charleston where you'll find museums, amusement parks, and world-class shopping and dining.
It's easy to see why Folly Beach is one of the most popular ocean beaches near Chattanooga.
Where to Eat
At Loggerhead's Beach Grill, you'll enjoy a live band, scrumptious burgers, flatbreads, salads, seafood platters, sandwiches, and a full bar.
For breakfast and lunch, check out the Lost Dog Cafe, a gourmet eatery offering casual specialty items like fried green tomato and salmon sandwiches, shrimp quesadillas, she-crab soup, huevos rancheros, and strawberry french toast.
Where to Stay
Don't miss this gorgeous 3 bedroom oceanfront condo.
6. Isle of Palms, South Carolina
Distance from Chattanooga: 6 hours, 53 minutes
What to do
Cozy up with your lighthearted beach read and soak in the views on this quiet coastal island, just 30 minutes outside of Charleston. Stroll through the quaint shops and restaurants in the mini downtown district or take a scenic run on the paved oceanside trail.
You can also play a round of golf or take a leisurely kayak or boat tour.
Where to Eat
Coconut Joe's is an affordable oceanfront favorite serving up shrimp and grits, fried fish, po'boys, gourmet burgers, chicken tenders, salads, and island-style cocktails.
Where to Stay
This affordable 2 bedroom sleeps 6 and is right on the water. There is also a pool and playground on-site.
Gulf Beaches Near Chattanooga TN
All of the beaches below are located along the pleasantly warm waters of the Gulf of Mexico. With minimal waves and clear waters, these beaches offer a more relaxing swimming experience than those on the Atlantic ocean.
These beaches are great options for later in the season when the Atlantic beaches have already gotten cold. Many people feel comfortable swimming into late September in these areas. Of course, weather and water temperatures will vary from year to year.
7. Orange Beach Alabama
Distance from Chattanooga: 6 hours, 20 minutes
What to do
When you are finished relaxing on the beach, you can head on over to The Warf. This central entertainment hub is home to the area's best attractions, including mini-golf, amusement rides, ziplines, a movie theatre, a concert venue, a HUGE Ferris wheel, and much more.
In addtion to all the fun, The Warf also has tons of wonderful options for shopping and dining.
For a more peaceful adventure, nature lovers can visit the Hugh S. Banyon Trail System, which is a great place for bird watching and looking for wildlife. These dog-friendly trails are perfect for walking, running, or biking.
The trail system also connects directly of Gulf Shores beach, which is the next exciting location on our list.
Where to Eat
Cobalt, The Restaurant offers riverside surf and turf the whole family will love. From pizza and burgers to crab bisque and oysters, there really is something for everyone!
Where to Stay
This 3rd floor oceanfront stunner sleeps 6 and even has a pool with a view.
8. Gulf Shores, Alabama
Distance from Chattanooga: 6 hours, 24 minutes
What to do
If you need a break from the salty seas, Waterville USA will keep your family entertained all day long. The park has several different water slides, a wave pool, a lazy river, and 2 different kids' zones with water sprayers, dump buckets, and mini slides.
For more kid-friendly fun, head to Alabama Gulf Coast Zoo, which is home to lions, tigers, primates, and more.
For an out-of-the-box beach adventure, check out a living history demonstration at Fort Morgan. This historic fort was used during the early 1800s and continued to operate periodically all the way through World War II.
Where to Eat
Bahama Bobs' is a quirky beachfront restaurant with absolutely stunning views. The varied menu boasts a variety of American cuisine and seafood.
Where to Stay
Enjoy an indoor and outdoor pool at this beachfront beauty that sleeps 6.
9. Biloxi Beach, Mississippi
Distance from Chattanooga: 6 hours, 30 minutes
What to do
One of the most unique things offered in Biloxi is the quirky Aqua-Cycle rentals. You peddle these fancy trikes right on the water, like an oversized bike boat. How cool is that?
In addition to water sports, Biloxi's also has tons of family-friendly attractions including museums, mini-golf, go-karts, a historic lighthouse, dolphin tours, and much, much more!
Once you've had your fill of the sun and sand, you can head inside to one of the beachfront casinos. In addition to gambling, they host a wide variety of entertainment and nightlife.
Where to Eat
Shaggy's is a family-friendly waterfront eatery known for its island cocktails and its eclectic mix of seafood and American offerings. When you are finished eating, you can walk right out to the beach.
Where to Stay
You can't miss the gulf views with the floor to ceiling windows in this pristine 2 bedroom.
10. Gulfport Beach, Mississippi
Distance from Chattanooga: 6 hours, 41 minutes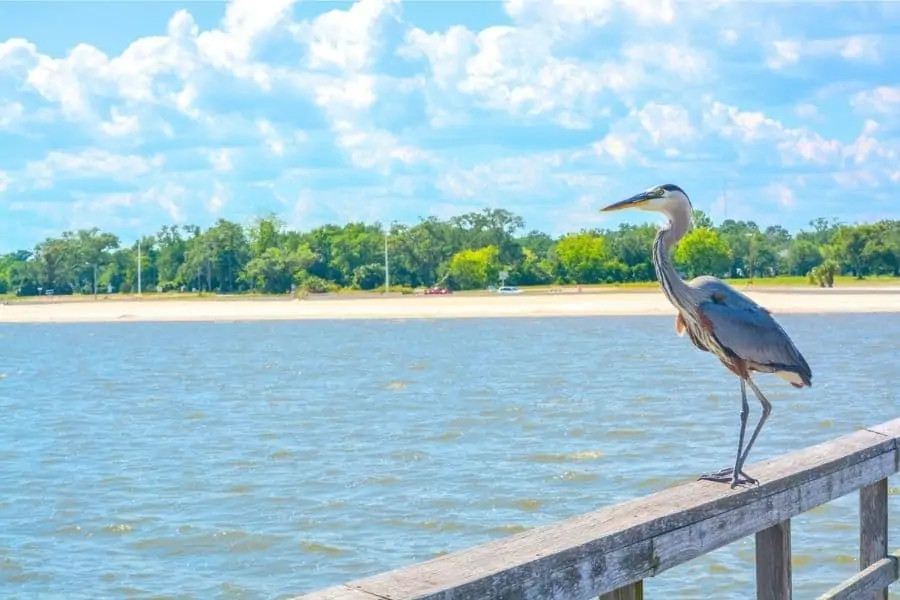 What to do
Gulfport is jampacked with exciting family-fun around every turn. One of the most popular attractions is Gulf Islands Water Park, which features many water slides, a lazy river, a wave pool, and several differents kids' zones filled with water sprayers and pint-sized slides.
Travelers of all ages will love visiting the Ocean Animals Marine Park, a research and rehabilitation center for ocean creatures large and small. Here guests can swim with stingrays, pet a dolphin, kiss a sea lion, and more.
Where to Eat
For a delicious assortment of steak, shrimp, oysters, and seafood platters, try Captain Al's Steak and Seafood. They also have classics like burgers and chicken tenders for guests who prefer American cuisine.
Where to Stay
A rare find, this stand-alone house sits right on the gulf and sleeps 8.
Florida's Best Beaches Near Chattanooga TN
From sandy white shores to year-round warm waters, these popular Florida beaches have everything you need for an awesome vacation. Below, you'll find some options for rest and relaxation and some options that are jam-packed with family-fun around every corner.
11. Destin Florida
Distance from Chattanooga: 6 hours, 11 minutes
What to do
Destin is a southern paradise with emerald green waters and fun family attractions everywhere you turn. From mini-golf and dolphin tours to 4D movies and banana boat rides, Destin has it all.
A top pick for families is Big Kahuna's Water and Adventure Park, which boasts over 40 different rides, slides, and play areas.
For even more adventure, check out the Gulfarium Marine Adventure Park, which has alligators, dolphins, penguins, sea lions, and a wide variety of fish. The aquarium also helps with conservation and rehabilitation efforts within the community.
Where to Eat
Boshamps is a funky family restaurant that's known for its scrumptious food, gorgeous bayside location, and live music. They have a smorgasbord of choices including lobster mac-n-cheese, tons of grilled and fried seafood, burgers, salads, and more.
Where to Stay
The Hilton Sandestin is just one of the top picks for this location. Save up to 50% on Beach Accommodations all over the world! No booking fees ever.
12. Panama City Beach, Florida
Distance from Chattanooga: 6 hours, 32 minutes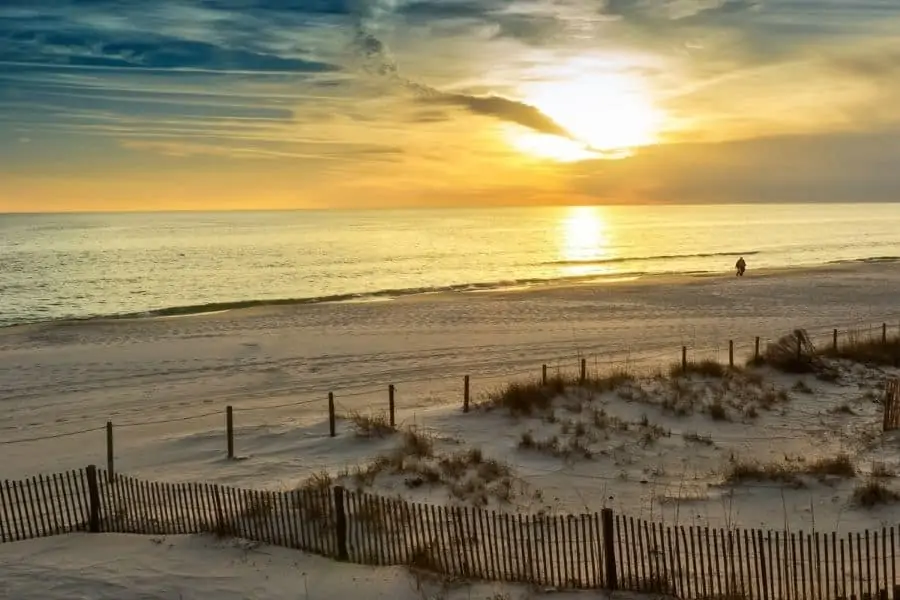 What to do
When you need a break from the ocean, head on over to Shipwreck Island, Panama City's premier attraction for water fun. They have several slides, a wave pool, a rapids ride, a lazy river, and multiple kids' areas with water sprayers and dump buckets.
Panama City also has a zoo, an aquarium, and tons of smaller attractions like mini-golf, go-karts, dolphin tours, cosmic bowling, horseback riding, seaside amusements, and more!
Where to Eat
From upscale crab cakes with lemon caper sauce to casual fried fish tacos and burgers, Runaway Island has everything you need for a memorable family dinner out on the town. You can also walk right down to the beach from the restaurant deck.
Where to Stay
Enjoy the stunning view from your beachfront balcony or the complex pool at one of the most recently built condos in town.
13. Pensecola Beach, Florida
Distance from Chattanooga: 6 hours, 23 minutes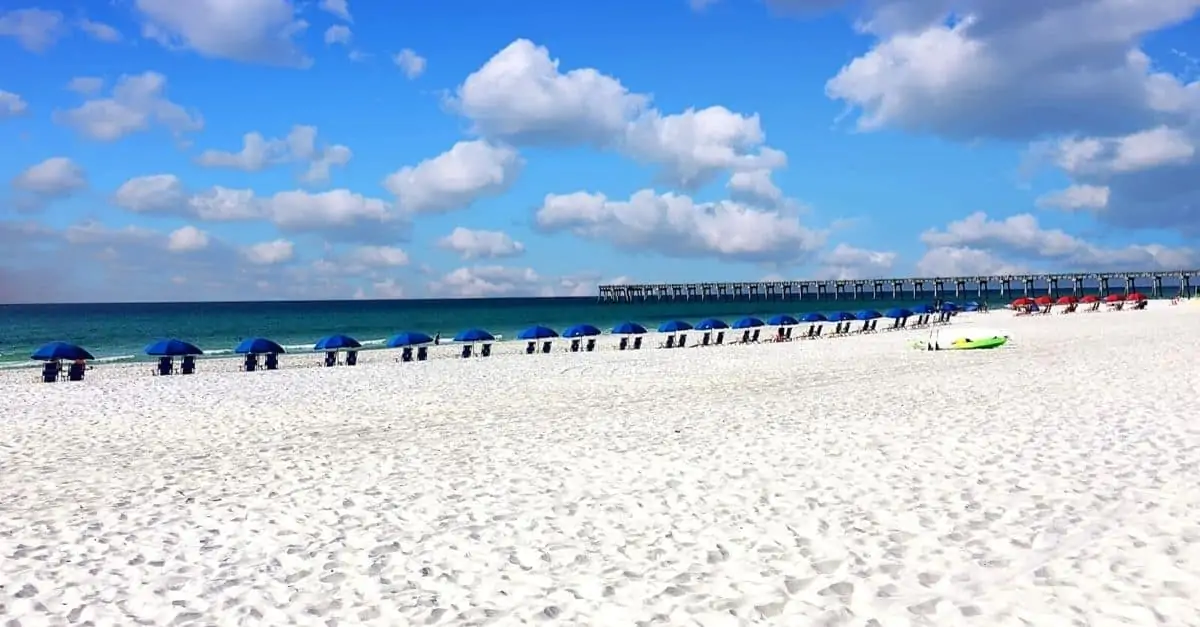 What to do
In addition to the surf and sun, Pensacola is home to the National Aviation Museum, which has tons of fighter jets and early airplanes on display. They also have hands-on exhibits and simulator rides that will make you feel like a real pilot!
Another fun activity is touring historic Fort Barrancas. This early American fort was built in the 1800s and used heavily during the civil war.
For the kiddos, there is a wonderful children's museum, mini-amusement parks, beachside playgrounds, and much more!
Where to Eat
At Flounder's Chowder House you can grab a tasty beachfront meal in a quirky atmosphere. They serve a variety of fresh and fried seafood, chicken, burgers, salads, sandwiches, and more!
Right outside the restaurant is a nice playground where your kids can play while you wait for a table.
Where to Stay
Enjoy the sun rising and setting over the gulf on the private balcony of this cute condo that sleeps 8.
14. Port Saint Joe, Florida
Distance from Chattanooga: 6 hours, 53 minutes
What to do
Port St. Joe's is a quiet beach with plenty of opportunities for rest and relaxation. While ocean activities like swimming, kayaking, and shelling are the primary draw, this location does offer a few opportunities for additional fun.
There are 2 nearby lighthouses, a state of the art waterfront playground, and a state park with a constitutional history museum.
Where to Eat
The amazing view from Cool Breeze Chicken and More will wash your worries away. Their small casual menu includes classics like quesadillas, fried chicken, burgers, and hand-dipped ice cream. All of the seating is outdoors.
Where to Stay
This stunningly unique waterfront yurt sleeps 10.
15. Amelia Island, FL
Distance from Chattanooga: 7 hours
What to do
Amelia Island's 2 best-selling features are its gorgeous beaches and rich history. In addition to shelling, snorkeling, fishing, kayaking, and other traditional beach activities, there are a few extra beachside attractions visitors love.
The First is Fort Clinch State Park. This gorgeous historic fort offers self-guided tours, ranger-led tours, and a variety of in-depth living history programs throughout the year. There is also a nice nature trail at this location, which is a great place to spot local wildlife.
The younger crowd is sure to have fun playing putt-putt golf, visiting the hands-on pinball museum, riding the trolley, or playing at the oceanside playground.
Where to Eat
The Salty Pelican offers a wide variety of fried and grilled seafood, oysters, delicious burgers, sandwiches, crab cakes, fried chicken, pot pie, and more! They also have a full bar with specialty island cocktails and a beautiful view of Amelia Bay.
Where to Stay
If you've never seen an oceanfront log cabin, you don't want to miss this gem.
16. Jacksonville Beach, Florida
Distance from Chattanooga: 7 hours, 7 minutes
What to do
Though it may not be the absolute closest beach to Chattanooga, Jacksonville packs a mean punch. In addition to its gorgeous beach, it offers big-city amenities to help you take your family vacation to the next level.
One of the most awesome attractions is the Riverside Arts Market. This weekly open-air art and farmers market is huge and features art in a variety of mediums, farm-fresh produce and meats, baked goods, live entertainment, and more!
Jacksonville also has a state-of-the-art science center and history museum fittingly called the Museum of Science and History. While here you and your family can meander through a variety of interactive exhibits on topics like the Atlantic Ocean, Energy, Space, native animals, and native peoples.
If that wasn't enough, Jacksonville also has a large children's museum with an indoor playground, pretend grocery store, arts and crafts station, a fire station, a news station, and so much more!
Where to Eat
The Maple Street Biscuit Company is as quaint and quirky as they come. This delectable cafe specializes in gourmet biscuit sandwiches with toppings like shitake mushroom gravy, housemade pepper jelly, and fried goat cheese. Yum! They also offer a variety of salads and entrees like chicken and waffles, sunshine bowls, and more.
Where to Stay
What would be better than watching the dolphins from the open-air balcony at this 2 bedroom condo with a perfect star rating?
17. Saint Augustine, Florida
Distance from Chattanooga: 7 hours, 22 minutes
What to do
People flock to St. Augustine from far and wide to immerse themselves in the rich history of the region. After all, it is known as the oldest city in America.
From the stunning Spanish architecture and weathered old forts to the scenic lighthouse and the original Fountain of Youth, this city is a history lover dream come true.
In addition to its historical charms, this city also offers some unique entertainment like a fun pirate ship cruise, a medieval torture museum, trolly rides, Ripley's attractions, dolphin tours, mini-golf, and more!
Where to Eat
Harry's Seafood Bar and Grille offers a riverside smorgasbord of scrumptious menu items including southern favorites like fried green tomatoes, po'boys, fried chicken, and jambalaya. There is also plenty of seafood, steak, and burgers, to go around!
Where to Stay
At this private beach home, you can walk right off the deck onto the sandy shores.
More East TN Family Fun
Map of the closest beach to Chattanooga TN