Visiting some of the Smokies' most popular attractions can put a hefty dent in your wallet. That doesn't mean you have to blow your budget to make awesome memories. With this guide to the best free things to do in Sevierville, you'll find all the free-fun you need to plan a magical day of Smoky Mountain adventures that anyone can afford.
Below you'll discover options for indoor activities, outdoor attractions, popular festivals, food tastings, and more! Most of the ideas on this list are totally kid-friendly, which makes these options great for a day of family fun.
Pair this with our guide to 100 + Free things to do in the Smoky Mountains, and you can make a lifetime of awesome memories without spending a dime!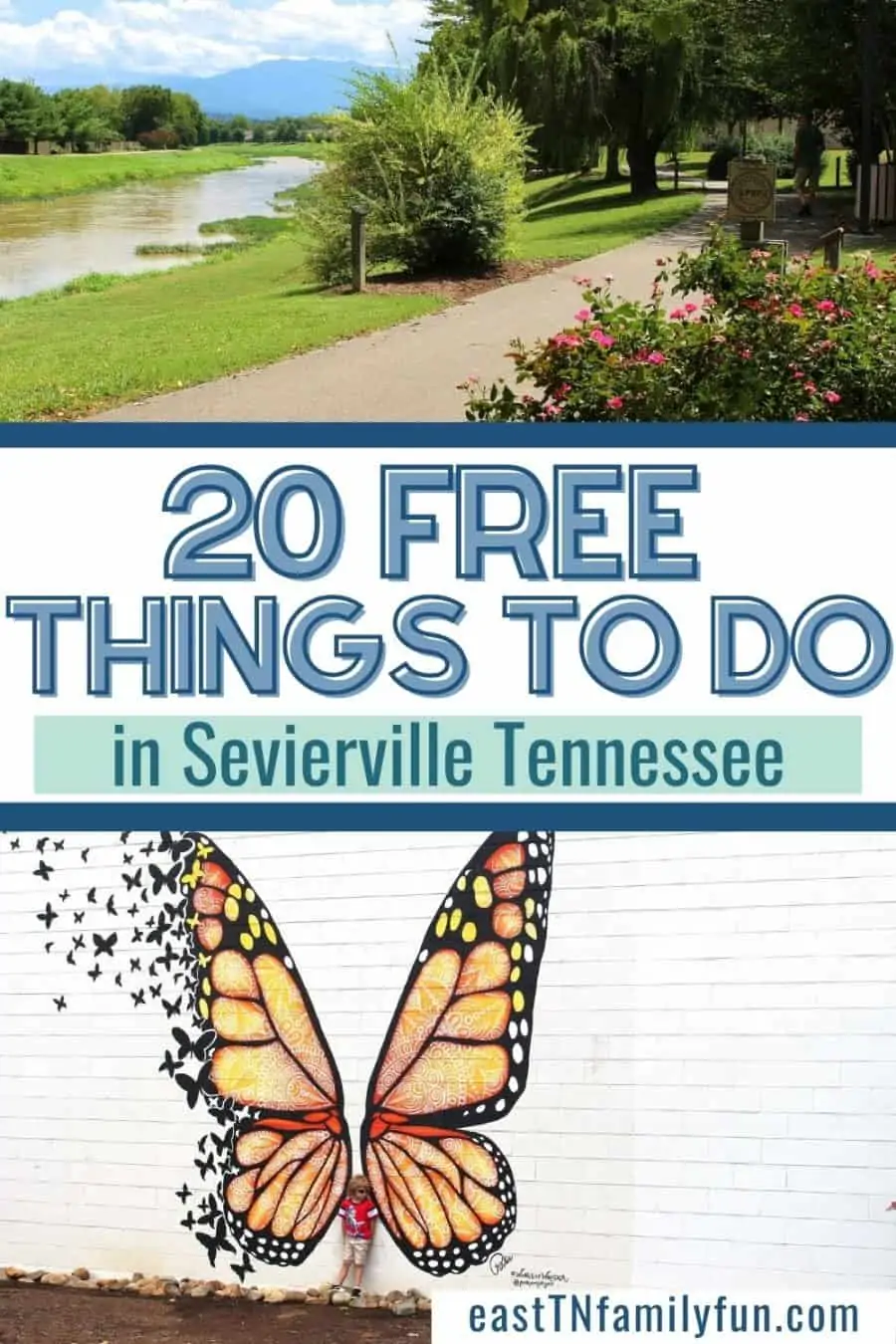 Free Things to Do in Sevierville with Kids
The Smoky Mountains are one of the most family-friendly areas in the entire United States and Sevierville is no exception. From festivals and parks to museums and outdoor movies, the free activities below are perfect for adults and kids of all ages. Several attractions are even dog-friendly too!
1. Explore Burchfiel Grove and Arboretum
This dog-friendly attraction is a unique part of Sevierville's greenway trails. The Burchfiel Grove & Arboretum runs along the scenic Litte Pigeon River and boasts a self-guided nature tour kids and adults will both enjoy. A nature lovers dream, this tour features over 73 species of trees identified with informational plaques along the route.
2. Get Crazy at Mt. Ton of Fun
Grab the kids and head out to the area's most spectacular inclusive playground, Mt. Ton of Fun! The playground boasts a variety of modern climbing equipment, large-scale musical instruments, and exercise stations for adults. Behind the playground, there is a large field for playing ball or just letting the kids run around to burn off steam.
There is also an inexpensive aquatic center and splash pad on site.
3. Transform into a Beautiful Butterfly
Snap a quick picture at this fun photo spot right behind the downtown gazebo on Bruce Street. As you can see, the positioning of the wings is a little bit too tall for children, but the kids were still super excited to take the picture.
4. Visit With Dolly Parton
Located just outside of the courthouse, this bronze Dolly Parton statue is one of the most famous landmarks in all of the Smoky Mountains. A native of Sevierville, Dolly's philanthropic efforts throughout the state have made her Tennessee's most beloved celebrity. It's just not a TN vacation without Dolly!
5. Watch a Movie in The Park
In the summer, you can enjoy a variety of free movies and concerts at Sevierville Commons, the town hub. Bring a chair or blanket and get cozy under the stars for a family-friendly night out. Concessions will be available for purchase.
6. Smoky Mountain Knife Works
Though Smoky Mountain Knife Works is a store, they have a vast collection of both modern and historic weapons that is truly a sight to see. From swords to throwing stars, this collection is unmatched in the southern US. They also have a relic room that offers some pretty amazing collectibles. Although they are hoping you'll fall in love and purchase something, there is no fee to simply enter and admire the goods.
7. Admire the Architecture in Historic Downtown Sevierville
From its courthouse with golden finials to the picturesque streets lined with quaint brick shops, downtown Sevierville is dripping with historic architecture just waiting to be photographed. Many of the downtown buildings were built in the 1800s and still retain much of their original charm.
8. Visit the Sevier County Heritage Museum
Brush up on your Sevier County history at the Sevier County Heritage Museum. This museum houses a variety of historic artifacts induing period clothing, tools, furniture, and a large collection of historic newspaper articles and books.
Admission is free, but donations are welcome, as the museum relies entirely on public support and grants to remain open.
9. Explore The Harrisburg Covered Bridge
Thanks to a recent renovation, the historic Harrisburg Covered Bridge, stands stronger than ever. Built in 1875, the bridge crosses the Little Pigeon River and is nestled into a stunning riverside collection of deciduous trees.
10. Free Fun at the Library
Throughout the year kids can enjoy various themed storytimes complete with songs, dancing, and read alouds. The library also hosts special events and free things to do like movie nights, afterschool clubs, holiday parties, and more!
11. Let Fido Run Off-Leash
Allow Fido to run and play off-leash at Sevierville's Pet Safe Unleashed Dog Park. This park boasts a separate space for large dogs and small dogs. In addition to plenty of space to run, the large dog park also offers a variety of agility equipment.
Please remember this is a park for dogs, so please exercise caution when bringing children. This is the only dog park in the Smoky Mountains.
Free Festivals in Sevierville TN
Throughout the year Sevierville hosts a variety of free world-class festivals with activities for both adults and kids. From fine southern music and food to games and crafts, every member of your family is sure to find something they love!
12. Rose Glen Literary Festival
This Ross Glen Literary Festival was designed to showcase the talents of local and regional authors but has since grown to include national bestsellers. The event consists of free writers-workshops, author panels, and networking sessions. Book signings will also take place throughout the day.
You can support this event by signing up for the optional paid luncheon with a keynote speaker, which is typically around $20.
13. Bloomin' BBQ and Blue Grass
Taking place in May each year, the Bloomin' BBQ and Bluegrass Festival lasts an entire weekend is Sevierville's most anticipated festival. It boasts tons of bluegrass bands with free concerts beginning in the afternoon and continuing until after dark. There is also a free kids area with fun outdoor games like ladybug checkers, bubbles, and more!
The festival streets are lined with amazing regional crafts vendors. You'll see metal art, wood crafts, fiber arts, and much more! You'll also have the option to purchase authentic southern BBQ at food trucks from all over the region. Pro Tip: To beat the southern heat we suggest going in the early evening.
14. Smoky Mountain Harvest Fest
This fantastic fall festival lasts the entire fall season. Throughout the fall, downtown Sevierville will be decked out in gorgeous decorations and local businesses will be hosting fall-themed events, crafts, and food tastings. The offerings vary from year to year to keep things interesting! This is one of the most popular free events in the fall.
15. History and Haunts
On Saturday nights in October, locals residents and visitors can enjoy festive fright events. Though events are subject to change, past events have included zombie flash mobs, pumpkin carving contests, historical walking ghost tours, live music, kids activities, spooky storytelling, costume contests, hayrides, food trucks, and more! Activities vary each week and most are completely free. Some do have a small fee.
Free Food, Wine, and Moonshine Tastings in Sevierville TN
When it comes to free things to do in Sevierville, free food and alcohol tastings are some of the most popular. While food tastings are open to all ages, the alcohol tastings are strictly 21 and up. Typically the distilleries and wineries offer other merchandise to peruse with your kids while other adults are participating in the tastings.
Of course, all of the businesses are hoping that you'll fall in love with a product and buy it.
16. Pepper Palace
An all-ages sampling smorgasbord, Pepper Palace offers over 100 hot sauces, dips, and seasonings to try. Offerings include mild, hot, and scorching hot options.
17. Hillside Winery
In addition to traditional flavors, this Hillside Winery offers a variety of specialty fruit blends. Their most popular wine is Black and Blue, a delicious meld of blackberries and blueberries. For the kiddos, there are also meats and cheeses available to taste.
18. Apple Barn Winery
In addition to some traditional flavors, the Apple Barn Winery offers a variety of specialty apple blends, including raspberry, strawberry, peach, and a variety of multi-fruit blends.
19. Apple Barn Cider House
One of Sevierville's newest offerings, this Cider House boasts a variety of flavored hard ciders, including berry, ginger, and several signature blends.
20. Tennessee Legend Distillery
Tennessee Legend Distillery offers a wide range of products including a variety of fruit flavored moonshines, vodka, whiskey, and creme liquer.
Locals and tourists agree. There's plenty of free fun to enjoy in Sevierville Tennessee!