Surround your family in the natural beauty of the Smoky Mountains with a trip to the Townsend Wye.
At this picturesque swimming hole, also known as the Townsend Y, your family can enjoy a fun-filled day of picnicking, swimming, and tubing, all for free!
This Little River hot spot is popular with locals and vacationers alike. Its tranquil location offers gorgeous views of rock formations and the surrounding forest, while still being convenient to major roadways in Great Smoky Mountains National Park.
Townsend Wye Parking
Unlike many Smoky Mountain swimming holes, this location has an official parking lot. The lot is located at the intersection of East Lamar Alexander Parkway and Little River Gorge Road.
If you are traveling from Townsend, the parking lot will be on the left-hand side, just before the road forks towards Gatlinburg and Cades Cove.
How far Is Townsend From Gatlinburg?
The drive to Townsend from Gatlinburg is around 45 minutes to an hour if you are traveling via Little River Gorge Road. This route will take you past many scenic overlooks and hiking trails.
If you are willing to add just a few extra minutes to your travels, you can drive through Wears Valley instead. On this route, you will pass a variety of quaint shops and restaurants just begging to be explored.
Amenities
In addition to the designated parking already mentioned, another bonus is the port-o-potties located along the edge of the lot. These can really save you in an unexpected emergency. Keep in mind there are no sinks, so don't forget the hand sanitizer.
Although there are no picnic tables, the beach area is the perfect spot to enjoy a scenic picnic lunch on your blanket or in camp chairs. Please remember to dispose of all trash in bear-proof trash cans. This is for the bear's protection and yours.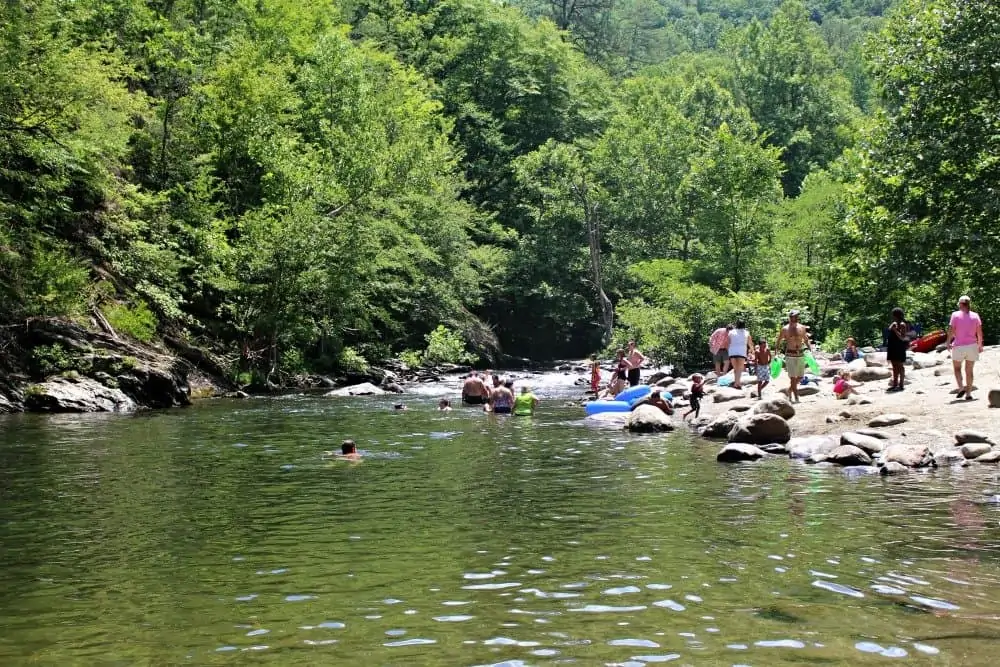 Townsend Wye Swimming Hole
There are 2 different halves of the swimming area. The far half has a sunny, grassy shore with drop-off entry into the water. On this half, you will need to bring a popup tent or umbrella for shade. Don't forget your camp chairs or blanket for relaxing.
The other half of the swimming hole has a shady pebbled beach area, which allows gradual entry into the water. Due to the rockier ground, you'll definitely be more comfortable with chairs.
If you burn easily, the pebbled beach is definitely for you! Also, the shallow water on this side is better for young kids. Each time we go, there are usually several babies waddling around the shore area.
Pro Tip: If you have young babies that will need a nap, definitely bring the Pack-and-Play. A nap on top of towel-covered rocks just isn't going to happen.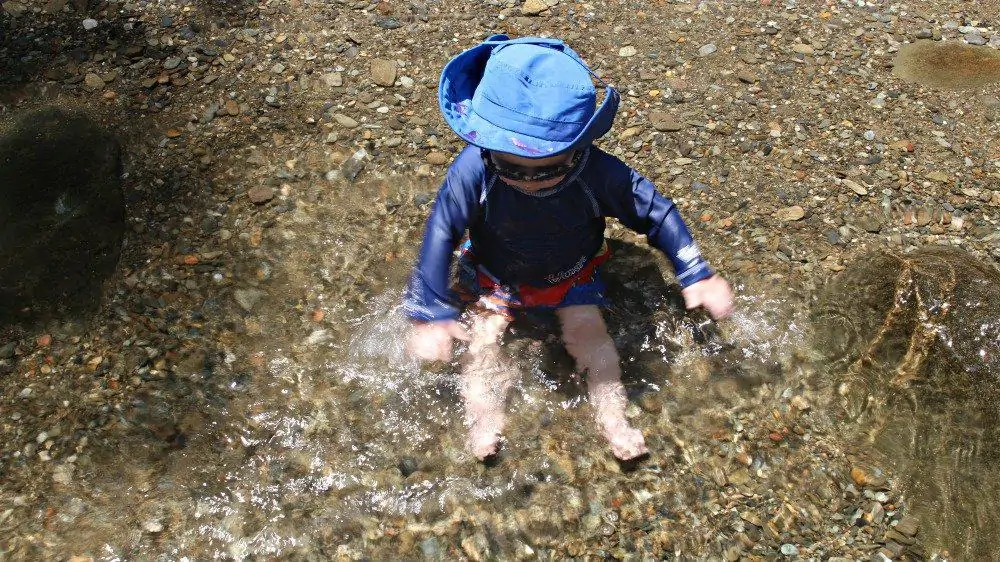 Older children and adults will enjoy venturing out into the deeper waters. For safety, it is important to note that the deep water is VERY deep. About mid-way across the river, it gets to the point that adult men cannot stand.
The current also gets stronger the further out you go. I definitely recommend life jackets for any kids venturing beyond the shore. It would also be a good idea for adults who aren't strong swimmers. It's better to be safe than sorry, especially when it comes to water.
Tubing
If you love water tubing, the Townsend Y is an excellent spot to do just that. Several tubing companies drop off near this location. But if you have your own tubes, you can easily tube for free. Again, don't forget those life jackets.
If you don't already own a tube, you can buy one for less than the cost of tubing through a company. There are so many styles to choose from, even luxury options with coolers and backrests.
When my family tubes here, we like to stay at the rapids near the beach area, but the river is long and you can go for miles if you really want. You will just have to choose a pickup location in advance to make sure your tubers don't get lost.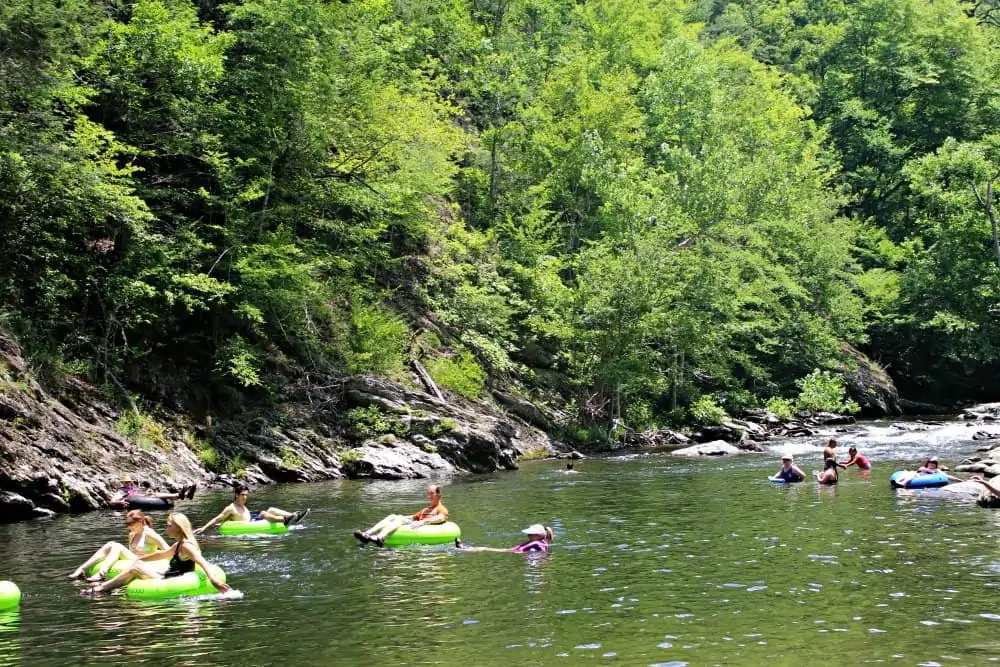 Nearby Attractions
If you forget any supplies for your trip or want to purchase a tube, Smoky Mountain Outdoor Center will have everything you need.
Townsend is also home to several museums, include the Little River Railroad and Lumber Company Museum where you can see real trains, model trains, and learn about the Smoky Mountains' rich railroad history.
The Great Smoky Mountain Heritage Center is another popular spot. It features interactive history exhibits with a focus on native people and early European settlers in Appalachia.
There are also a variety of scrumptious restaurants that line the parkway. Our family's favorite is The Riverstone Restaurant, which serves a variety of American and southern cuisine, including fried green tomatoes. Yum!
Townsend Wye Map
More East TN Family Fun