Cades Cove, in Great Smoky Mountains National Park, is a great location for family-friendly fun. This is your one-stop-shop for viewing mountain wildlife, photographing scenic views, hiking with kids, and immersing yourself in historical Appalachia. With the wide variety of activities, Cades Cove is an absolute must-see for your next Smoky Mountain family vacation!
(You know your limitations and the limitations of your children and family best. Although this trail was appropriate for my family, it may not be appropriate for you or your family. Please use your best judgment in deciding whether or not to hike this trail. Neither Mom Explores The Smokies nor the blog owner are responsible for any damage, mishaps, or injuries (physical, mental, or otherwise) that may occur while you and/or your family/children are on this trail or anywhere in the Smoky Mountains. When in doubt, opt-out of this trail.)
Cades Cove Driving Loop
As you first enter the driving loop, you will come across a horse pasture. This is your first great photo opportunity if you want to warm up your camera. These horses are available for guided forest rides. Unfortunately they do not accept reservations. For additional fun, you can also participate in educational ranger-guided hay rides around the loop.
Related Read: 20 Best Family Hikes In The Smoky Mountains
When photographing, be sure to only stop in designated pull-off locations, which are essentially large patches of dirt/gravel off to the side of the road. If you stop in the main driving area, you will meet the wrath of the park rangers.
As you continue around the loop, you will pass a variety of open fields. These areas have been cleared by the National Park Service to facilitate the viewing of wildlife. The fields are great places to see forest animals of all kinds including, deer, coyotes, bobcats and of course, black bears!
While driving, be sure to also look up in the trees of the forested areas, becasue that is another popular spot for bears to hide. It is extremely rare to not see a bear at Cades Cove. Sometimes you will get lucky and see a whole family!
Related Read: Discover Grotto Falls
Periodically along the loop, you will come across historical buildings such as homesteads and churches. All of the buildings have fancy plaques to meet all of your informational needs. The National Park Services has a brief but excellent historical overview that you may want to read before driving the loop.
At the Cades Cove visitors center and store, a number of these buildings are lumped together. Depending on the day, the working grist mill will be actively cranking out flour, which is available for purchase. Sometimes, there is also a blacksmith. This area also boasts a junior ranger educational program for the kiddos. This area is completely stroller accessible.
Related Read: Discover Clingman's Dome
Hiking opportunities also abound in Cades Cove. One of the most popular and kid-friendly hikes is the Abrams Falls trail. This hike takes approximately 3-4 hours round trip, depending on how energetic your kids are that day. Just outside of the driving loop, the Schoolhouse Gap trail also ranks highly for family friendliness.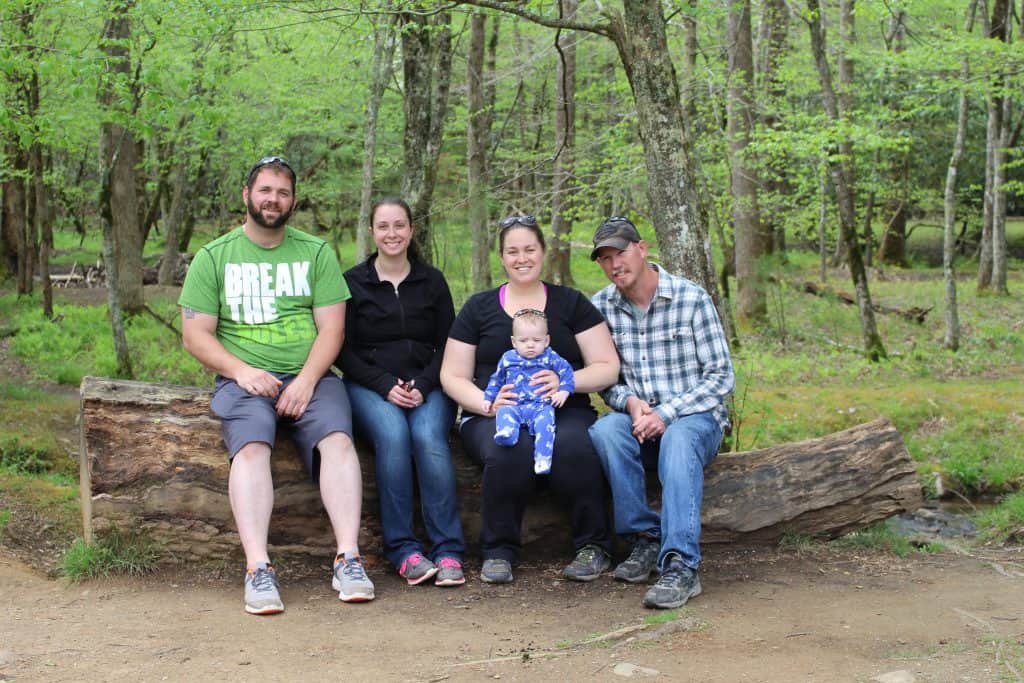 If you are interested in camping, you can also choose Cades Cove as your vacation home base. This location has sites for both tents and RVs. While the national park doesn't offer showers, it does have running water and flushing toilets. The camp store sells simple necessities and souvenirs. It also has a snack bar with hot foods and soft-serve ice cream. Due to a large amount of bear activity, this campsite imposes strict trash disposal guidelines that must be adhered to throughout your trip.
Special note, every Wednesday and Saturday morning from May-September, the driving loop is closed to vehicles until after 10 am. This time is reserved for bicycles only. Bike rentals are available at the camp store.
Whether you are driving or biking, Cades Cove will not disappoint. From my family to yours, may your magical Smoky Mountain memories last a lifetime!
Although it is free to enter the park, there is a donation box at the entrance and exit of the driving loop. If possible, please do support the park by dropping in whatever you can. Your donation will go towards maintaining the wonderful driving adventure on which you are about to embark!