Cades Cove TN, in Great Smoky Mountains National Park, is a great location for family-friendly fun. This picturesque mountain wonderland is a one-stop-shop for viewing wildlife, photographing scenic views, hiking, biking, and immersing yourself in historical Appalachia.
With such a wide variety of activities, Cades Cove is an absolute must-see on your next Smoky Mountain family vacation!
Cades Cove Location
Cades Cove is located deep within the southwest region of Great Smoky Mountains National Park. Though heavily trafficked, the location is very remote. No matter your carrier, you will not have cell reception here.
The driving distance from Cades Cove to Gatlinburg is apromixately 1 hour and 30 minutes.
if you prefer to stay somewhere less touristy, the closest town to Cades Cove is Townsend TN in Blount County. Here you'll find several museums, delicious restaurants, and overnight accommodations.
Townsend is also pleasantly uncrowded when compared to the more well-known areas of Pigeon Forge and Gatlinburg.
Cades Cove Hours
Cades Cove is open 24 hours a day, as is all of Great Smoky Mountains National Park; however, the driving loop is closed to motor vehicles after dark. When the gate is closed, you can leave your car in the parking lot at the entrance and walk or bike in.
The loop is also closed to motor vehicles all day on Wednesdays from June through September. This time is reserved for bicycle and pedestrian traffic.
what to Expect While driving Cades Cove Loop
The entire loop is 11 miles long and alternates between densely forested sections and expansive open fields. As you drive along, you will encounter a variety of stunning photography spots, historic buildings, hiking trails, and if you're lucky, wildlife.
Due to its popularity and frequent wildlife-related traffic jams, it can sometimes take upwards of 3 hours to complete the entire driving loop. But don't worry, if you're in a time crunch, you can take a shortcut down Sparks Lane or Hyatt Lane to shave an hour or two off the drive.
Although it is free to enter the park, there is a donation box at the entrance and exit of the driving loop. If possible, please do support the park by dropping in whatever you can. Your donation will go towards maintaining the park property and protecting the local animals.
Cades Cove Bears and Wildlife
While you can see them any time of day, the best time to see bears at Cades Cove is in the early morning and early evening hours. They are most active at these times because they are out looking for food while the area is a little less crowded with humans.
Bears and other wildlife can be spotted anywhere along the loop, but are easiest to see in the open fields. These areas have been cleared by the National Park Service specifically to facilitate wildlife viewing.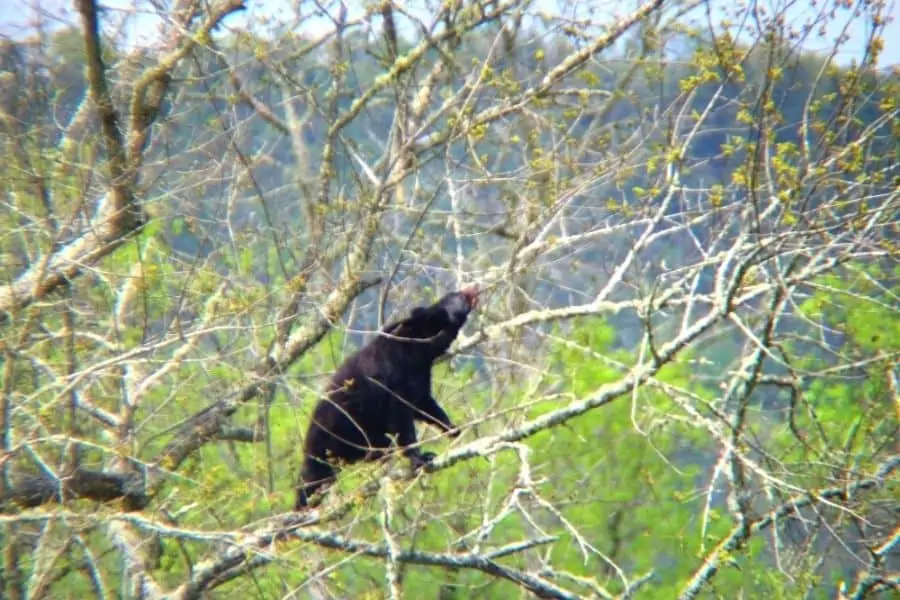 If you are looking for bears in the areas of thick forest, be sure to look up. Here, they will most likely be taking refuge in a comfortable tree.
Though bears are the most popular animal in the cove, you may also see deer, coyotes, bobcats, wild turkeys, and more. While spotting wild animals is never a sure thing, Cades Cove is definitely the best place to try.
Related Read: 20 Best Family Hikes In The Smoky Mountains
Cades Cove Activities
Cades Cove Horses
Not long after entering the driving loop, you will come across an expansive horse pasture surrounded by gorgeous mountains. These horses are available for guided forest trail rides and scenic carriage rides.
Though the horses aren't wild, they are certainly beautiful. This is your first great photo opportunity if you want to warm up your camera. 
Related Read: Discover Grotto Falls
Photography
There are tons of scenic pull-off locations throughout the driving loop, which are perfect for capturing stunning shots of the mountains, wildflowers, and local wildlife. Be warned, if you stop in a non-designated area and block the main driving route, you will meet with the wrath of the park rangers.
History
Whether you are looking for more awesome photography spots or just want places to go adventuring, visiting some of the loop's many historic buildings will be just the ticket.
As you drive around, you'll encounter a variety of charming Appalachian homesteads and churches just waiting to be explored. All of the buildings are open for you to walk through and respectfully admire.
Visitors' Center
In addition to the buildings scattered throughout the loop, you will also find a large collection at the Cades Cove Visitors' Center. During living history days, you can often see a sorghum mill in action, blacksmithing, a working grist mill, and more.
This area is also home to a host of ranger-led educational programs, which offer hands-on learning on a variety of topics. Both kids and adults can earn badges by participating.
The visitors' center also has a lovely gift shop where you can purchase t-shirts, magnets, books, and other popular souvenirs. There are also bags of fresh flour that have been milled on-site.
Related Read: Discover Clingman's Dome
Hiking
Hiking opportunities also abound in Cades Cove. One of the most popular hikes is the Abrams Falls trail, which leads to a scenic waterfall and wading area. This hike takes approximately 3-4 hours round trip and is a moderately difficult trail.
For a more kid-friendly option, try visiting Schoolhouse Gap trail located just outside of the driving loop.
Camping
If you are interested in camping, you can also choose Cades Cove TN as your vacation home base. The campground is located just outside of the driving loop and has sites for both tents and RVs.
While the national park doesn't offer showers, the campground does have running water and flushing toilets.
There is also a camp store on-site, which sells basic necessities and souvenirs. It also has a snack bar with hot foods and soft-serve ice cream.
Still have questions about visiting Cades Cove TN? Ask it in the comments below.
More East TN Family Fun