This apple, sweet potato, and pear casserole recipe is the perfect pairing of delicious fall flavors. With just a hint of sweetness, you won't feel guilty eating this delectable dish.
The stunning layered design is also sure to wow your holiday party guests!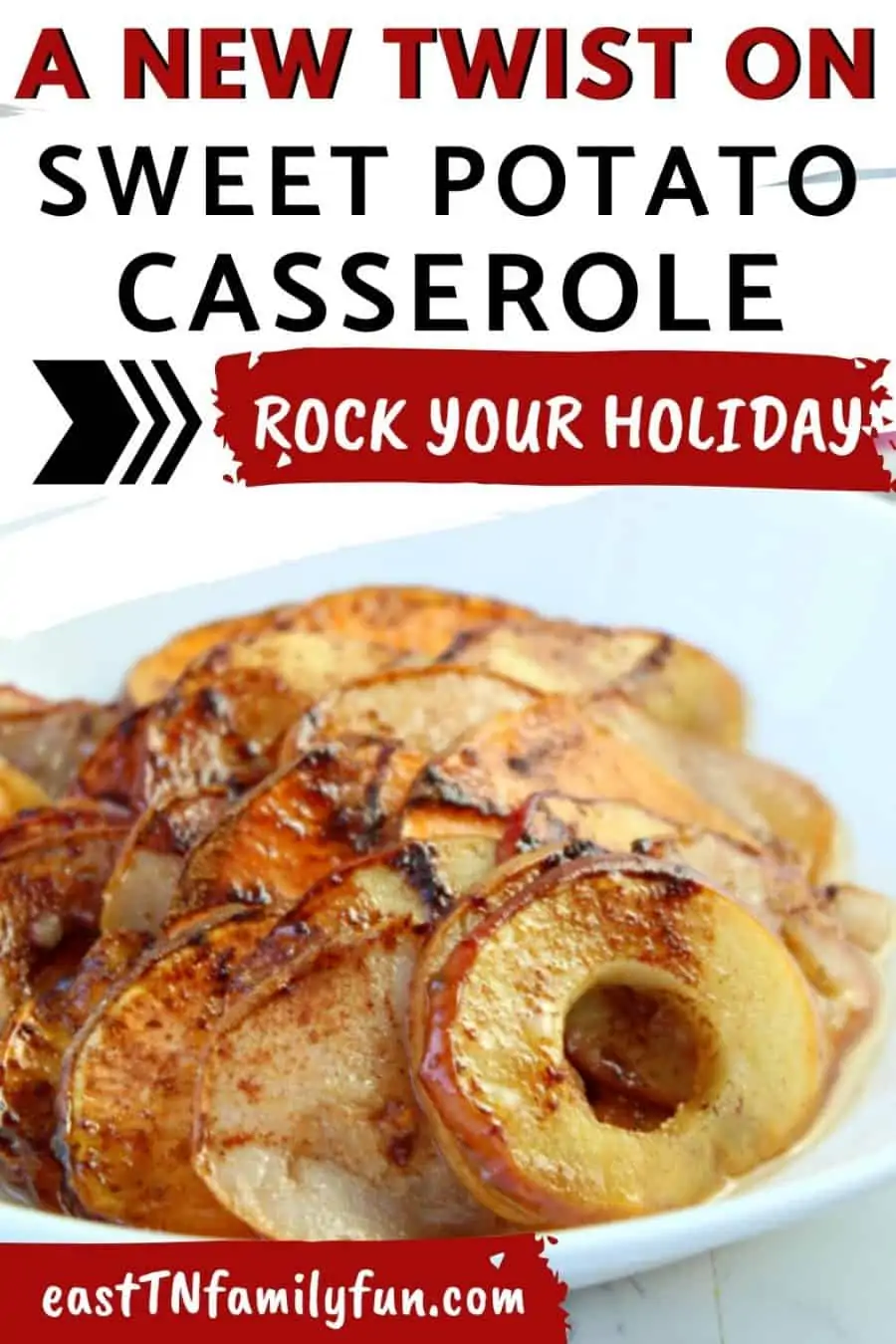 For your convenience, this post may contain various affiliate links. As an affiliate, and as an Amazon Associate, I earn from qualifying purchases. View the disclosure page for more information.
Sweet Potato, Apple, & Pear Casserole
Nothing screams "holidays" like a good casserole. This recipe is a new take on a traditional holiday favorite, candied sweet potatoes. This lightly sweetened version combines apples, pears, sweet potatoes, and traditional fall spices, including cinnamon, nutmeg, and allspice. Best of all, its gorgeous presentation will convince people that you slaved for hours when it actually takes less than 30 minutes to put together!
Ingredients:
1/2 Tbsp ground cinnamon
1/8 tsp ground nutmeg
1/4 teaspoon allspice
1/4 teaspoon ground ginger
1 pinch ground cloves
4 medium sweet potatoes, sliced into circles
2 medium apples, sliced into circles
2 pears, sliced into circles
3 Tbsp butter
1/4 C maple syrup
1/4 C brown sugar
salt to taste
Steps:
Preheat Oven to 350º.
Mix all spices together in a small bowl and set aside. Core the apples to prepare them for slicing. Then, slice the sweet potatoes, apples and pears into 1/4 inch thick slices using a mandolin or very sharp knife. After slicing the pears, use the apple corer to remove any remaining seeds.
Related Read: 2 Ingredient Blueberry Syrup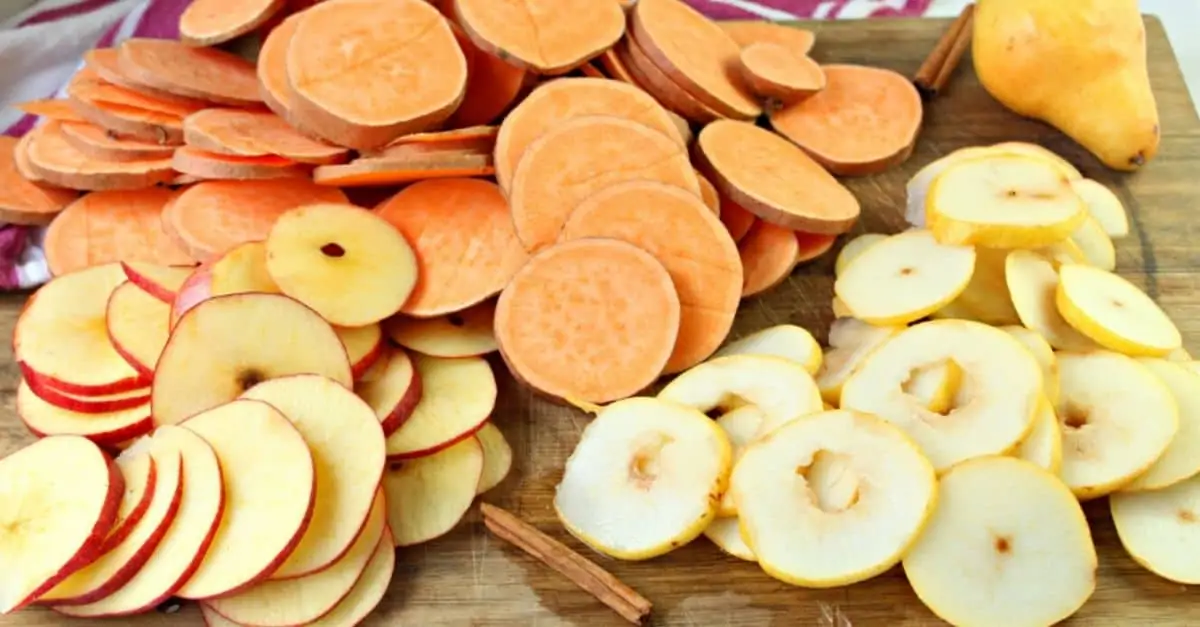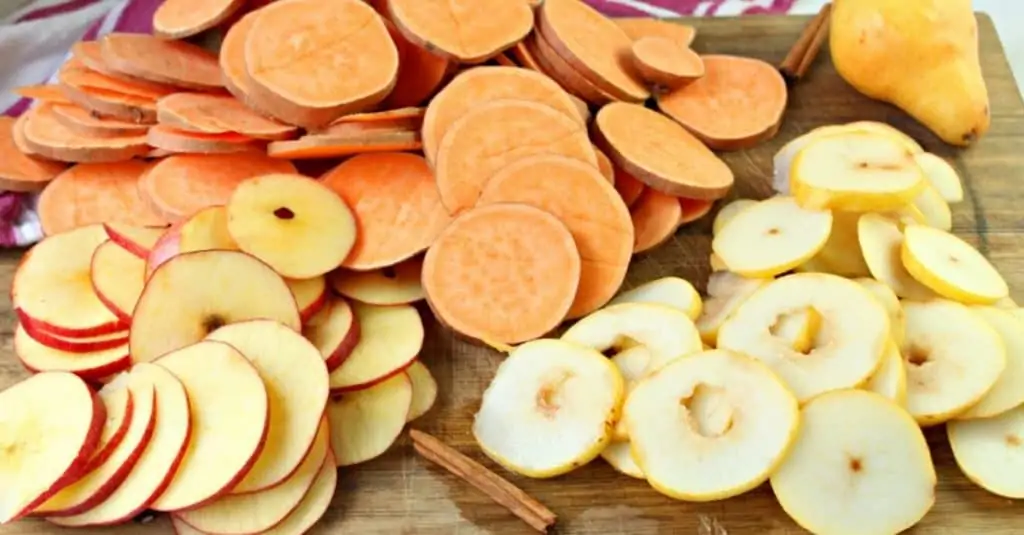 Arrange the fruit and veggie slices in the casserole dish coated with 1 tablespoon of butter. Layer as follows: 1 row of apples, 1 row of pears, 2 rows of sweet potatoes. Repeat the rows until all slices have been used. If the casserole dish is full and you have extra slices, tuck the remaining slices wherever they will fit.
After all of the slices are arranged in the dish, sprinkle the spice mixture evenly over the casserole. Next, drop the remaining 2 Tbsp butter over the top of the casserole in small dollops, and crumble the brown sugar evenly across the top. Finally, drizzle with the maple syrup, and add salt to taste.
Related Read: Honey Butter Chicken
Once the casserole is completely assembled, bake at 350º for 45 minutes to 1 hour or until potatoes are soft. Serve directly from the casserole dish to preserve the gorgeous layers.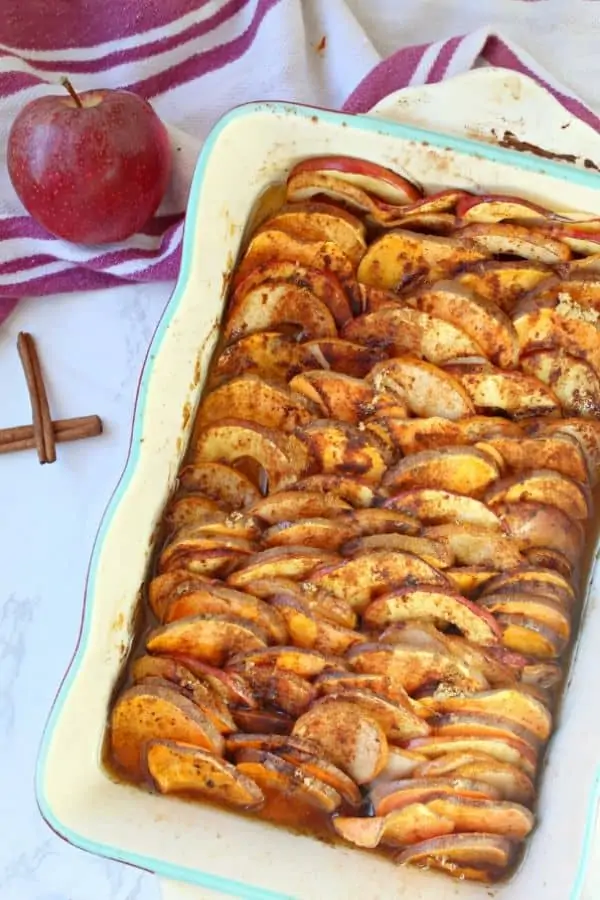 For a special treat, serve leftovers with vanilla ice cream.
Please check out our other amazing recipes!