These family-friendly Smoky Mountain and Knoxville wildflower hikes are perfect for taking in the beauty of the season. Hikes range from easy to moderate.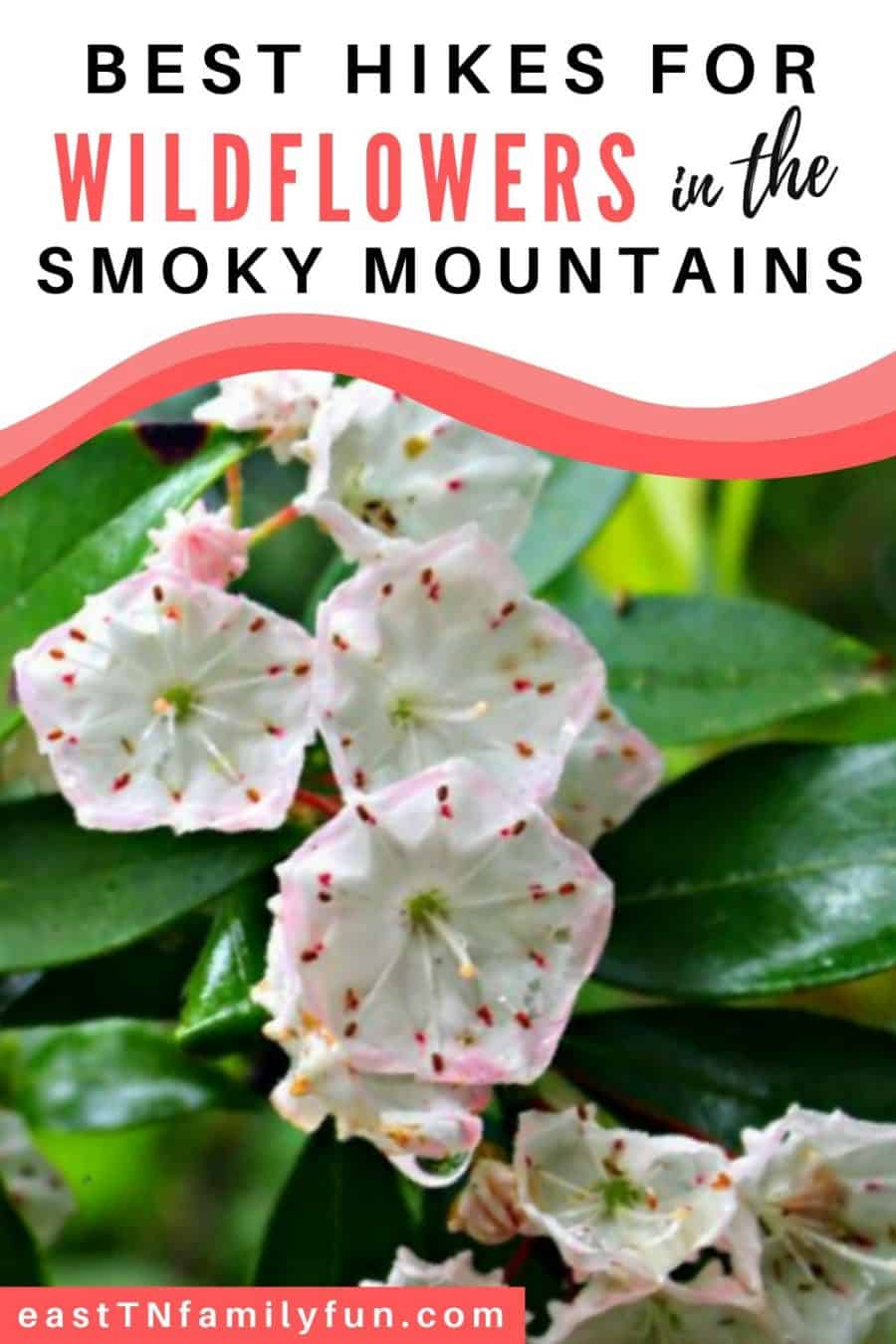 Of course, each family has its own unique needs. You know your family best, and are ultimately responsible for discerning the safety and appropriateness these hikes. Please read our full disclaimer here.
If you choose one of the hikes in the Smokies, please keep in mind that it is technically illegal to pick the flowers. I'm not sure they would ever find out if you did, but to play it safe, I would avoid it. Instead, you can think of the hike as a great opportunity to teach your kids about conservation and preserving nature.
Easy Smoky Mountain Wildflower Hikes
---
For all of these fabulous Smoky Mountain spring hikes, the peek wildflower season typically begins in Late March-early April and runs through mid-late May. At higher elevations, such as Andrew's Bald, the flowering season may extend into June.
This nice wide trail is relatively flat and has a very gentle incline. The trail is also waterside.
Round Trip Length: 3.8 miles
Available Flowers: Virginia bluebells, beaked violets, pink lady's slippers, fairy wand, golden aster, star grass, red clover, Robin's plantain, sun drops, Catesby's trillium, lyre-leaf sage, rhododendron, mountain laurel, cardinal flower, Carolina vetch and yellow ragwort.
Oconaluftee River Trail –
This fun trail is just behind the Oconaluftee visitors' center, which features a small museum with hands-on exhibits for kids. While on the trail, it is highly likely that you will also see some elk, which is a fabulous bonus! There is also a historical Cherokee Indian village nearby.
Round Trip Length: 3 miles
Available Flowers: over 40 species including trillium, violets, jack-in-the-pulpit, squirrel corn, stonecrop and May apple.
---
Moderate Smoky Mountain Wildflower Hikes
---
Andrew's Bald –
This trail head is just before the Clingman's Dome summit hike. Both trails share the same parking lot. There is a visitors' center on site and restrooms. The hike takes you to a large clearing with spectacular scenic views.
Round Trip Length: 3.5 miles
Available Flowers: Catawba rhododendron, flame azalea, purple-fringed orchids, thymed leaved bluets during a hike last May.
Cove Hardwood Self -Guided Nature Trail –
This loop trail is very short, but it is also uphill almost the entire way. Although you may have to take a few rest breaks, this is considered my many to be THE top wildflower hike in the Smoky Mountains. Here you will see
Round Trip Length: .7 miles
Available Flowers: hepaticas and trout-lilies, yellow trillium, white fringed phacelia, squirrel corn, wild ginger, white trillium, Dutchman's britches, and Solomon's seal
Deep Creek Trail –
This trail is on the North Carolina Side of the Smokies and also features waterfalls.
Round Trip Length: 4.6 miles
Available Flowers: trilliums, foamflower, galax, crested dwarf iris, beard tongue, Solomon's seal, cinquefoil, bloodroot, bluets, blue-eyed grass, Jack-in-the-pulpit, wild geranium, clinton's lily, large houstonia, rhododendron, mountain laurel and flame azalea.
Litter River Trail –
This spacious hiking trail follows the Little River.
Round Trip Length: 4.9 miles
Available Flowers: spring beauties, trailing arbutus, hepaticas, yellow trillium, dwarf cinquefoil, stonecrop, Canadian violets, umbrella leaf, mountain mint, orange and pale jewelweed
Porter's Creek Trail –
This trail follows a peaceful creek.
Round Trip Length: 4 miles
Available Flowers: bloodroot, hepaticas, white-fringed phacelia, violets, white trillium, yellow trillium, toothwort, wild geranium, May-apple, dwarf ginseng, blue phlox, baneberry, foam flower, halberd-leaved violets, woodland bluets, and Jack-in-the-pulpits.
Easy Knoxville Wildflower Hikes
The Knoxville area offers a variety of gorgeous spring wildflowers including bloodroot, toothwort, hepatica, spring beauty, squirrel corn, Dutchman's britches, celandine poppy, twinleaf, Virginia bluebells, Jack-in-the-pulpit, May-apple, trout lily, and trillium.
You and the kiddos can enjoy these amazing flowers by visiting 1 or more of the trails and greenways below. All locations offer easy hike, with some locations offering both easy and moderate hiking options. The best viewing dates are from mid-march through May, although there may be some lingering flowers later in the season.
Dogwood Arts Trail
This is a collection of paved trails whose main draw is the gorgeous Dogwood tree. These particular trails are more urban and feature planned gardens, as opposed to wildflowers, but they still make a nice spring outing.
Address: multiple locations
Holston River Park
This location has both paved and natural surface trails, with a variety of wildflowers.
Address: 3300 Holston Hills Road
This nature center offers a variety of both paved and natural hiking trails of varying lengths and hands-on nature activities for kids. There is also a small bird sanctuary and ropes course on-site.
Address: 2915 Island Home Avenue
Seven Islands Wildlife Refuge
This refuge offers both paved and natural trails than run through mowed fields. This refuge is home to over 190 species of wild birds and is a popular bird-watching site.
Address: 2809 Kelly Lane
Ten Mile Creek Trail
This is a short but scenic paved greenway path that runs parallel to Ten Mile Creek.
Address: 200 N Peters Rd
Third Creek Greenways
This is another stroller-friendly greenway path that you can enter through Tyson park. Tyson park hosts restrooms, a skate park, sports fields, and a playground.
Address: 3507 Kingston Pike
William Hastie Natural Area
This site is part of Knoxville's Urban Wilderness and features heavily wooded trails. This site also has a connecting trail to Ijams Nature Center.
Address: 1302 Margaret Rd