These Christmas craft fairs near Chattanooga TN are perfect for soaking in the Christmas spirit this season. From hand-painted Santas to scrumptious baked goods, you find all the best gifts right here.
Early shoppers will be pleased to know that most of these Christmas markets take place in November. But don't worry all you latecomers. A couple of shows are planned for early December too.
No matter when you go, you'll be supporting some of our region's smallest independent business owners. Now that's something to be jolly about!
Of course, these events are just some of the many wonderful Christmas activities around Chattanooga.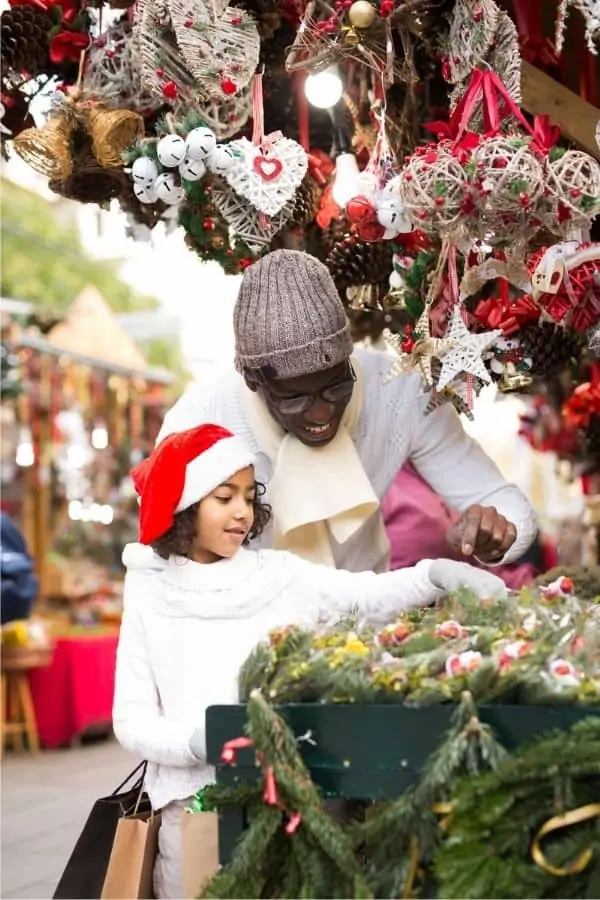 Christmas Craft Fairs Near Chattanooga
1. Chattanooga Holiday Vendors Market Extravaganza
November 13, 2021
Hamilton Place, Chattanooga
FREE
Everyone's favorite mall is hosting a fun holiday market with 25 artisan craft vendors, giveaways, and prizes. With this type of event, you can get almost everything you need for Christmas all in one place!
2. Christmas Village Holiday Market
November 13-14, 2021
Greenway Pavilion, Cleveland
FREE Admission
At this fun holiday market, shoppers will enjoy over 100 vendors, free photos with Santa, food vendors, a petting zoo, kids' activities, and more!
3. Holiday Market
November 13, 2021
Walker County Farmer's Market, Rock Spring, GA
FREE Admission
In addition to the regular farmer's market vendors, there will be additional arts and crafts vendors to help you with all your Christmas shopping needs. There will be over 50 vendors at this event.
4. Tangled Tinsel Holiday Market
November 20-21, 2021
Collegedale Commons, Collegedale
FREE Admission
The Tangled Tinsel Christmas craft fair will feature over 150 craft vendors to help you check off all those important items on your shopping list.
5. HoHo Expo
TBA 2021
Chattanoga Expo Center
More Christmas Markets near Chattanooga
6. Thaksgiving Market
November 21, 2021
First Horizon Pavilion, Chattanooga
FREE Admission
The traditional farmer's market will feature many items with holiday flair.
7. Christmas at Valley View Farms
November 27, 2021
Valley View Farms, Pikeville, TN
$15/adults, $10/kids
Head on out to Valley View Farms for a fun day of vendor shopping, kids' activities, cookie decorating, horseback riding, and more! Complete the experience with a warm and frothy hot chocolate, yum!
8. Down Home Christmas Expo
December 3-4, 2021
Historic Riggold Train Depot, Ringgold, GA
Get photos with Santa and shop from a wide variety of artisan vendors at the Down Home Christmas Expo.
9. Chattanooga Holiday Market
December 4-5, 11-12, & 18-19, 2021
Chattanooga Convention Center, Chattanooga
FREE Admission
This holiday market has over 200 local vendors. The booths will feature pottery, jewelry, custom art, woodcrafts, yummy food, and more!
10. Holiday on Hamill
December 4, 2021
The Ministry Center Hamill, Hixson
Come check out some of the area's favorite local arts, crafts, and food vendors at Holiday on Hammil. There will also be a variety of kids' activities, including stations for making ornaments, making reindeer food, and taking a free photo with Santa.
11. Grace and Grit Christmas Market
December 4, 2021
Weaver's Mill at the Old Woolen Mill, Cleveland, TN
In addition to their regular indoor vendors, Grace and Grit will be hosting many additional vendors outside. This Christmas market will have tons of adorable crafts and gift options to brighten your holiday.
12. Christmas Market
December 22, 2021
Main Street Farmer's Market, Chattanooga
FREE Admission
The traditional market will feature many items with holiday flair.
Did we miss one of your favorite Chattanooga area Christmas crafts fairs? Comment below so we can add it to the list.
More East Tennessee Family Fun