If you are a dog lover visiting the national park for the first time, you are probably wondering, Are dogs allowed in the Great Smoky Mountains?
The great news is that Fido is definitely allowed, but with some caveats. Below you'll find all the details on the best dog-friendly hiking trails, picnic areas, and campgrounds, to help you make the most of your visit.
For your convenience, this post may contain various affiliate links. As an affiliate, and as an Amazon Associate, I earn from qualifying purchases. View the disclosure page for more information.
Are Dogs Allowed in the Great Smoky Mountains?
While dogs are allowed in Great Smoky Mountains National Park, the places they are allowed to go are limited.
Dogs are allowed in campgrounds and picnic areas, but unfortunately, they are not allowed on the vast majority of hiking trails.
Park Rangers have been known to ask families to turn back on a trail because they brought a dog.
You might be thinking, Well, that's only a problem if you get caught. While that might be true, getting caught can throw off the schedule of your whole day, so I don't advise risking it.
Dog-Friendly Trails in the Smoky Mountains
When it comes to dog-friendly trails, Great Smoky Mountains National park has 2 great options. And yes, that means only 2.
The park's reasoning for limiting dogs to 2 hiking trails is that they tend to explore and bark. This can disturb and endanger both wildlife and park visitors. Thankfully, the 2 available trails do have a lot to offer.
Gatlinburg Trail
The first trail is the Gatlinburg Trail, which runs all the way from downtown Gatlinburg to the popular Sugarlands Visitor Center.
It's about 4 miles round trip, easy, and relatively flat. It also runs along the scenic Little Pigeon River which provides an excellent view for your travels.
You'll frequently see dogs dipping their feet in the water, just remember to keep your dog leashed at all times.
Just in case your dog is easily spooked, you should know that bicycles are also permitted on this trail.
Restrooms are available at the visitor's center, but unfortunately, there are no official picnic areas close by.
Oconalufftee River Trail
The second trail is the Oconalufftee River Trail in Cherokee North Carolina. This easy trail is located just behind the Mountain Farm Museum at the Oconalufftee Visitors' Center.
Similar to the trail above, this one also offers a scenic river view, Bicycles are also permitted.
This trail does allow you to explore the outdoor Mountain Farm Museum before or after your hike, which will be a fantastic addition to your day.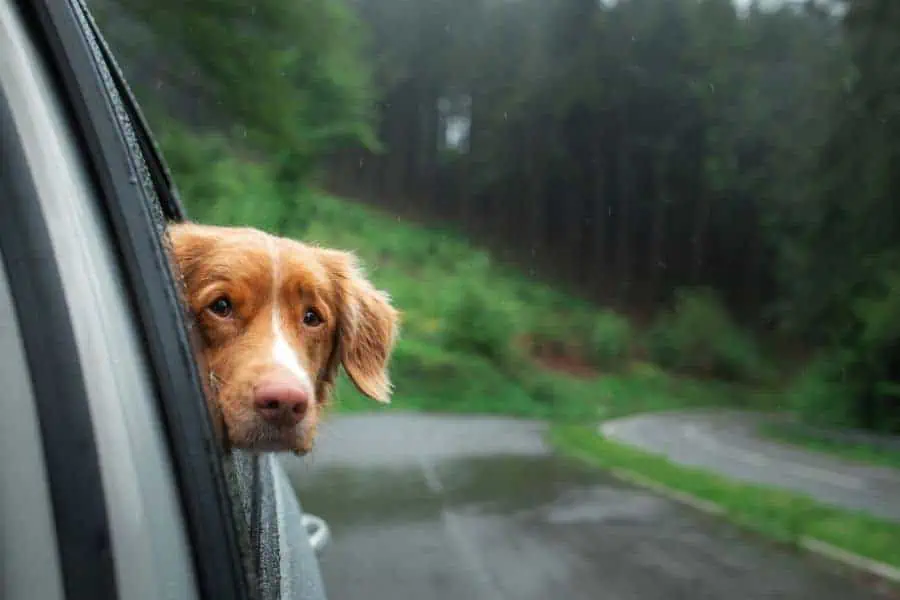 Are Dogs Allowed in Cades Cove?
Dogs are allowed in the Cades Cove picnic area and the Cades Cove campground. They are also allowed in cars along the driving loop.
Unfortunately, dogs are not allowed anywhere else along the loop. They are not welcome at Cades Cove Visitor Center, on any of the hiking trails, or at any of the historic cabins in this location.
Since the activities for dogs are limited at Cades Cove, it's best to leave Fido at home.
Smoky Mountain Campgrounds That Allow Dogs
Dogs are allowed in all Great Smoky Mountains National Park campgrounds. This includes:
Abrams Creek Campground
Balsam Mountain Campground
Big Creek Campground
Cades Cove Campground
Cataloochee Campground
Cosby Campground
Deep Creek Campground
Elkmont Campground
Look Rock Campground
Smokemont Campground
The bad news is that dogs are not allowed to be left unattended for any length of time, even inside a locked RV.
Since dogs aren't allowed on very many trails and obviously aren't allowed into stores or restaurants, staying at a campground with your dog may greatly hinder your Great Smoky Mountain vacation.
If you really want to travel with your dog, you will be better off looking for a private rental, where you can usually leave your dogs crated indoors.
Smoky Mountain Picnic Areas That Allow Dogs
Dogs are also allowed in all of the park's various picnic areas. This includes:
Metcalf Bottoms
Big Creek
Chimneys
Cades Cove
Collins Creek
Cosby
Deep Creek
Greenbrier
Heintooga
Look Rock
Twin Creek
Several of these picnic areas are closed in the winter, but Cades Cove, Deep Creek, Greenbrier, and Metcalf Bottoms are open all year long. Please note that dogs are ONLY allowed in the picnic areas, not the adjacent trails or attractions.
The Bottom Line
So, let's sum it up. Are dogs allowed in the Great Smoky Mountains? Yes, but not in many places.
You can have a great vacation with your dog, but you'll have more options available to you if you leave Fido at home. Happy exploring y'all!