This colorful seashell craft was born from disaster. After the kids and I worked hard to create a gorgeous patriotic shell craft, they started dipping the finished shells in water. Of course. But much to my surprise, the water created a pretty cool effect, although it still needed some perfecting.
After a little trial and error we came up with the method below, and I have to say, the end result is amazing! This craft is fun for adults and kids alike, so it makes a wonderful family craft project.
For your convenience, this post may contain various affiliate links. As an affiliate, and as an Amazon Associate, I earn from qualifying purchases. View the disclosure page for more information.
Seashell Craft Materials
seashells of various shapes, sizes, and textures
washable paint (not acrylic!)
clear coat (optional)
paint brushes
water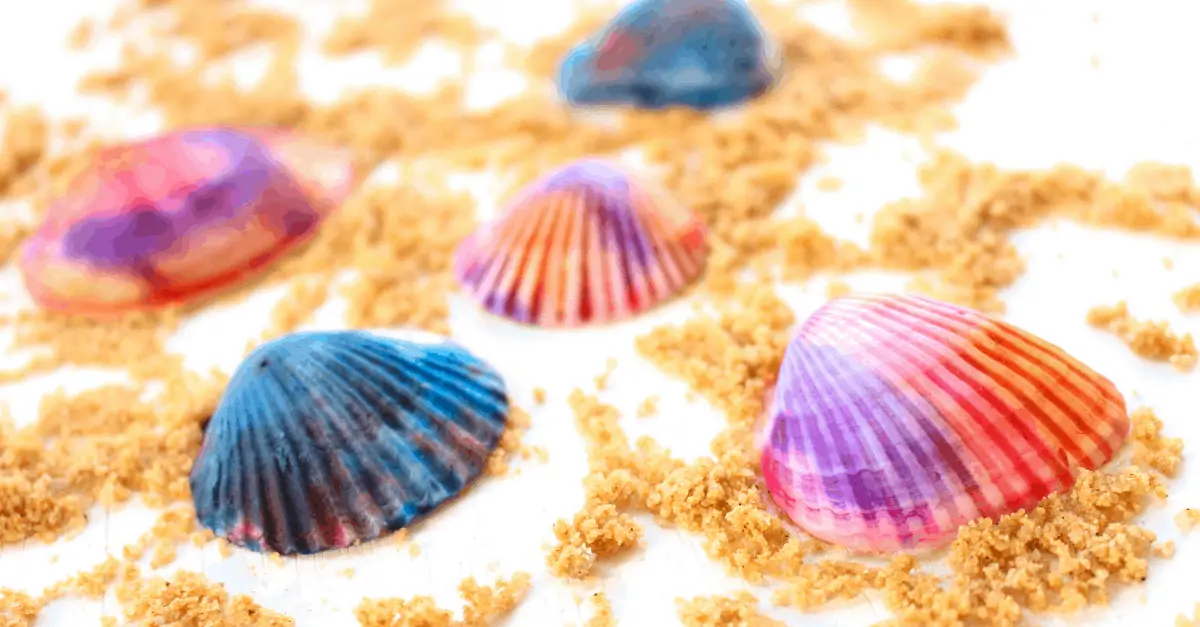 Directions
Make sure to begin with clean shells, any left over sand will ruin the effect. Once clean paint a think layer of washable paint onto the shell. It is very important to use washable kids paint, because acrylic paint dries quickly and will not blend as readily.
When painting, use multiple colors in random patterns. Your paint placement at this point will ultimately create the finished tie dye pattern. With kids, don't be too picky about how they paint their shells. Let them experiment and have fun.
Once the shells are covered in a think layer of paint, you can experiment even further. When my kids originally soaked our painted shells in water, the finished product looked like the blue shells in our photos. I would say they played in the water with the shells for a good few minutes to achieve this result.
With our other shells, instead of soaking, we used a dripping wet paint brush to gently remove the excess paint and slightly blend the colors, which created an even better tie dye effect. This is how we did the orange and pink shells in our photos. We liked this finished product the best.
The shells took around 5 hours in the sun to completely dry, because they were so wet. Drying time will be longer indoors. Once the shells are dry, you can spray them will a clear coat to help preserve them, if desired.
Books to Share
Most parents don't realize that shared reading and read alouds can boost your child's academic scores in ALL subject areas, not just reading and English. It's also a great way to spend time together. The beach books below will be a great extension for this craft project.
More East TN Family Fun