Bring all of the magic of the Smokies to life right in your own home with these free animal-themed Smoky Mountain coloring pages. Viewing wildlife is one of the most popular things to do in Great Smoky Mountains National Park. With this adorable printable, kids can explore their favorite animals more in-depth.
All of the coloring pages feature a cute Smoky Mountain animal surrounded by scenic mountains or forest views. For an added educational flair, the bottom of each page also has a small paragraph packed with fun facts about each featured animal.
These coloring pages are a great way to get kids excited about any hike or vacation you may be planning. You can also save a few pages for the car ride to minimize those backseat grumbles.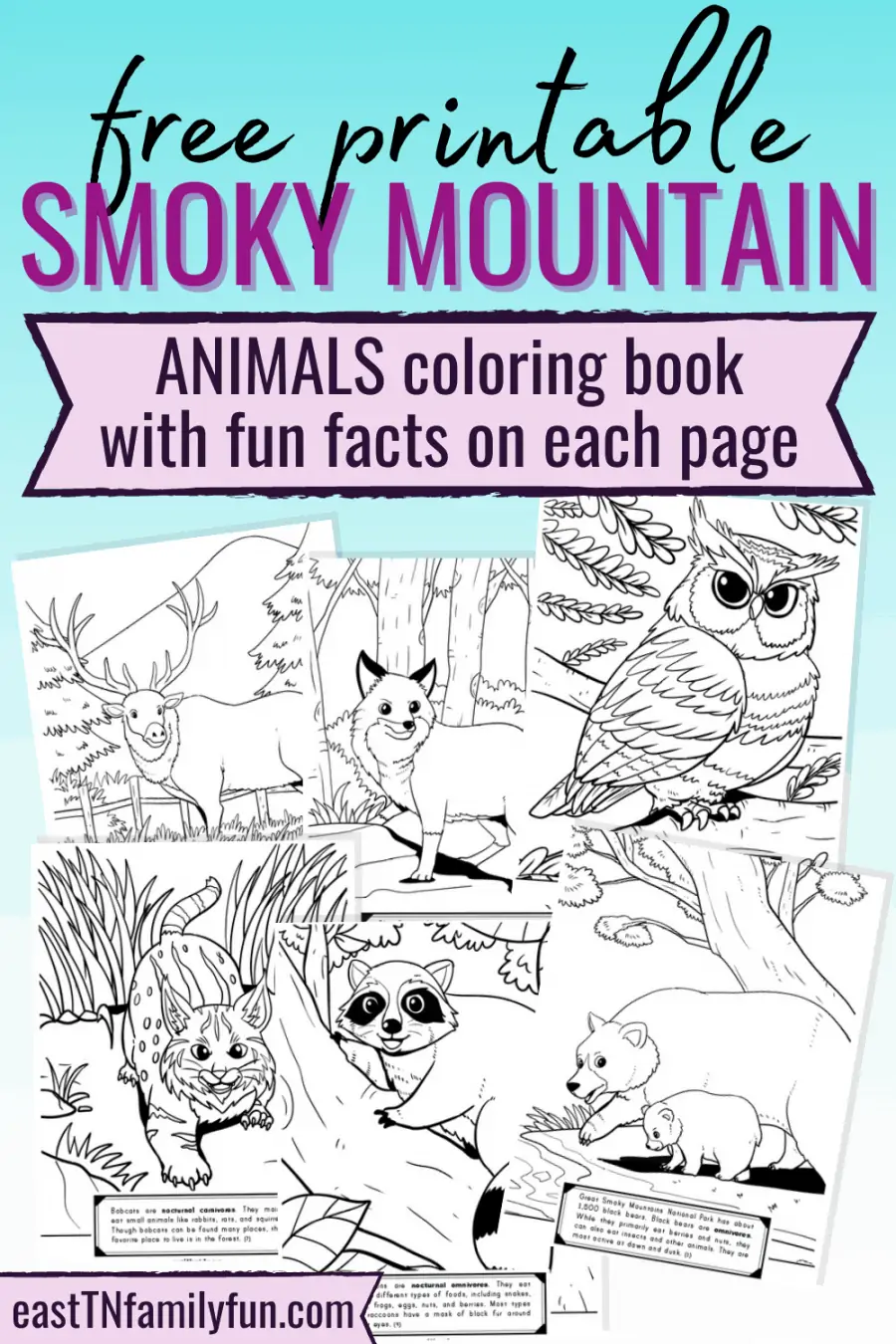 Animals Included in the Smoky Mountain Coloring Pages
black bears
Manitoban elk
coyote
bobcat
great horned owl
bald eagle
fox
raccoon
Cades Cove horses
Mountain Farm Museum rooster
Creative Extension Activities
Pair this coloring book with complimentary YouTube videos to help your kids learn even more animal facts. This will also give them a chance to see what the animals look like in real life which will make it easier for them to identify these animals in the wild.
2. Visit your local library to find books about forest animals. If you are visiting from out of town, you may even be able to find a fun audiobook that will help you pass the time on your travel days.
3. If your child is too young to read, you can use the completed book as a bedtime story or family readaloud.
Tips For Printing
While any printer paper will do, coloring pages are best printed on heavyweight printer paper to help avoid any ripping during the coloring process. This is especially important if you'll be using it during a car ride, where the drawing surface may not always be stable.
For traveling, storage compartment clipboards are a great way to keep all your coloring and activity supplies together.
Join Our Newsletter Below to Get Your Free Printable Now
More East TN Family Fun