There's just something to be said about the perfect burger. You know, the one with just the right amount of melty cheese and a topping combo that gives you the perfect meld of flavor and crunch. It's the bun. It's the sauce. It's all the things.
If you're still on the hunt for YOUR perfect burger, this list of the best burgers in Knoxville is exactly where you need to be!
Depending on who you talk to, locals may swear by any one of the restaurants on this list. So break out the bib and head on out for a little taste test of your own.
Your perfect burger is just one bite away.
Once you find it, be sure to come back here and leave a comment to share your top pick!
For your convenience, this post may contain various affiliate links. As an affiliate, and as an Amazon Associate, I earn from qualifying purchases. View the disclosure page for more information.
You May Also Like
Best Burgers in Knoxville
1. Stock and Barrel
The beef for these delicious burgers comes directly from Mitchell Family Farms in Blaine, TN. With over 17 different specialty burgers to choose from, there's no shortage of flavor. In addition to beef, meat options include bison, turkey, lamb, salmon, black bean, and more!
They also offer an extensive build your own burger menu and extremely popular duck fat fries.
2. Corner 16
This burger bistro offers 3 different meat choices, including beef, chicken, and black bean.
The most enticing feature of this restaurant is its expansive build your own burger menu. BYO topping options include unique offerings like pimento cheese, fried green tomatoes, Canadian bacon, and more!
3. The Burgers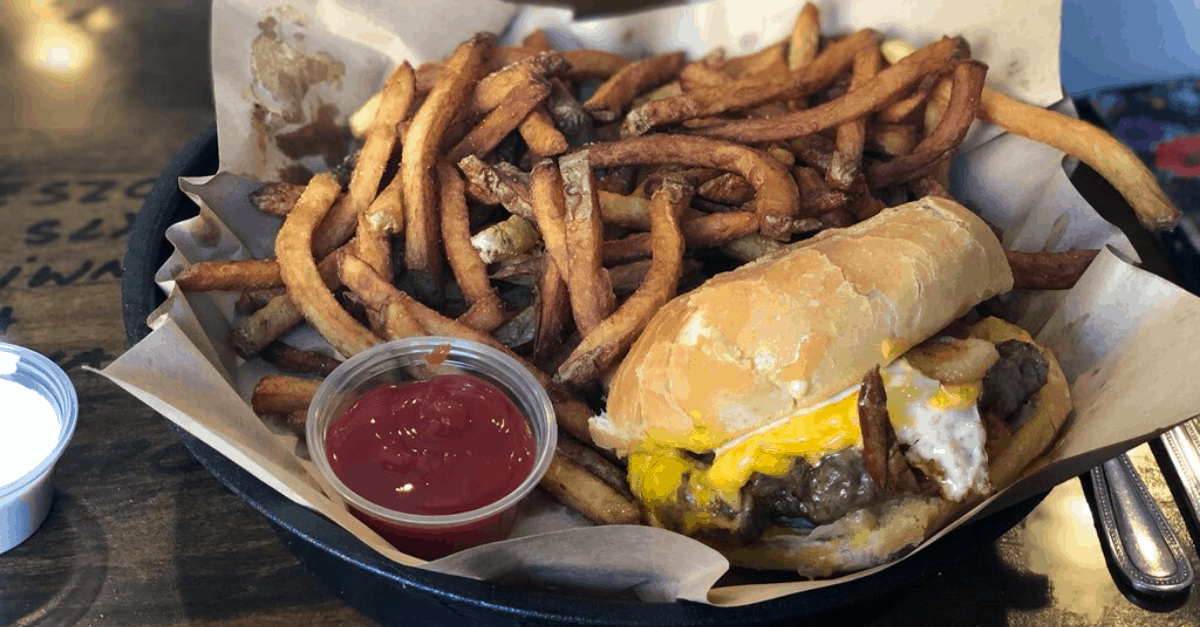 This local chain boasts 3 convenient locations all with the same rustic charm and delicious eats. It focuses on making traditional burgers really well, though they do offer 4 specialty burgers that are jam-packed with delicious toppings like onion rings, jalapenos, fried eggs, and more.
4. Balter Beerworks
There may be no better pairing than burgers and beer, and this popular restaurant has it all. Burger options include beef, Mahi, veggie, and more.
In addition to their regular menu items, Balter comes out with delicious seasonal burgers throughout the year, like their beer-braised onion burger pictured above.
5. Cru Bistro
price: under $15 (under $10 on Wednesdays)
This restaurant's claim to fame is it's classic Bistro Burger, which is only $5.99 on Wednesdays (with fries!).
Of course, you can also spice your burger up with yummy and traditional additions like bacon, caramelized onions, and more. Cru is essentially a great place for traditional burgers done right!
6. Mooyah
This small-ish chain is only located in 22 states and Knoxville currently has the only TN restaurant. If you are on a budget you will love the endless array of mix-and-match gourmet burgers you can create at this joint!
They have paleo burgers, vegan burgers, keto burgers, gluten-free burgers, and over 20 different toppings and sauces to choose from.
7. Hot Rod's
While technically in Maryville, this diner attracts foodies from all over the region. With over 60 different specialty burgers to choose from, it's easy to see why!
Meat options include beef, turkey, chicken, and veggie. The amazing retro atmosphere and oldies tunes come free with your meal!
8. Litton's
These burgers ARE actually award-winning and have been a local favorite for several decades now. Though primarily specializing in tasty classic burgers, Litton's also offers a couple of specialty burgers, like the Thunder Road pictured above.
In addition to beef, they also offer a veggie burger.
9. Local Goat Pigeon Forge
This Pigeon Forge (close enough!) hot spot garners praises from both locals and tourists alike. It boasts over 15 specialty burgers with unique toppings like Tzatziki sauce, shaved ham, bacon jam, and more!
As a wonderful bonus, this restaurant prides itself on using local and sustainable ingredients.
Meat options include beef, lamb, portobello, tuna, and more!
10. Jacob's Time OUT Deli
For those who love the mom and pop vibe, this is the place for you. These burgers are simple, delicious, and served to you with love by the actual restaurant owners.
This restaurant is open Monday – Saturday for lunch only.
More East TN Family Fun