The Smoky Mountains are a haven for locally-owned shops and restaurants. This list highlights the best shopping areas throughout the Smokies region, all of which offer a variety of amazing vendors in 1 convenient location.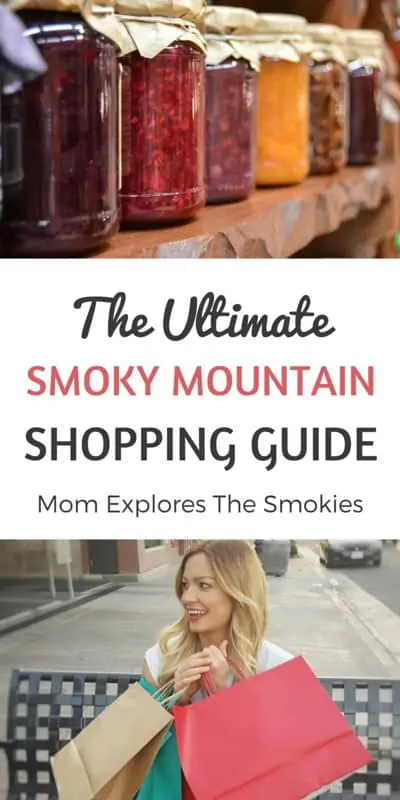 Shopping In The Smoky Mountains
Arts & Crafts Loop Gatlinburg – If you are looking to support independent business owners, this is the spot for you! This 9 mile driving loop is filled with a variety of vendors including, antiques, pottery, wood working, gift shops, eateries and much more. Please note that this is not a continuous loop of vendors. There are clusters of shops in designated areas along the route. A map is available at the link above.
Tanger Outlets – This expansive outdoor shopping mecca is for those hard-core shopping enthusiasts who love to shop 'til they drop. Of course, men are also welcomed! I kid. This place is truly amazing and features all of your favorite name-brand stores, even many that cater specifically to men. Save this excursion for a sunny day, because you will have to walk outdoors to get from store to store and not all of the walkways are covered.
The Old Mill – This little gem is for those interested in a more low-key outing. After enjoying the enchanting sights of the working historic mill, you can meander through the pottery shop, old-fashioned general store and more. If your feeling peckish (or ravenous), there is also a fabulous restaurant on-site.
The Island – This is another expansive shopping complex that offers a wide variety of shops and eateries, including many of the area's most popular restaurants. This location also offers the added bonus of entertainment options, including a mirror maze, ropes course, and a musical water feature. Although this location is a blast any time of day, it's best to go at night, if you want to see the lights that accompany the water show.
Downtown Gatlinburg – The strip in Gatlinburg is filled with a variety of vendors to meet every need. In addition to mountain-themed gift shops, you can visit art galleries, clothing stores, log-furniture stores and eateries to suit every taste and price point. There are also tons to free samples available including jerky, hot sauce, wine, whiskey, moonshine and more!
The Christmas Shop – This place is for the Christmas lover in you. It is honestly worth the visit for the decor alone. Although their multiple shops house primarily Christmas items, offerings also include mountain themed gifts and a tempting candy store.
Nearby
Market Square – This shopping hub, in the heart of downtown Knoxville, houses small business owners of all kinds including restaurants, bars, gift shops, clothing stores and so much more. On Saturdays, when the whether is warm, the square is also home to a fabulous farmers' market that brings together area farmers, local musicians and arts and crafts vendors of all kinds. In the winter, the big feature is an open-air ice skating rink.