This DIY Father's Day gift involves active baby participation. A finger painting project, like this, is a great way for your babies, 6 months and older, to get involved in a Father's Day craft that is sure to delight dad!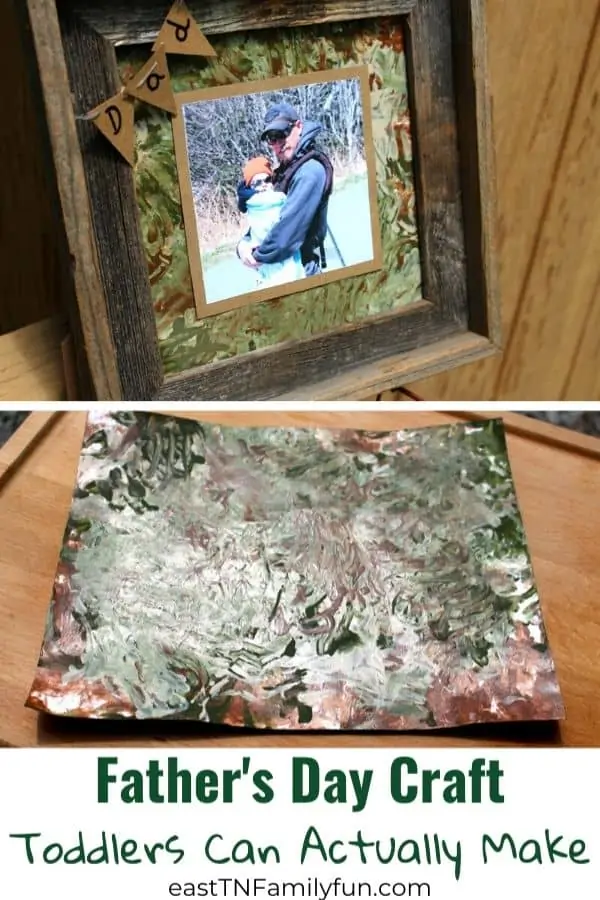 It seems surreal, but my son is now 6 months old! I just can't believe how time has flown. Yet, here we are, living and loving life 6 months later. I get giddy at the thought of Mother's Day and Father's Day because these will be our very first. After what seemed like a forever wait, finally, I am somebody's mom!
Since this will also be my husband Brian's first Father's Day, I really wanted to make it special and take his interests into account. Aside from the fact that he isn't fond of sports, my husband is a man's man, all the way. He loves building and fixing things, being outdoors and camo. He LOVES camo. We do live in Tennessee, after all.
I also had grand dreams of my sweet baby being an active participant in this DIY project. He really has become quite the adventurer and is typically bright eyed and bushy tailed. He seems to be up for almost anything, so I figured it was worth a shot. Since 6 month old babies are rather limited in what they can do, I decided the best route to take was finger painting.
How To Create The Baby Made Father's Day Craft
Materials:
rustic photo frame that holds an 8×8 photo
photo of father and child(ren) together (4 1/2 inch by 4 1/2 inch)
2-3 colors of paint, anything non-toxic will work
paper plate or tray
card stock
mounting squares
(optional)
scrapbook paper
acid free glue
hotglue gun
thin string
scissors
marker
Steps:
Begin by placing your babies in a smock or stripping them down to their diapers. After some trial and error, I found the "just diaper" route to be the better option. Next, seat your babies in some sort of chair with a tray, like a highchair. Place small dollops of each paint color on the paper plate. Gently dip your babies' fingers into 1 color of paint and allow them to go crazy on the sheet of card stock.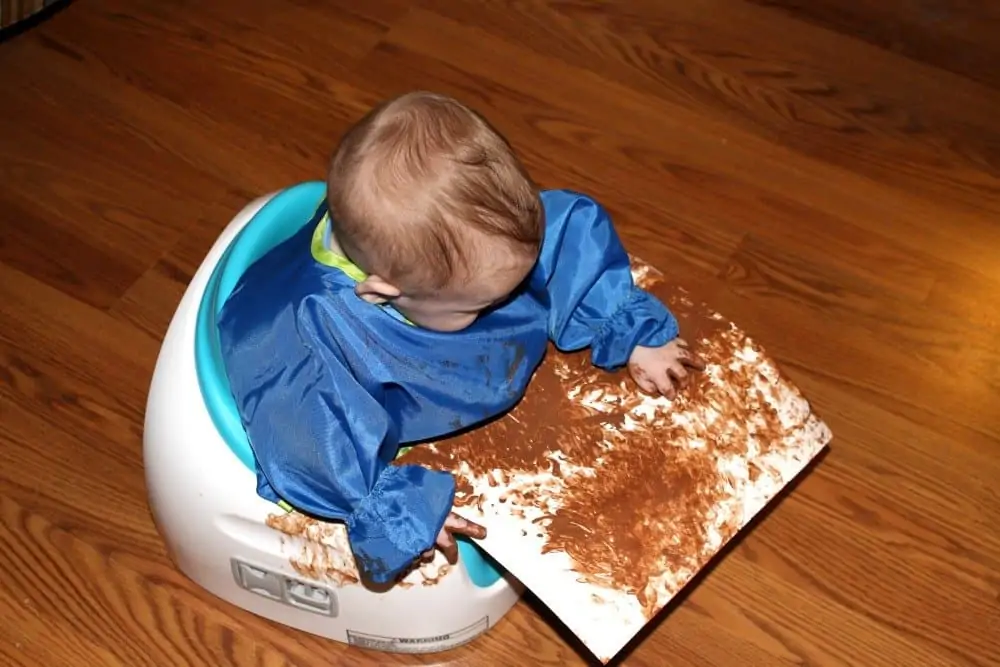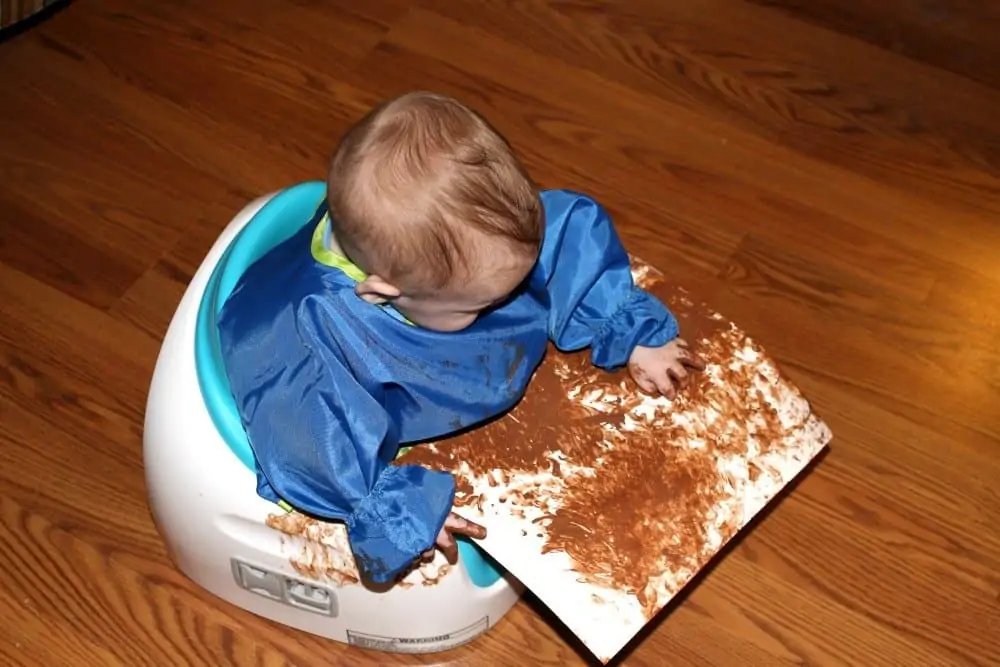 During this step, there is no right or wrong. Just let your babies move the paint around on the paper any way they want. Obviously, you will have to stay close to your children to make sure they don't start licking their fingers and hands. While your babies are working, you may have to occasionally reposition the paper to ensure that all areas receive at least a little attention.
We used just 1 color at a time but added the others, while the paint was still wet. This allowed for the colors to mix, which created a nice effect. We were using camo colors, of course, and it really turned out nicely.
After the painted card stock dries, use the glass from the frame to trace a cutting guide on the back. Then, cut baby's masterpiece to fit the size of the frame. This will be the background for the photo.
Here is where you have a couple of options. To keep it simple, just use the mounting squares to mount the 4-1/2 x 4-1/2 inch photo to the background. The mounting squares allow the photo to be slightly raised off the paper, which creates a cool effect.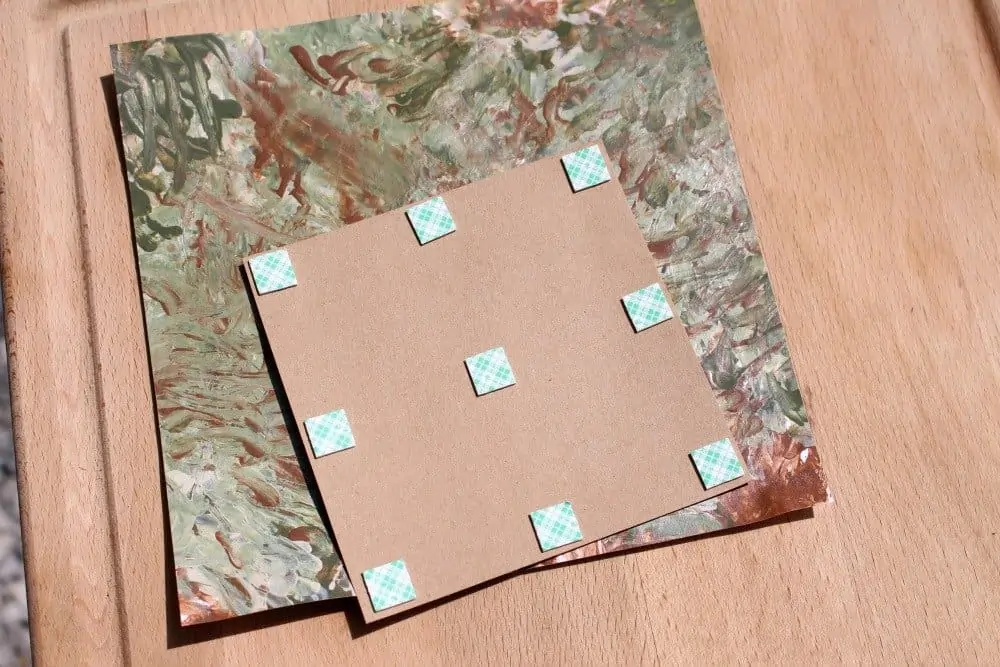 Since we were using camo colors and an outdoorsy photo, I felt like I needed to set the picture apart with some scrapbook paper. I just held the paper behind the photo and cut around the entire thing leaving about a 1/4 – 1/2 inch edge. Then, I glued the photo to the scrapbook paper square, before mounting it to the background. It is important to use acid free glue, so your photo does not degrade over time.
After assembling the frame, I decided to use the left over scrapbook paper to create a "Dad" banner. I simply cut out 3 triangles, wrote 1 letter on each and strung them together using thin string and a needle. I hung the banner in the corner of the frame and secured it to the inside of the frame edge using hot glue.
All in all, I think it turned out beautifully. I know it will mean a lot to Brian that our son helped to make his gift. Since, this was my son's first art project, it will be a treasure for years to come. Happy crafting!
If you're looking for more great kid-made Father's Day gift ideas, check out the awesome links below.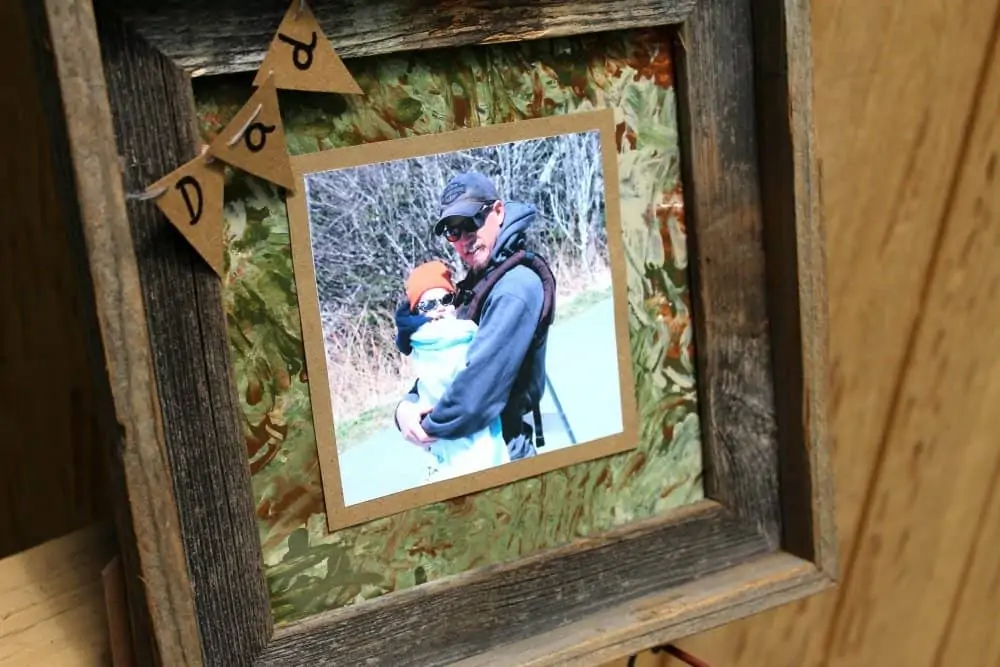 Check out these other awesome Father's Day gifts:
Father's Day Paintings from Kids by Fun Learning For Kids
Salt Dough Craft for Father's Day by Crafty Kids at Home