This year, you can enjoy all the deliciousness of a hot holiday meal without having to do any of the tiresome cooking or clean-up. At these Johnson City TN restaurants open on Thanksgiving, you'll find a variety of traditional holiday favorites plus some unique finds for more adventurous diners.
From turkey with mashed potatoes to gouda mac-n-cheese, these delicious restaurant feasts will rock your holiday!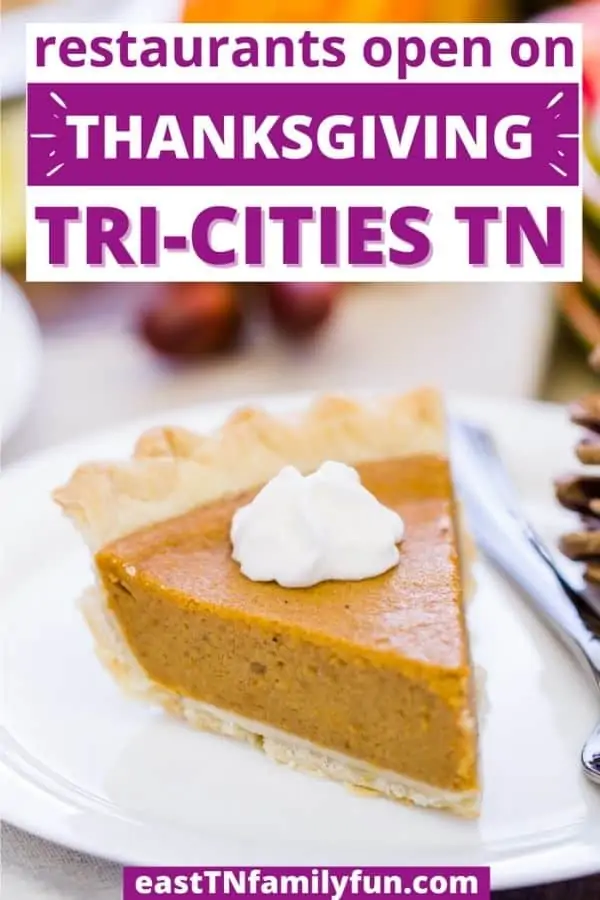 What Johnson City Restaurants Are Open on Thanksgiving Day 2020?
Plans sometimes change, so please be sure to call the restaurant and verify the details before committing.
2. Bob evans
2801 Boones Creek Rd, Johnson City, TN
Enjoy a special Thanksgiving menu with all the holiday favorites you've been dreaming of!
3. Rio De Brazil Steakhouse
1800 W Market St, Johnson City, TN
You can or from their full menu or select their special Thanksgiving meal, which includes turkey and pumpkin pie. Yum!
4. Wellington's
Carnegie Hotel, 1216 W State of Franklin Rd, Johnson City, TN
Due to current events, Wellington's is only offering to-go orders this year. All meals must be ordered in advance and picked up the day before Thanksgiving. They hope to be open for in-person dining next year.
Tantalize your taste buds with a deliciously upscale 4 course Thanksgiving meal, including an appetizer, soup or salad, choice of entre, and delectable dessert. This restaurant offers the most unique dishes of any of the restaurants on this list.
5. Burger Bar
DoubleTree Hotel, 211 Mockingbird Ln, Johnson City, TN
Don't care for Turkey, why not grab a delicious burger instead?
6. Cracker Barrel
Enjoy a delicious Thanksgiving meal with either Turkey or Ham and all the fixin's. Regular menu items will also be available.
7. Brumley's Restaurant
General Morgan Inn, 111 N. Main Street, Greeneville, TN
Due to staffing shortages, this restaurant will not be opening for Thanksgiving 2021. They plan to resume normal operations next year if staffing allows.
This fantastic restaurant offers a special Thanksgiving menu with scrumptious menu items like turkey, pork loin, salmon, cornbread dressing, sweet potato casserole, green bean casserole, sweet corn pudding, apple cake, pecan pie, pumpkin pie, Oreo parfait, and so much more!
8. The Farmer's Daughter
7700 Erwin Hwy, Chuckey, TN
This local hot spot will be open from 11 AM to 6 PM on Thanksgiving day. They will not be taking reservations.
9. Fatz
3140 E Andrew Johnson Hwy, Greeneville, TN
980 Over Mountain Dr, Elizabethton, TN
2610 W Stone Dr, Kingsport, TN
Enjoy a delicious Thanksgiving dinner feast or order off the regular menu.
10. Golden Corral
Enjoy a full Thanksgiving meal complete with a smorgasbord of meats, sides, and scrumptious desserts.
11. IHOP
IHOP restaurants in the Tri-Cities area will be open to help you enjoy your holiday.
12. Perkins
4618 Fort Henry Dr, Kingsport, TN
This restaurant will be opened during regular business hours and will offer both a Thanksgiving feast and some regular menu items.
13. Shoney's
The fresh food bar will be packed with a delicious Thanksgiving buffet including all your holiday favorites like turkey, ham, sweet potatoes, stuffing, mac-n-cheese, mashed potatoes, green beans, dinner rolls, pies, and more!
14. Waffle House
Most Waffle House locations will be open all Thanksgiving day serving regular menu items.
Fast Food Restaurants Open On Thanksgiving
Most locations of the restaurants below will be open on Thanksgiving, though they will have reduced hours.
Burger King
McDonald's
Starbucks (morning only)
Did we miss any of the Johnson City restaurants open on Thanksgiving? If so, please comment below with all the details and we will add them to the list.
More East TN Family Fun