This delicious recipe for breakfast pizza with fruit is perfect for both adults and kids. Not only does it taste amazing, but it's also healthy and easy to make, which is really everything you could ever want from a recipe.
This is a beginner recipe, which makes it perfect for a kids' cooking activity. This recipe allows them to try their hand at measuring, slicing, assembling and more.
Studies show that when kids participate in cooking, they are more likely to eat the food. This means you can stop fighting with this kids in the morning and start enjoying a calmer stress-free breakfast. What a great bonus!
For your convenience, this post may contain various affiliate links. As an affiliate, and as an Amazon Associate, I earn from qualifying purchases. View the disclosure page for more information.
Breakfast Pizza Recipe
Recipe Ingredients
Whole grain English muffins
Homemade fruit dip, or flavored yogurt of your choosing
Red, white, and blue fruits (strawberries, rasberries, apples, bananas, blueberries)
Directions
If you are going to be using the homemade fruit dip as your sauce, start by mixing that up and placing it in the fridge to chill. If you are just going to use yogurt as your sauce, you can begin by toasting the English muffins.
While the muffins are cooking, chop up the larger pieces of fruit. It can be diced or sliced in any way you desire. The size of the slices will determine the different patterns you can make on your pizza.
Fruit is soft enough that it can be cut with a plastic knife, which is a great introduction to knife skills for kids.
When the English muffins are toasted to your liking, spread a generous helping of fruit dip or yogurt on top to serve as your pizza sauce. Then, decorate the pizza using the fruit you sliced earlier.
If you are working with young kids, this whole process will likely be a little messy, and I encourage you to embrace that. Making occasional messes is an important part of the learning process, and clean up offers yet another opportunity to practice crucial life skills.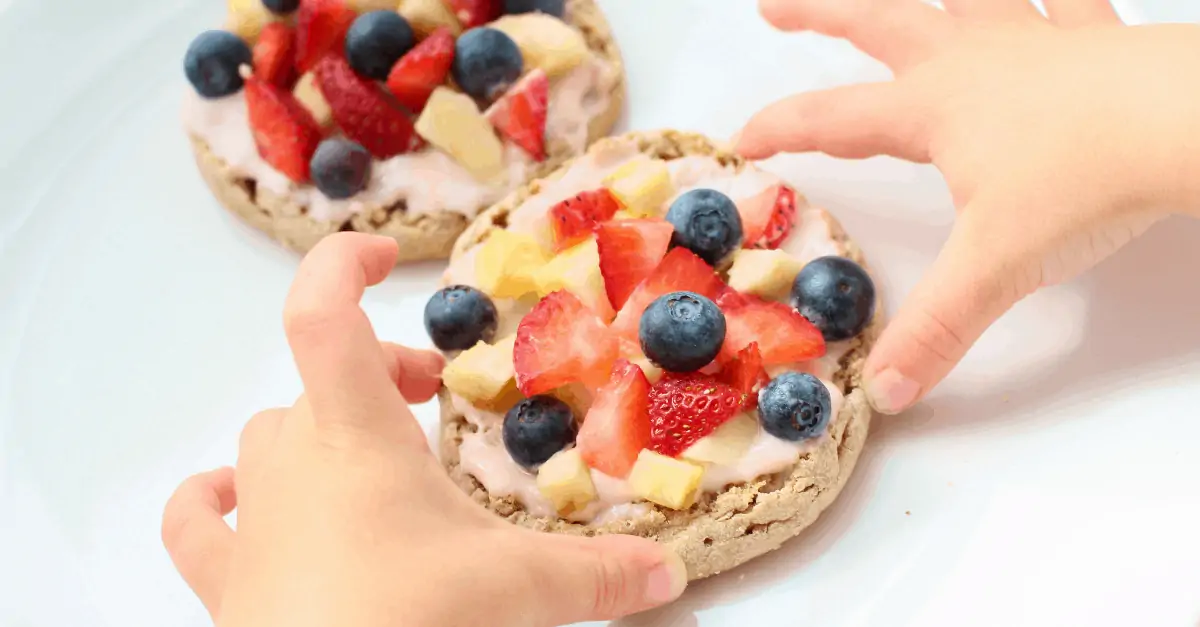 Books to Share
Reading together is an important way to strengthen the parent-child bond. It also helps improve a student's academic performance in ALL subject areas! Check out these fun books related to cooking and July 4th to extend this cooking activity even further.
More East TN Family Fun
60 July 4th Party Recipes That Will Make Your Holiday
July 4th Headquarters: Events, Crafts, Recipes, and More!