After hiking Laurel Falls trail, I truly understand why it's the most popular hiking trail in all of Great Smoky Mountains national park. Not only is Laurel Falls family-friendly, but it also offers breathtaking views and natural pools, courtesy of Mother Nature.
Of course, each family has its own unique needs. You know your family best and are ultimately responsible for discerning the safety and appropriateness this hike. Please read our full disclaimer here.
Laurel Falls Hiking Trail, Great Smoky Mountain National Park
This trail does have an official parking lot, with spaces on both sides of the street. Due to the popularity of the trail, it would be a miracle if you managed to get one of these spots. Most likely you will wind up having to park on the side of the road, as we did. Also, there are no restrooms nearby.
Now, I have some good news and some bad news. You're getting the good news first, which is that the entire trail is paved. Yes, paved. The bad news? It may as well not be. This trail is in no way handicap or stroller accessible, and there are huge signs that warn of this at the trailhead. Of course, we still saw at least 3 strollers as we hiked.
Related Read: Townsend Y Swimming Hole
The most glaring reason for the warning is that the path is very narrow and largely in disrepair. It's a squeeze to fit 2 people side by side on the paved path and large portions are missing, crumbling, or eroding. The erosion makes it easy to slip off the side of the path. The mountain goes up on one side and down on the other. So, be sure to keep your kids close to the sidewall and not the cliff.
Although it is primarily uphill, the assent is not very strenuous. There are several benches along the way, but we thankfully didn't have to take many breaks at all. I usually take about 20 breaks per trail (I wish that was an exaggeration). Here, we only took 1 or 2.
Note: Based on reader feedback, I want to disclose that some families did find this hike rather challenging, due to the incline. Doable, but challenging. If you aren't typically a hiking family, or if you have a multiple sets of little legs, you may want to try one of the hikes on our EASY list first, before graduating to this one.
As you ascend the trail, you will come across gorgeous mountain views that are absolutely picture perfect. In a few sections you will have to dodge family photographers, if you aren't stopping for a photo yourself.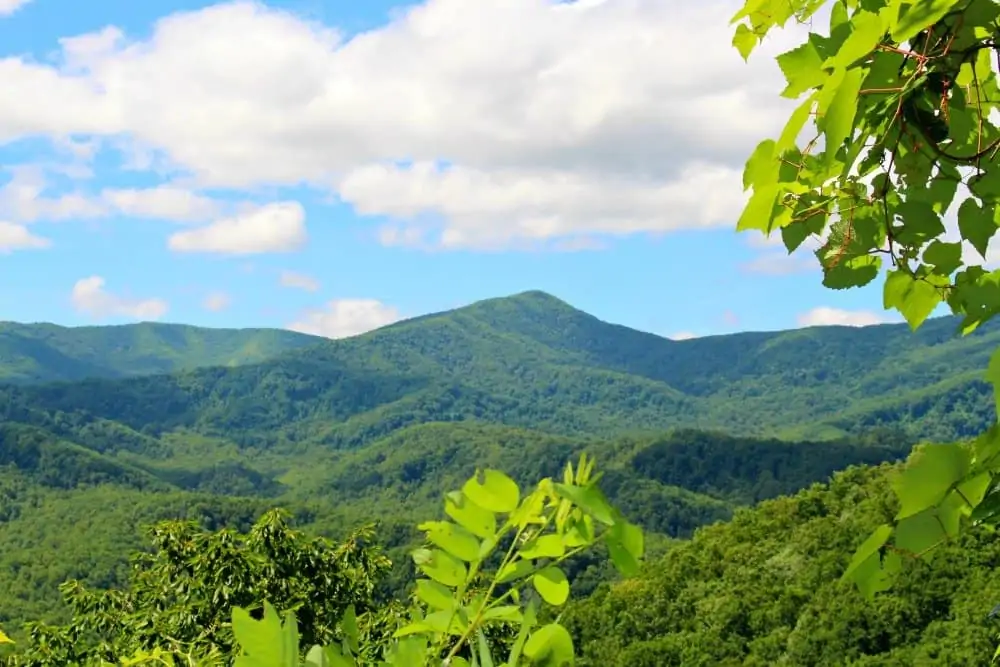 Once you reach the waterfall, you cross over the sweetest little bridge. Because the waterfall is bi-level, it falls once, flows under the bridge and then falls again.
Related Read: Discover Schoolhouse Gap Trail
The area around the bridge collects the running water into several small pools. This area was extremely popular with kids and adults alike. It seems no one could resist dipping their feet in the cool water. In the same upper area, there are also plenty of rocks to sit on, if you'd like to pack a picnic lunch. Access to the lower portion of the falls requires a steep hike down the mountain, which is not, in my opinion, suitable for kids.
As much as I don't want to be cliche, I have to go with the crowd and say that I absolutely LOVED this trail and can't wait to go back. Even baby A enjoyed himself, although the water just wasn't his jam! Happy hiking!