With delicious food and sky-high entertainment, 4th of July is one of the most anticipated events of the year! Gathering to celebrate with close friends in family, truly makes the day extra special. These crowd-pleasing recipes for July 4th party food, are sure to make the day extra delicious.
Because holidays are a time to splurge, there is a nice mix of healthy and indulgent options to choose from. At the bottom, you'll even find festive recipes for both virgin and alcoholic drinks.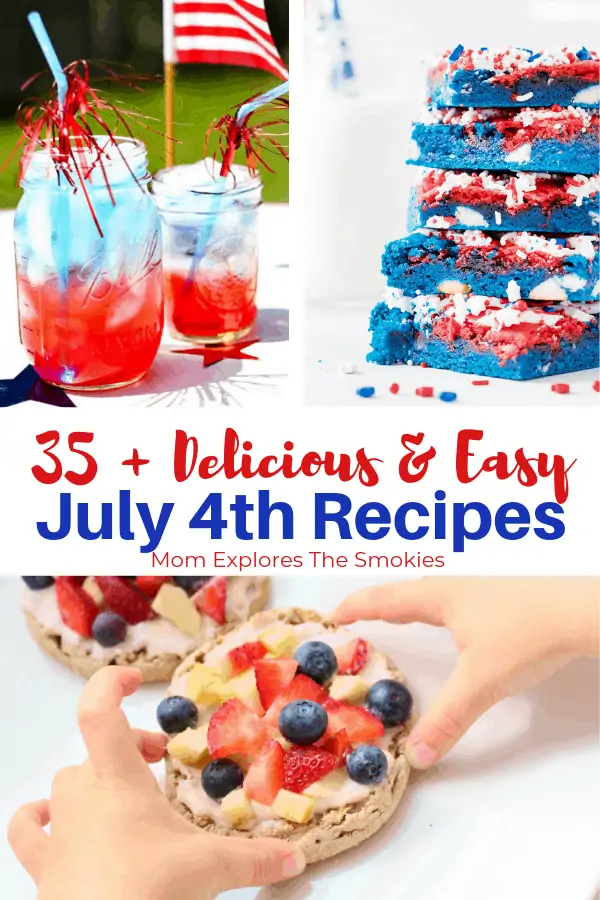 For your convenience, this post may contain various affiliate links. As an affiliate, and as an Amazon Associate, I earn from qualifying purchases. View the disclosure page for more information.
The recipes below are organized into various categories for your convenience. All of the recipes can be used for large groups, or small family gatherings. The sections include breakfast, sides and appetizers, desserts, and drinks. Enjoy!
If you are looking for local events find them here:
July 4th Party Food: Breakfast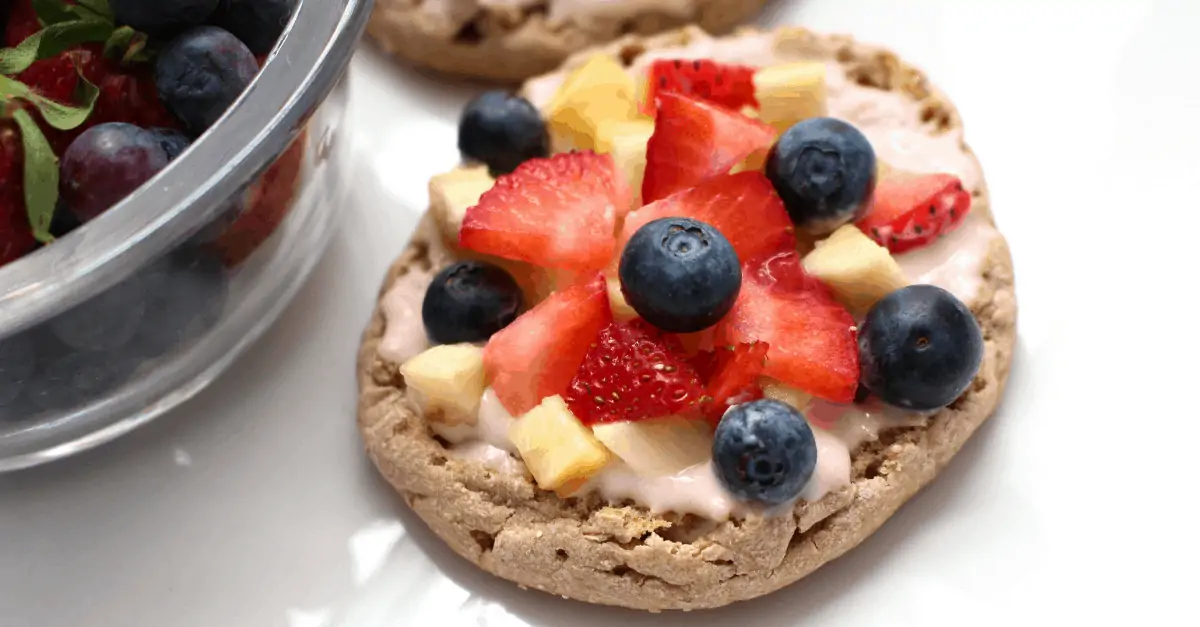 Patriotic Breakfast Pizzas – a delicious and healthy fruit pizza that both adults and kids will love eating and making!
Heavenly Fruit Muffins, by Creations by Kara – a yummy breakfast muffin with patriotic fruits.
Mini Fruit and Yogurt Bites, by Love and Marriage Blog – a delicious and healthy frozen breakfast treat.
Patriotic Egg in a Basket, by Darling Tom Boy – protein and patriotism all in one!
'Murica Overnight Oatmeal Parfait, by The oatmeal Artist – a delicious make ahead breakfast perfect for celebrating independence day.
Layered Patriotic Smoothie, by A Mom's Take – real fruit and yogurt come together for a visually stunning treat.
Homemade Red Velvet Donuts July 4th Style, by Stress Baking – a quick cheaters donut recipe from cake mix with homemade cream cheese frosting and sprinkles
4th of July Scones, by The Idea Room – cheery, blueberry scones with a delicious glaze.
Independence Day Donut Kabobs, by Eighteen 25 – a little bit healthy, a little bit treat.
Festive Cream Cheese Crescent Rolls, by Fun Money Mom – these stuffed crescent rolls are sure to make your morning.
Yummy Red, White, and Blue Donuts, by Soccer Mom Blog – a deliciously sweet way to start the morning!
Appetizers & Sides
Patriotic Skewers with Delicious 3 Ingredient Fruit Dip – a quick and easy dip that your kids and all of your party guests will adore!
Patriotic Fruit Salsa, by On my Kids Plate – this delicious take on salsa is great with corn or pits chips.
Red, White, and Blue Deviled Eggs, by Plain Chicken – a fun way to transform a traditional recipe.
Patriotic Pasta Salad, by Sprinkle Some Fun – vibrant blue pasta with fun patriotic toppings.
Mini Fruit Salads, by Organized 31 – individual fruit salads with traditional July 4th colors and a fun topping.
July 4th Caprese Salad, by Freut Cake – a patriotic take on the traditional tomato and mozzarella salad.
Flag Taco Salad, by Family Fresh Meals – a yummy and traditional taco with a patriotic flare.
American Flag Fruit Tray, by Passion for Savings – a fun fruit tray with all the fixings.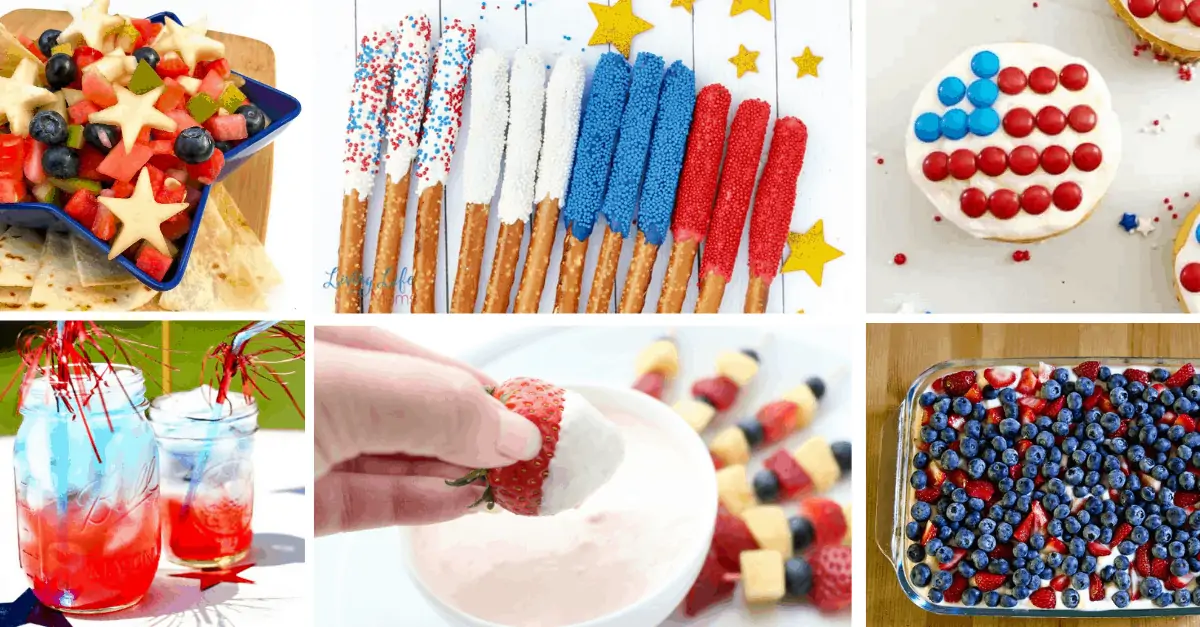 4th of July Desserts
Red White and Blue Dessert Bars, by Cutefetti – brightly colored blondies with a delicious icing drizzle.
Red White and Blue Jello Poke Cake, by Printable Crush – a moist and colorful masterpiece with creamy whipped topping
Patriotic Dipped Pretzels, by Living Life as Moms – bright and colorful candy coated pretzels with adorable sprinkles.
Red, White, and Blue Icebox Cake, by Oh Sweet Basil – a creamy chilled dessert that is sure to be a crowd pleaser.
Shining Stars Patriotic Cupcakes, by Easy Family Recipe Ideas – delicious cupcakes with vibrant blue icing and festive stars.
Candy Flag Cupcakes, by Ruffles and Rain Boots – a patriotic take on traditional vanilla cupcakes.
Red White and Blue Pinata Cake, by Spaceships and Laser Beams – this fun patriotic cake has a delicious candy filled center that is revealed after cutting the cake
July 4th S'Mores Muddy Buddy Chex Mix, by Really, Are You Serious? – a red white and blue twist on this traditional sweet Chex mix, which is always a crowd pleaser.
Gluten Free Patriot Trifle, by Mama Smiles – all your favorite trifle ingredients including cake, cream, berries, and more, all with a patriotic flare.
Patriotic Dipped Oreos, by Sunshine Whispers – a vibrant blue crowd pleaser with festive toppings.
Firecracker Jello Cups, by Nerdy Mama – fun layered jello cups with a patriot flare and fun topping.
Patriotic Surf Board Cookies, by In The Kids Kitchen – a beach-y take on July 4th sugar cookies.
Fun Drinks
Layered Patriotic Party Punch, by Natural Beach Living – a fun red white and bljue layered drink that is totally kid-friendly
Patriotic Layered Jello Shots (non-alcoholic), by Artsy Mama – a gorgeous layered treat in a shot glass.
Sparkling Blueberry Pink Lemonade, by Idea hacks – a fun red and blue sparkling drink perfect for kids.
Red White and Blueberry Margaritas, by Gimme Some Oven – delicious frozen margaritas with a patriotic flare
July 4th wine Sparklers, by Ktchn – a cool and refreshing spritzer with fruit infused wine.
Books to Share
Extend the fun with these festive kids books that focus on July 4th and cooking!
The Night Before the 4th of July – a fun patriotic take on literary classic.
Julia, Child – loosely based on the famous chef, this fun and whimsical books tells the story of 2 young girls with a passion for cooking.
Look! I'm a Cook – a bright and vibrant introduction to cooking for preschoolers and young kids, including easy recipes and the basics of cooking tools.
More East TN Family Fun