This yummy and easy fruit dip recipe uses just 3 ingredients and is the perfect addition to any party table. All of your guests will be asking for the recipe, and will be shocked it know it is naturally sweetened with only maple syrup or honey.
You can mix up the fruit you use to create perfect holiday trays for July 4th, Christmas, Halloween etc. With it's healthy flare, this dip and fruit combo is also perfect for snacking anytime.
Since the ingredients and instructions are simple, this is also a great recipe for cooking with kids!
For your convenience, this post may contain various affiliate links. As an affiliate, and as an Amazon Associate, I earn from qualifying purchases. View the disclosure page for more information.
Easy Fruit Dip Recipe
Dip Ingredients
1 – 8 oz. package of strawberry cream cheese, softened (Plain will work too.)
1/2 cup of plain yogurt (Greek will make a thicker dip but regular yogurt works just as well.)
1/4 cup real maple syrup or honey
Skewer Ingredients
variety of washed and cubed fruit, at least 3 different kinds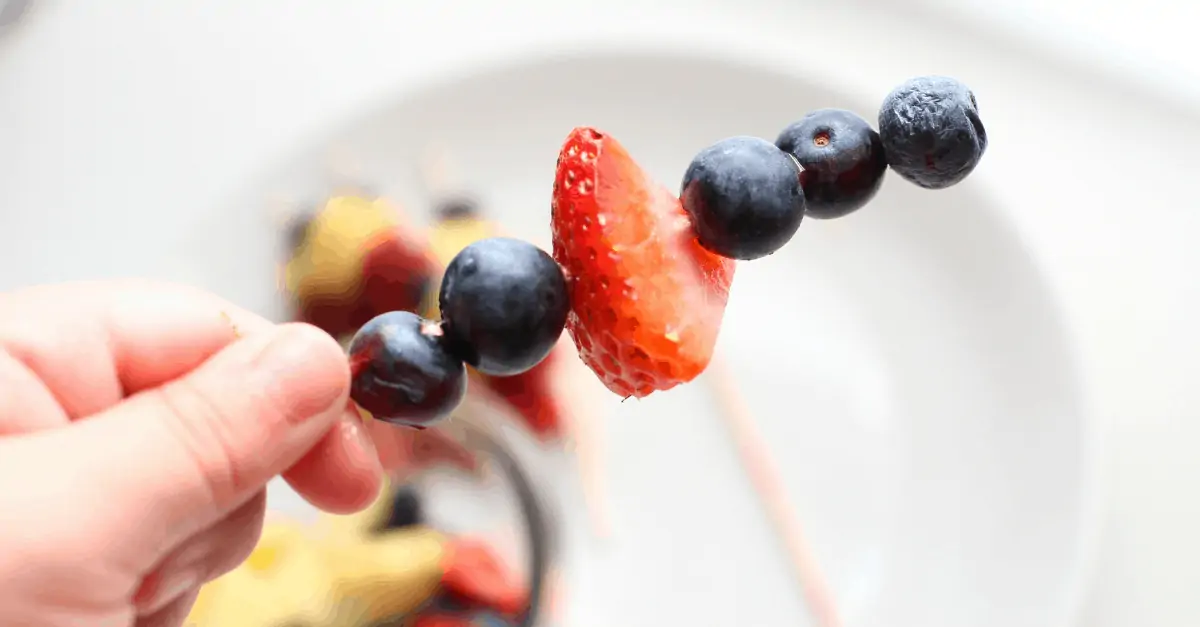 Directions
Dump all the dip ingredients into a large mixing bowl, and mix until well combined. Although the recipe can absolutely be mixed by hand, it may be a little lumpy. You will achieve a smoother consistency using a hand or stand mixer.
With proper adult supervision, using a hand mixer is a great cooking skill for kids to practice. Because this recipe uses soft foods, it makes for an easy introduction to mixers.
Once the dip is thoroughly combined, cover the bowl and place it into the fridge to chill.
Next it's time to chop up the fruit. Kids should be able to use a plastic knife to complete this task. Harder fruits like apples may require a real knife and the help of an adult. Use your best judgement.
After the fruit is chopped, use the skewers to assemble mini kabobs. If you are working with kids, don't sweat it if their kabobs look like a hot mess, or are comprised entirely of blueberries. Variety is the spice of life!
Even if you are using the kabobs for a party tray, I promise your guests won't mind. In fact, they'll probably be super impressed with your kid's awesome fine motor skills. Or they'll just eat around them, which is fine too.
Books to Share
Strengthen your parent-child bond, while helping them boost their academic performance with shared reading. All the books below pair perfectly with the recipe above.
Pigs in the Pantry -They may be messy, but these pigs sure know how to cook. They even learn some great measuring skills along the way.
Fruit Bowl – This fun and educational picture book teaches kids important facts, like whether or not tomatoes belong in a fruit salad.
The Strawberry Garden – Everyone is excited to taste the strawberries from Grandfather's garden, including the cows!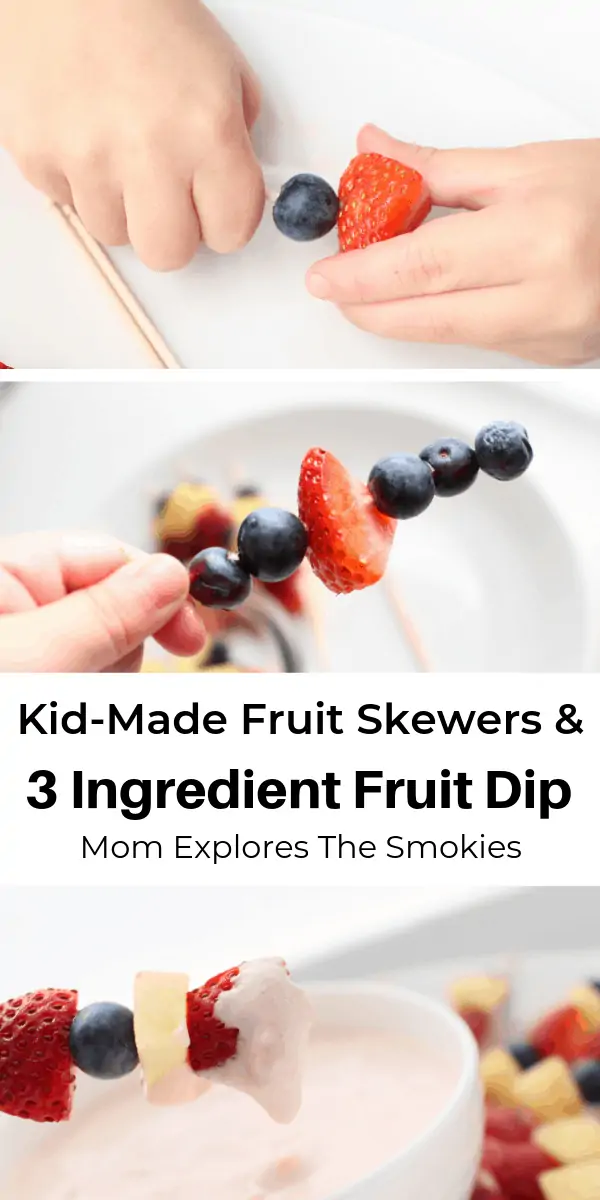 More East TN Family Fun