Gather up the blankets and hot cocoa and pile into the car for some good old-fashioned holiday fun! Like glittering beacons of Christmas cheer, these hot spots for Christmas lights in Knoxville are sure to bring a smile to everyone's face.
Even better, a Christmas lights driving tour is also super inexpensive. For just the cost of gas (in most cases), you and your family can make awesome holiday memories that will last for years to come!
Of course, nothing is worse than finding out a house doesn't actually have lights up, after you've already driven there. For this reason, we only include houses and large-scale light displays that consistently decorate, year after year. Of course, some people do close down their displays without notifying us. So if you find an inactive display, please let us know.
As always you can click on any blue attraction link to verify the information provided or get additional details.
Check out our complete Knoxville Christmas guide here.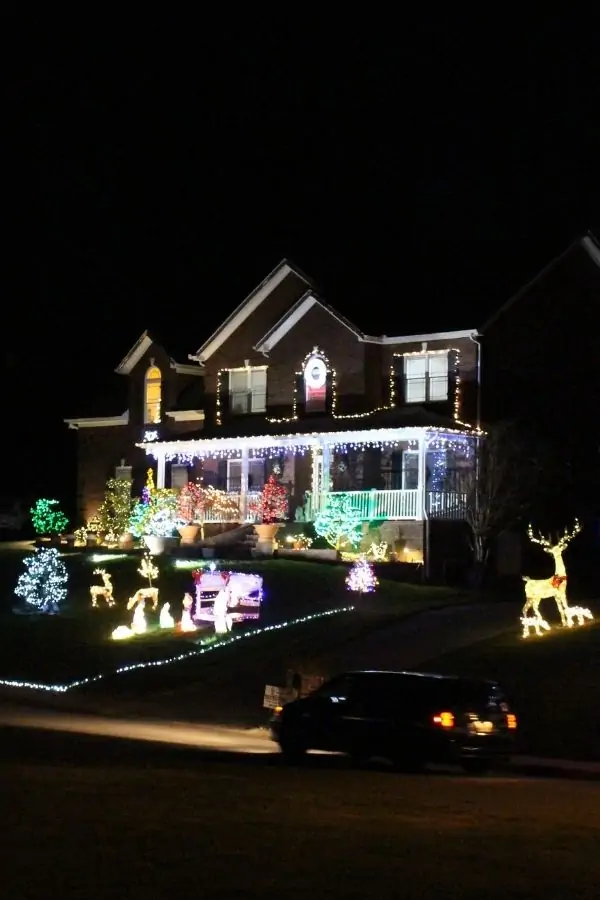 For your convenience, this post may contain various affiliate links. As an affiliate, and as an Amazon Associate, I earn from qualifying purchases. View the disclosure page for more information.
---
You May Also Like
---
Large-Scale Displays of Christmas Lights in Knoxville
The attractions in this category are large-scale displays where visitors can walk or drive through a large collection of lights. Most of the displays are hosted at local parks and feature both still and animated Christmas scenes.
Some of our larger local attractions also go all out for Christmas. In addition to festive lights, they will be hosting fun holiday events all season long.
1. Light the Park –
Dates: November 21, 2022 – January 2, 2023
Location: Founders Park, Farragut
Cost: FREE
The glittering displays of Light the Park will be shining brightly throughout the season. There are a variety of events scheduled throughout the season including giveaways, tasty food trucks, caroling, and more!
2. Christmas in Chilhowee –
Dates: start date is November 18, 2022
Location: Chilhowee Park, Knoxville, TN
Cost: FREE
When it comes to drive-through Christmas lights, Knoxville TN doesn't have many in-town options. Christmas in Chilhowee offers a small driving route a variety of non-animated light displays, including a colorful drive-through tunnel.
The park is hosting a fun kick-off event on November 18, 2022. The event will feature Santa photos, games, an outdoor holiday movie, delicious treats, and more!
3. Knoxville Zoo Lights –
Dates: November 25, 2022 – January 8, 2023
Location: Zoo! Knoxville
Cost: $24/adult, $18/child
See the zoo lit up with a variety of holiday lights and animal lanterns.
4. Peppermint Trail –
Dates: November 25, 2022 – January 8, 2023
Location: Downtown Knoxville
Cost: FREE
Enjoy the holiday lights along the streets of downtown Knoxville as you follow the always-popular Peppermint Trail. In addition to the city lights, all local businesses along the trail will be decked out in their most stunning holiday decor.
Shops and restaurants on the trail will also feature peppermint-themed food and gifts for purchase. You can follow the trail by looking for peppermint decals along the sidewalks.
5. Light up Lakeshore –
Dates: November 27 – December 2022
Location: Lakeshore Park, Knoxville
Cost: FREE
There will be almost 40 decorated trees to enjoy at this festive holiday wonderland. There will also be a fun kick-off event on November 27 with children's activities, tree lighting ceremony, and more!
6. Holiday Festival of Lights –
Dates: December 1 – 31, 2022
Location: The Cove at Concord Park, Knoxville
Admission Cost: FREE
The Holiday Festival of Lights is a walk-through light display that boasts thousands of gorgeous lights. There will be a ribbon-cutting ceremony and kick-off events on December 1st.
7. Christmas in the Cave –
Dates: December 2-18, 2021 (Fridays, Saturdays, and Sundays only)
Location: Cherokee Caverns, Knoxville
Admission Cost: $12/all ages
The cave walking path will be lit with thousands of glittering Christmas lights and a variety of holiday characters will be scattered throughout for cute photo ops. To extend the fun, there will also be food trucks and craft vendors on-site.
8. Lights Up –
Dates: Throughout December 2022
Location: The Pinnacle at Turkey Creek, Knoxville
Admission Cost: FREE
The Pinnacle will have a variety of sparkling light displays to adorn Turkey Creek throughout the holiday season. There will be a kick-off event with a tree-lighting ceremony on November 18.
Knoxville Christmas Lights: Individual Homes
9. Gray Eagle Lights
Location: Gray Eagle Lane (off Bob Gray Road)
Though not animated, this whole neighborhood street is decked out in over-the-top holiday decor that will make your jaw drop. Expect to wait in line to get into the neighborhood. It's worth it.
10. West Knoxville Light Show –
Location: 11617 Foxford Drive, Knoxville (Farragut)
This animated light show is a local favorite and one of the oldest in the region. In addition to their fantastic Christmas display, this family also decks the halls in October for Halloween.
11. West Hills Christmas Light Show –
Location: 7008 Hampshire Dr, Knoxville
A fantastic light show set to music. Tune your radio to 107.1 to enjoy the full show!
12. Johnson Family Christmas Lights –
Location: 4901 Fragrant Cloud Lane, Knoxville
Another fabulous animated light show synchronized to music.
13. Boyd Family Christmas Light Show –
Location: 1936 Winter Winds Lane, Knoxville
This popular Christmas light show is synchronized to music.
14. Christmas on Conner –
Location: 3008 Conner Dr., Knoxville TN
Tune to 91.5 FM to enjoy the show.
15. Listen to the Lights –
Location: 929 Oak Haven Road, Knoxville
The tunes for this Christmas light show can be found on 93.7 FM.
16. A Quail Bends Lane Christmas –
Location: 8825 Quails Bend Ln, Knoxville
You can grab a sneak peek of this animated display on their webpage.
17. Lori's Lights
Location: 8506 Farmington Drive, Knoxville, TN
Enjoy a great light show synced to music from the comfort of your car. Tune your radio to 98.9 FM to enjoy the show.
18. Concord Lights
Location: 520 Vivian Leee Lane, Knoxville
A fun synchronized display with lights, projectors, and free-standing decor.
19. Bison Drive
Location: 2433 Bison Dr Knoxville, TN
Tune to the station is 98.1 to enjoy the show.
20. Inflatable Paradise
Location: 1712 Golden Nugget Lane, Knoxville
This fun yard has a light projector and tons of inflatables.
21. Villa Lights
Location: 5610 Villa Road, Knoxville
22. Sterchi Hills Neighborhood
The Sterchi Hills neighborhood tends to have many homes that decorate. Though there are no guarantees from year to year, you should be able to see many gorgeous houses as you drive throughout the area.
Large-Scale Christmas Lights Near Knoxville TN
All of the light displays in this category are professional large-scale displays. Many of these attractions offer a wide variety of family-friendly fun, in addition to their Christmas lights. The best part is that they are all just a short drive away from Knoxville TN.
23. Smoky Mountain Christmas –
Dates: Throughout November and December
Location: Dollywood, Sevierville, TN
Cost: starting at $89/adults, $79/kids (includes full-day park admission)
Each winter, Dollywood is transformed by hundreds of stunning light displays, featuring millions of glittering lights. The displays depict a variety of winter and Christmas themes, including polar bears, penguins, a large-scale light show featuring a 50-foot Christmas tree with digital animations, and much more!
24. Shadrack's Christmas Wonderland –
Dates: November 23, 2022 – January 1, 2023
Location: Smokies Stadium, Kodak, TN
Cost: $30 – $40 per standard-size vehicle
This popular drive-thru Christmas lights display is set to a festive classical music soundtrack, featuring all of your holiday favorites. In addition to the light show, you can also visit Santa's village with a petting zoo, games, and more!
25. Shadrack's Super-Sized Christmas Adventure
Dates: November 25, 2022 – January 1, 2023
Location: Soaky Mountain Water Park, Sevierville
Cost: $39 – $49 per standard-size vehicle
This larger-than-life drive-thru Christmas display will make you feel like you are in the Holiday version of Honey I Shrunk the Kids.
26. Enchanted Christmas
Dates: November 14, 2022 – January 1, 2023
Location: Anakeesta, Gatlinburg, TN
Cost: $35/adult, $23/child
This season Anakeesta will be transformed into a stunning winter wonderland featuring a variety of stunning light displays, family-fun activities, music, and more!
27. Winterfest
Dates: Friday before Thanksgiving through Presidents' Day
Location: Sevierville, Pigeon Forge, and Gatlinburg
Cost: FREE
Each winter, Sevierville, Pigeon Forge, and Gatlinburg are washed in a rainbow of twinkling light displays. Many of the lights will be visible from your car as you drive around. Others you can enjoy as you meander through local shops and businesses. Throughout Winterfest, you will also be able to catch carolers and other performers throughout downtown Gatlinburg.
28. Smoky Mountain Lights
Date: November 25, 2022 – January 2, 2023
Location: Visitors Center, Townsend
Cost: $25/standard-sized vehicle
Beat the crowds with this drive-thru display on the peaceful side of the Smokies.
29. Pinnacle Speedway in Lights
Date: November 18, 2022 – January 7, 2023
Location: Bristol Motor Speedway, Bristol
Cost: $20/standard-sized vehicle
This is one of the most popular light displays in all of East TN. Guests will drive around a real NASCAR track to view a stunning display of still and animated Christmas lights.
In the center of the track, you'll find the Christmas village. Here you can meet with Santa, purchase tasty treats, and shop at local artisan vendor booths.
30. Christmas at Gaylord Opryland
Dates: November 11, 2022 – January 1, 2023
Location: Gaylord Opryland, Nashville
Cost: varies based on the activities you choose
If you are looking for an immersive Christmas experience, a trip to Gaylord Opryland is just the ticket. Just a short drive away in Nashville, this over-the-top Christmas wonderland has too many attractions to count.
Not only is the whole hotel covered in stunning Christmas lights and decor, but they have ice tubing, ice skating, ice bumper cars, an elf scavenger hunt, an indoor water park, carriage rides, character meet-and-greets, and so much more!
31. Loudon Lights
Dates: Throughout December
Location: Loudon Municipal Park, Loudon
Cost: FREE
Though not as large as some of the others, this sweet light display offers plenty to see. If you are in the area, be sure to swing by.
Private Animated Christmas Light Displays Near Knoxville
32. Muddy Creek Christmas Lights –
Location: 742 Lakeview Road, Lenoir City
One look at their video and you will quickly see that this is one of the most expertly choreographed shows you will ever see.
33. Holiday House
Location: 128 Nebraska Avenue, Oak Ridge
In addition to a fantastic Christmas display that draws crowds every year, this house also boasts awesome Halloween and Easter displays.
34. West Hills
Location: 2959 West Hills Drive, Maryville
Tune in to 97.1 FM to enjoy this fantastic Christmas light show.
35. Ferrell Family Christmas
Location: 2231 Richwood Dr. Maryville
In addition to an animated Christmas show, this house also goes all out for Halloween.
36. Whites Mill Road
Location: 1340 Whites Mills Rd
Tune in to 90.5 FM to enjoy the show.
37. Heartland
Location: 1414 Heartland Dr, Maryville
To enjoy this fun light show, just roll down your window to hear the music.
38. Commonwealth Lights
Location: Dumplin Valley Road, Dandridge TN
Cost: FREE
Drive to the county for this cute animated show.
39. Dumplin Valley Lights
Location: Dumplin Valley Road, Dandridge TN
Cost: FREE
Sit back and enjoy this cute light show set to music.
40. Van Stowe Rd
Though not animated, almost all the houses on this road have gorgeous Christmas displays. If you happen to be in the area, it's a great place to see a bunch of light displays at once.
Howard Family Light Show –
Location: 417 East Drive, Oak Ridge
This popular animated display is on pause this year but plans to return better than ever next year. Tune your radio to 91.7 to hear the synchronized music and this popular animated light show.
Christmas on Privet –
Location: 623 Privet Drive, Dandridge, Tennessee
Cost: FREE
This show is paused for 2021 but hopes to return next year.
\This home boasts a wonderful animated light show set to music. Tune your radio to 87.9 FM to enjoy the show. The light shows are only held on specific days, see the full schedule at the link above. This house is located in the Historic Hills Subdivision, where other houses usually decorate as well, on a smaller scale.
More East TN Family Fun