Hiking with dogs always adds a little extra spice to your outdoor adventure. But of course, that's why it's so much fun! Following these 12 tips for hiking with dogs will ensure that you and your dog have a safe and enjoyable trip, no matter the season or trail.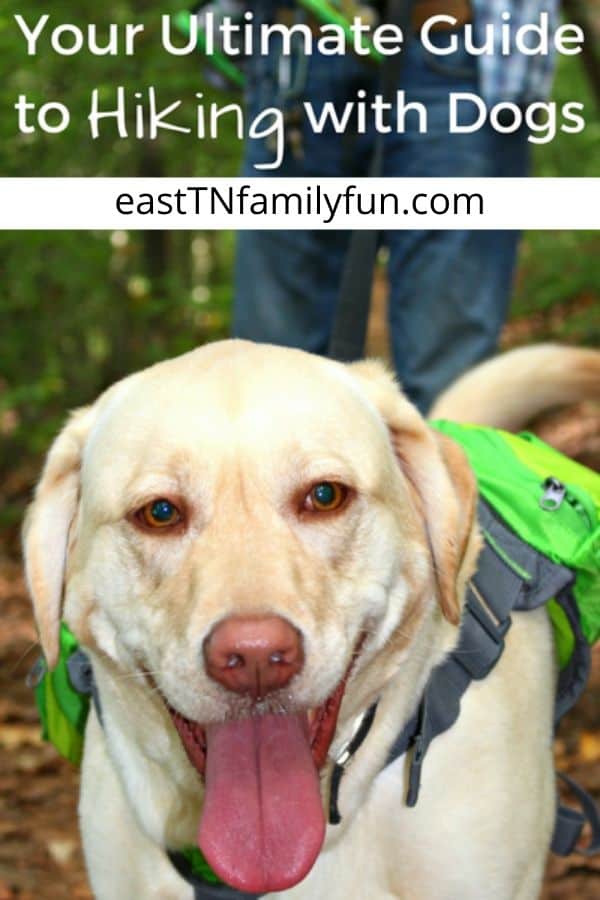 12 Essential Tips for Hiking with Dogs
1. While planning your hike, ensure that your chosen route allows dogs. Many trails, including most of those in Great Smoky Mountains National Park, don't allow dogs due to safety concerns. Wherever you're hiking, this information can typically be found online through a quick search.
2. Before leaving, thoroughly check your dog's collar, leash, and/or harness for any tears or defects. If they were to break during your hike, it could put you in a sticky situation. Yes, this has happened to me!
3. Make sure your dog has proper ID. Remember, every lost dog ever had owners that weren't expecting their dog to get lost. You never know when it might happen to you.
4. Help keep your dog healthy and your home free of pests by ensuring that your dog's flea and tick medication is up to date.
5. Bring a dog friendly water bowl or bottle. Hydration is just as important for dogs as it is for humans. Anyone who's ever tried to water a dog using a human water bottle will tell you it's no easy feat. We love our simple collapsible water bowl, but they also sell plastic bottles with a flip-out bowl attachment, which is pretty cool. Don't allow your dog to drink from creeks or streams along your route, because they can harbor illness causing bacteria.
6. It's also a great idea to bring highly-motivating treats. These can be used as a reward for good behavior throughout your journey or as a distraction from friendly woodland critters you may be about to pass along the route.
7. Bring a first aid kit. The great news is that many of the supplies you have in your own first aid kit can also be used for Fido including antiseptic, gauze, and bandages. We like to carry self adhering bandages because there is no point in struggling with tape on the trail.
8. Don't forget the waste bags! And please, for Pete's sake, don't throw the bag down on the trail after you're finished. Take it with you when you go.
9. If possible, use a doggy backpack to allow your dog to carry her own gear. We usually keep our dog's load pretty light, but include her treats, water bowl, first aid kit, waste bags, and a water bottle. The water bottle is usually pretty heavy, so we put it alone on one side to help balance the load. We also make her carry any waste she creates during our travels.
10. Keeping a towel in the car can be a life saver if you run into water or mud on the trail, which almost always seems to be the case. If your dog will allow it, use the towel to wipe her feet before letting her into the car.
11. Another crucial step after returning home is checking your dog thoroughly for ticks. This is so important because disease carrying ticks can easily crawl off your dog and onto other surfaces or people in your home. In East Tennessee, ticks can carry Rocky Mountain Spotted Fever, which can be deadly to humans. In other regions, Lyme Disease, which causes chronic illness, is a huge worry.
If found, ticks can easily be removed with an inexpensive tick remover or ever tweezers. No matter the method you choose, it is import to be sure that the head of the tick is removed in addition to the body. If the head remains, it can cause lingering irritation at the bite site.
Happy hiking y'all!